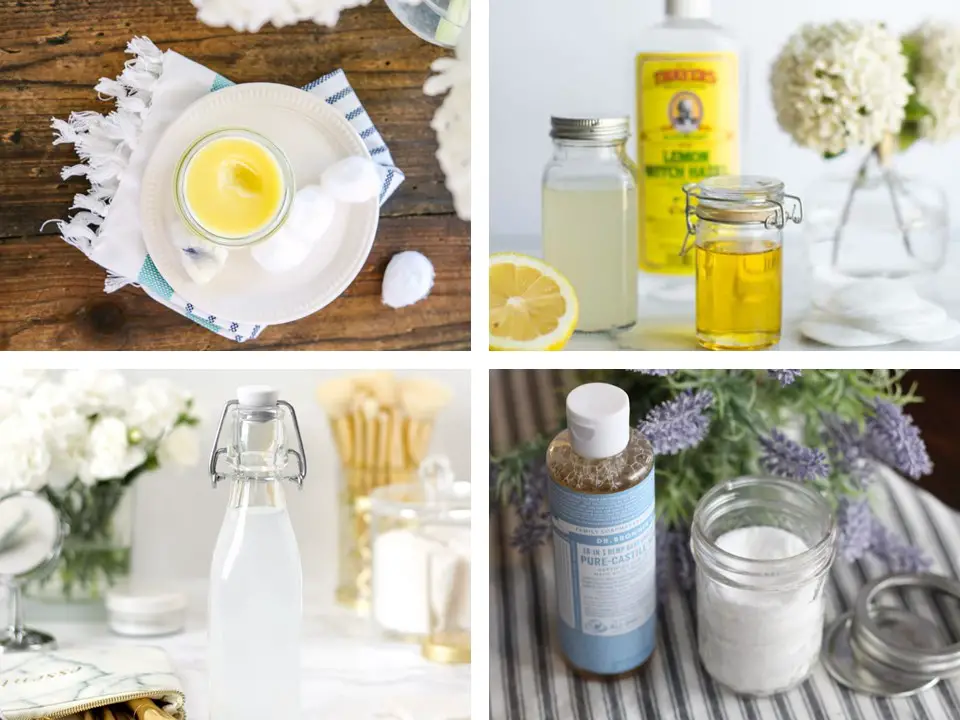 If you're passionate about using natural products on your skin, then it's likely that you also embrace toxin-free makeup on a day-to-day basis too.
But what about your makeup removal regime?
Is that also free of nasty chemicals and skin-damaging ingredients?
To help you on your natural skin care journey, we've also rounded up the top 12 makeup removers using natural ingredients.
The best part?
These can easily be made at home using ingredients you likely already own, plus they can be whipped-up in as little as a few minutes.
Sound good? Let's get started!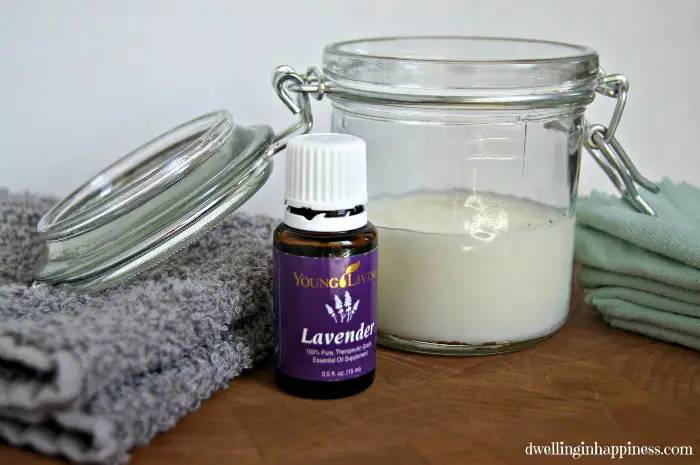 1. ALL-NATURAL MOISTURIZING MAKEUP REMOVER FROM DWELLING IN HAPPINESS
Forget ingredients commonly found in store-bought makeup remover wipes, such as fragrance, alcohol, salyiylic acid, and a long list of other ingredients that are hard to pronounce.
This DIY natural makeup remover features just three ingredients, including coconut oil, vitamin E, and lavender essential oil. Not only does it smell great, but it's also deeply nourishing for your skin whilst removing every ounce of makeup.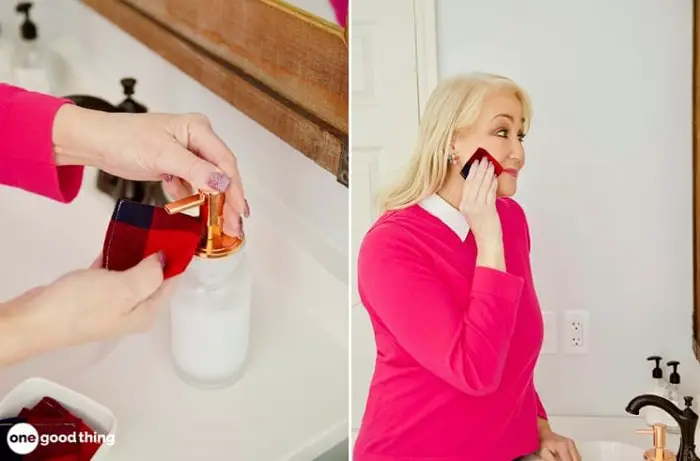 2. DIY AFFORDABLE AND NATURAL MAKEUP REMOVER FROM ONE GOOD THING BY JILLEE
According to blog owner Jillee, "when it comes to removing your makeup, taking a DIY approach can be better for your skin, your budget, and the environment!"
We couldn't agree more, and love her idea for homemade, all-natural makeup remover that features distilled water, baby shampoo, coconut oil, and lavender essential oil. It's gentle, yet effective!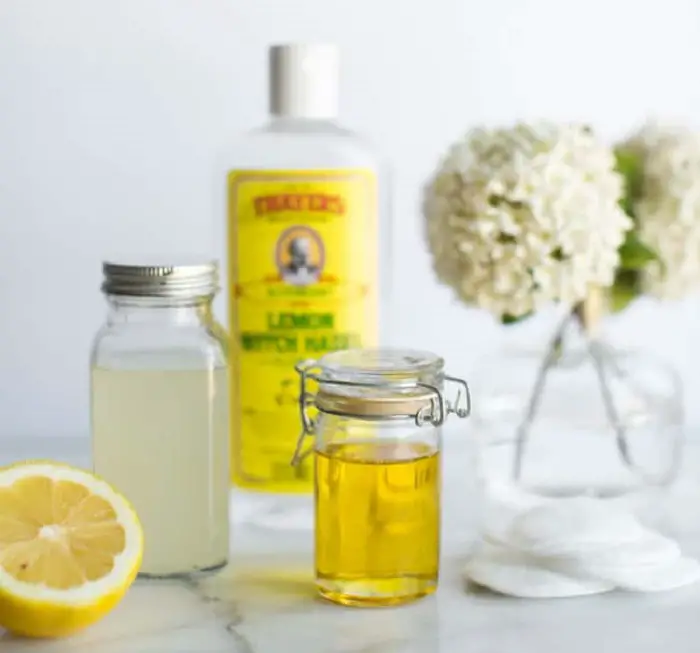 3. HOMEMADE MAKEUP REMOVER USING WITCH HAZEL FROM HELLO GLOW
We all know the incredible health and beauty benefits of witch hazel, so it makes total sense to include it in your makeup removal process.
This brilliant DIY recipe also contains jojoba oil, aloe vera, and lemon essential oil. Not only will you love its effects on your face, but you'll also adore the smell!
4. NATURAL DIY MICELLAR WATER WITH WITCH HAZEL FROM A LIFE ADJACENT
Not only does this DIY micellar water remove makeup, but it also cleanses, tones, and hydrates your skin — all in one step!
This natural makeup remover contains real micelles that attract and remove dirt, makeup and sebum. Plus, it's packed-full of helpful ingredients such as rose water, vegetable glycerine, organic witch hazel extract, and apple cider vinegar.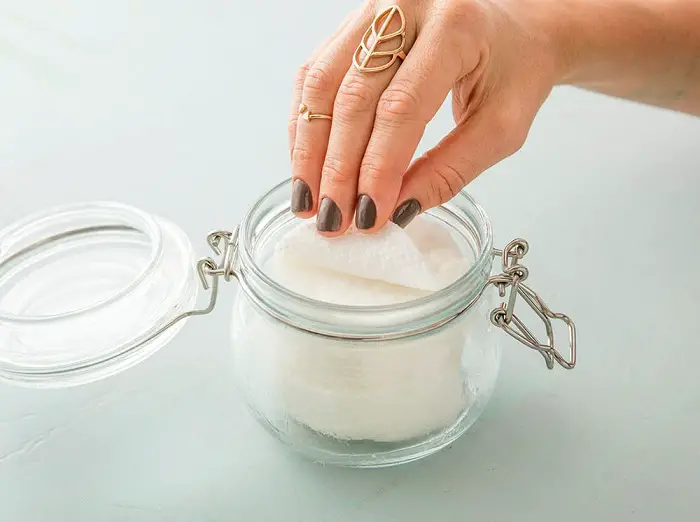 5. DIY COCONUT, TEA TREE OIL + GRAPEFRUIT MAKEUP REMOVER WIPES FROM BRIT + CO
The grapefruit and tea tree oil make these DIY makeup remover wipes smell so refreshing, but the tea tree oil also has an added bonus – it kills bacteria, helping to prevent pimples and other nasties.
To make these, you'll just need hot water, coconut oil, face wash or cleansing oil, witch hazel, and essential oils such as tea tree and grapefruit. Simply pour the mixture onto face pad cotton rounds and store in a mason jar. They'll last weeks!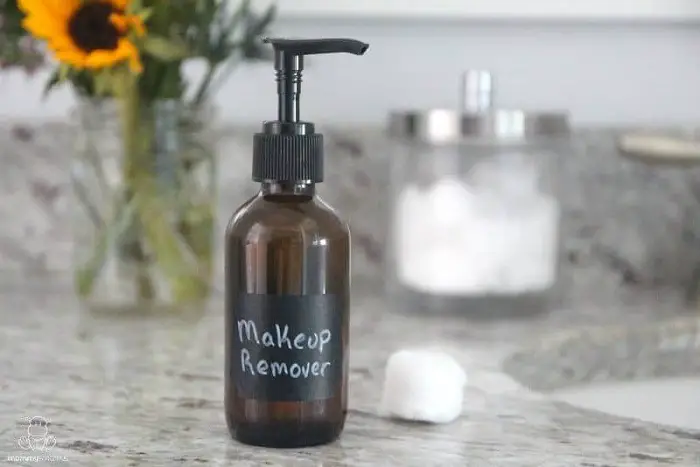 6. DIY MAKEUP REMOVER WITH JUST TWO INGREDIENTS FROM MOMMYPOTAMUS
This DIY makeup remover uses two simple, yet all-natural and highly effective ingredients: witch hazel extract and olive oil.
You pour the ingredients into a clean 4-ounce bottle, shake the bottle, then pump the makeup remover onto a reusable soft cloth or cotton ball. It's that easy! You could make this DIY makeup remover in as little as one minute.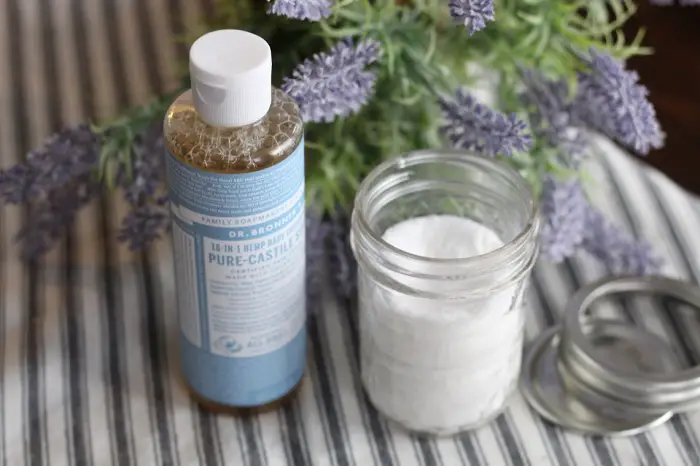 7. THREE-INGREDIENT MAKEUP REMOVER WIPES FROM LIFE MORE ABUNDANT
These DIY makeup remover wipes are moisturizing and remove all of your makeup – from mascara to foundation!
They use ingredients including fractionated coconut oil (naturally antibacterial, antifungal and very moisturizing as it is high in vitamin E), unscented castile soap (for cleansing), and vitamin E oil (high in antioxidants and very healing to the skin).
Once you try this DIY natural makeup remover, you'll never look back.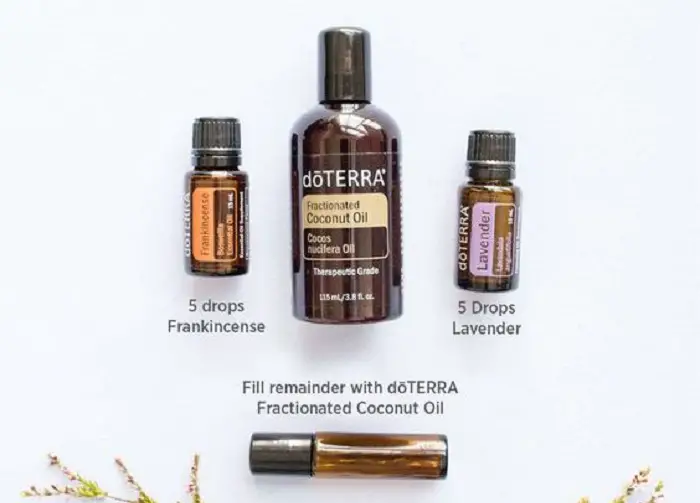 8. DIY EYE MAKEUP REMOVER WITH ESSENTIAL OILS FROM STEPHANIE BLUE
When creating any sort of skin care product, frankincense and lavender essential oils are a popular choice, as frankincense tones the skin and lavender is both calming and soothing.
This recipe is incredibly easy to follow. You simply take a roller bottle and fill it with fractionated coconut oil or almond oil, before adding 5 drops each of frankincense and lavender essential oils.
Shake well, then simply roll on your finger, apply to the eye, and remove your makeup with a soft cloth.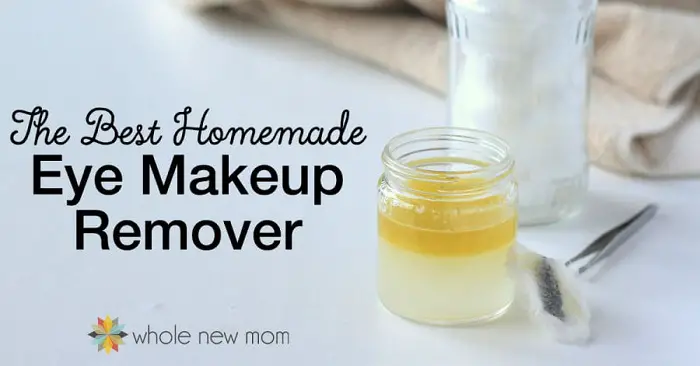 9. THE "BEST" HOMEMADE EYE MAKEUP REMOVER FROM WHOLE NEW MOM
After plenty of trial and error, this DIY makeup remover claims to me the best yet. It contains natural ingredients including witch hazel, jojoba oil, and filtered water.
Although the witch hazel in this product will help a bit with bacterial growth, it's recommended that you only make enough to use within 3-4 days and store this in the fridge.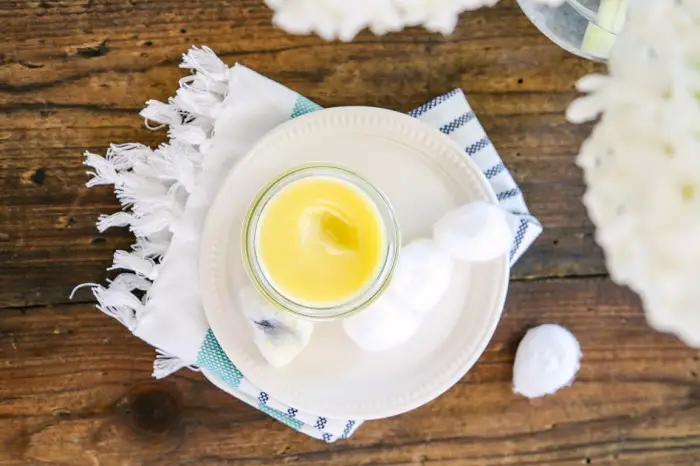 10. TWO-INGREDIENT MAKEUP REMOVER BALM FROM LIVE SIMPLY
A lot of DIY makeup removers use coconut oil as a key ingredient, but what if you're allergic to it?
Or simply find that it doesn't react well with your skin?
This two-ingredient solution leaves out the popular ingredient, instead utilising the powers of witch hazel and jojoba oil to remove your makeup carefully, safely, and naturally. Win-win!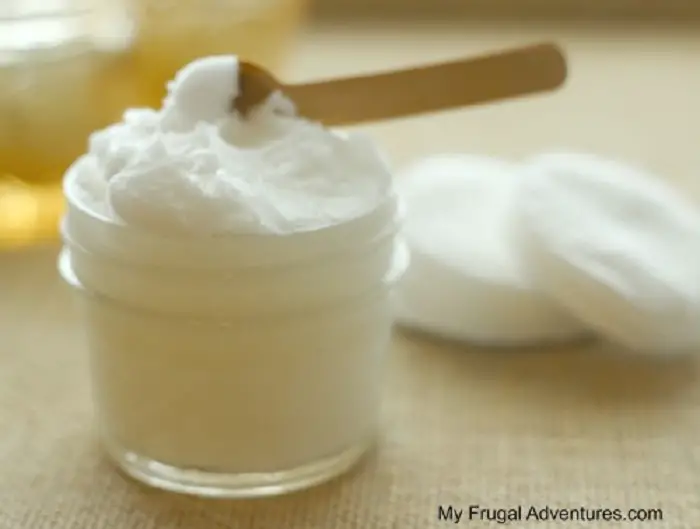 11. HOMEMADE MAKEUP REMOVER USING ONE INGREDIENT FROM MY FRUGAL ADVENTURES
We've featured a lot of two or three-ingredient makeup removers among this list, but an all-natural makeup remover using just one ingredient?
That's right!
This tutorial shows you how to use coconut oil on its own as an effective and nourishing makeup remover. It'll even remove stubborn, waterproof mascara.
With many people already having a jar of coconut oil in their pantry, this is perhaps the most affordable DIY makeup remover out there.
Which Homemade Makeup Will You Make?
There you have it – our top 12 DIY natural makeup removers!
While it might seem easy to purchase a store-bought makeup remover solution or wipes, just think about all of the nasty toxins and chemicals they contain!
If you're reading through the ingredients list and come across additives such as fragrance, alcohol, salyiylic acid, and other long, scientific-sounding ingredients, then it's best to ditch the product and make your own.
Many of these DIY natural makeup removers use just three ingredients or less, making them extremely fast, easy, and cost-effective to make. In fact, you could have a whole new natural makeup remover just in the time that it took you to read this article!
Check out the ingredients of each natural makeup remover recipe, do some research, and decide which blends will work best for your skin. You should test the solution on a patch of your skin first, just to be on the safe side.
Then, you can look forward to clean, refreshed, and nourished skin each night before you go to bed!
Which DIY natural makeup remover will you be trying? We'd love to hear from you in the comments section below.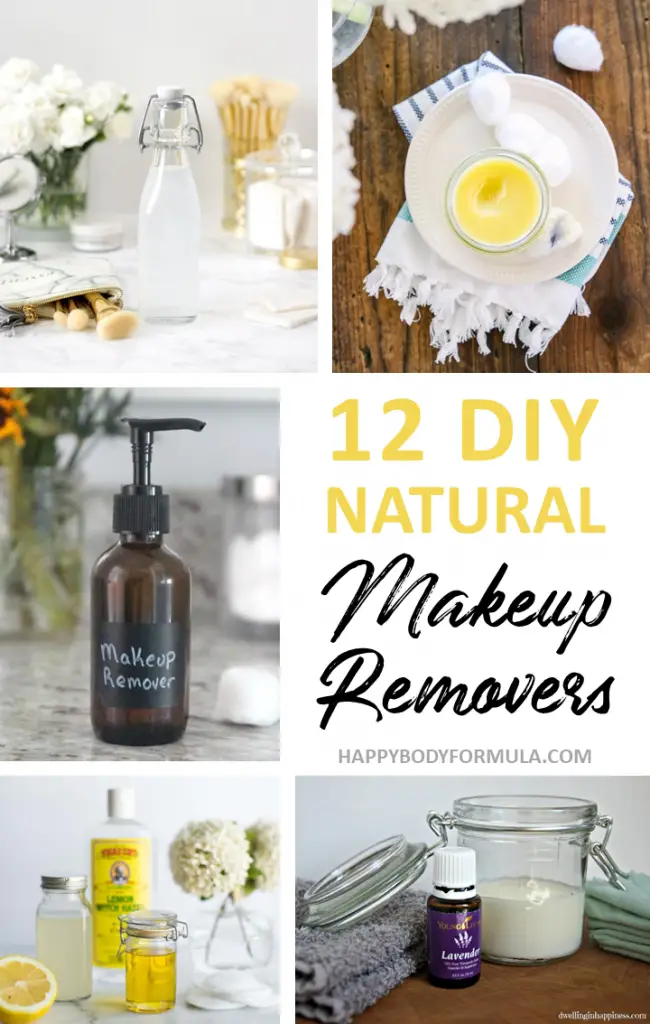 Melanie Clarke is the founder of Whim Online Magazine, an online magazine based in Australia that has a strong focus on whimsical + dreamy photography, as well as art and fashion content.