I'm sure we're all on the same page when it comes to the fact that life is too short not to have dessert every once in awhile. After all, it's what you do most of the time that counts.
Besides, indulgence is a great way to foster balance in your life while indulging our joy. Comfort food gets a bad rap, but every so often, it's just necessary.
Sometimes, the real deal is 100% acceptable. Special occasions call for breaking the rules, and that's okay. But what about the rest of the time? You know, like watching a movie on the couch when the craving for something salty comes on?
Instead of reaching for a bag of potato chips or polishing off bags of gummy bears, think outside of the box.
Sure, maybe kale chips are just a novelty to you. You might be asking, "Who in the world thinks they can pass off kale as a potato?" Don't knock it 'til ya try it.
These healthy food swaps are surprisingly similar to the real thing, and at least you can feel a bit generous with yourself while not throwing all your best efforts out the window.
Potato Chips vs. Kale Chips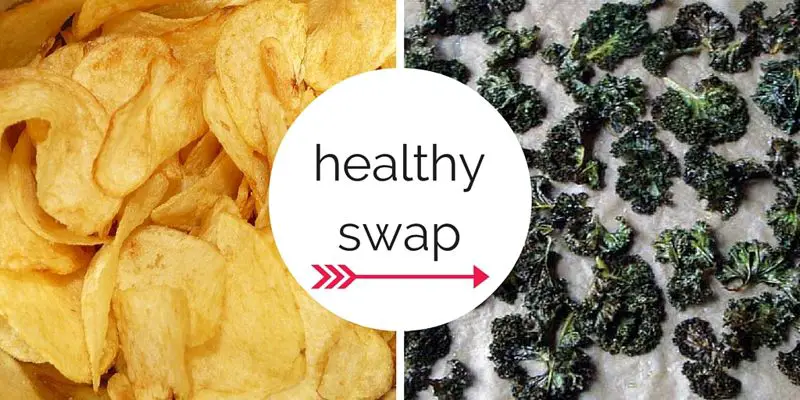 Potato chips are only as good as the ingredients they're made out of, and when you're hitting up the gas station for a quick fix, those ingredients aren't so wholesome.
Non-organic potatoes, refined oil, and artificial flavors galore, we want to steer away from. Kale chips aren't just a trendy food item these days. Grab a bunch, toss it in olive oil and salt, and bake.
These crispy, leafy greens pack loads of vitamin A and C while satisfying your need to crunch down on something. Besides, you can pretty much get away with eating the entire batch for far less calories.
Find a recipe for spicy kale chips here
Mac & Cheese vs. Cauliflower Bake
Before you deem these two dishes as nothing alike, I want to let you in on a little secret: cauliflower can be almost anything you'd like it to be. While it's certainly not pasta (and there's no denying it), you can take on the flavors that a baked macaroni dish encompasses with chopped cauliflower and a creamy coconut-milk and veggie sauce.
For a cheesy taste, consider using nutritional yeast. This is the ultimate comfort food classic with some serious produce power.
Try this baked "cheesy" cauliflower from The Healthy Maven
Donuts vs. Bliss Balls
Donuts… you can't eat just one, if only for the variety to be had! Cream-filled, bursting with jelly, coated with powdered sugar, or just plain glazed, a dozen of these bad boys does NOT constitute a healthy breakfast or snack.
While this is some people's chosen treat of choice, we've got something more suitable for an everyday occasion. Bliss balls are often made of dried fruit like dates, nuts, seeds, powders, and spices.
You can generally make them taste however you like with your favorite additions. These are the perfect bite-sized snacks for that on-the-go coffee sidekick.
Get fancy with these apricot and lavender energy balls
Zoodles vs. Noodles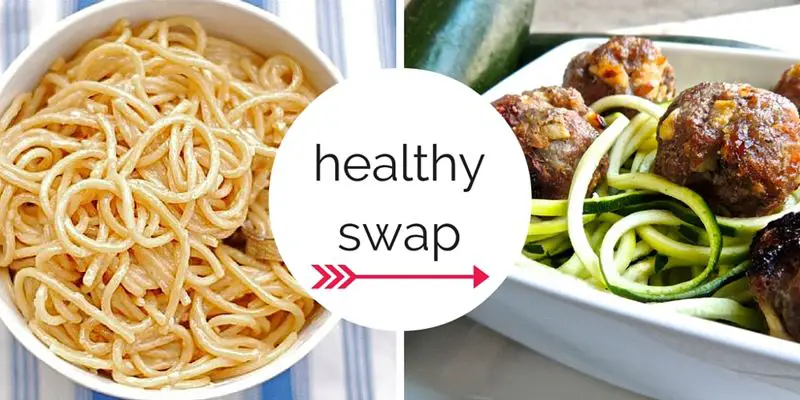 If you don't have a spiralizer, you ought to get one. From zoodles to sweet potato noodles, you can basically turn anything you'd like into pasta. This means alfredo dishes, easy bolognese, fun additions to salads, stir-fry, and noodle soups without limits.
You're cutting down on calories while stacking up the nutrients. Plus, this simple kitchen investment will keep things interesting for meals to come.
Top yours with these apple and pork meatballs
Tortilla Chips vs. Sweet Potato Chips
Tortilla chips aren't the worst offender when made from organic corn, but sit in front of an endless bowl of chips and salsa at a Mexican restaurant and… well, you can't stop at one!
Making homemade sweet potato chips at home ramps up the nutritional value while allowing you to implement some portion control. They make the perfect vessel for scooping up some pico or guac.
These nachos are the perfect party dish
Butternut Squash Fries vs. French Fries
Much like potato chips, fries are as good as the ingredients are. It goes without saying that fast food fries aren't exactly what one might consider "healthy," but the need for that salty, fatty, potato-ey goodness just hits us sometimes.
Butternut squash can be peeled, seeded, and cut into fries perfect for dipping and curbing your craving. Bake 'em instead of frying 'em and you've got a much better-for-you treat.
Check out this zesty recipe from Martha Stewart
Ice Cream vs. Banana Ice Cream
Banana ice cream, otherwise known as "nice cream" is all the rage these days. In fact, you can buy a kitchen appliance designed specifically for making it. Rest assured, though, you don't need to dish out big bucks.
If you've got a food processor or high speed blender, you've got squeaky clean ice cream coming your way. Simply blend frozen bananas alone or with additional flavorings like frozen berries for sorbet or cocoa powder for a chocolate fix.
We have a handy dandy list of guilt free blender ice cream here
Riced Cauliflower vs. Rice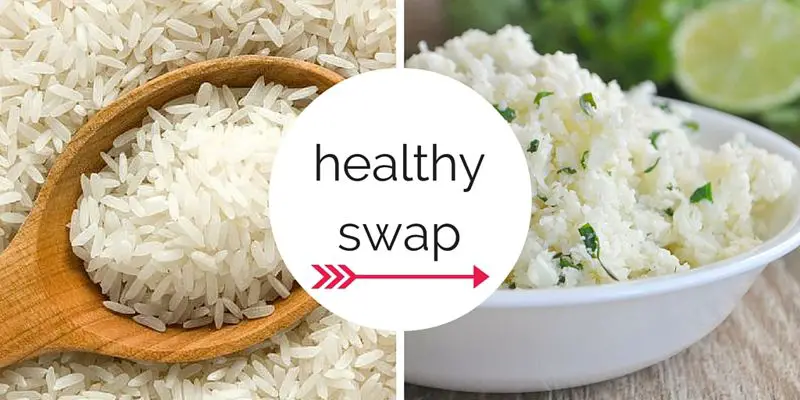 Once again, cauliflower stands in as the superior choice here. After all, curry just isn't the same without rice, and giving that up would be unfair.
With a head of cauliflower and a food processor, you've got a bed of "rice" to serve up any tasty Asian or Thai-inspired protein and soak up yummy sauces.
Get creative with this prawn and chorizo "paella"
Fruit & Nut Bars vs. Granola Bars
Granola bars are often sold and touted in packaging with health claims and whole grains, but we know better than that. Hiding out in between the oats and nuts are up to three different types of sugar.
Yikes! Instead, you can opt for an au natural approach to quick energy and snacking on the go by processing dried fruit and nuts and forming them into bars.
Chickpea Hummus vs. Cauliflower Hummus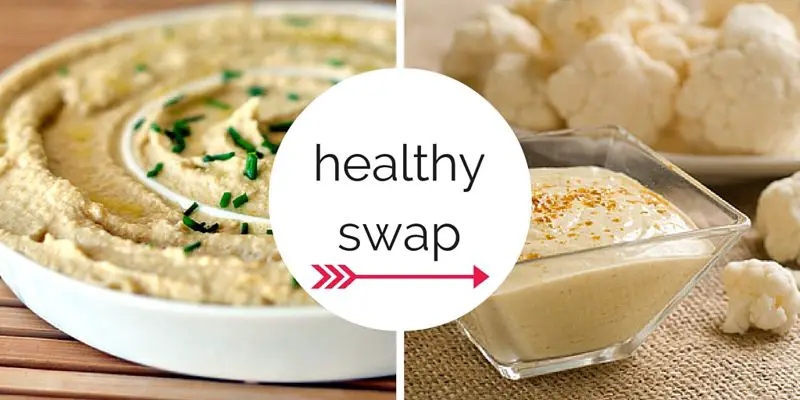 Now, little garbanzo beans aren't enemy #1, but many people don't tolerate legumes as well as they think they do. When improperly prepared, these little buggers are known for their anti-nutrient content and causing digestive issues.
Whizzing up some cauliflower, tahini, olive oil, and spices can recreate that Mediterranean appetizer without the negative side effects.
Here's an adaptation using roasted cauliflower for the dip
Pizza vs. Eggplant Pizzettes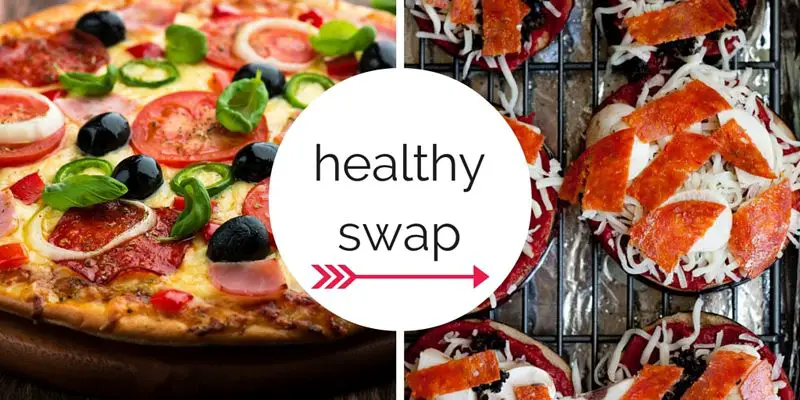 There's nothing quite like ordering delivery and awaiting a glorious, piping hot, cheesy pizza on your doorstep. It's the ultimate convenience, and it's not necessarily notorious for being a healthy habit of ours.
When it comes down to it, pizza is all about quality toppings and explosive flavor. Using eggplant rounds as the base, we can top it off with the seasonings, sauce, and cheese we love so much.
Here's an easy peasy recipe for your pizza fix
Tuna Sandwich vs. Tuna Salad
Tuna salad is a humble lunch staple that we often encounter at the deli. In this case, it's almost always served on bread. Even worse, it's generally doused in heavy mayo made with refined oils.
Otherwise, this food has so much potential to be a protein-packed lunch full of healthy fats! Serving it in lettuce cups or on top of a salad is the healthy choice.
These endive boats will make you forget all about the bread
Fried Breaded Chicken vs. Baked Chicken Wings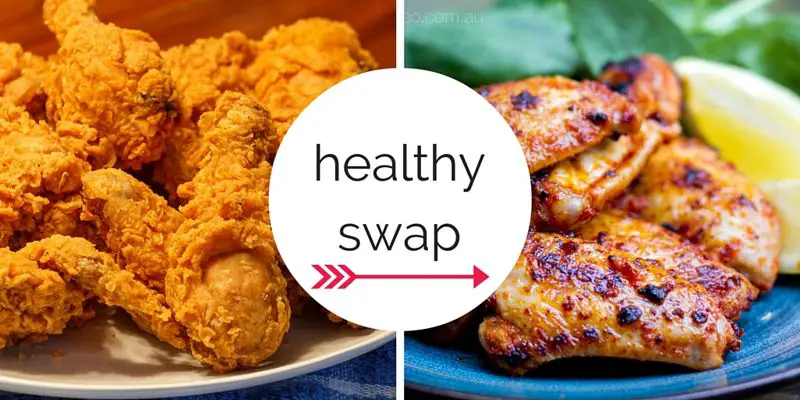 Fried chicken is definitely not known for being healthy. Alas, it is known for being really freaking good. And, well, it is. Unfortunately, indulging in this picnic food often isn't going to be doing you any favors.
Opt for the grill or the oven instead when it comes to wings and forgo the breading for a sticky glaze, a good brine, or a succulent dry rub.
Try these sticky Portuguese chicken wings
Burger Buns vs. Lettuce Wraps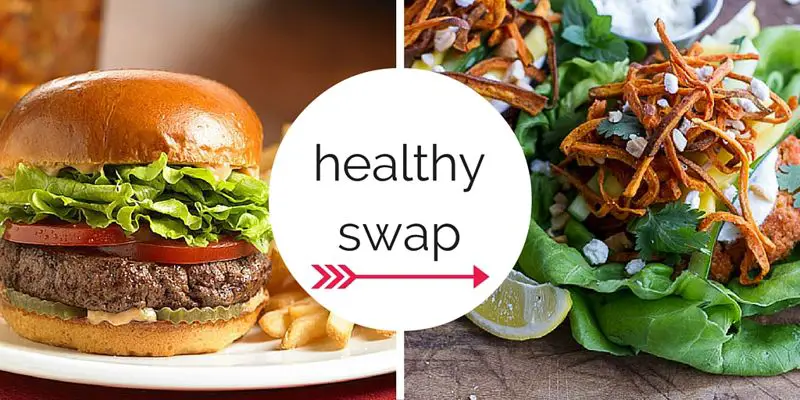 Burgers are generally pretty healthy. We've got some meat stacked with veggies, condiments, and maybe some cheese. If you're making it at home, you can ensure quality ingredients go into the burger.
The bun is the problem here. Before you deem lettuce boring, remember how many varieties you can choose from. Get creative with collard greens and cabbage leaves, too.
Grab some burger inspiration here for your next wrap
Eggs, Baked Beans & Toast vs. Breakfast Hash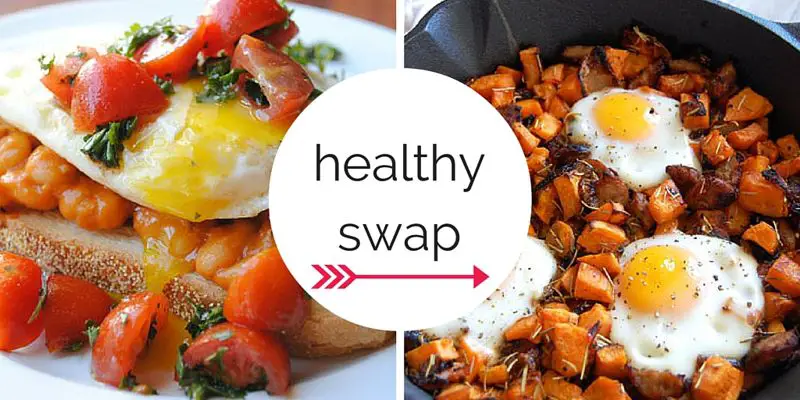 We're going to assume you've got a healthier choice with this one. Forgo the grains and the sweet baked beans for sweet potatoes and warm roots, bacon or sausage, and whatever veggies you'd like.
A quick breakfast hash makes great use of leftovers for staying on track throughout the week, and it's easily customized. Just put an egg on it!
This sweet potato chorizo hash has all you need and more
Peanut Butter Sandwich vs. – Apple Slice with Almond Butter
Peanut butter and jelly sandwiches are a lunchbox treat, and they're not just for kids. This combination is a comfort food for adults, too. Whether you're treating the little ones or yourself, opt for a grain-free option and sandwich almond butter or cashew butter in between two apple slices.
Add some honey if you're feeling sweet. You can also pile it into celery sticks and top with raisins.
These paleo apple almond butter nachos are the ultimate snack
Lasagne vs. Layered Veggie Bolognese Bake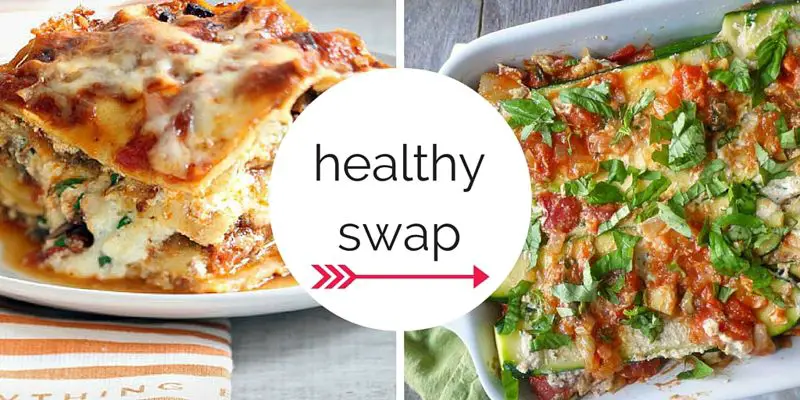 Lasagne is the deep dish we love second best, next to pizza. The soft layers of noodles, ricotta cheese, meat, and sauce come together to make this dinner the meal you're always asking for seconds from.
Unfortunately, this recipe is quite heavy, and all of the dairy and grains make it not the best choice. Layering up veggies in a homemade meat and tomato sauce can give you something heartier, cosier, and healthier than traditional lasagne.
Read up on the secrets to a great Bolognese sauce
There you have it! You don't have to miss out on much just because you're missing certain foods. These healthy swaps are bound to get you through the worst of cravings while truly enjoying delicious and nutritious foods.
Want more recipes like this?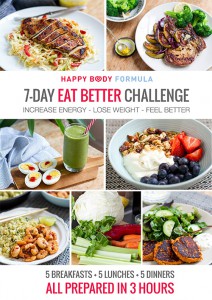 Is life getting in the way of your goals to eat healthier and feel better?
We know it's hard to stay on track when you're tired and busy during the week. We often make bad choices when unplanned and unprepared.
That's why we created our make ahead meal plans, complete with real food recipes and shopping lists that will cover you for five dinners, lunches and breakfasts.
We believe that planning and preparing meals ahead of time is your best strategy towards healthier eating. Get the 7 Day Meal Plan Today.
Music, mountains, dogs, travel, food and friends.