You'd be forgiven for being hesitant about putting oil on your face. After all, isn't oil exactly what you're trying to remove from your pores?
Contrary to popular belief, the opposite is actually true; you see, according to top dermatologists, facial oils may be that missing step in your beauty routine.
Not all oils are created equally, but some have the ability to nourish and revitalize your skin, particularly when used after cleansing and before sleep.  
Other skin-loving benefits of facial oil include:
Reducing the appearance of fine lines and wrinkles
Providing moisturization to combat dry, flaky skin
Acting as a barrier to toxins and other negative elements in the air
Priming the skin before makeup application
Shrinking enlarged pores
Anti-inflammatory properties, making them particularly good for calming rashes
Reducing oil production while keeping the skin's moisture levels in-check
There's no doubt that facial oils contain many benefits for your skin, but store-bought products can be expensive. Rather than forking-out a small fortune, why not create your own skin-loving facial oils from the comfort of your own home?
Today, we've rounded-up the top 15 DIY facial oil recipes to help your skin get ahead.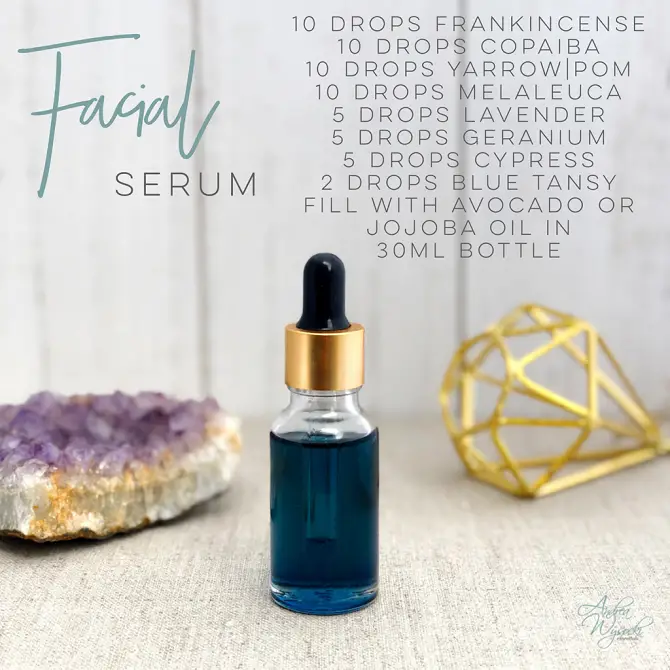 This soothing and anti-aging facial serum has a unique blue color, thanks to ingredients such as the chamazulene in the Yarrow and Blue Tansy.
You can also use either avocado oil or jojoba oil in this concoction, as both have wonderful nourishing properties for your skin. As with all facial oils and serums, it's recommended that you first cleanse your skin before applying it gently to your face (or just the problem areas).
2. HOMEMADE FACE OIL RECIPE FROM ROOT + REVEL
This recipe is a natural, non-toxic and inexpensive skincare multi-tasker that moisturizes, cleanses, and acts as a serum.
It can be tailored to all skin types, whether yours is oily/acne-prone, dry, sensitive, or mature, making it a wonderful gift for your loved ones too! The tutorial will even give you the lowdown on which carrier oils and essential oils are best for your skin.
3. DIY REPAIR SERUM FROM HELLO GLOW
This DIY facial serum really is a little miracle in a bottle. Thanks to a blend of rosehip, frankincense and pumpkin seed oils, it helps combat free radicals and repair damaged skin, as well as lighten scars, sun spots and discoloration. It only uses a few key ingredients, but packs a powerfully good punch for your nightly skin routine.
4. EVERYDAY FACIAL SERUM FROM SIMPLY QUINOA
This homemade facial serum is a wonderful, everyday beauty product that combines two incredibly hydrating oils, along with some powerful essential oils to help boost the look and feel of your skin.
Jojoba oil and rosehip seed oil serve as the base of the serum, while frankincense, carrot seed, lavender, and geranium oils are also used.
Here's another DIY facial oil to give you radiant, blemish-free skin. Frankincense and carrot oil will help to correct blemishes and even out skin tone while the hemp, jojoba and rosehip oils help to reduce inflammation and soften fine lines.
Gently pat the oil onto any problem areas you may have on your face, including dry skin, crow's feet, wrinkles and tired looking skin.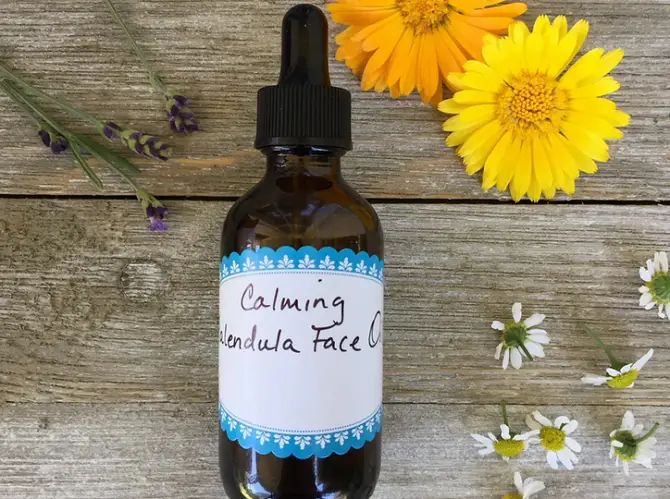 6. CALMING CALENDULA FACE OIL WITH LAVENDER & CHAMOMILE FROM MY HEALTHY HOMEMADE LIFE
If you're experiencing red, inflamed, or sensitive skin, then this is the DIY facial oil for you. It's made with three gentle, anti-inflammatory herbs, allowing it to effectively soothe and calm any redness in the skin.
It also penetrates and nourishes the deepest levels of the skin, meaning that it has excellent anti-aging properties too. You simply can't go wrong with this recipe!
7. ANTI-AGING ROSEHIP + ROSEWATER DIY FACE SERUM FROM HELLO GLOW
This homemade facial oil uses rosehip oil and rosewater as its two main ingredients. Rosehip oil is packed with antioxidants, which makes it a fantastic anti-aging serum to have in your beauty regimen.
The oils can deeply penetrate the layers of your skin and help stimulate collagen production. Rosewater, on the other hand, has excellent toning properties and can quickly soothe any tired, puffy, or irritated skin.
Not only does this homemade facial oil serve as a moisturizer, giving your skin a gorgeous and healthy glow, but it also works just as well as store-bought products to remove your makeup.
It uses nourishing jojoba oil as a base, as well as other wonderful oils such as buckthorn berry seed, lavender, frankincense, geranium, and myrrh.
9. REFRESHING ROSEWATER FACE MIST FROM JILLIAN HARRIS
Face mists are perfect for a quick spritz throughout the day to keep your skin looking and feeling its best.
This DIY rosewater version is no different, as it contains nourishing ingredients such as rose water and an essential oil of your preference (this recipe uses lavender). Simply spray it on your face morning, afternoon, or night for an instant skin pick-me-up.
10. DIY CLEANSING OIL FROM BIOME
This DIY oil cleanser works to clean, heal and hydrate your skin, plus it's gentle enough for everyday use. The oils that have been combined in this cleansing oil work to combat acne, dryness and keep pH in balance, making it a great option for any skin type.
It uses four essential oils to nourish your skin, including castor, jojoba, apricot kernel, and hemp seed.
11. GREEN TEA FACE MIST FOR GLOWING SKIN FROM BEST OF TIPS
This DIY green tea facial mist is packed with the benefits of natural ingredients like green tea, rosehip oil, lemon and rosewater.
It works wonders when it comes to cleansing, toning and hydrating the skin, plus it's excellent at restoring the pH level of the skin. For added benefits, you can also add vitamin E capsule oil, particularly if you have dry skin.
12. ESSENTIAL OIL GLOW SERUM FROM THE DANDY LIAR
If your skin is looking a little tired, dull, or lifeless, then this homemade glow serum may be exactly what the (skin) doctor ordered!
The DIY glow serum contains Copaiba, Frankincense and Lavender essential oils, which create a trifecta of skincare goodness. They moisturize your skin, help promote circulation, minimize pores, reduce inflammation, and help to heal and treat open cuts and wounds.
This incredible homemade facial serum targets anti-aging, reduces pores and fine lines, helps hyper pigmentation, and doesn't clog your pores.
It does all of this using just three ingredients: argan oil, rosehip oil, and lavender oil, but encourages you to also customize the recipe based on your own skin's needs.
This DIY facial oil uses rose geranium, frankincense and lavender because they are great for skin. Frankincense reduces the production of free radicals and can be used to heal skin, plus it's anti-aging.
Lavender oil has antioxidant and anti-inflammatory properties, while rose geranium can unclog pores, brighten, tighten and minimize discoloration.
This recipe encourages you to ditch those expensive store-bought facial oils and make your own! The nourishing concoction uses jojoba oil (sweet almond or grapeseed oil are also good options), rosehip seed oil, lavender, frankincense, and geranium.
You simply combine the carrier oils and essential oils in a dark, amber glass bottle, before shaking well to combine. Too easy!
Which Facial Oil Recipe Will You Try?
There you have it – our top 15 DIY facial oils to dramatically improve your skin, no matter what your skin type. From oily and combination, to dry and sensitive – there's a homemade facial oil or serum to give you glowing, healthy, and blemish-free skin in just a matter of days.
Simply cleanse your skin before bedtime, before applying your facial oil in place of traditional moisturizing cream. Don't forget to target your 'trouble' spots, including patting the oil gently under your eyes, over crow's feet, laugh lines, age spots, pimples, or dry and flaky skin.
Which DIY facial oil will you be making for yourself or loved ones? We'd love to hear from you in the comments below!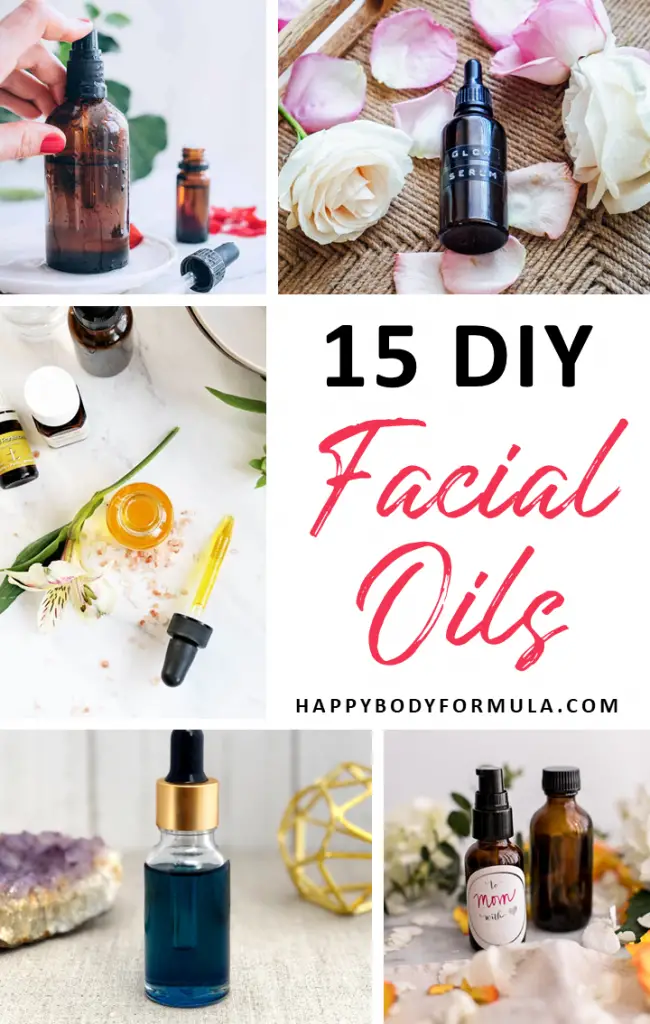 Melanie Clarke is the founder of Whim Online Magazine, an online magazine based in Australia that has a strong focus on whimsical + dreamy photography, as well as art and fashion content.