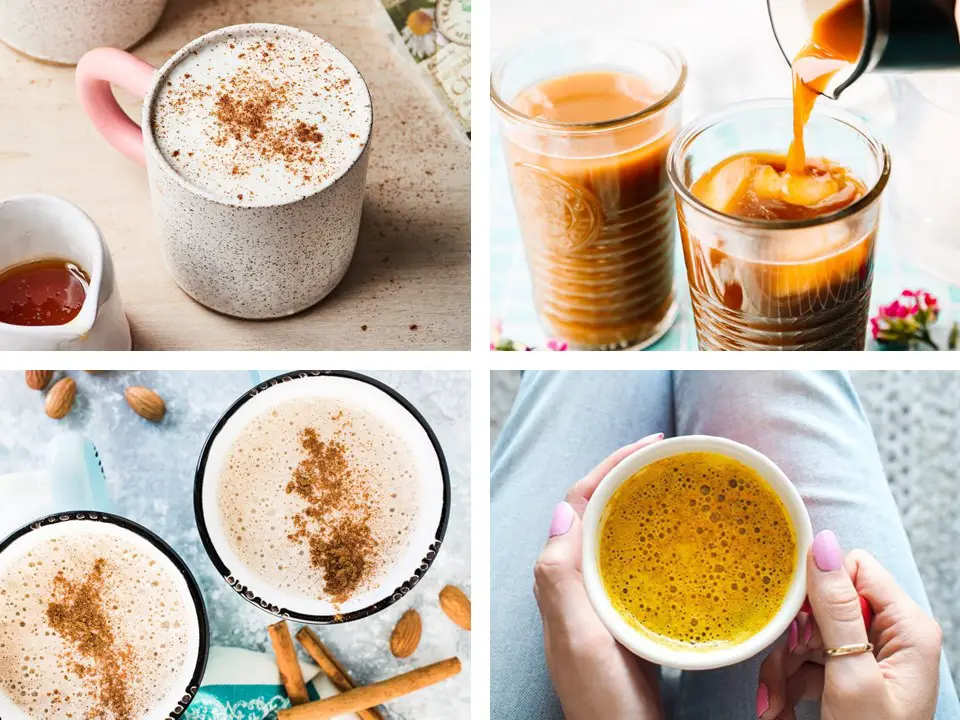 When we wake in the morning, the first thing many of us will reach for is our morning coffee, but what if there was a healthier way to start your day?
Now, don't get us wrong, we're not asking you to give up your coffee entirely – merely to tweak it so that it's a healthier, yet just-as-tasty version of your previous favorite.
Think of additions such as turmeric, coconut, matcha, and more.
Keep reading for 25 of the tastiest and healthiest coffee recipes you'll find!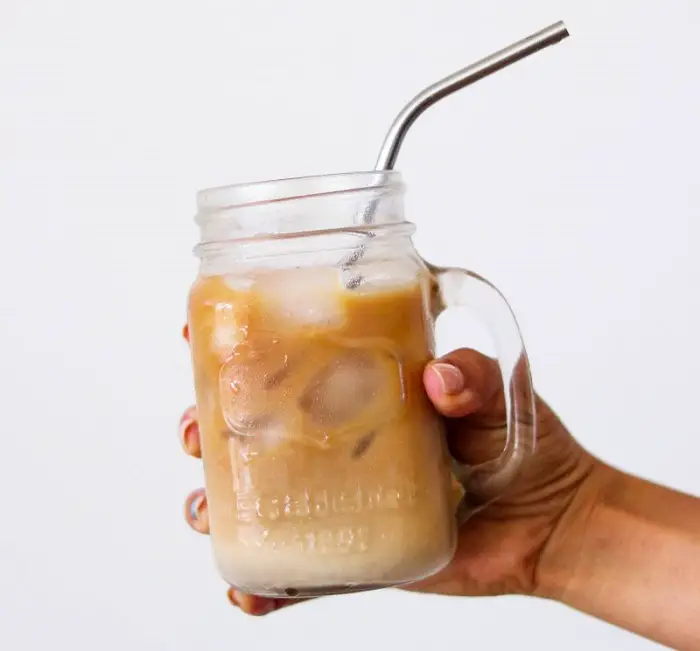 1. COCONUT MILK THAI ICED COFFEE (PALEO, VEGAN) FROM WHAT GREAT GRANDMA ATE
This sweet and creamy coconut milk Thai iced coffee is a paleo and vegan version of everyone's favorite iced coffee.
If you've never had Thai iced coffee before, it can be described as this: "It's the creamiest coffee ever that's deliciously sweet, and it basically tastes like coffee ice cream in liquid form."
This one contains coffee, ice cubes, coconut milk, maple syrup, cardamom powder, and almond extract. Delicious!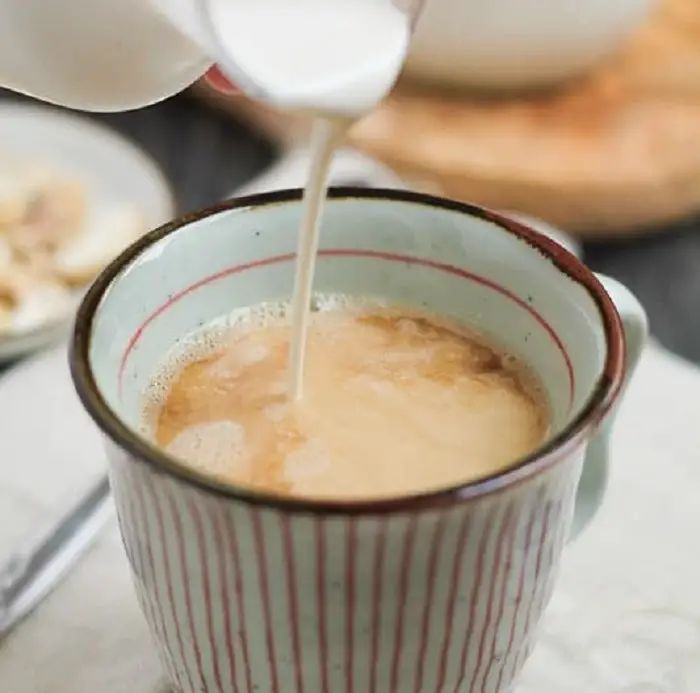 2. VANILLA CASHEW COFFEE CREAMER FROM THE HONOUR SYSTEM
This vanilla cashew coffee creamer is vegan, gluten free and completely sugar free, meaning you can feel guilt-free about your morning coffee too.
It contains raw cashews, filtered water, vanilla, and sea salt. Trust us, once you swap your normal coffee for this one, you'll be hesitant to go back!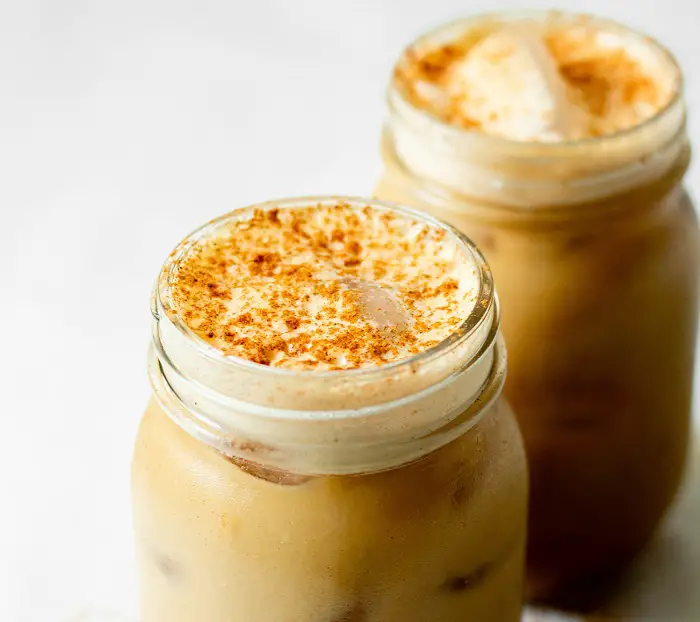 If you want to enjoy your pumpkin spice fix, this is the coffee you need!
This easy pumpkin spice cold brew coffee is made with real food ingredients like real pumpkin puree, maple syrup, and your favorite dairy-free milk.
It's refined sugar free, full of cozy pumpkin spice flavor, and absolutely delicious.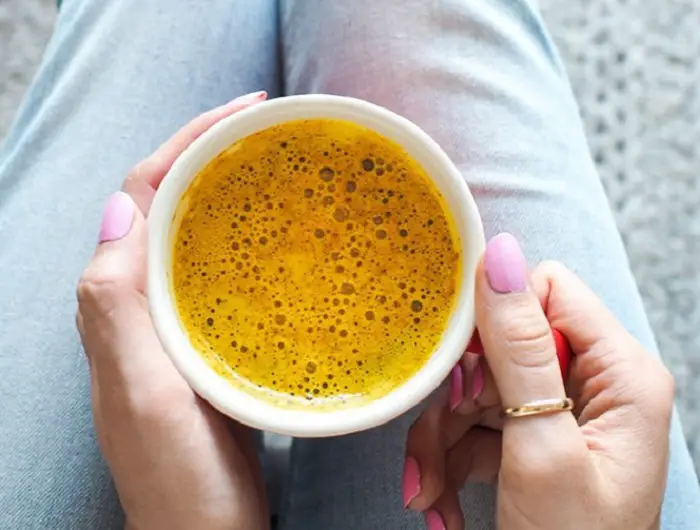 How about a morning coffee that is anti-inflammatory and contains numerous health benefits?
This turmeric latte recipe lets you make the on-trend and popular drink from the comfort of your own kitchen.
Other ingredients include almond or coconut milk, cinnamon powder, vanilla bean paste, organic stevia or honey to taste, black pepper, and collagen peptides (optional).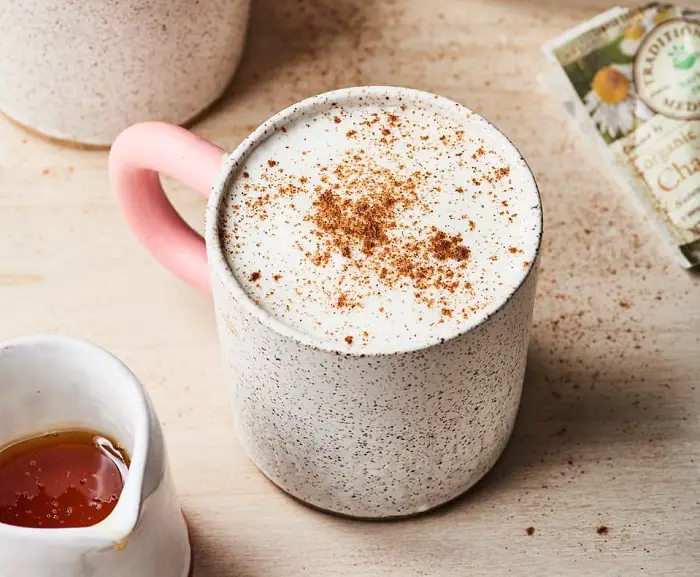 5. HONEY CHAMOMILE TEA LATTE FROM KITCHN
If you fancy foregoing caffeine altogether, this honey chamomile tea latte may be just the thing for you.
It's simple mix of chamomile tea and steamed milk that's sweetened with honey and finished off with just a bit of ground cinnamon.
Not only is it a healthy way to start your day, but you can drink it before bed to soothe your stress or insomnia. Bonus!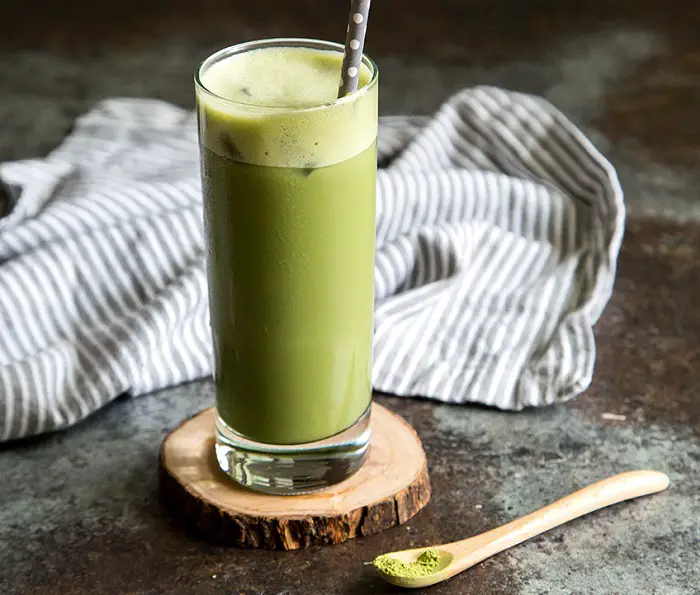 Fancy another coffee-free way to start your day?
When you need a break from coffee, this iced honey matcha soy latte definitely hits the spot. It's perfect for giving you a kick of energy, thanks to the matcha, and contains other ingredients such as water, unsweetened soy milk, honey syrup, and ice.
Cool, refreshing, and healthy.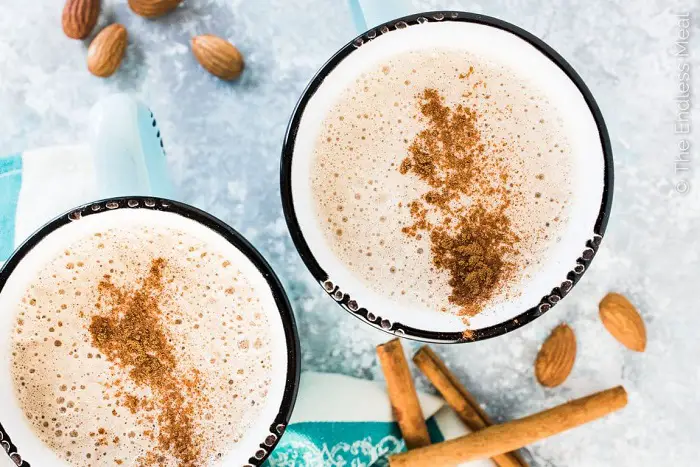 7. SUPER CREAMY ALMOND BUTTER LATTE FROM THE ENDLESS MEAL
This is a dairy-free coffee that has lots of healthy proteins, fat, and collagen. It's so rich and creamy, making it seem luxurious, yet it's actually a coffee you can feel good about.
Aside from coffee, you'll also find collagen peptides, creamy almond butter, coconut oil, maple syrup, and cinnamon in it. Make up a batch of it next time your friends come around!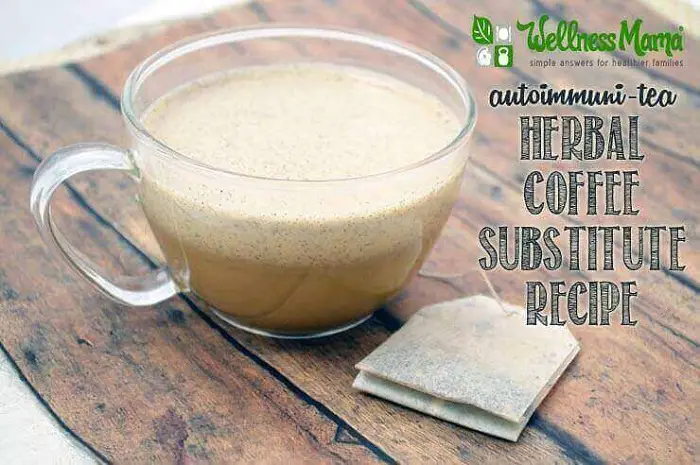 8. AUTOIMMUNI-TEA COFFEE SUBSTITUTE FROM WELLNESS MAMA
Gone off coffee? If you're still craving something warm and nourishing in the morning, try this substitute instead!
Use a brewed tea of your choice (try dandelion root, rooibos, or pu-ehr tea) combined with coconut oil, collagen hydrolysate, and vanilla bean or vanilla extract. Let us know how you go!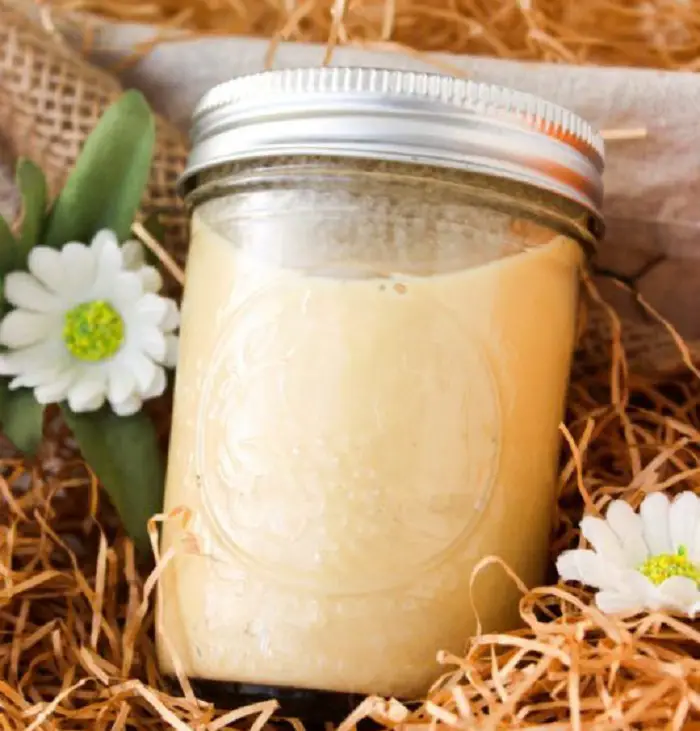 9. ALMOND MILK PUMPKIN SPICE COFFEE CREAMER (VEGAN) FROM ONE GREEN PLANET
Ready to make an almond milk pumpkin spice coffee creamer?
Simply gather raw unsalted almonds, water, pumpkin puree, pumpkin pie spice, agave, and vanilla extract and combine them all to form one of the most delicious creamers you will ever try. Wow!
Unlike many creamers, this one doesn't contain unhealthy sweeteners, fats, or oils.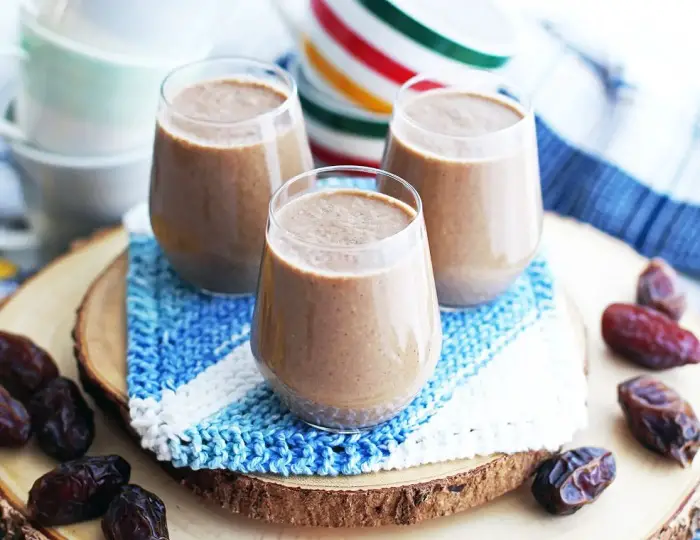 10. CREAMY DATE COFFEE BREAKFAST SMOOTHIES FROM YAY! FOR FOOD
If you often have the dilemma of choosing between a coffee or a healthy smoothie to start your day, we've got the answer for you: a creamy date coffee breakfast smoothie that'll perk you up in no time.
Dates are fibre-rich and contain nutrients such as potassium, calcium, and copper, which contribute to the health of your cardiovascular system.
Other ingredients include coffee, almond milk, rolled oats, banana, chia seeds, pure vanilla extract, and ice cubes.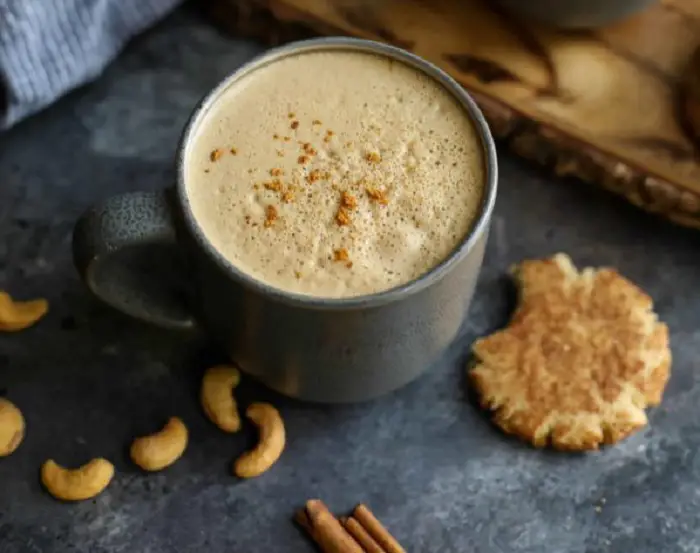 This snickerdoodle cashew coffee has that familiar cardamom taste that will instantly warm you up and have you brewing another one soon after.
This intriguing concoction contains coffee, coconut oil, creamy cashew butter, cinnamon, and collagen peptides (optional). Healthy? Tick. Tasty? Double tick.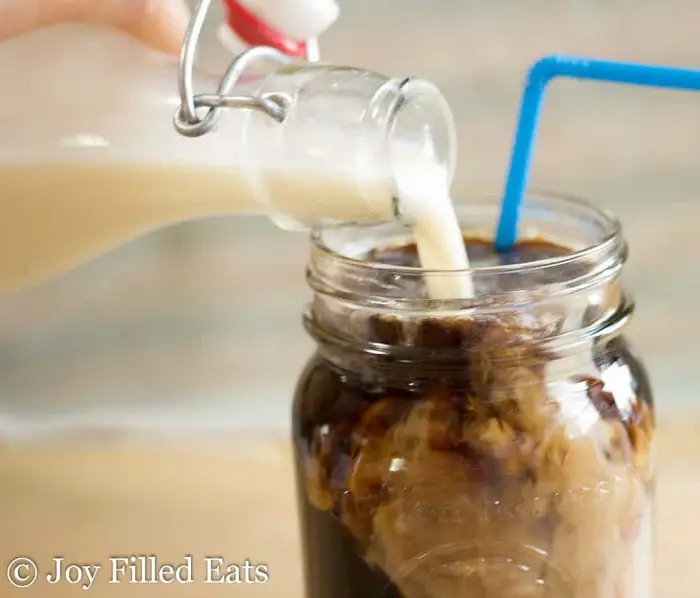 12. MONKFRUIT COFFEE CREAMER (LOW CARB, SUGAR FREE, THM S) FROM JOY FILLED EATS
This easy Monkfruit Coffee Creamer is perfect for both hot or iced coffee. You can easily adjust the sweetness to your taste buds and add extracts for additional nutritional value.
It uses ingredients such as monkfruit erythritol blend sweetener (i.e. Lakanto), water, vanilla, almond milk, and heavy cream.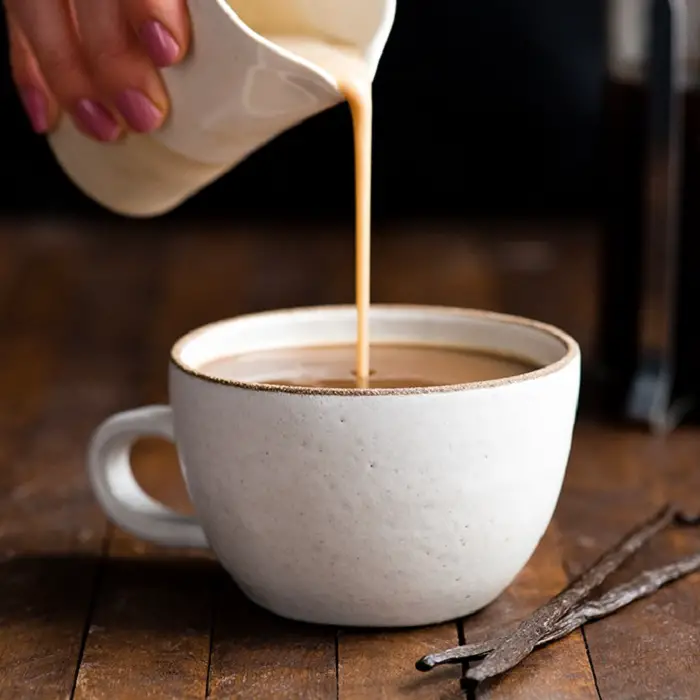 13. HOMEMADE HEALTHY COFFEE CREAMER FROM JOY FOOD SUNSHINE
This homemade healthy coffee creamer recipe is paleo and vegan, plus it contains just 4 simple ingredients: coconut milk, almond milk, coconut sugar, and vanilla beans.
You'll notice that it's way healthier than most store-bought creamers, so you can ditch the guilt and enjoy your new morning routine.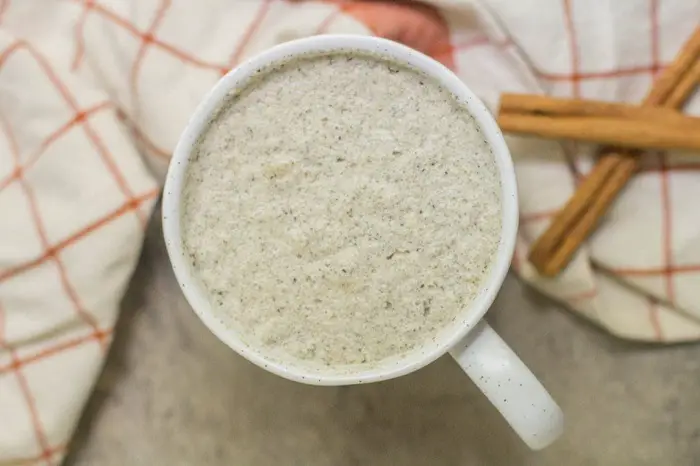 This healthy vanilla cinnamon latte is a delicious paleo drink that is perfect for fall!
With only four ingredients, it's also easy to make, meaning you can still enjoy it on those mornings when you're low on time.
In just 5 minutes, after combining almond milk, cinnamon, collagen creamer, and espresso, you'll be sipping pure joy.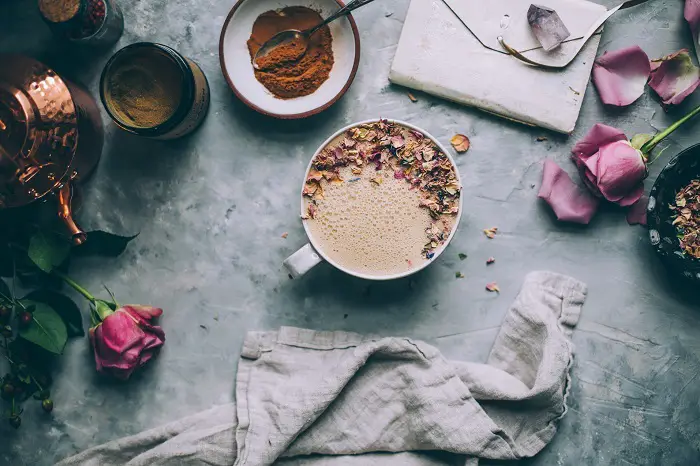 15. INSTANT HEALTHY COFFEE LATTE (VEGAN) FROM WILL FROLIC FOR FOOD
Ready for a life changing latte?
This healthy version uses just three ingredients and is composed of coffee, nut butter and one date. It's perfect for vegans and can easily be customized to suit your taste or nutritional needs.
For example, you can add collagen peptides or other herb powders until your heart is content!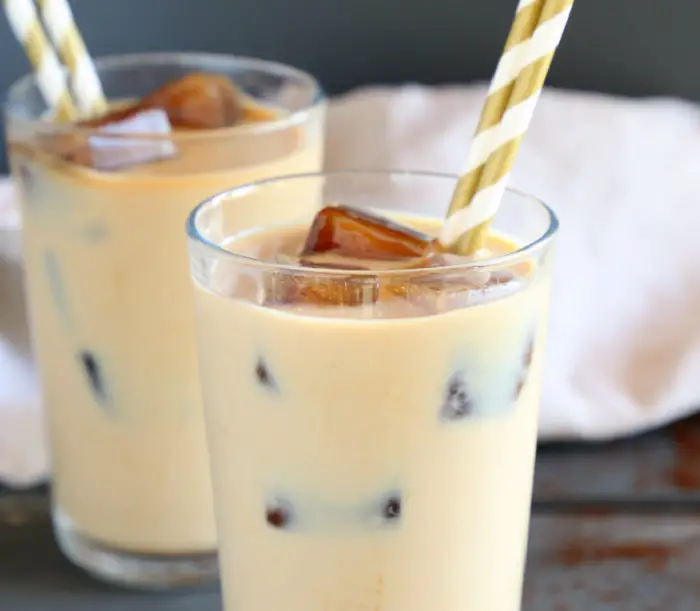 16. HEALTHY ICED COFFEE FROM THE BUSY BAKER
What's refreshing, healthy, diet-friendly, and costs only pennies per cup?
This healthy iced coffee, of course! This one features coffee, honey (or a natural sweetener of your choice), and milk of your choice (try almond milk, coconut milk, oat milk, or soy milk). That's it!
It's quick and easy to make and will have you feeling on cloud 9 all day long.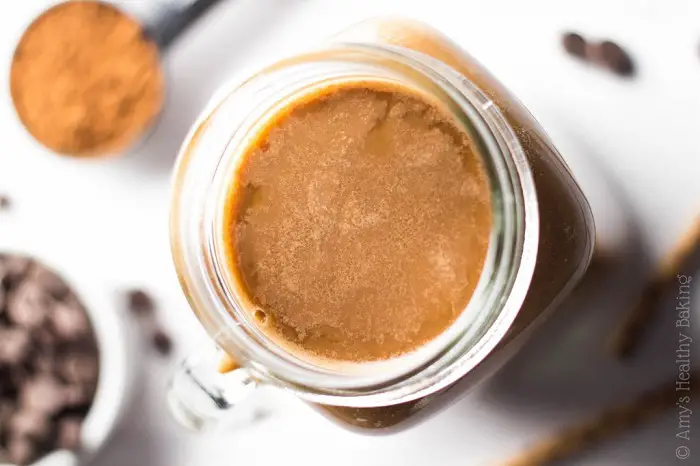 17. SKINNY DARK CHOCOLATE PEPPERMINT COFFEE CREAMER FROM AMY'S HEALTHY BAKING
Can you believe this skinny dark chocolate and peppermint coffee creamer is rich, creamy, and full of decadent holiday-themed flavor, but it's only 5 calories?
To make it, you'll just need unsweetened cashew milk, cacao powder, vanilla crème stevia, and peppermint extract. It's a treat that's perfect during the winter holidays or year-round!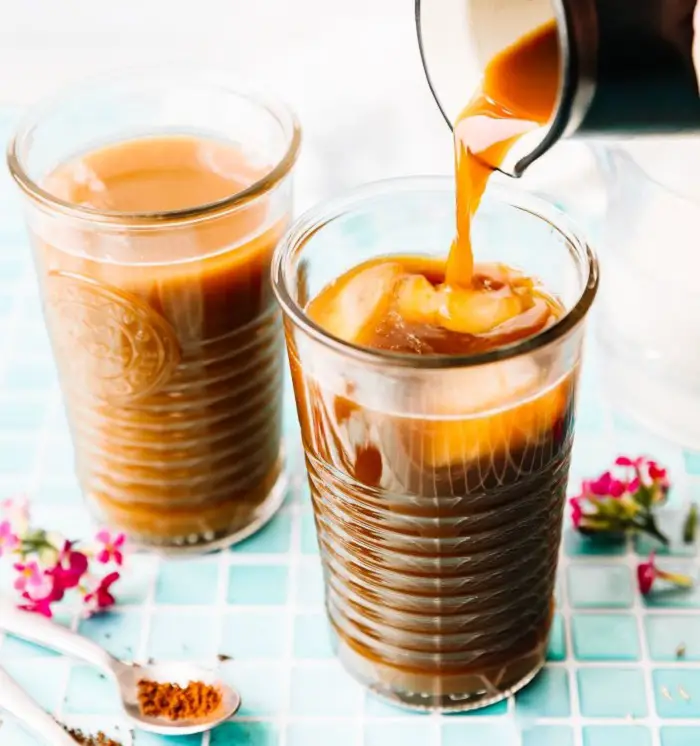 18. VEGAN ICED BULLETPROOF COFFEE LATTE FROM COTTER CRUNCH
This recipe for vegan bulletproof coffee doesn't use butter!
Instead, it uses plant-based healthy fats to make it into a bulletproof coffee latte drink that's also paleo and vegan friendly.
Ingredients include unsweetened almond or coconut drinking milk, coconut oil, MCT oil (regular or vanilla-flavored), strong brewed coffee, vanilla or hazelnut extract, and sweetener of choice (optional).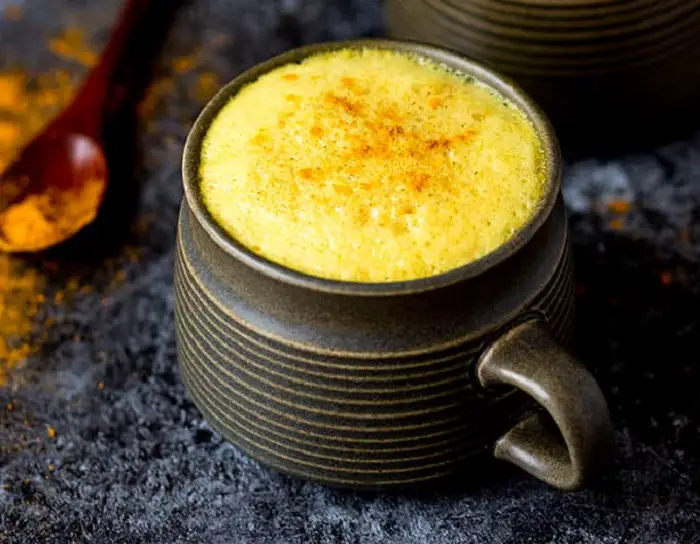 19. TURMERIC LATTE WITH COFFEE FROM KITCHEN SANCTUARY
This turmeric latte with coffee is delicately fragrant and slightly spicy with a coffee kick to get you going!
It takes only 6 minutes to make and contains a wonderful array of nutritious ingredients, including the powerful turmeric.
Others include almond milk, ground ginger, ground cinnamon, vanilla bean paste, instant coffee, and coconut sugar (optional, or use honey instead).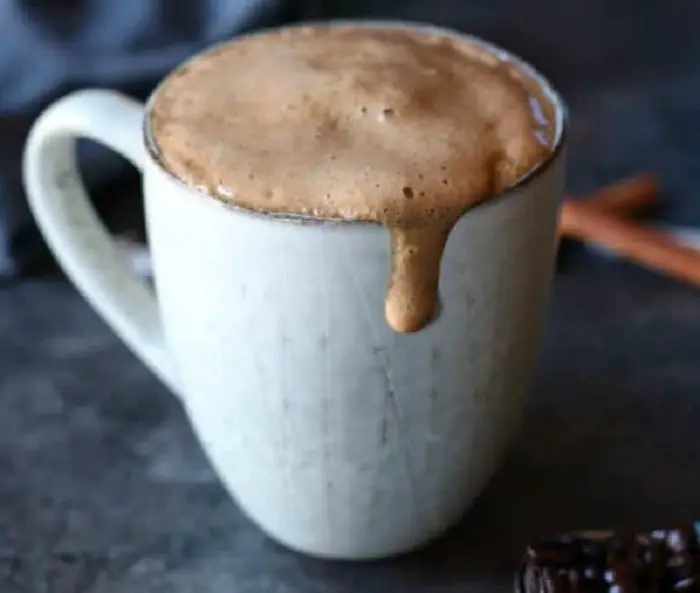 This dairy-free, cinnamon coconut latte is a frothy, delicious, healthy and sugar-free alternative to fancy, store-bought concoctions.
Plus, it's packed with nutritional properties that are gut-healing, metabolism boosting, and will keep you satisfied all morning long.
What's not to love? This recipe is actually a twist on the original Bulletproof® coffee, created by Dave Asprey.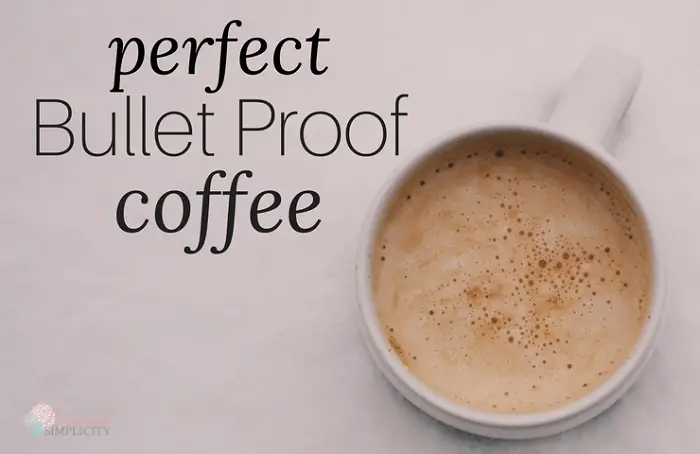 21. PERFECT BULLET PROOF COFFEE FROM BLESSED SIMPLICITY
The basic idea behind bulletproof coffee is that it is a high fat, no carb coffee drink. This variation on the traditional recipe uses just three ingredients, including coffee, ghee, and MCT oil.
It's so simple to make and can also easily be customized to suit your specific tastes or needs.
22. THE HEALTHIEST PEPPERMINT MOCHA FROM UNSWEETENED CAROLINE
This peppermint mocha is made from a few simple and wholesome ingredients, including coffee, cashews, Medjool dates, cacao, and peppermint extract.
Combined together, these ingredients taste absolutely amazing! Trust us, you won't look back once you try this alternative coffee.
The best part is that it only takes 5 minutes to make, so there are no excuses!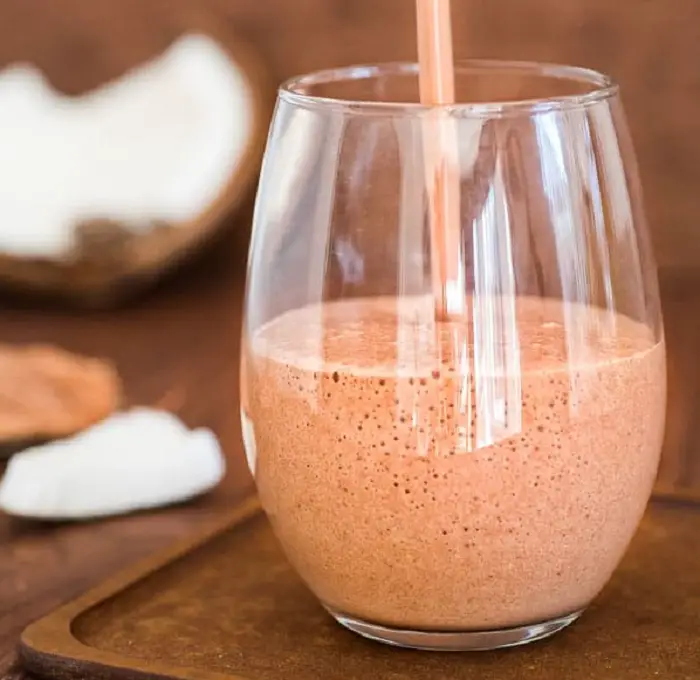 23. COCONUT COFFEE SMOOTHIE FROM COOKTORIA
This coconut coffee smoothie is rich and creamy, full of coconut-chocolate flavor, and both healthy and delicious.
Is there a better way to start your day?
To make your own, you'll need a few ingredients on-hand, including coconut ground coffee, bananas, coconut milk (or any milk of your choice), cacao powder, shredded coconut, almond butter, and honey (optional).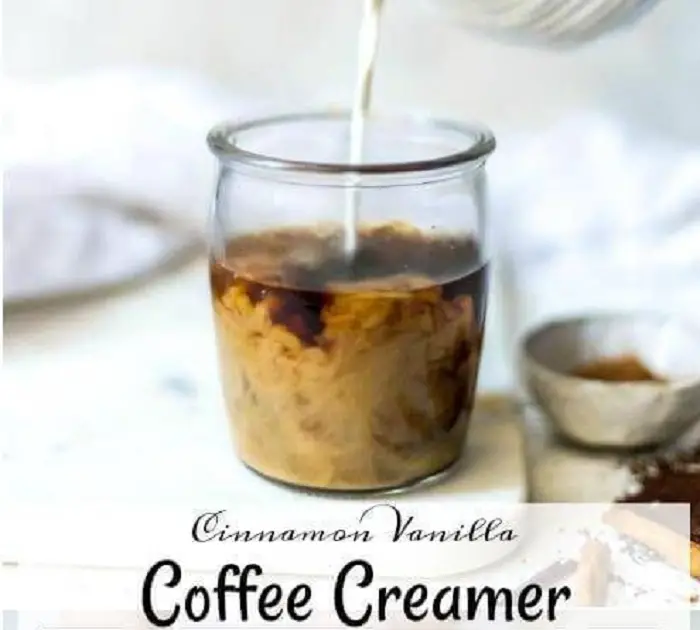 24. CINNAMON VANILLA COFFEE CREAMER RECIPE FROM WONKY WONDERFUL
Ready for another delicious coffee creamer recipe, this time that's paleo and vegan friendly?
Coconut milk creamer adds a touch of nutty flavor and is a way to create a diary free coffee creamer. Plus, the cinnamon and vanilla add natural flavor that will perk up your cup of coffee in no time!
Other ingredients include maple syrup, nutmeg, and a pinch of sea salt.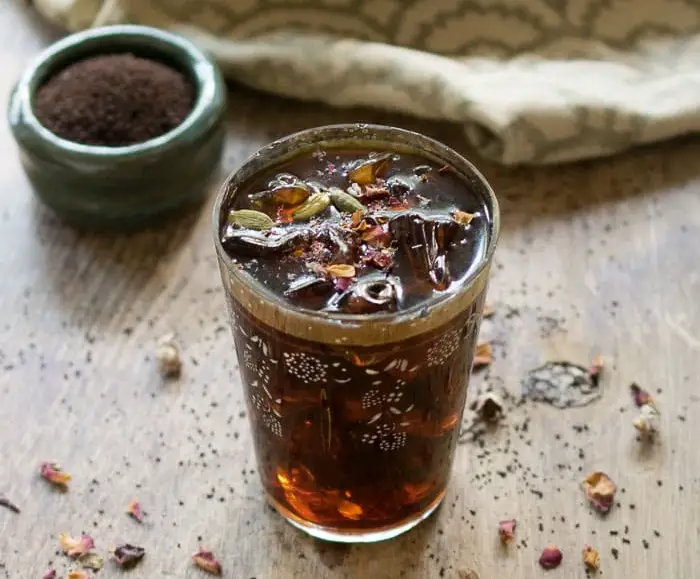 25. MIDDLE EASTERN ICED COFFEE WITH HOMEMADE CARDAMOM VANILLA SYRUP FROM HEALTHY SLOW COOKING
If you're someone who doesn't mind spending a bit of extra time making your coffee extraordinary, then you'll love this recipe, which involves making a homemade cardamom vanilla syrup to add to a Middle Eastern inspired iced coffee.
It sounds delicious already! It's such a heavenly-tasting drink that will instantly cool and refresh you.
Start Tasting Some of These Delicious Coffee Recipes!
There you have it – 25 of the healthiest and most delicious alternatives to your normal (ahem, boring) morning coffee.
Every day is to be celebrated, so why not mix it up with a drink that just won't give you a kick of energy, but give you a brilliant boost in your health and wellbeing too?
Whether you're looking to make a vegan or non-dairy coffee, a healthy iced coffee, a caffeine-free drink, coffee creamer, or more – there's something on this list for everyone.
Don't forget, you can also customize any of these recipes to include additional nutritional benefits, such as adding supplements including collagen peptides, soluble fiber, matcha, and so much more.
Which healthy coffee recipe will you be trying first? Let us know how you go in the comments section below!
Share on Pinterest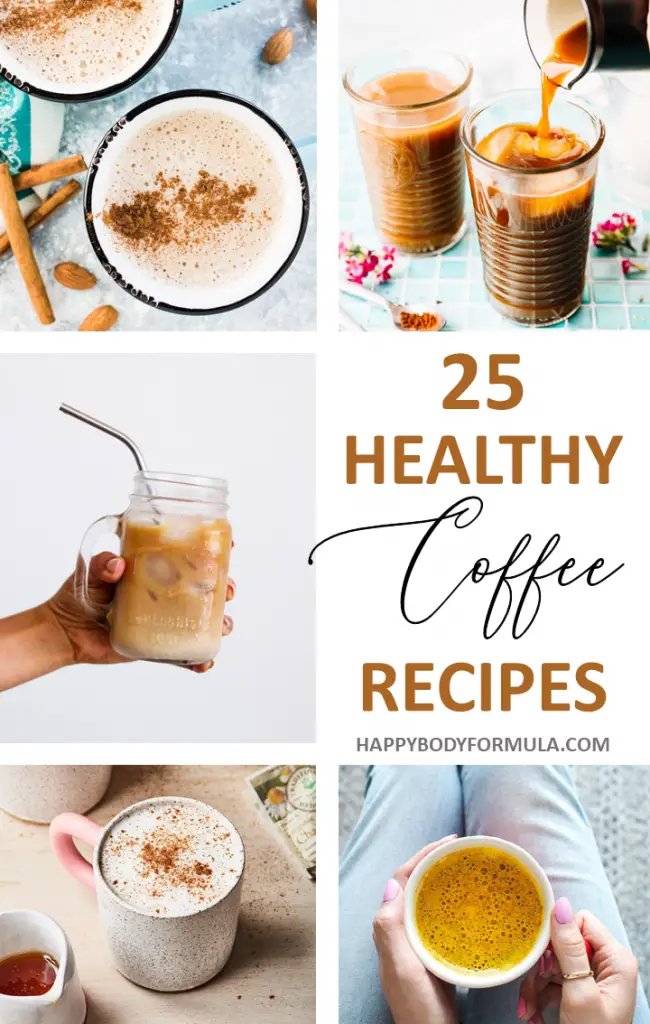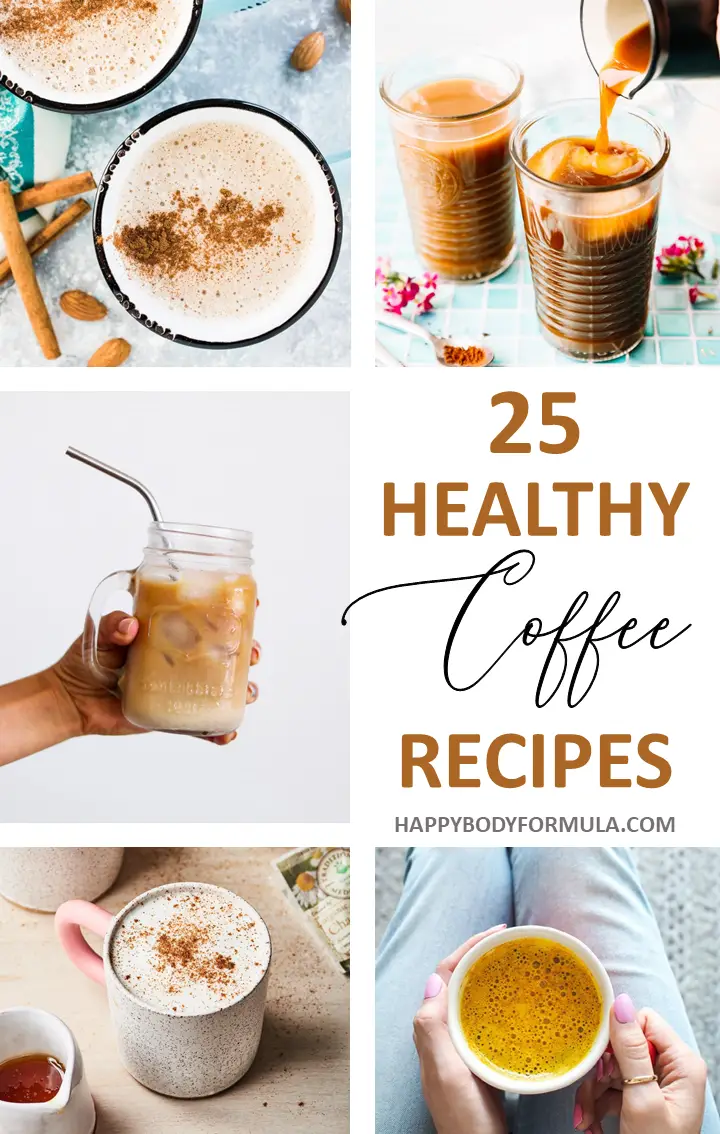 Melanie Clarke is the founder of Whim Online Magazine, an online magazine based in Australia that has a strong focus on whimsical + dreamy photography, as well as art and fashion content.