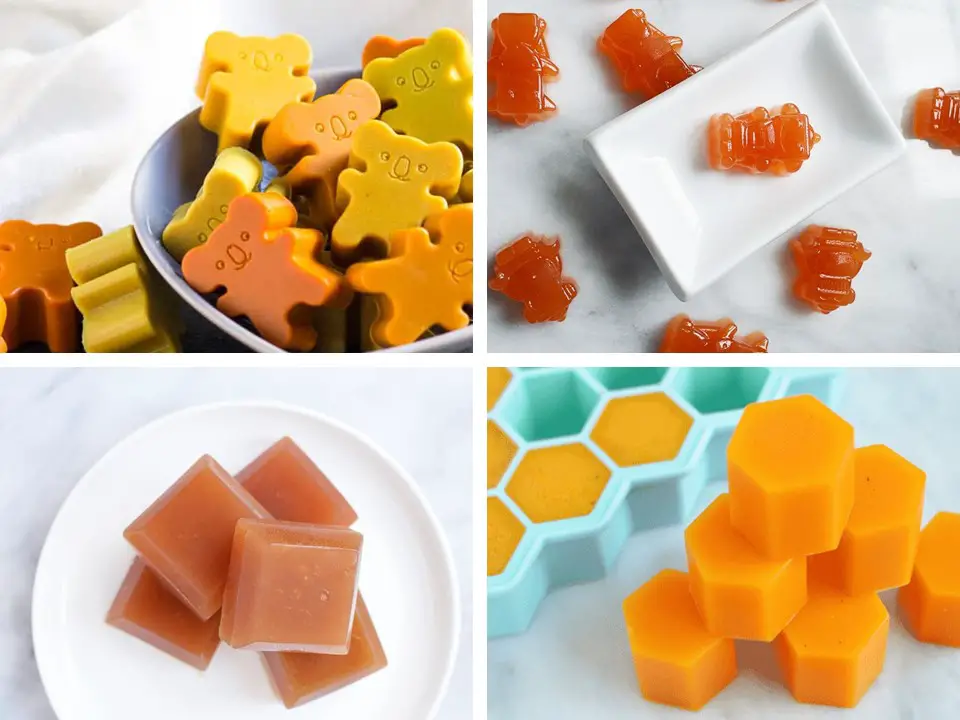 You only need to stroll down the candy aisle in your local supermarket to realize gummies are a big deal. Not only are they incredibly delicious, but they're also fun and easy to eat, often coming in every flavor you can imagine.
Like other confectionary, however, gummies are also filled with nasties such as artificial sugars and preservatives, making them a no-go for anyone conscious about their health.
Well, that is, until now. We've scoured the internet to bring you not just a handful, but 20 of the healthiest gummy recipes you'll find.
Whether they act as a multivitamin to take each morning, crammed with essential nutrients – or as an easier way to consume nourishing ingredients such as apple cider vinegar – you're sure to only find gummies with health benefits among this list. 
Ready to take a look? Let's go!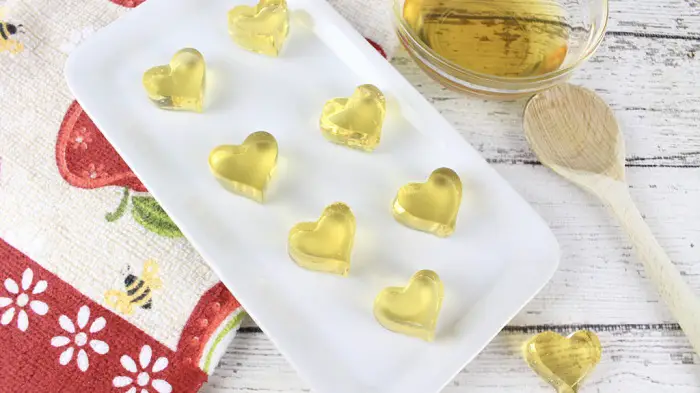 1. APPLE CIDER VINEGAR GUMMIES FROM OUR ORDINARY LIFE
Apple cider vinegar can be uncomfortable for even those with iron-clad oesophagus's, so why not take your recommended daily dose in delicious gummy form?
This recipe uses no sugar apple fruit, apple cider vinegar and unflavored gelatin. Just be sure to use apple cider vinegar that contains the mother!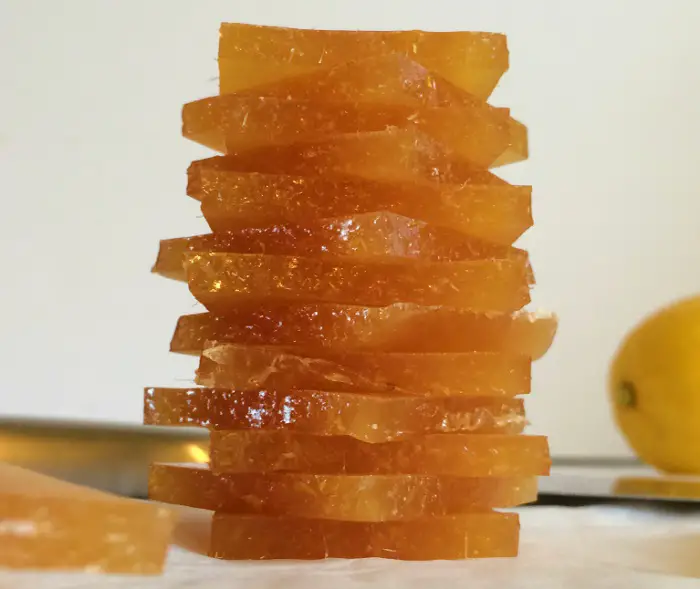 2. LEMON GINGER (NAUSEA BUSTING) GUMMIES FROM THE RUBY KITCHEN
If you need your nausea busted within just minutes, then these lemon and ginger gummies are just the thing. They use unflavored gelatin powder, freshly squeezed lemon juice, honey, and freshly grated ginger.
They would even work wonders at keeping colds and flus at bay!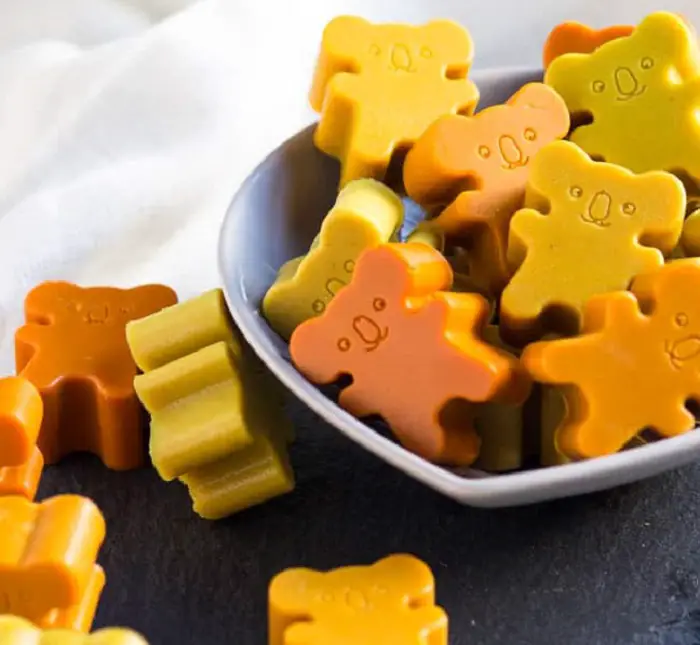 3. TURMERIC GUMMIES WITH COCONUT & GINGER FROM THE COOK'S PYJAMAS
Speaking of beating colds and flus, these turmeric gummies with coconut and ginger are for doing exactly that!
Not only are they a healthy snack to have each day during winter, but kids will also love them, aiding them with their health in the meantime.
This recipe uses coconut milk, fresh ginger, honey, fresh turmeric, and powdered gelatin.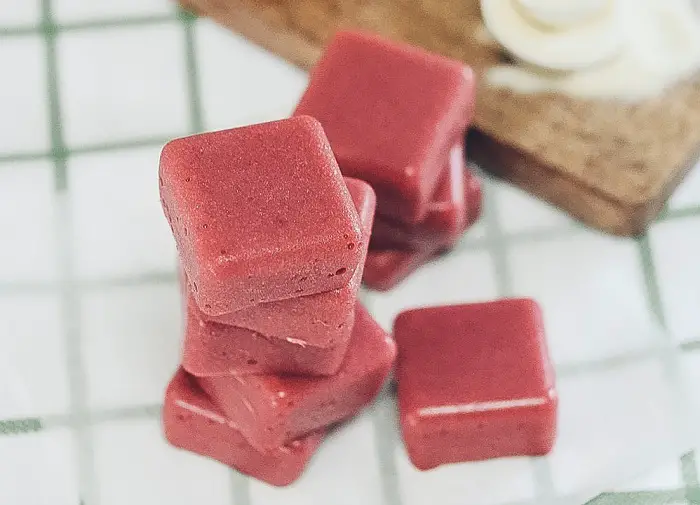 4. PALEO "CANDY" SOUR GUMMIES WITH COLLAGEN FROM BARE ROOT GIRL
If you're looking for a healthy gummy recipe that's also paleo, then this is the one for you.
These gummies contain the juice of freshly squeezed blood oranges, lemons, and limes, as well as collagen protein gelatin.
Collagen is an excellent ingredient for maintaining youthful and healthier skin, hair, and nails.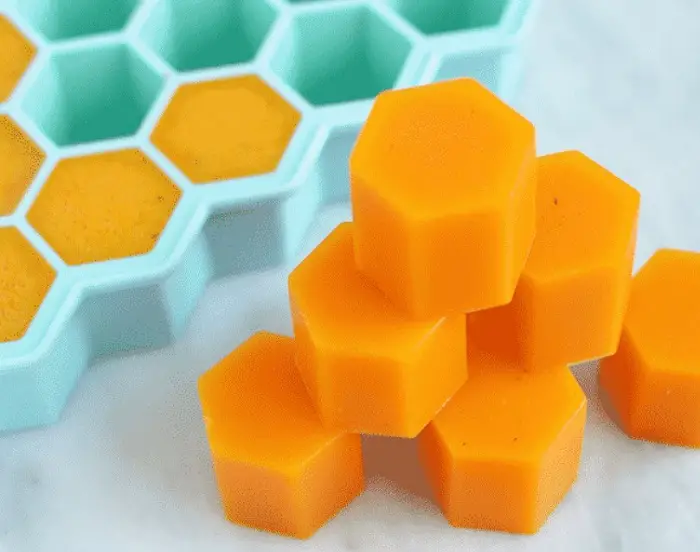 5. TURMERIC GUMMIES FROM DEAR CRISSY
These DIY turmeric gummies are especially wonderful for helping your body fight cold, flu and even inflammation.
While you can taste a hint of turmeric in these gummies, the carrot and orange juice flavors really mellow it out quite a bit, making each gummy delicious to eat!
They're certainly something you'll want to take each day for your health.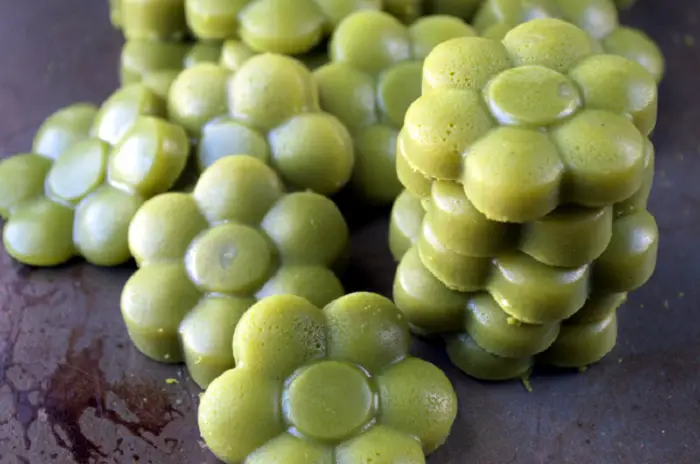 6. DETOX GREEN JUICE GUMMIES FROM PLAID AND PALEO
Get ready for dark leafy greens, cleansing ginger and healing gelatin in these detox green juice gummies!
You'll also find ingredients such as cucumber, parlsey, lemon, and apple within them. Sounds delicious!
Not only are these gummies great for adults, but they're also the perfect way to give children their daily dose of nutrition.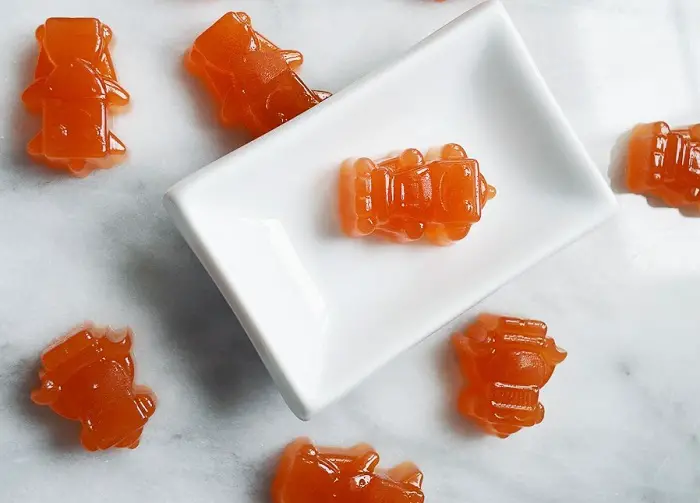 7. HOMEMADE VITAMIN C GUMMIES FROM DEAR CRISSY
These delicious, homemade vitamin C gummies are a super helpful way to ward off the common cold, plus they also give you an awesome citrusy burst of energy to start your day.
They contain beneficial ingredients such as a mix of grapefruit, clementine and blood orange juice, as well as raw honey and all-natural, unflavored gelatin.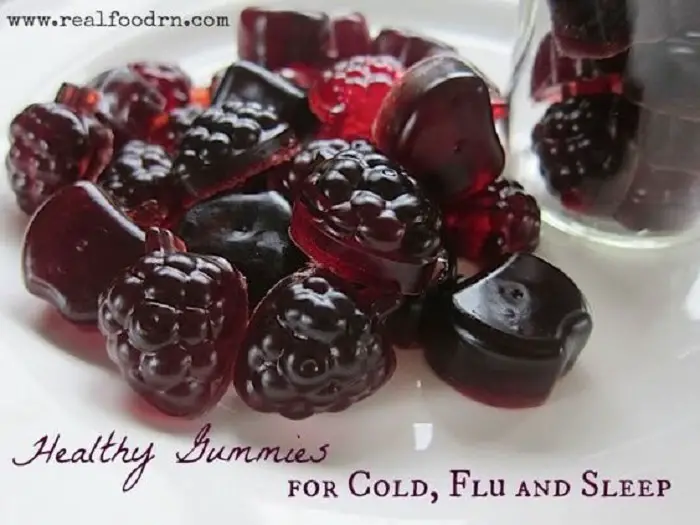 8. ELDERBERRY GUMMIES FOR COLD, FLU AND SLEEP FROM REAL FOOD RN
Did you know that tart cherries have a sleep enhancing effect on the body?
They serve as just one core ingredient in this healthy gummy recipe, with other ingredients including elderberry syrup, raw honey, and unflavored gelatin.
All of these ingredients have been shown to naturally boost our immune system and ward off colds and flus.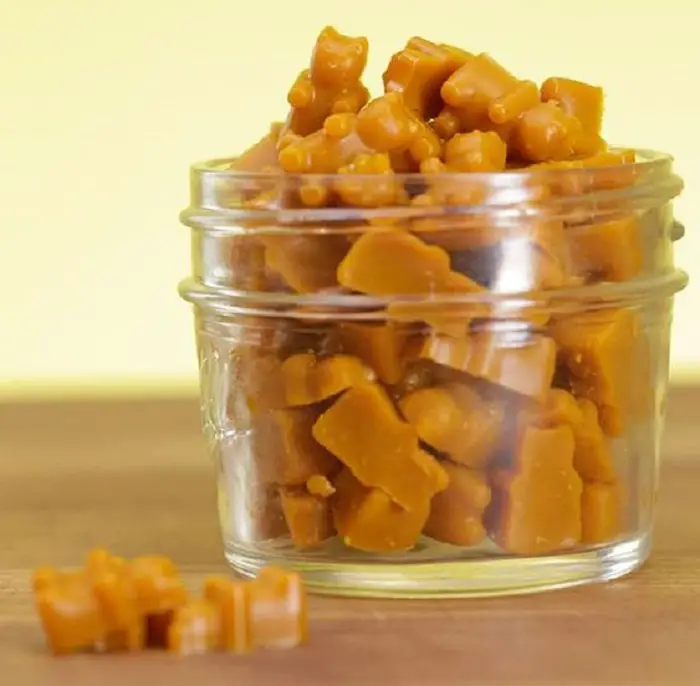 9. POST-WORKOUT MUSCLE-RELIEF GUMMIES FROM GLOW BY POPSUGAR
If you're feeling a little sore after your last workout, then these muscle-relief gummies may be just the thing to help you feeling better in no time.
They contain anti-inflammatory healing ingredients such as turmeric, creamed honey, cayenne pepper, and agar-agar powder (an animal-free substitute for gelatin). Give it a try!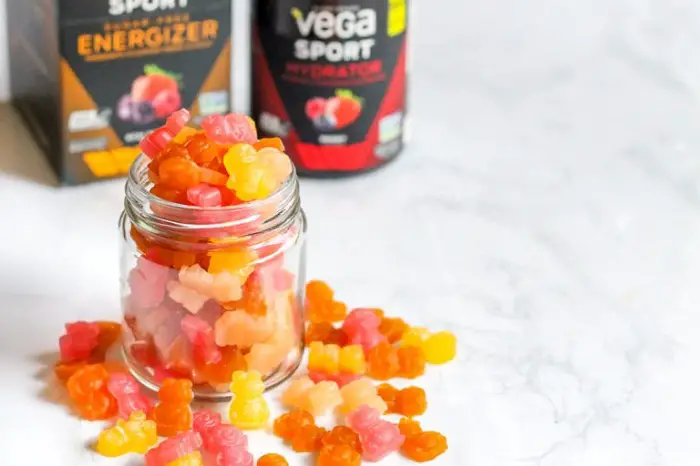 10. SUGAR-FREE HIGH-PROTEIN ELECTROLYTE GUMMIES FROM MY FRESH PERSPECTIVE
You'll love these sugar-free, high-protein electrolyte gummies, as they're made with gut-friendly and grass-fed gelatin.
This recipe is also paleo, dairy-free, and perfect for taming a sweet tooth or replenishing electrolytes post-workout!
To make them, you'll just need lemon or lime juice, water, grass-fed gelatin powder, and Vega Electrolyte Hydrator or Sugar-Free Energizer (or a combo of the two).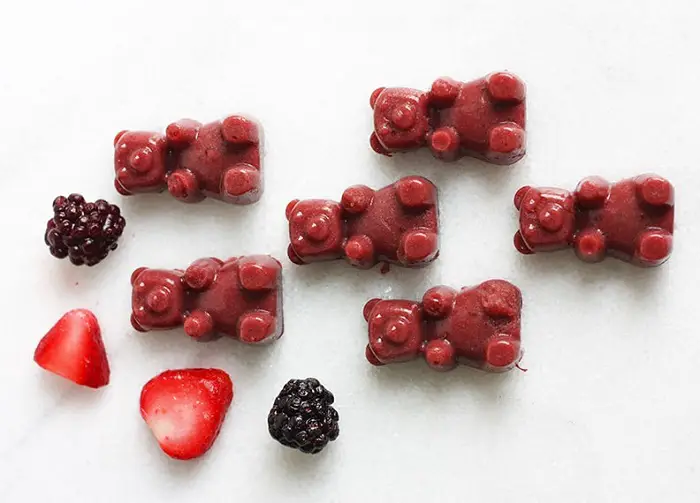 11. HEALTHY HOMEMADE FRUIT GUMMIES FROM BUSY BUT HEALTHY
This recipe for homemade gummies is so versatile, and you could use any kind of fruit your kids like – whether it's fresh or frozen!
This one uses a simple combination of frozen strawberries, stevia liquid or powder, and gelatin powder, but you could easily use raspberries, blueberries, mango, pineapple, banana or a mixture of these.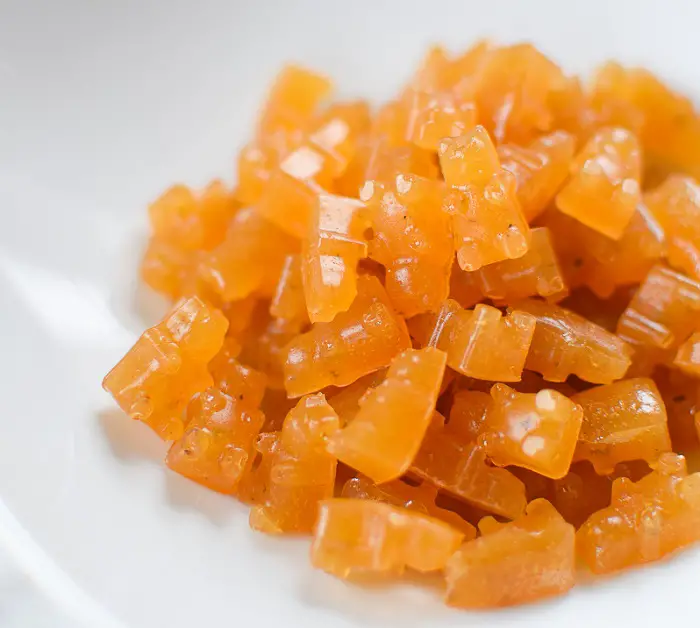 12. PEACH CHAMOMILE HOMEMADE CBD GUMMIES FROM EMILY KYLE
Many anecdotal and evidence-based theories have demonstrated the therapeutic value of CBD when used properly, and that's exactly why it's a core ingredient in these homemade gummies!
This recipe uses whole fruits and vegetables, filtered water, pasture-raised grass-fed bovine hide gelatin powder, and high-quality cannabidiol (CBD) oil with an optional sweetener of choice.
Just ensure using CBD oil is legal in your state first!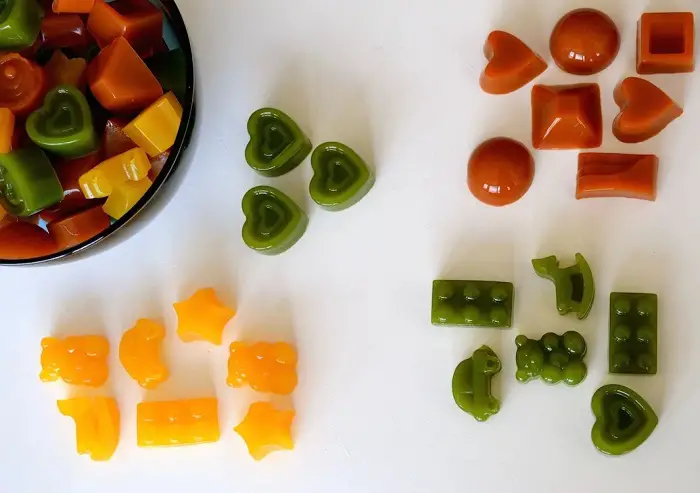 These homemade gummies contain real fruits, veggies and no refined sugars!
You can also add supplements and make these little chewable snacks super nutritious for every member of your family.
This one uses fruit or vegetable juice, gelatin, raw honey, pure vanilla extract, and any other ingredients you would like to incorporate (like probiotics, elderberry syrup, or cod liver oil).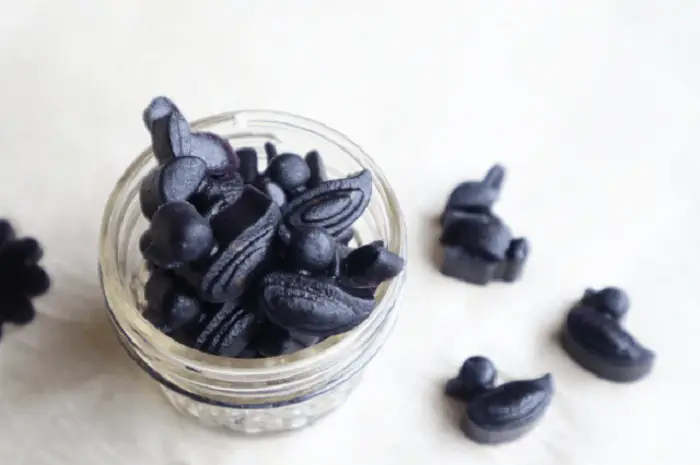 14. PROBIOTIC BLACKBERRY GUMMIES FROM SALT IN MY COFFEE
These probiotic blackberry gummies are made with simple, healthy ingredients, and are sure to delight kids and grownups alike!
Inside them, you'll find ingredients such as fresh or frozen organic blackberries, honey or maple syrup, water kefir (or milk kefir, kombucha, or unsweetened fruit juice), grass-fed gelatin, and probiotic powder.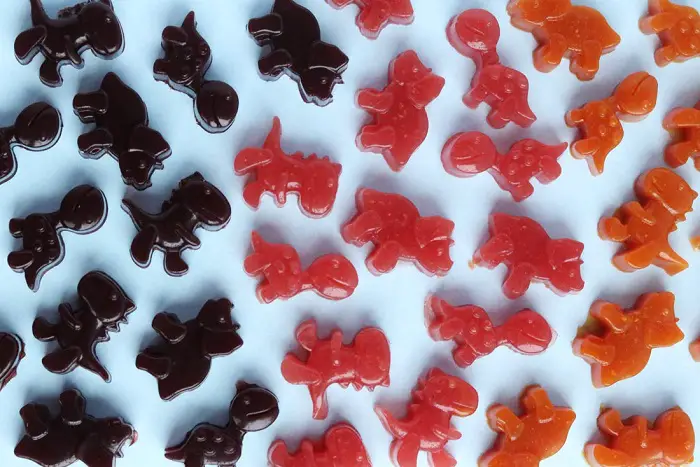 15. BERRY TURMERIC IMMUNE BOOSTING GUMMIES FROM NAUGHTY NUTRITION
These berry, turmeric and citrus immune boosting gummies are just the thing to get you through the year with as little colds or flus as possible.
They also contain other helpful ingredients, including coconut water, grass-fed gelatin, raw honey, orange juice, and more. Your kids will go crazy for them!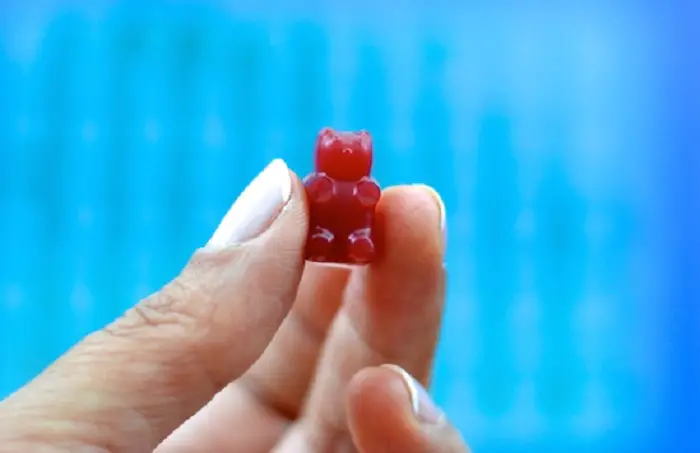 One of the other advantages of homemade gummies is that they contain collagen in the gelatin.
Collagen helps regulate our metabolisms, has anti-inflammatory properties, strengthens hair and nails, regulates hormones, and improves digestion.
These are also the best multivitamins for you and your family, as they contain blended fruit, vegetables, and any other supplements you wish to add.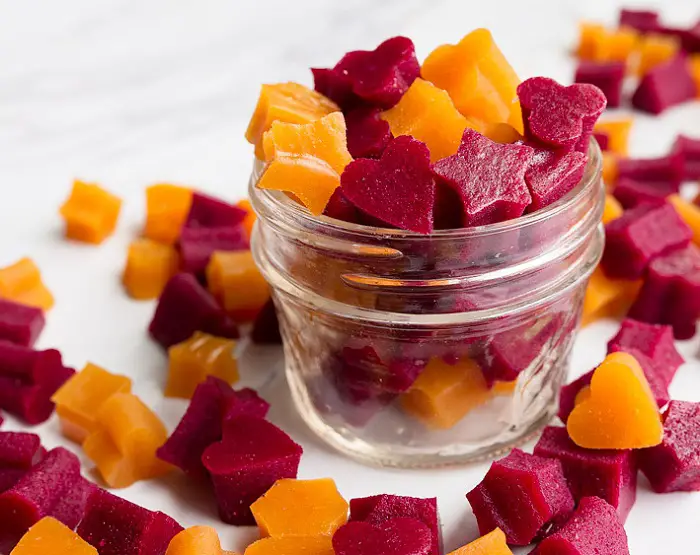 17. HEALTHY HOMEMADE FRUIT GUMMIES (WITH VEGGIES!) FROM DESSERT FOR TWO
These healthy homemade fruit snacks have the same texture as their store-bought counterparts, but are made with pureed fruit, vegetables, honey, and grass-fed gelatin. There aren't any preservatives or unnatural sugars in sight!
To give them their vibrant shades of red and orange, simply use carrot and mango, as well as strawberries and beet. Genius!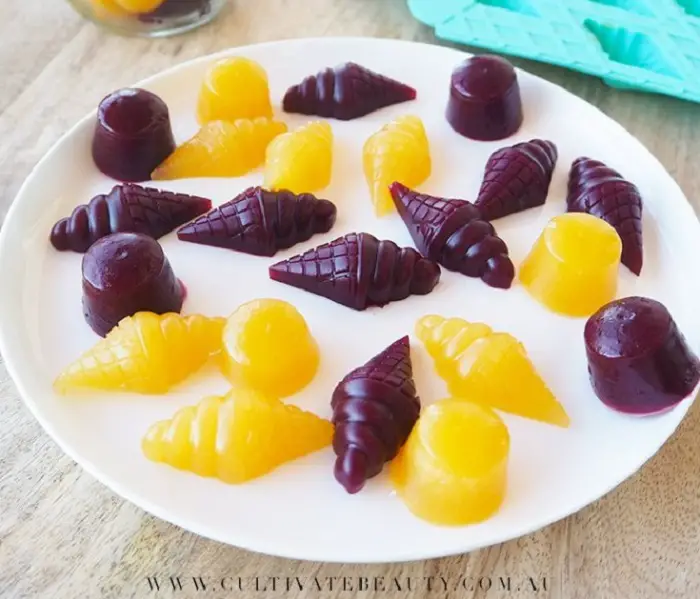 18. PALEO GUT HEALING GUMMIES FROM CULTIVATE BEAUTY
The gummies are ideal for healing your gut because they contain that all-important ingredient: gelatin.
Gelatin is known to be a wonderfully healing food for an inflamed, damaged gut given its ability to sooth and restore the gut lining. This recipe is also incredibly easy to make.
Simply combine all of the ingredients in a saucepan over heat, stir until dissolved, then pour the mixture into your moulds and pop them in the fridge for 20 minutes.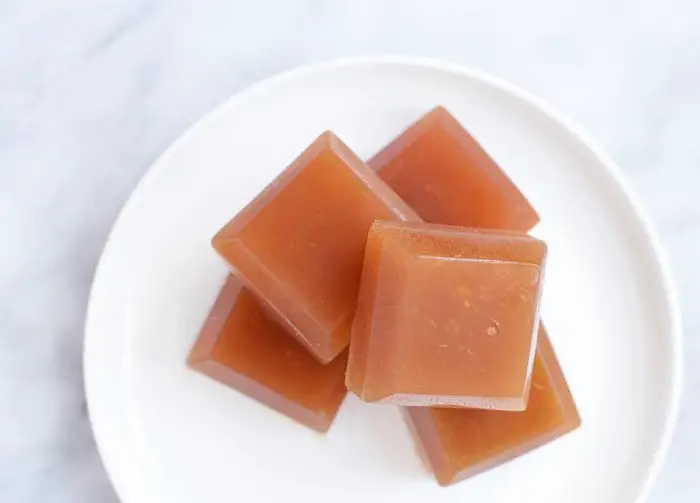 19. PROBIOTIC KOMBUCHA GUMMIES FROM DEAR CRISSY
If you're not familiar with kombucha, it's a healthy fermented drink made by adding a culture of bacteria and yeast to a mixture of tea, sugar and often fruit juice.
Along with the kombucha (which is high in probiotics) and gelatin, these gummies are a wonderful gut-healing remedy. Other ingredients include mango and hot water.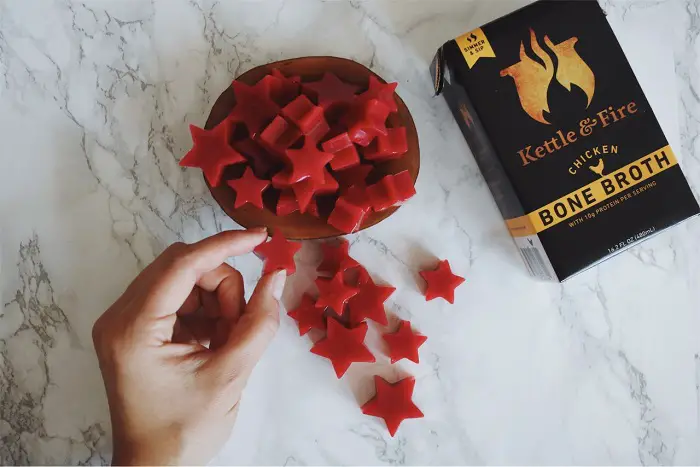 20. RASPBERRY BONE BROTH COLLAGEN GUMMIES FROM KETTLE AND FIRE
These guilt-free gummies are great for combating natural collagen loss  — a process that happens as we enter our late 20s when our bodies stop producing collagen on their own.
They contain ingredients such as chicken bone broth, gelatin powder, honey, raspberries, and lemon juice. They might be targeted towards adult nutritional needs, but kids can also benefit from these tasty gummies!
Which Yummy Gummy Recipe Will You Try?
There you have it – our round-up of the top 20 healthy gummies you can make at home and incorporate into your daily snacking.
Not only are these fun and colorful gummies perfect for giving children their daily dose of vitamins, minerals, fiber, and more, but they also help adults to look after themselves from the inside out.
Many of these gummies contain just three or four ingredients, making them a simple recipe to whip-up this afternoon or on the weekend. Buy some fun moulds for your gummies at the supermarket or online, or use a simple ice tray for a more basic shape.
Which homemade healthy gummy recipe will you be trying first?
We'd love to hear from you in the Comments section below!
Share on Pinterest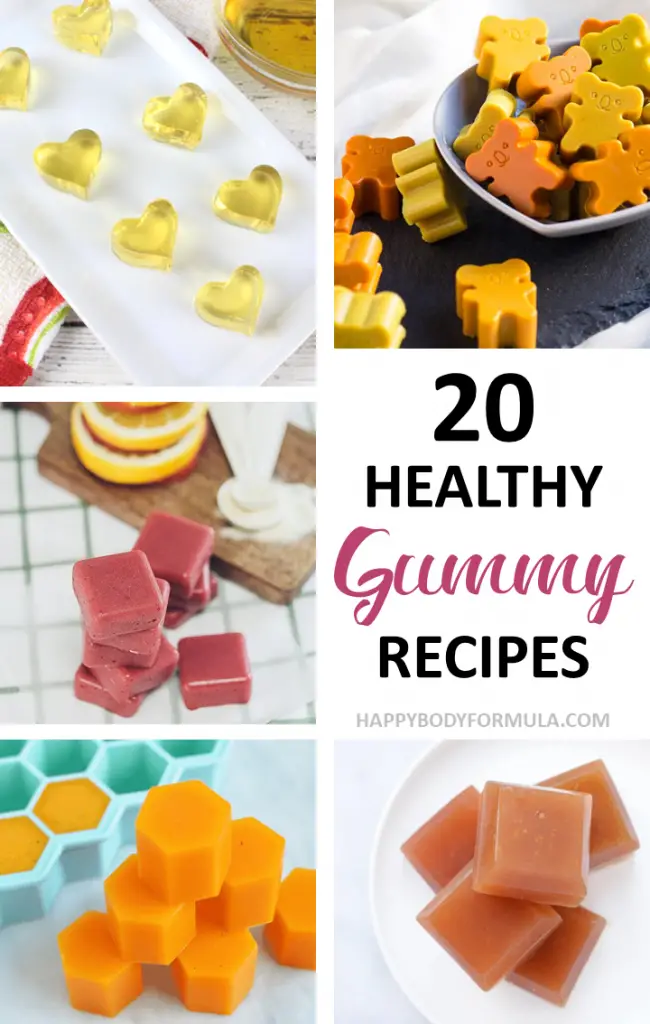 Melanie Clarke is the founder of Whim Online Magazine, an online magazine based in Australia that has a strong focus on whimsical + dreamy photography, as well as art and fashion content.