If you've been paying attention to trends what everyone seems to be talking about, you might have come across the term hygge. This silly-looking word is pronounced "hue-gah," and it's a noun, an adjective, and a verb all in one.
It was actually a contender for Oxford Dictionary's coveted "word of the year" title in 2016, and despite not quite making it, it is pretty buzzworthy. Perhaps, if Happy Body Formula had to choose a word of the year for 2017, hygge would be it.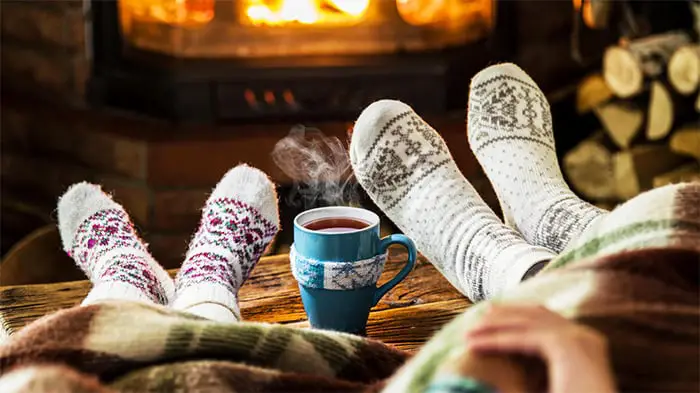 What does it mean?
It's a Danish word but there actually is no direct translation of hygge to English. The dictionary definition reads, "A quality of cosiness and comfortable conviviality that engenders a feeling of contentment or well-being (regarded as a defining characteristic of Danish culture)."
In short, it means cosy. Think exposed wood, fireplaces, accent rugs, throw blankets, candles burning, festive wool socks, cinnamon buns and cardamom pods.
Basically, if living through the cold, northern winters looked and smelled more like it does within a log cabin on Instagram, that's hygge. But it's not just about the things and the setting; the definition mostly entails a mindset.
You won't have to skip town for a more remote location to practice the art of Danish happiness. You can read more about it in The Little Book of Hygge by Meik Wiking.
https://happybodyformula.com/wp-content/uploads/2016/12/how-to-hygge-pin-525×1024.jpg
Share on Pinterest
Hygge & happiness
Denmark and its neighboring countries are notoriously happy. Could all this bliss be attributed to hygge? Potentially. While these regions are also notoriously cold and sometimes dark, their people thrive – especially in the winter!
All that snuggling up by the fire with a cup of cocoa or glogg might have some actual benefits beyond feeling indulgent. By the way, did we mention indulgence is actually a cornerstone of hygge?
Hygge entails a degree of healthy hedonism, by way of really just enjoying life. Of all the wellness trends that will come and go, hygge serves as a counterargument.
Think about the average "next new thing" in diet or fitness; there is often a notion of perfection or strictness involved. Hygge comes in to say, "Breathe, relax."
It's okay to be self-indulgent, and in fact, that might be a vital part of quality of life and overall happiness. While there are plenty of things you can do or purchase to practise hygge, adopting the mentality and taking on more hygge experiences is what it's really about.
Here are a few key components to keep in mind:
Togetherness
Harmony
Comfort
Mindfulness
Atmosphere
Equality
How to hygge your way to happy
Hygge is merely a concept, and it truly encompasses a mindset. Envision a romantic scenario in which you head home to your hyggekrog a.k.a. cosy nook, wrap yourself up in a decorative throw, take a seat on the floor around your friends and turn on a movie or break out a board game.
Hygge can sound a bit reclusive, but it really drives home the need to keep good company. If you're looking for hygge watching material, consider fictional horror or murder mysteries. If it's raining outside, even better. Are we painting a good picture for you?
In our fast-paced western society, where time at home isn't always romantic, hygge can feel hard to adopt. The Danes on the other hand don't always have much of a reason to leave the house.
The winters are long, eating out is incredibly expensive, and there isn't always some event or party tempting individuals to hit the town. Hygge is a way of coping, and it can be especially effective in combatting seasonal affective disorder.
If anyone has mastered the art of enjoying winter, it's the Danes!
While many wellnes trends can run up a huge bill (hello, gourmet avocado toast and designer yoga pants!), hygge is affordable, accessible and highly individual. You can sort of do it your own way and on your own budget.
It's less about gratification and more about savoring the moment, however it's done. While much of the movement feels like feng-shui and some redecorating may be in order, remember: it's more about what you add than what you take away.
Besides, your house will look good in Danish-style – promise!
1. Burn more candles
This one is simple, and you can do it. Splurge on some nice, locally made, natural candles, if you can. Unscented is good, but you can also opt for warm, wintry scents with comforting spices or vanilla bean.
Do you catch the drift here? The average Dane burns 13 pounds of candle wax per year. Are you ready to step up your game? There are no real rules besides making sure you practice fire safety.
Make sure to blow the candles out at night! Otherwise, in the name of happiness, get burning. Here are some of our favorite suggestions:
2. Glug some glogg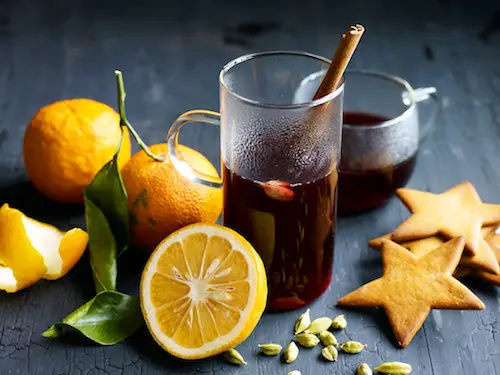 Glogg is simply a Swedish name for mulled wine with a little extra. A standard, old-fashioned recipe includes whiskey and rum amongst citrust and almonds, too. You'll take the somewhat potent liquid and warm it up with quintessential hygge ingredients like cardamom, cinnamon and cloves.
Can you see why you might want to implement the whole 'savoring the moment' deal with this drink? After a glass of that, you can't help but relax!
3. Host a potluck
Nordic cuisine is a staple of hygge, so get familiar with fresh bread, porridges, beef tartare, and anything that says winter to you. Keep in mind something else these foods have in common: they're simple.
Think of the warming notes featured in glogg or hearty soups, stews, meats and seasonal produce. More important than the food is the company!
Savoring the moment is easily done in a crowd of people sat around a table in dim lighting with unique offerings from everyone involved.
Being social is also a key factor in warding off the winter blues. You could also choose to take advantage of the short days with a brunch get-together instead, tucking into comfort food like pancakes and fresh, fragrant maple syrup.
Do you see the indulgence coming in? Bonus: you can show off your hygge decor – think rustic wooden plates and a printed tablecloth – to your friends. The potluck premise also invites others to help and work together which is so hygge!
If your pals are offering a hand in the kitchen, say YES! The Danes might even think this is more polite than denying the gesture.
4. Linger on
This is probably one of the most important facets of the hygge mindset to adapt, and it doesn't come easy to western society. We are rushed and crunched for time, even if we're not – it's just instilled in us!
Once everyone's done eating, don't rush to clear the plates and move on to whatever is next. The best of dinner is yet to be had! Indulge in conversation, another glass of glogg or just some continued reflection on the meal that was served.
By not rushing dinner in the first place, you can practice mindful eating. Once you've established your place at the table, you won't feel as rushed to finish up in the first place. This is easier said than done, but it is the true Danish way!
5. Fix up your lighting
Lighting is kind of a big deal, even if it doesn't sound like a priority to you. The Danes would beg to differ, and this is probably in part due to those 3 p.m. winter sunsets.
Even if the house has windows on every wall, daylight is scarce. We're not telling you to mimic the sun, either; we're just telling you to kill the overhead and create a mood – a good mood.
Candles are an easy way to do this, but you can also opt to string up some LED lights around the house for that Christmas-all-year vibe, rely on the fireplace or wood stove (bonus hygge points!), or if you're really serious, you can install an adjustable lighting system in the preexisting lights throughout the home. Some can even be controlled with your smart phone!
6. Get baking
Indulgence involves bread and sweets, of course. The difference in the Danes is that these things are a labour of love rather than a convenience food. Bread is baked fresh with quality ingredients and shared amongst guests over a long afternoon.
Sweets, treats and cakes are a way of welcoming someone into the home or celebrating something special, even if it's just a long and slow weekend day.
While the house will take on the gorgeous smell wafting throughout, the act of baking is merely another way to savor the moment and savor another's company.
Try a fresh sourdough or work up a signature gluten-free dough recipe if you prefer to avoid the stuff. Oh, and do you know what's really hygge? Cinnamon rolls – and not the ones from IKEA!
7. Go outside (yes, even if it's cold!)
Whether you're in the city or residing in a mountain town, the winter has a ton to offer! Even if the sun sets before you can finish your lunch (okay, we're being dramatic here), there's something magic about the way the lights fall on the snow-covered trees and buildings in the dark.
One of the most obvious reasons for seasonal affective disorder is a lack of vitamin D, so if you can spare some daylight hours, head on our beneath the sun.
It's yet another simple way to take your time. Once you get into the rhythm of walking – and especially if you're wearing the right clothes – you'll warm up and ideally, you'll find yourself in a meditative state.
The best part? Knowing you get to head home to a comfy fire, warm socks and a hot chocolate.
8. Put away the devices
Hygge embraces living in the moment, taking things stride by stride and engaging your surroundings whether it's the lighting or the people, or a little bit of both.
While movies and music can easily be a part of your Danish living room vibe, it's important to be considerate of how much time you're checking notifications and putting your fingers to the screen.
Learn more about how to digital detox, and why you should consider it.
What do you think about hygge? Is it worth the hype? We think the Danish art of happiness has so much to draw from, so here's a friendly reminder to slow down the pace and light a candle or two!
Music, mountains, dogs, travel, food and friends.