The low-carb lifestyle and keto diet took the world by storm, and it's not stopping any time soon. In fact, it's not really all that new. Remember Atkins?
It was a bit more commercial and a little less scientifically backed and real food-focused, but at it's core, it's just a low-carb diet. The Atkins diet also featured a lot of easy-to-eat processed bars and freezer meals which you can still find on grocery store shelves today.
The low-carb lifestyle and the keto diet tend to emphasize real food a bit more. Low-carb diets are often followed as a dietary intervention to achieve weight loss, and we'll get into the science behind just why it's so effective for shedding fat and dropping pounds fast.
It's not exactly intuitive for most people to equate eating more fat with losing fat!
While many folks think exercise is necessary for steady weight loss, the truth is that it begins in the kitchen. Those consistent eating habits are what product results.
Eating fewer carbs isn't just beneficial for weight loss either. It has numerous therapeutic benefits that we'll also discuss in this article including the treatment of sugar addiction, reversing diabetes, lowering cholesterol, and even fighting cancer.
Finally, we'll be sharing our top 60 low-carb food choices to keep your kitchen stocked! Just because you cut carbs doesn't mean you can't eat a wide variety of foods!
Check out some of our favorite keto cookie recipes and the best low-carb snacks to keep you going when you need something sweet or a little additional fuel.
What does low-carb look like?
Let's crunch some numbers.
A low-carb diet has a range of numbers. Generally speaking, low-carb means that your daily intake of carbohydrates will be limited between 60 and 130 grams of carbs.
A ketogenic diet limits net carbohydrates (a.k.a. carbs minus fibre content) to less than 30 grams per day. The difference is that a ketogenic diet will help your body use fat for fuel – or ketones – rather than carbohydrates or glucose.
In theory, this means that when your body runs out of dietary fat to burn, it won't have any glycogen stored up so it burns adipose tissue.
The benefits of a low-carb diet
Whether you're just now considering transitioning to the low-carb lifestyle, or you're interested in learning more, it's important to understand the benefits of keto or low-carb.
It's quite easy to see the transformations of others who use this protocol for therapeutic purposes or for weight loss and think your progress will be the same. Like with any diet, that's simply not true; your journey just won't be the same as someone else's!
Instead, develop a better understanding of the science and reason behind the motivation to cut carbs and decide whether it's the right choice for you, and at what level.
Low-carb diets are great for weight loss.
Many people have weight loss goals. Whether it's 5 lbs. or 100 lbs., a goal is a goal! Research shows that all diets that employ calorie restriction work, although LCHF often speeds up results at the beginning.
Why do low-carb diets often yield such drastic and impressive results? Well, there are a few key reasons.
Low-carb diets reduce sugar cravings. One of the most common driving factors of sugar cravings is eating sugar in the first place. It's often difficult for people to stop – even people who don't identify as full blown sugar addicts. If eating carbs leads to overeating carbs more than you'd like to admit, you could be taking in hundreds of extra calories per day or triggering entire binge eating sessions. Entering ketosis or reducing carb intake can help your body naturally manage portions much better.
Fat and protein fill you up. When it comes to "dieting" – or the act of losing weight – it's mostly about how much you eat rather than what you eat. If you try to stick to a weight loss deficit with cookies, breads, and cereals, you're going to stay hungry as your body burns through the fuel within an hour of the meal. Simple carbs in particular are quick fuel for your fire. Think of it as the kindling. Fat, on the other hand, is the firewood that keeps the fire blazing steadily. With the right combination of fat and protein, you'll find that you reduce cravings, are less prone to overeating, and seldom become so hungry that you make unwise food choices because you're desperate for energy. This facet can also help the body and mind connect, building a healthy relationship with food through more mindful eating.
A very low-carb approach can help you target belly fat. Spot reduction isn't necessarily something we can do. We can't choose where our bodies will lose weight easily, or where our bodies will hold the majority of weight (although I'm sure most of us have our problem areas!). While there is still much research to be done, this study shows that people who followed a low-carb approach versus a low-fat approach lost more fat in the abdominal region proving that what you eat DOES make an impact during weight loss.
It might be easier to stick to low-carb eating. Initially, a low-carb diet can look and feel rather restrictive. You might be giving up some of your all-time favorite foods – toast, bagels, pasta. In this study, more people who were prescribed a low-carb eating plan sustained the diet throughout the duration of the 24 weeks compared to the group who was prescribed the low-fat diet. Additional research confirms that the retention rate for a low-carb eating plan are higher. One of the most discouraging thing about weight loss is that many people find it difficult to stick to. It requires consistency over time. If low-carb eating can increase the odds of making substantial, sustainable progress, then we are on board!
It's important to take into consideration that most studies show a low-carb approach yielding the most dramatic weight loss within the first few weeks/months.
This study stacks up keto against other means of calorie restriction over 12 months, and after one year, the results level out. This is likely due to the fact that a low-carb approach will help you to lose a lot of water weight.
You will retain less water if you eat fewer carbs and likely reduce inflammation, so remember the difference between fat loss and weight loss.
Low-carb diets can improve cardiovascular health.
Weight loss and healthy weight maintenance can make profound differences in overall health. No matter the route you take to get there, being at a healthy weight drastically reduces your risk of cardiovascular disease and type 2 diabetes.
You'll likely also experience better mobility, fitness, mood, and other physical health benefits such as healthier cholesterol levels and blood sugar management.
A low-carb approach can be a great intervention for people who've experienced a recent health scare or want to manage their disease/disease risk better.
Low-carb diets can reduce risk of cardiovascular disease. In the United States alone, 610,000 people die of heart disease every year. This number has been on the rise and is directly correlated with obesity, and nearly 60% of Americans are overweight or obese. While losing weight can be a major factor in avoiding heart attack and stroke, there is some research that proves low-carb eating to be the superior means to an end. This research compared LCHF (low-carb, high-fat) to a low-fat diet, and disease markers went down more with the LCHF group.
Low-carb diets may decrease serum triglyceride levels. Serum triglyceride levels are a measure of damaging fat found in the blood. Triglycerides can increase coronary artery disease and may indicate metabolic disease or risk of metabolic disease. Triglycerides rise when we take in more energy than our bodies need. If you're consistently eating more calories than you burn, you're at risk for having high serum triglyceride levels. This research shows that people on a LCHF diet see greater decreases in serum triglyceride levels than those who follow a low-fat diet.
It may reduce blood pressure. In this study which followed people on both a low-carb eating plan and a low-fat eating plan, there was an initial decrease in blood pressure. While the results were no longer detectable after a year, LCHF can be a great intervention to reduce blood pressure in short order which could benefit many people's health.
Low-carb eating may increase good cholesterol and decrease bad cholesterol. Good cholesterol or HDL cholesterol carries cholesterol away from the body while bad cholesterol carries it around the body. A good balance is key, and naturally, we want more of the good stuff than we do the bad stuff. While it may seem counterintuitive to consider that eating MORE fat (and often, dietary cholesterol) could lower cholesterol and present us with that balance, it could be true. In this study which compares a LCHF to a low-fat protocol, HDL increase was more significant in the LCHF group.
The side effects & risks of a low-carb diet
Like with anything, we like to remind you all to take necessary precautions and understand the risks of a new diet, lifestyle choice, or supplement.
First and foremost, I must recommend that you talk to your doctor or another trusted medical professional before beginning a low-carb diet – especially if you plan to go into ketosis and remain in ketosis.
Here is what you need to know.
The keto flu. The keto flu is temporary, can be relatively harmless, and does not affect everyone. Alas, most folks do come down with it – at least to some extent. The body is undergoing massive changes and searching for energy from a new supply in places it's not accustomed to. Imagine your first day at a new job. The body is smart and it's going to figure things out, but not without suffering some consequences. The stress can cause flu-like symptoms. If you experience nausea, diarrhea, headache, or fatigue for longer than a week after being in ketosis, please consult a doctor.
Bad breath. You're going to want to stock up on your favourite toothpaste and mouthwash because ketosis can make your breath stank. This is because your body is producing acetone, and it's most likely to come out through your sweat or your breath. Some people will get bad breath and others won't, while it'll stick for some and not for others. Fortunately, there are many ways to combat this side effect.
It might not be the best diet for active people. You've likely heard the (sound) advice of folks telling you to eat carbs before a workout. Yes – you can become "fat-adapted" in which case the body will reach for fat stores when you're expending a lot of energy. On the other hand, it can be a very tough transition for someone who is very active. Let's say you're training in the gym with weights, doing yoga, and you work a job on your feet all day as an example; this is the type of lifestyle that a keto approach could backfire on. On the other hand, a low to moderate-carb (60-120 grams per day) diet could work brilliantly in helping you stay lean, retain less water, and use your fuel efficiently!
They can cause digestive distress. While I've listed below the fruits and veggies that you can eat – in moderation – on any level of low-carb dieting, it's not always possible to get enough. Cutting carbs to the ketogenic level will severely cut back your vegetable intake, and it's easy to get lazy since you're going to be relying primarily on greens. Sometimes, it's just not all that motivating to eat a ton of spinach! Fibre keeps things running smoothly in the digestive tract, and not getting enough can keep you uncomfortable and backed up. Low fibre intake leads to higher risk of digestive cancer while also decreasing micronutrient (vitamins and minerals) intake.
Low-carb diets can make your hormones wacky. This is particularly true for women. If you already have hormonal problems or imbalances, keto is not for you. A low-carb diet can improve hormonal markers as well, but it's important to take note of any changes you see. If you miss a period or get a late period while eating low-carb, it is important to reevaluate. Other common drivers in hormonal imbalance include chronic stress, adrenal fatigue, overtraining, and undiagnosed thyroid issues (all of which should be addressed prior to taking on keto).
The quintessential list of low-carb foods
Low-carb vegetables & fruits
1.
Broccoli
Cauliflower
Spinach
Kale
Tomatoes
Peppers
Asparagus
Mushrooms
Swiss chard
Brussels sprouts
Green beans
Cabbage
Arugula
Onions
Turnip
Radish
Avocado
Blueberries, blackberries & strawberries
Meat, poultry & seafood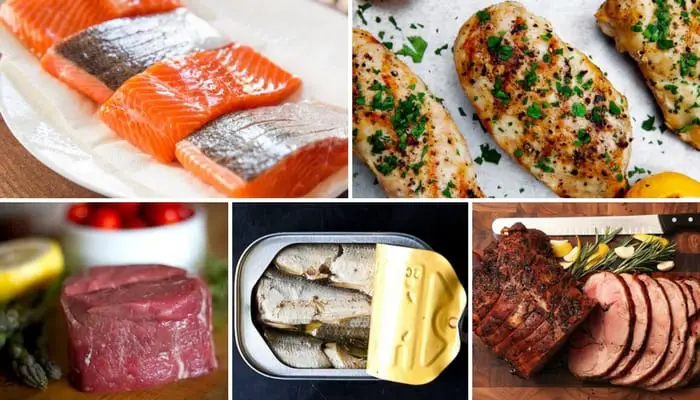 19. Grass-fed beef
20. Pastured chicken
21. Pastured pork & bacon
22. Grass-fed lamb
23. Liver & organ meats
24. Salmon & other fatty fish
25. Sardines
26. Tuna
27. Oysters
28. Cod & other whitefish
Dairy & eggs
29. Pasture-raised eggs
30. Heavy whipping cream
31. Hard cheeses
32. Full-fat yoghurt & kefir
Pantry staples
33. Coconut flour
34. Almond flour
35. Erythritol
36. Flaxseed
37. Chia seeds
38. Cashews
39. Macadamia nuts
40. Almonds
41. Hemp seeds
42. Coconut oil, avocado oil & olive oil
43. Ghee
44. Raw cacao powder
45. Apple cider vinegar
46. Tamari or coconut aminos (soy sauce)
47. Mustard
48. Dried herbs
49. Broth or stock
50. Herbal teas
51. Coffee
52. Hot sauce
53. Desiccated coconut
54. Nut butter
55. Rice wine vinegar
56. Pepitas or pumpkin seeds
57. Canned coconut milk
58. Cacao nibs
59. Raw cacao powder
60. Olives
Make sure to bookmark this list for later so you can build your low-carb grocery list with us. We hope you learned more about low-carb, high-fat ketogenic eating today and the amazing benefits.
Better yet, we hope you see just how many amazingly nourishing and delicious foods you can still eat. Make sure to share this article if you enjoyed it!
Pin it for later from here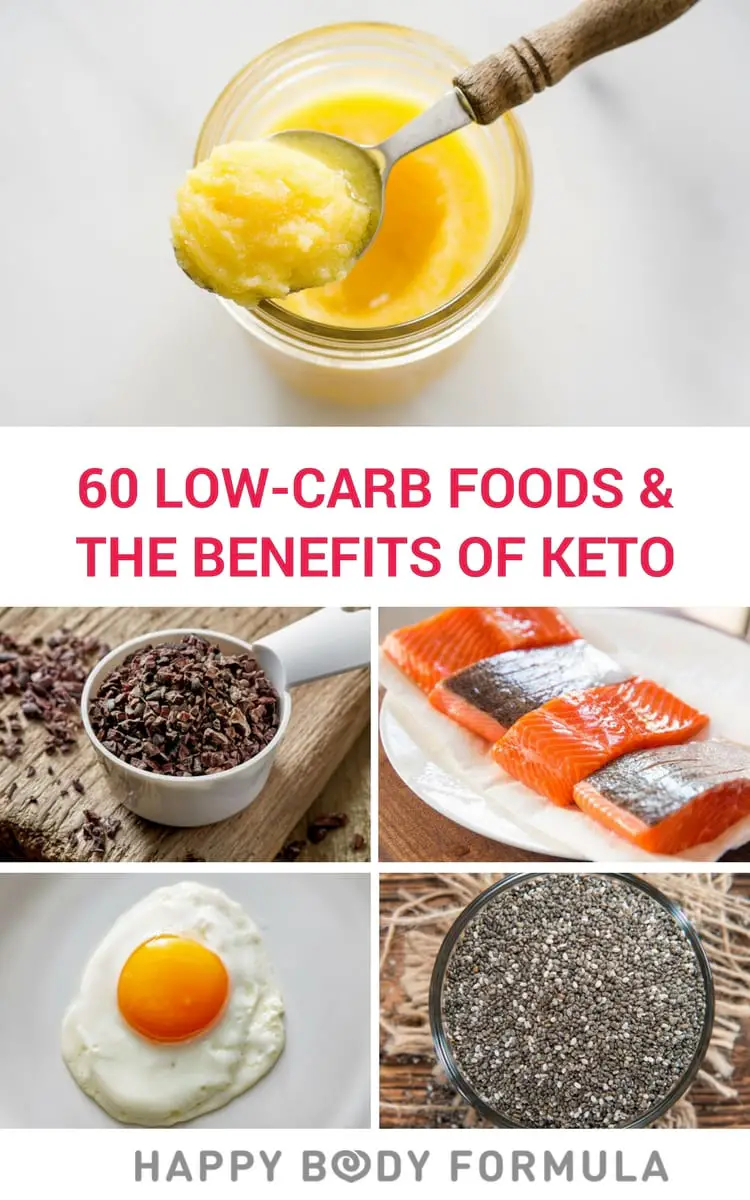 Music, mountains, dogs, travel, food and friends.