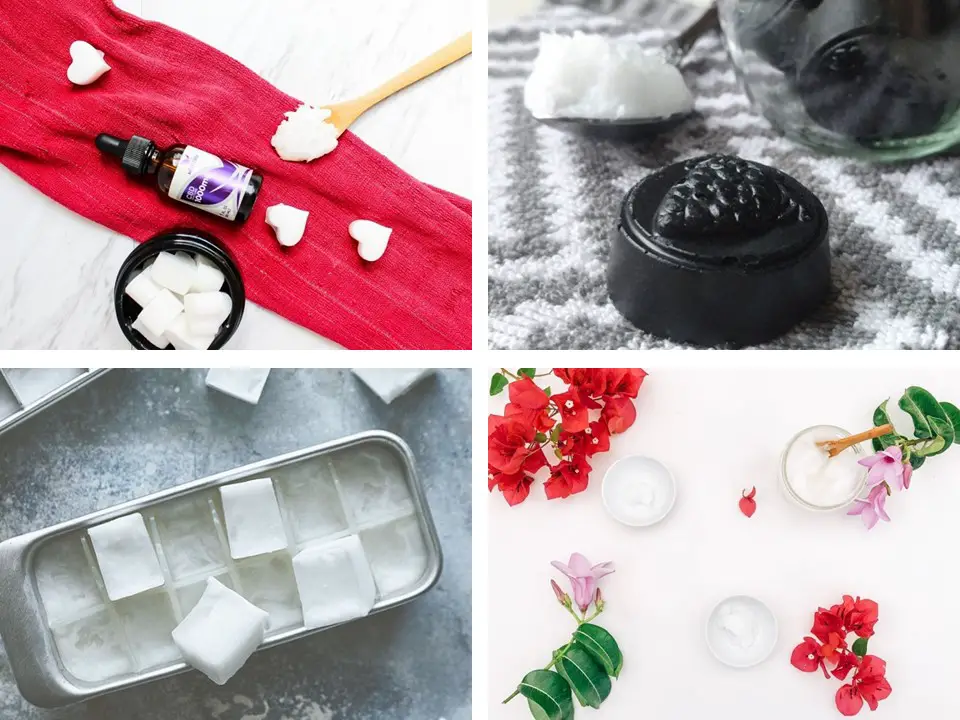 We all want a whiter, healthier, and more beautiful smile, but did you know that oil pulling is one of the most effective methods for achieving it?
If you haven't heard of oil pulling before, the concept is quite simple: you swish a tablespoon of oil in your mouth (preferably on an empty stomach) for around 20 minutes, before spitting the oil into the bin.
It might sound strange, but this ancient Ayurvedic dental technique (also known as "kavala" or "gundusha") aims to whiten your teeth, freshen your breath and greatly improve your oral health. It is also said to draw out toxins in your body, working to improve your overall health and wellbeing.
While some people pour their oil of choice onto a spoon for their oil pulling routine, others prefer to use oil pulling capsules, melts, or chews, helping to minimize the mess associated with the wellness practice.
Whether you're a seasoned oil puller hoping to streamline the process, or someone looking to try oil pulling for the first time – you're in luck. We've rounded up 10 DIY oil pulling teeth whitening recipes to assist you!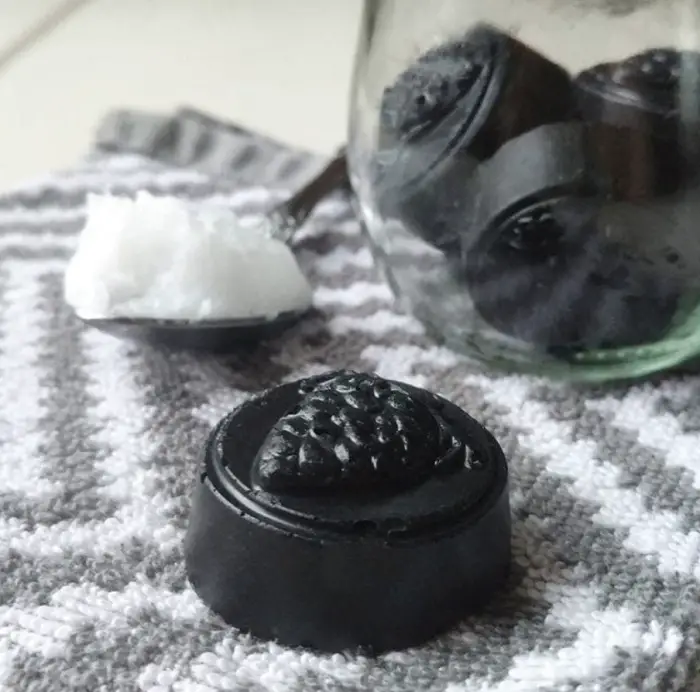 1. HOMEMADE TEETH WHITENING ACTIVATED CHARCOAL & COCONUT OIL PULLING TABS FROM NATURAL LIVING IDEAS
We all know that oil pulling has many health benefits, but this version adds in activated charcoal to help brighten your smile even faster.
The best part? By making your own activated charcoal and coconut oil pulling tabs, they're in a convenient form that's truly grab and go. With the addition of essential oils, these DIY tabs add a pleasant taste and freshen your breath too.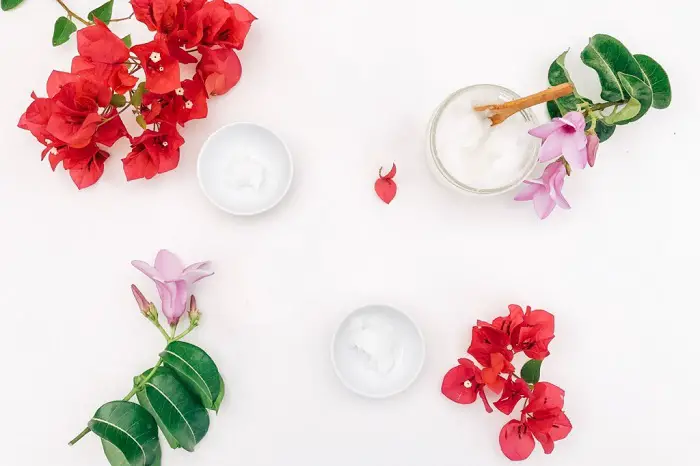 2. GRAPEFRUIT DETOX OIL PULLING AND TEA TREE IMMUNE SUPPORT OIL PULLING FROM OH DEAR DREA
This post will share not one, but two oil pulling recipes with you, helping to boost the method's health boosting properties even more!
The first one uses grapefruit essential oil to add additional oral health benefits, while the second recipe utilizes the immune boosting properties of tea tree oil. Both recipes contain organic coconut oil for its antibacterial and healing properties.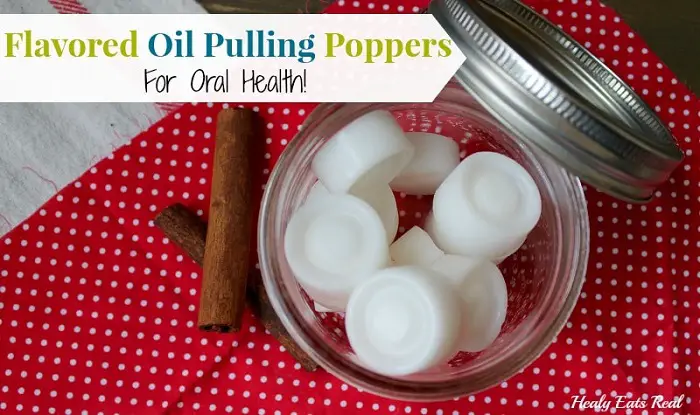 3. FLAVORED OIL PULLING POPPERS FOR ORAL HEALTH FROM HEALY EATS REAL
Some people can find oil pulling to be quite difficult, whether it's the strange taste of the oil, an inability to keep the oil swishing around in their mouth for 20 minutes, or the fact that the oil activates a gag reflex.
These flavored oil pulling poppers aim to fix all of that, as they contain coconut oil and Thieves essential oil (which can also be substituted for lemon essential oil, if you'd prefer).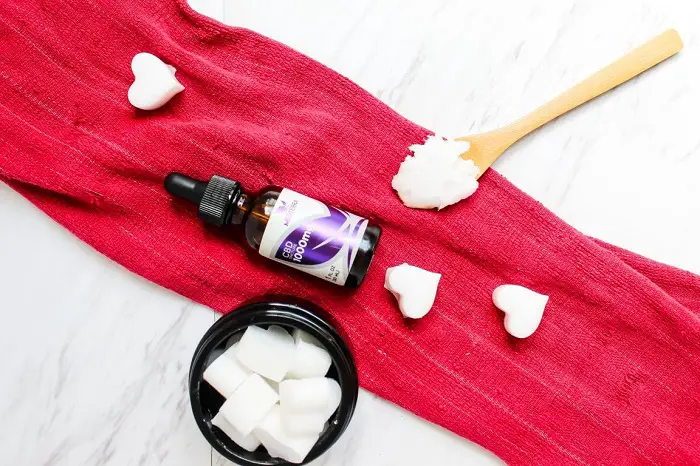 Use this CBD oil pulling chews recipe three to four times a week for three to 15 minutes or even daily for best results. It uses CBD oil for its anti-inflammatory, antibacterial, anti-fungal, and bone stimulating properties, helping to dramatically boost your oral health.
Remember, you should always spit the oil into the bin after you've swished it around in your mouth for the required amount of time. Spitting it into the sink may affect your plumbing, as the oil solidifies.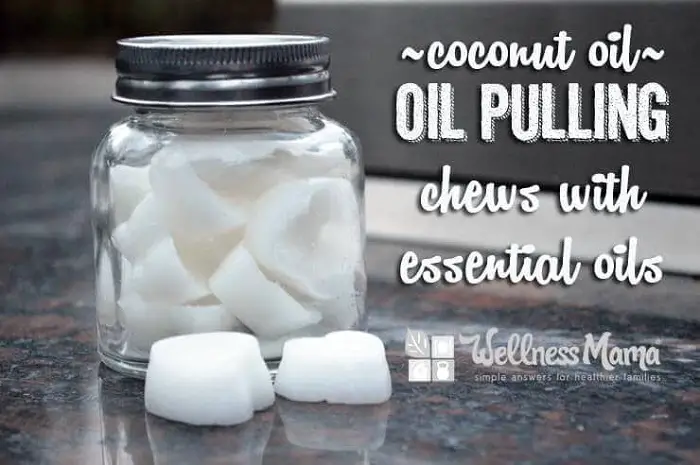 5. COCONUT OIL PULLING CHEWS FROM WELLNESS MAMA
Simplify the oil pulling process by making these pre-made, bite-size oil pulling chews. All you'll need is coconut oil and 20-30 drops of essential oil (such as peppermint, cinnamon, clove, etc).
We love how this recipe uses silicon heart-shaped moulds to give the oil pulling chews a fun shape. Very clever!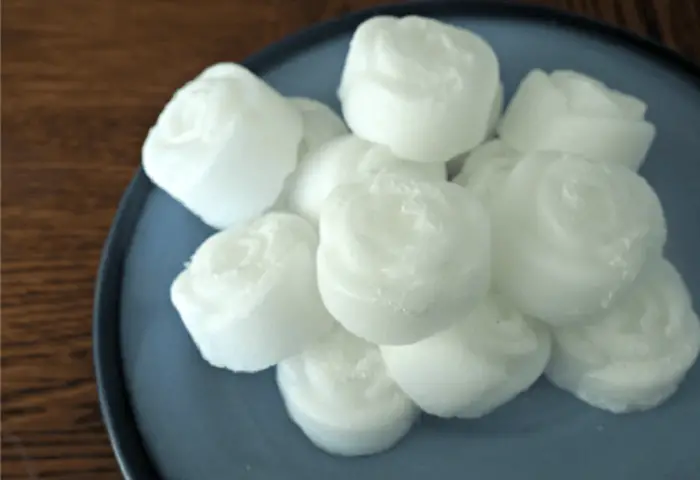 6. DIY OIL PULLING TABLETS FROM SCRATCH MOMMY
Making these DIY oil pulling tablets are easy! You simply begin by melting coconut oil on the stove, before pouring it into a shaped mold of your choice.
Then, add a drop of your chosen essential oil to each mold and cool in the fridge. Once hardened, store your pulling oil molds in a glass jar in the fridge.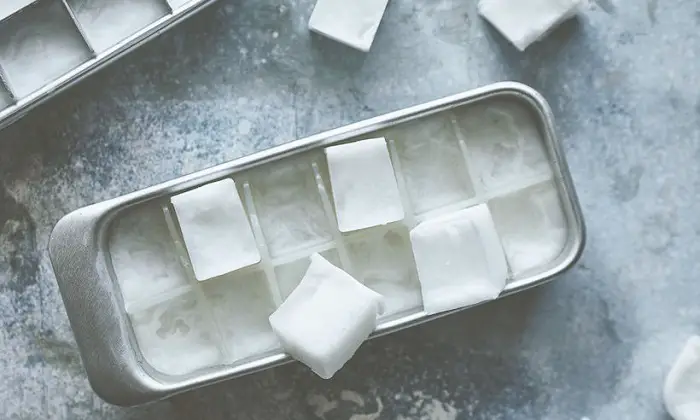 7. DIY OIL PULLING ICE CUBES FROM HELLO MAGAZINE
As we mentioned before, it can be a little messy – and gross – to spoon a chunk of coconut oil into your mouth and swish it around for 20 minutes.
Thankfully, this tutorial for DIY ice pulling ice cubs creates a refreshing version that you can keep in the freezer to use each morning. They simply melt in your mouth!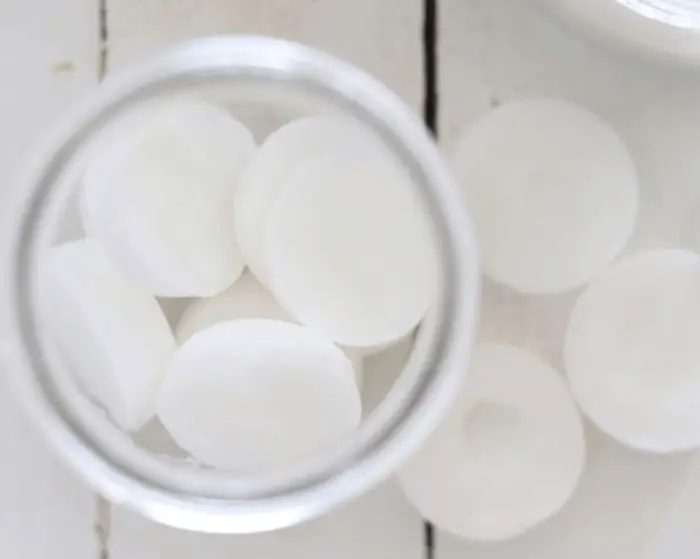 8. OIL PULLING WITH COCONUT OIL FROM OUR OILY HOUSE
Here's another simple recipe for coconut oil pulling pods, also featuring essential oils (although this step is optional). When you pre-measure your oil pulling mixture and place it into moulds that are ready to go, it will make you more inclined to practice oil pulling each day.
After oil pulling, it's recommended that you brush your teeth with natural toothpaste to enhance these non-toxic oral health care benefits even more.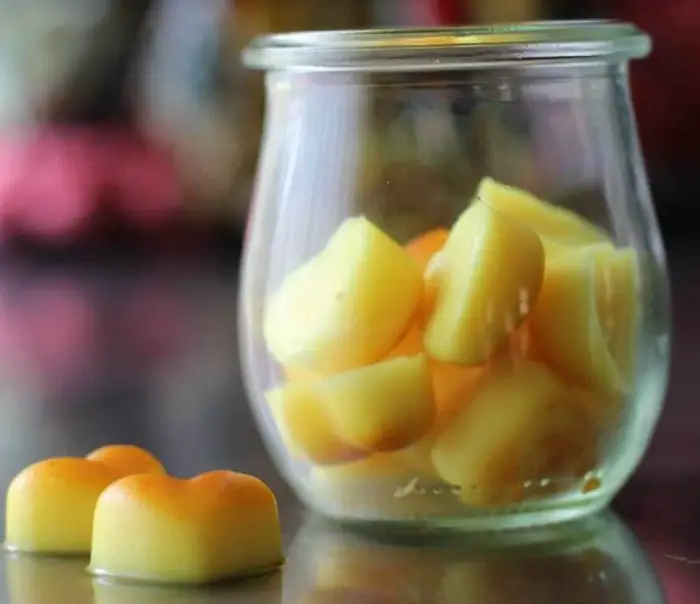 9. COCONUT OIL PULLING CHEWS WITH TOOTH WHITENING TURMERIC FROM MOMMYPOTAMUS
You'll love incorporating tooth whitening turmeric in your oil pulling chews, both for its whitening and oral health supporting properties.
This unique recipe uses virgin coconut oil, ground turmeric, and essential oils of your choice, listing spearmint, peppermint, myrrh, clove, and cinnamon as the best recommendations. You'll have whiter, healthier teeth in no time!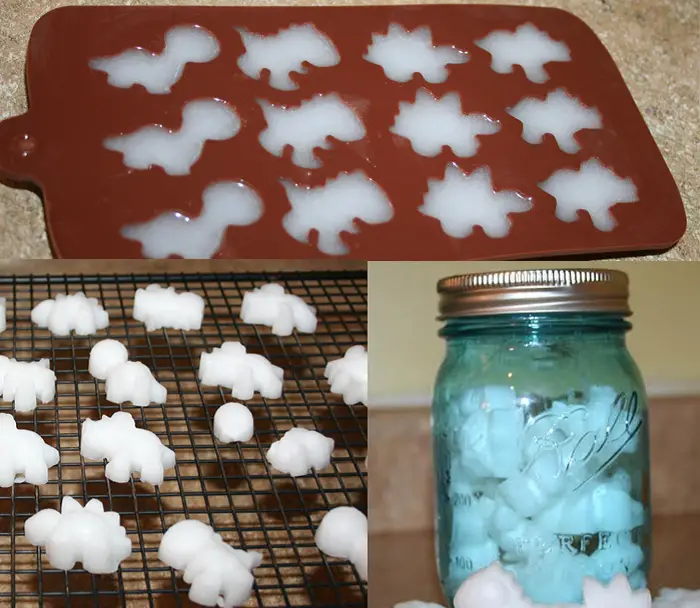 10. DIY OIL PULLING MELTS FOR A CLEANER MOUTH FROM TALKING MOM 2 MOM
Dinosaur-shaped oil pulling melts? Count us in!
This DIY combines the benefits of both coconut oil and thieves essential oil blend, which contains clove oil as well as lemon, cinnamon, eucalyptus, and rosemary essential oils. You can then store the finished product in a jar to ensure you always have enough oil pulling melts on-hand.
Which Oil Pulling Teeth Whitening Recipes Will You Try?
There you have it – 10 DIY oil pulling melts, chews, and more to help you achieve perfect oral health each morning. While what oil you use is totally up to you, many recommend organic coconut oil due to its antimicrobial properties and ability to naturally strengthen enamel.
Oil pulling might take a little getting used to, but keep in mind its incredible health benefits. Not only does it draw out toxins in your body, working to improve your overall health and wellbeing, but it can also whiten your teeth, freshen your breath and greatly improve your oral health.
The 10 DIY oil pulling tutorials featured above are here to make this already simple process even easier. Would you prefer to oil pull using oil in liquid or solid form?
Start with the DIY that takes your fancy the most, then slowly work your way through the list to see what oil pulling method works best for you.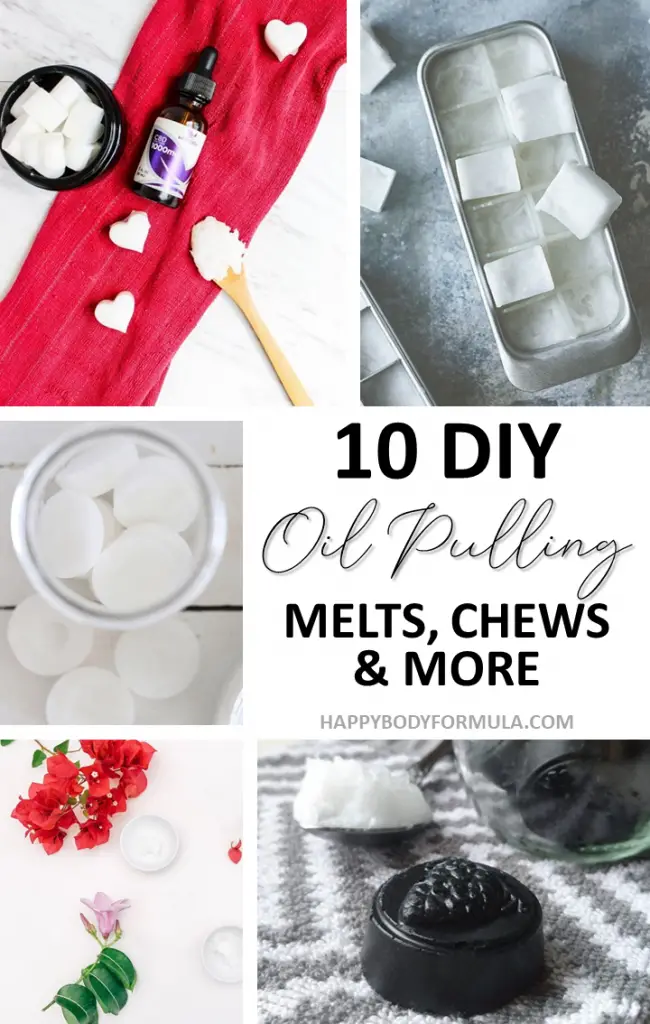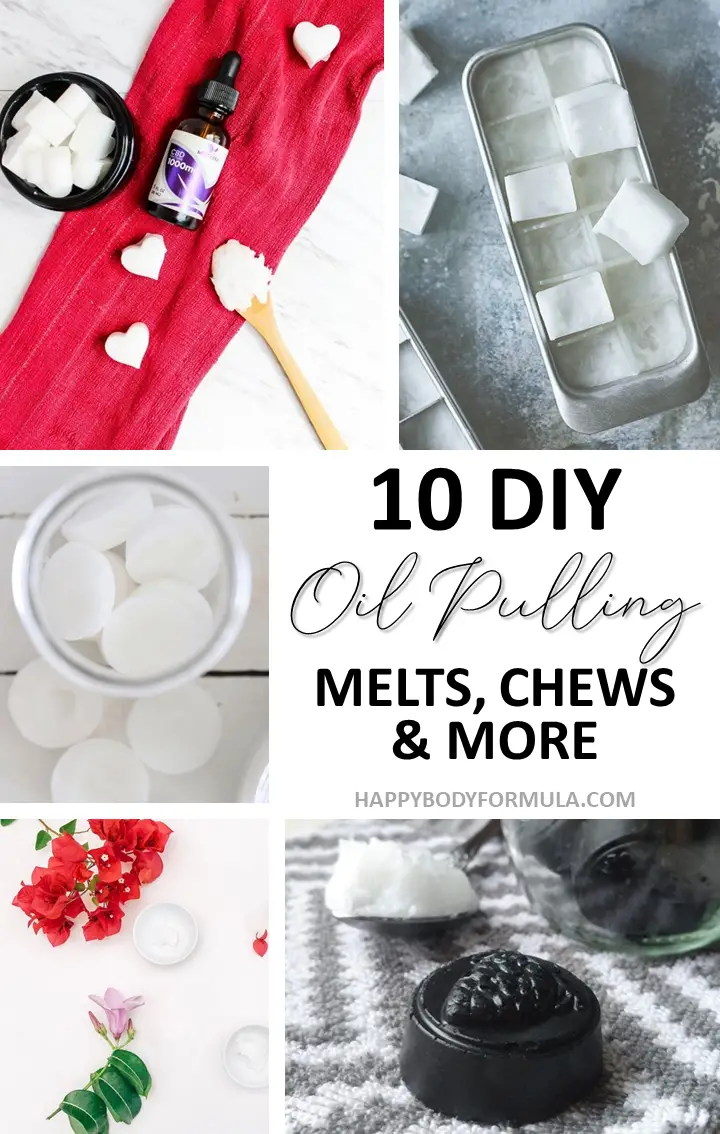 Melanie Clarke is the founder of Whim Online Magazine, an online magazine based in Australia that has a strong focus on whimsical + dreamy photography, as well as art and fashion content.