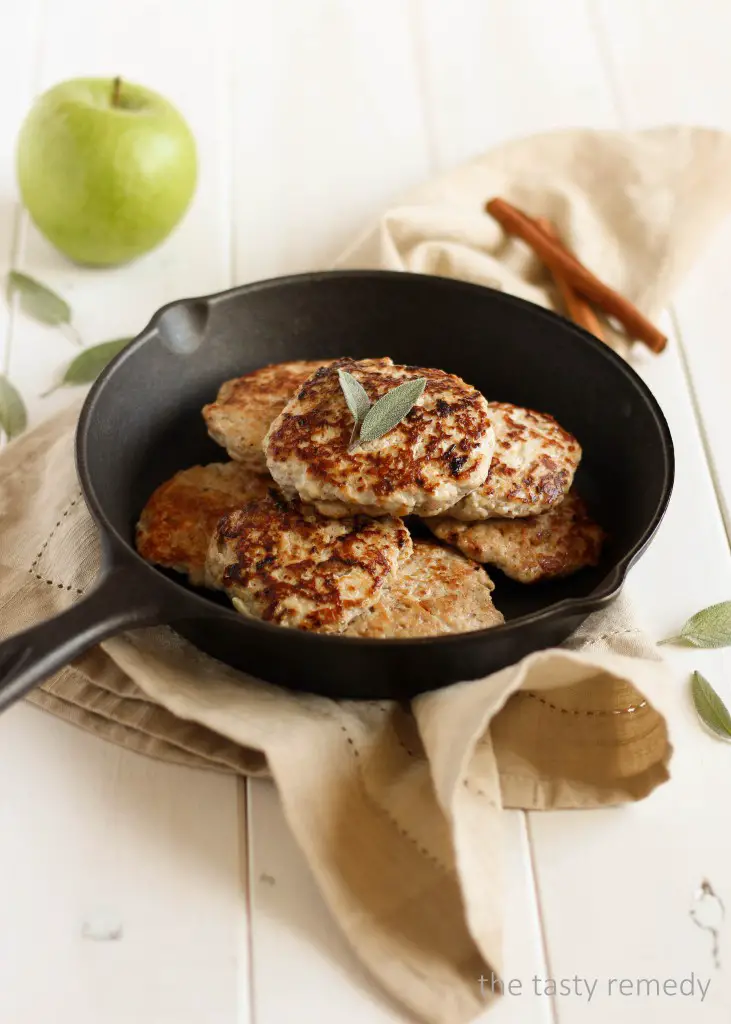 This fall-inspired dish is the perfect addition to breakfast for any season. These breakfast sausages are gluten free and paleo friendly, and are suitable to those following an autoimmune protocol (AIP).
This recipe comes from Suzie, a real food chef inspired by her healing journey with rheumatoid arthritis. Find more of her recipes at The Tasty Remedy.
Looking for more recipes like this one? Check out our 7 Day Make Ahead Meal Plan.

Winter & AIP Chicken Apple Sausage
Ingredients
1 lb ground chicken
½ cup grated granny smith apple (peeled)
½ tsp sage[
½ tsp cinnamon
½ tsp salt
¼ tsp ground garlic
1 tbsp coconut oil
Instructions
Using your hands, combine all the ingredients except for the coconut oil in a medium mixing bowl.
Divide the sausage into 8 portions and roll each in a ball. Flatten with your palm until they are about a ½ inch thick. Place patties on a plate or baking sheet and chill in the freezer for about 30 minutes to firm them up.
When the patties are ready, heat a large cast iron skillet over medium heat and melt the coconut oil. Add half of the patties to the skillet and cook 3-5 minutes on each side. Repeat with the remaining patties.
Music, mountains, dogs, travel, food and friends.