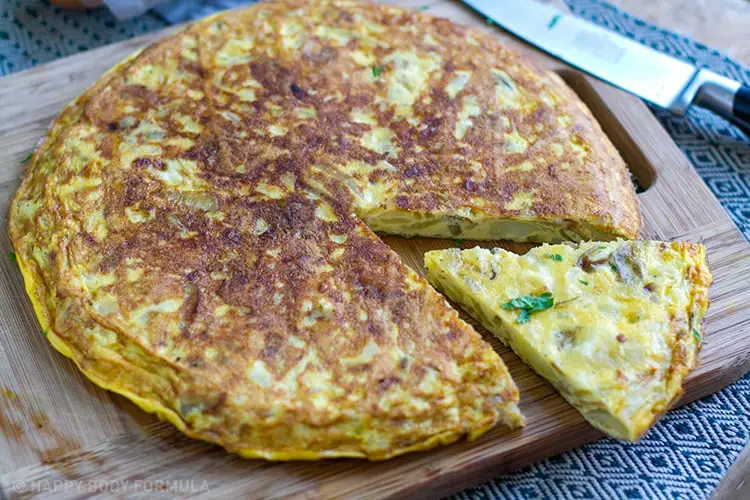 One of my favorite countries to visit is Spain. I love the sunshine, the happy Spanish people and the wonderful outdoors of this country.
If you've ever travelled through Spain while trying to stick to a more or less paleo – or even grain-free or gluten-free diet – you would know that in Spain… it ain't that easy.
Spanish people love bread – maybe even more than the French. Everywhere you go, bread is served either with the dish or as part of the dish. Tapas is notoriously bread heavy.
Don't worry – it's not all bread! You can get fabulous pimentos de padron (fried green peppers with sea salt), jamon, grilled octopus and the famous Spanish tortilla.
Tortilla is essentially a potato frittata, and it's my go-to staple while I'm in Spain. You can pick up ready-made tortilla in every supermarket, and you will find it on every menu.
For me, it's the answer to a grain-free bread alternative. I get a few protein and vegetables dishes with some tortilla, and I have a great, satiating meal every single time.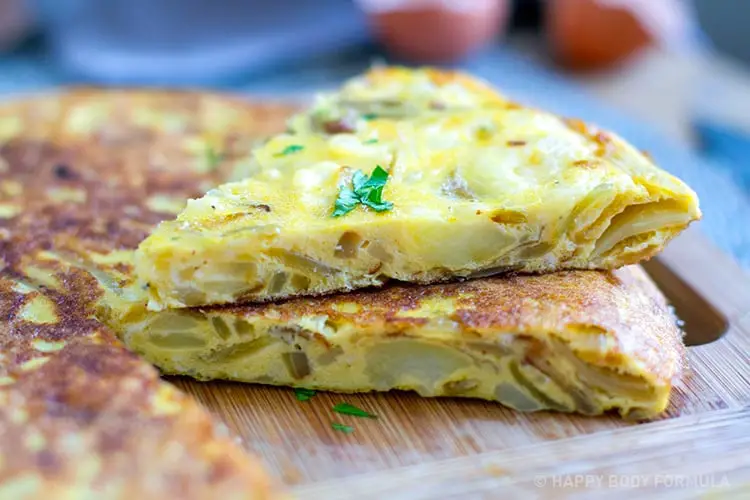 Tortilla is portable, keeps well and you can make a big batch ahead of time to enjoy for breakfast, lunch or dinner. It's gluten-free and usually dairy-free. It's not really low-carb, but it is nutritious nevertheless.
Those of you doing our 30-day program or the free 7-day challenges would know that we are not against carbs or potatoes, so this is a perfect recipe to add to your arsenal.
PS. It's also nut-free, so it's a great real food lunch box item for kids.
Now, there SO many ways to make tortilla! Usually, you have to shallow fry the potatoes in lots and lots of olive oil in the frying pan, but my method uses a little less oil and I pre-cook my potatoes by steaming or boiling them while I caramelize the onions.
That's just how I do it.
There are also different size frying pans that can be used for tortillas, and you will often find special cast iron, tortilla-designed pans in Spanish stores.
I am using my regular deep frying pan for this recipe.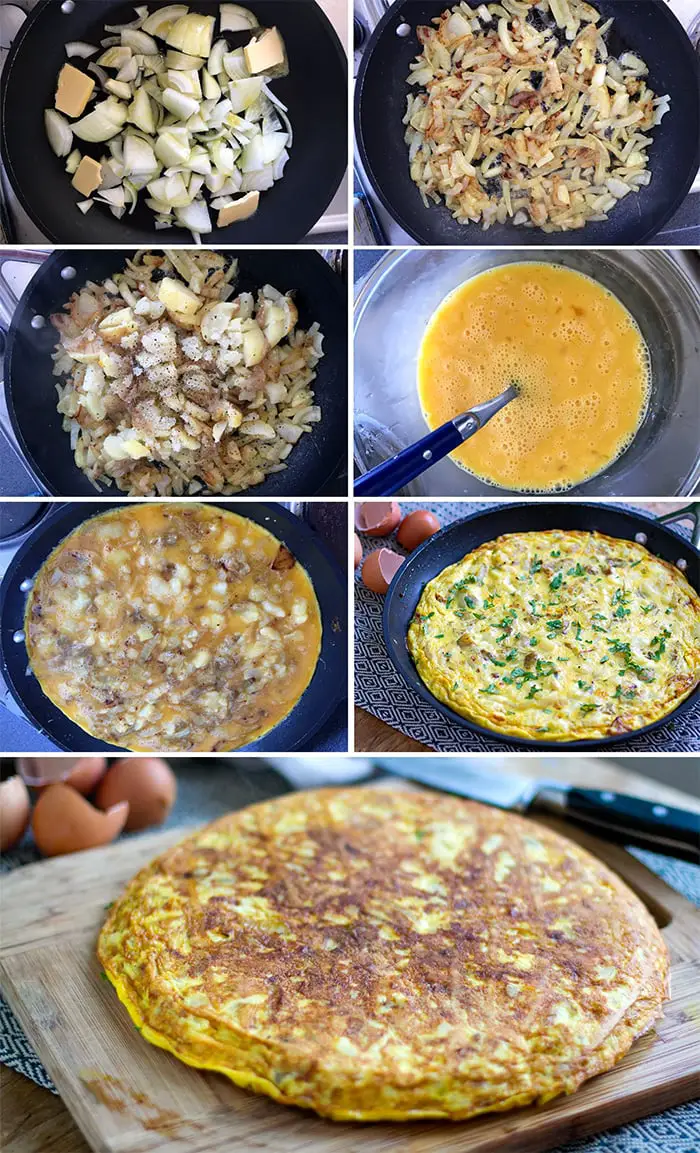 Like this recipe? Our recipe developer Irena Macri has lots of paleo breakfast recipes on her blog.
Potato & Onion Tortilla In A Pan (Spanish Frittata)
Ingredients
360 g / 0.8 lb medium white potatoes
2 medium brown onions, quartered and sliced into thin strips
¼ cup olive oil (or 2 tablespoons olive oil and 2 tablespoons butter)
1½ teaspoons salt
1 garlic clove, finely diced
Generous pinch of pepper
8 eggs (add another pinch of salt)
Instructions
Place potatoes in a pot of water and bring to boil. Cook for 10 minutes, until soft when poked with a fork. Drain and set aside.
In the meantime, heat a deep-sided frying pan over medium heat. Add the onion, olive oil (and butter, if using) and salt and stir through. Sauté over medium heat for 8-10 minutes, stirring occasionally, until the onion is golden brown and slightly caramelised.
Preheat the grill to 200 C / 400 F.
Roughly chop the potatoes and whisk the eggs in a bowl. After 10 minutes of cooking the onions, add the potatoes, garlic and pepper and stir through together. Pour in the egg mixture and stir through quickly to distribute the potatoes evenly. Then, let it cook over medium heat for about 4 minutes, until the edges are starting to firm up but the middle is still runny. At this stage, move the frying pan under the grill for 3 minutes, or until the middle is JUST cooked through. You don't want to overcook the tortilla, and it's nice to keep it very soft and just cooked through.
Remove the frying pan from the oven and let it sit for a few minutes to come together. Use a thin spatula to separate the edges of the tortilla from the sides of the pan. Then place a large cutting board or a platter over the top and turn the pan upside down, allowing the tortilla to fall onto the board.
You can alternatively serve it in a pan. Sprinkle with some fresh parsley or other herbs of choice.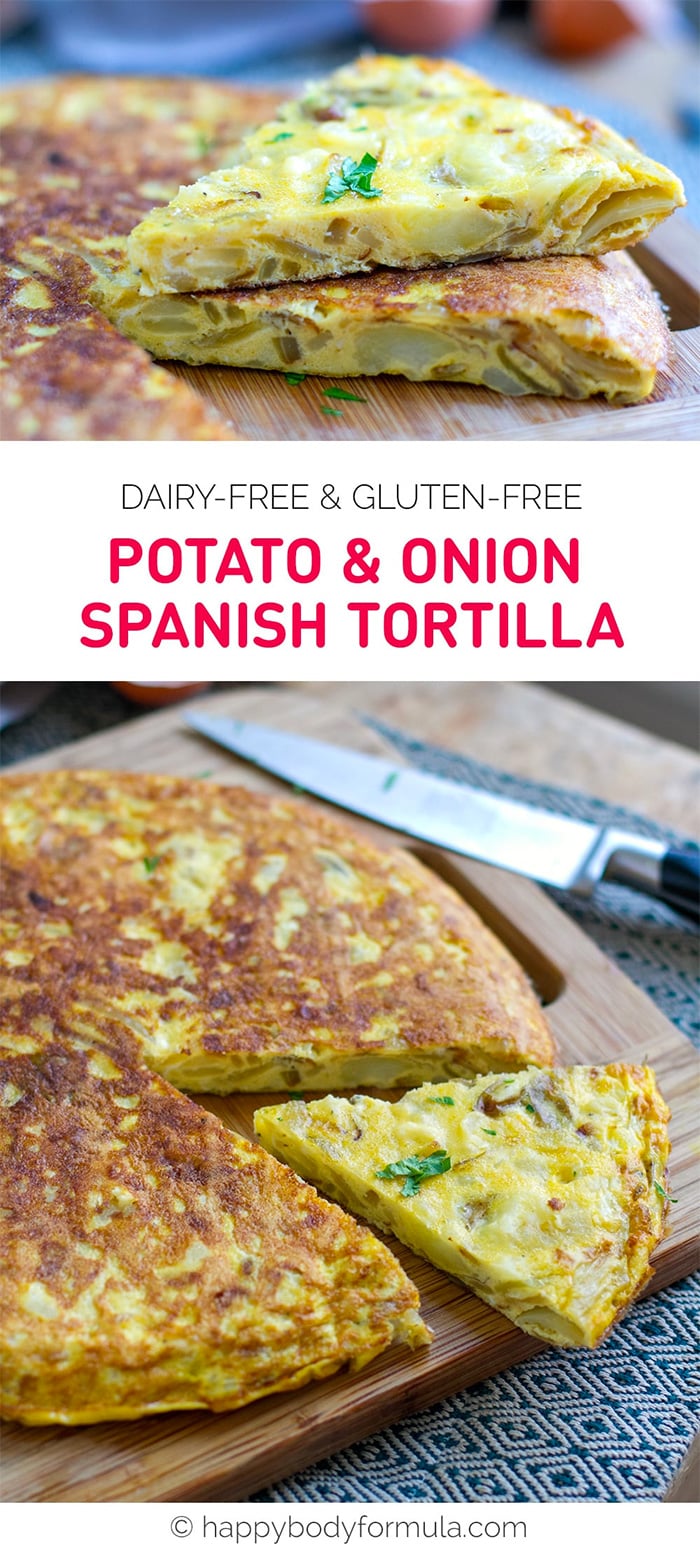 Music, mountains, dogs, travel, food and friends.