In today's post, we are sharing 10 ways to make your breakfast easier and faster, from sneaky shortcuts and on-the-go foods, to clever meal prep ideas. 
---
While some of us have the luxury of slow mornings, getting up before our alarms go off, and not having to rush out the door, the reality of it is that most of us don't. 
It's go-go-go from the moment we wake up, and the last thing we want to do is sacrifice those 15 extra minutes of hitting snooze to hitting the kitchen.
Besides, your brain is at half-capacity, and you're probably not going to reach for the healthiest options when surviving the next few minutes is all you can focus on!
Hacking your breakfast prep can make a pivotal difference. It can help you feel like you've got it together.
You can make healthy, nourishing, satiating recipes perfect for eating on the go or in a rush in the mornings. These shortcuts will ensure that you get the essential morning blend of fats and proteins in your belly without having to think about much besides chewing.
Oh, and you're on your own for coffee.
1. Bake your eggs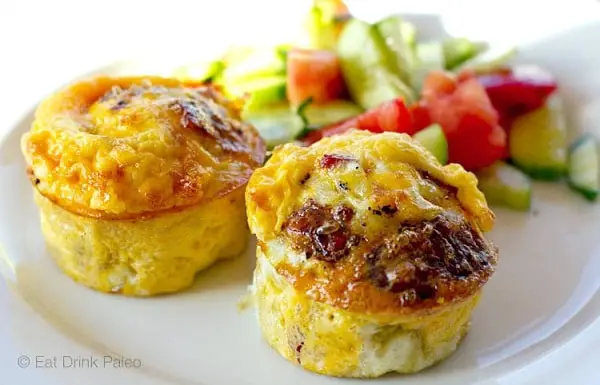 Any which way you make eggs, it's pretty simple and not exactly time consuming. Still, finding the time to even scramble or fry eggs in the morning can be tough.
Fortunately, there are quite a few ways to bake eggs ahead of time, or prepare breakfast in a hands-off fashion that affords you time to get ready, drink your coffee, shuttle off the kids, or simply lay in bed.
Bake eggs in their shells for "boiled" eggs without the water. It's as simple as tossing whole eggs in a muffin tin and setting the oven to 350F and baking 'em for 30 minutes. No clean-up necessary? Count me in.
Frittatas are a meal prep staple. Make a big egg bake or quiche in a cast iron or baking dish, or prep your scrambled egg mix by baking it into muffins. Lay some deli meat, cubed ham, bacon, sausage, cheese, and/or veggies in each tray before pouring the scrambled eggs over. Try this recipe to start. These are easy to store in the fridge or freezer and eat hot or cold on the go.
Make a big breakfast with sheet pan eggs. This encompasses veggies and sometimes meat for a full meal, even when you don't have the time. Keep things interesting!
2. Freeze smoothie packs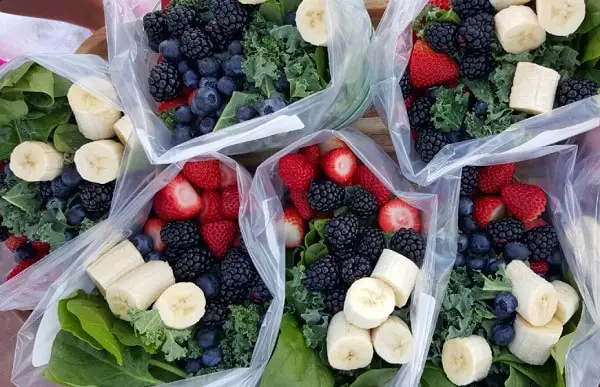 Some people can't quite get into the habit of eating savory meals for breakfast or eating solid food in the morning. While we encourage adding some protein powder to your smoothies, you can basically freeze everything else.
Pick your favorite fruit and green combinations and toss them into freezer bags for no-brainer breakfast options that you can easily take with you. You can really customize your blends to your taste.
Consider using our 7-day green smoothie menu if you're looking for your signature frozen recipe!
3. Make overnight oats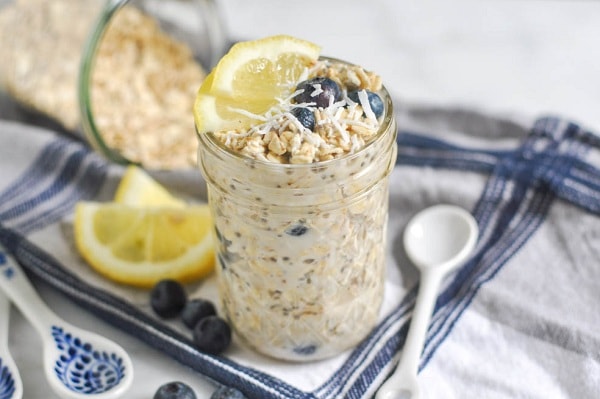 Oatmeal isn't exactly difficult to make in the morning, even if you're only half-awake. Overnight oats are easy to pack, though, so you can bring them with you or enjoy them straight out of bed.
Simply mix quick oats into some liquid, add some yoghurt or collagen to boost protein, and mix in some fruits, powders, nuts, seeds, nut butters – whatever you like.
By morning, the oats will have absorbed the liquid and thickened up for a fibre-rich, gluten-free meal that will fuel you all through the morning until lunch. This is great for those of you who love your porridge!
Also try: 5-Minute Spiced Coconut Quinoa Porridge
4. Slow cook until morning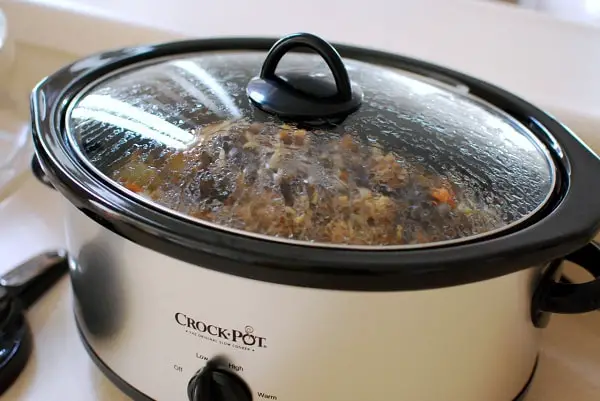 The slow cooker is the simplest way to get your meal prep done without much work besides dumping in the ingredients. You can also prep breakfast in the Instant Pot if you have one.
Steel cut oats and egg bakes are ideal breakfast contenders, but you could also whip up some homemade granola or even French toast. Put in the ingredients before you go to bed at night and you'll have hot breakfast waiting for you.
5. Chia pudding – your new best friend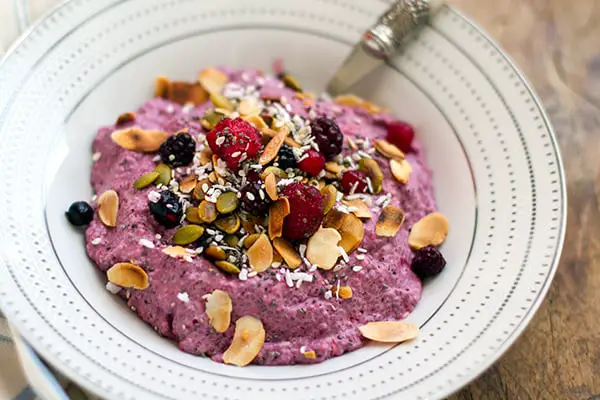 Chia pudding is great for those who love overnight oats but can't do grains. It's a similar concept; when you leave chia seeds in liquid overnight, they plump up and create a fibrous, nourishing pudding-like meal that will easily take on any ingredients you add like berries, nuts and seeds, and spices.
Use full-fat coconut milk for a richer and more energy-dense meal. This is a great way to get digestion flowing in the morning and pack in some plant-based omega-3 fatty acids.
6. Put an egg on it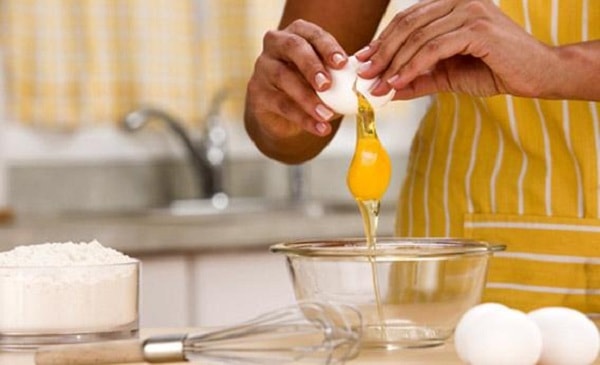 While some people have hang-ups about eating dinner for breakfast, putting an egg on it can totally change the game. Make a big batch of soup and poach an egg into it in the mornings, or toss last night's stir-fry into the oven and crack a few eggs over top before baking.
This technique instantly turns any meal you have handy into breakfast-worthy dining material, and it hardly takes any effort on your part.
7. Make a yoghurt bowl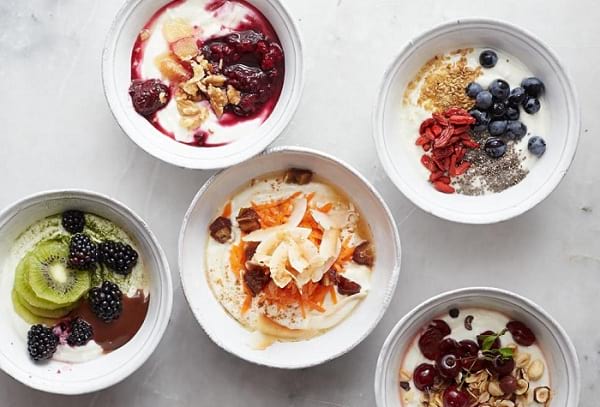 Yoghurt is essential to breakfast for good reason. When you choose the right kind, it provides a protein-rich, low-sugar base for just about anything you like – and all without more effort than spooning it into a bowl. We love plain yoghurt of any style, so pick your poison.
Greek yoghurt is higher in protein and its thick texture is satisfying. Plus, it will really hold all your favorite toppings. You can also get dairy-free coconut yoghurt, or make your own at home.
Typical toppings include fruit and granola, but you can mix in super foods like chia seeds, flaxseed, hemp seeds, maca powder, matcha, raw cacao powder, and more.
You can also switch things up and opt for a savoury yoghurt bowl with Mediterranean flair or crunchy veggies. The world is your oyster with a good cup of yoghurt, and it's sure to keep you full for hours to come.
Avoid pre-packaged yoghurt with mix-ins and fruit on the bottom because it's loaded with added sugar!
8. Get creative with the waffle iron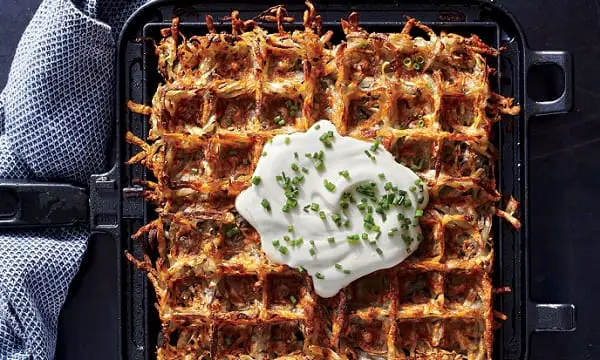 The waffle iron isn't just for waffles – not if you're creative with it. The great thing about a waffle iron is that it's easy to clean up, and you could likely get away with simply wiping it down before you're out the door.
Pre-shred potatoes or your favorite veggies for super easy morning hash browns that you could pair up with an egg or leftover meat from the night before.
This is great for those folks who like a hot savory breakfast, but simply don't have the time for Sunday brunch on a Monday morning (and who does?). We like this basic recipe.
9. Nuke 'em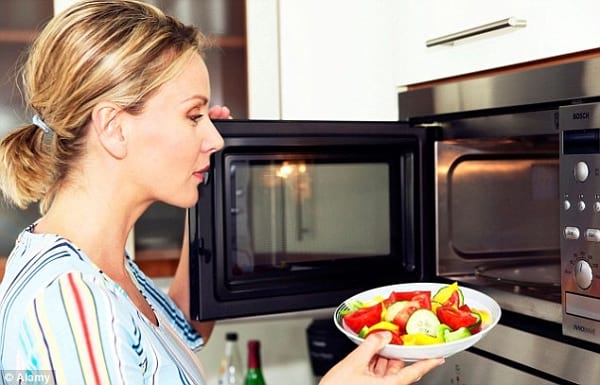 The microwave isn't exactly the pinnacle appliance for healthy cooking, but hey… if you got it, use it! The microwave can save tons of time and mess in the morning, and it lends itself well to quite a few breakfast foods.
Bake eggs whole or scrambled in individual ramekins for easy, protein-rich breakfast meals. You can add in some frozen veggies, fresh greens, and any spices you like.
Lay pieces of bacon of the edge of a mug or the bottom of a bowl. Microwave on a plate and get crispy bacon every time – minimal mess and no frying pan necessary.
Use the microwave for a hot bowl of oats in the morning. It won't thicken up like it does over the stove, but hey – it works when you're in a rush!
It goes without saying, but the microwave also comes in handy if you're feeling last night's dinner leftovers for breakfast. Once you heat it up, it's good as new.
10. Make a breakfast salad bar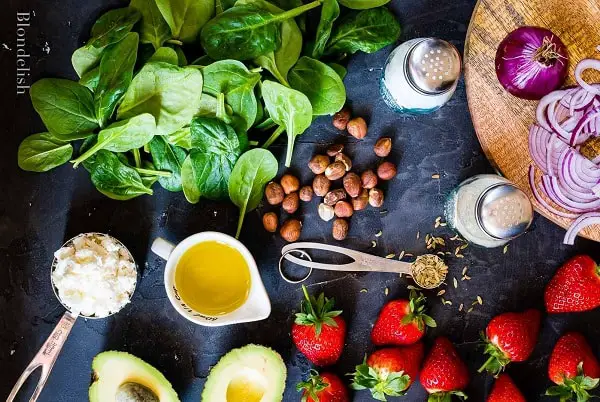 When it comes to transforming your eating habits, we believe you should begin with the first meal of the day. While starting the day with salad seems a little strange to some, it's really just a mental block we have to get over!
Making salads easy to assemble with additions like baked chicken, boiled eggs, salad dressing, seeds or nuts, chopped fruit, cooked bacon, and julienned veggie means you can pack in protein, healthy fats, and greens first thing in the morning.
If fuel is the goal, learning to love a heaping plate of greens in the AM is an easy and healthy hack.
Ready, set, hack your breakfast! While you're at it, check out our tips for optimizing your morning routine. Being a morning person isn't always easy, but we know the little things add up.
What do you do to make breakfast – the most important meal of the day – count?
CLICK HERE TO SHARE ON PINTEREST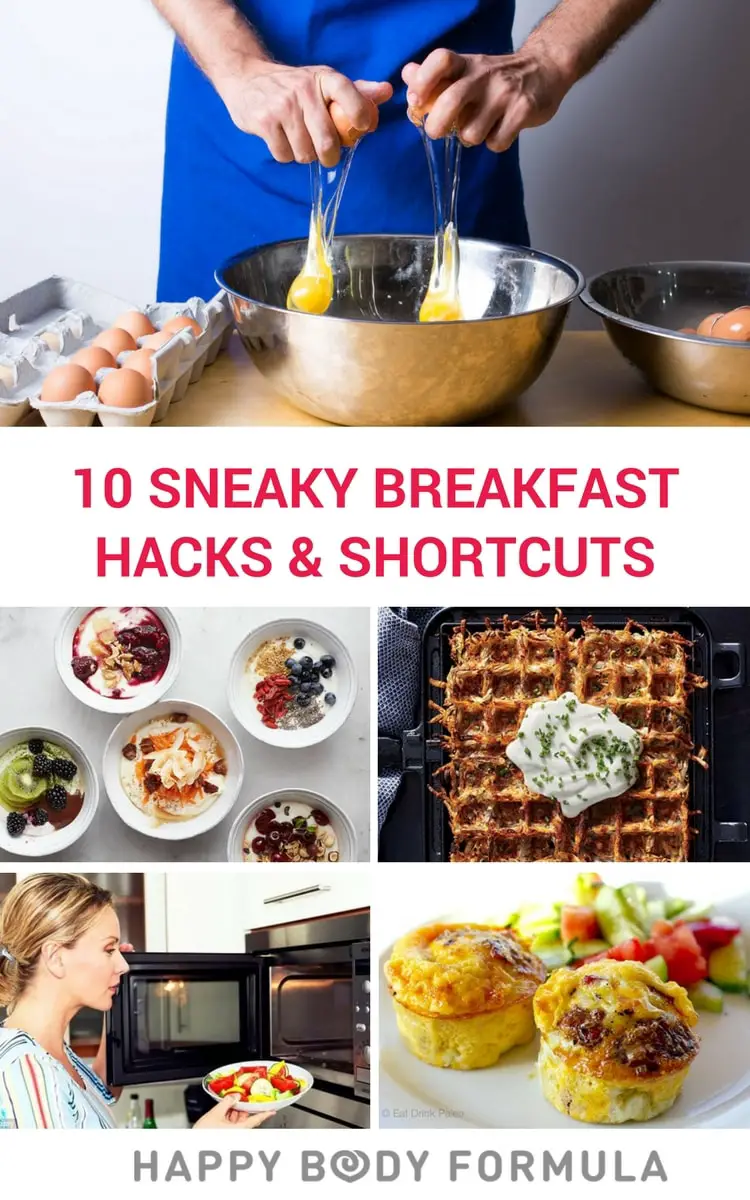 Music, mountains, dogs, travel, food and friends.