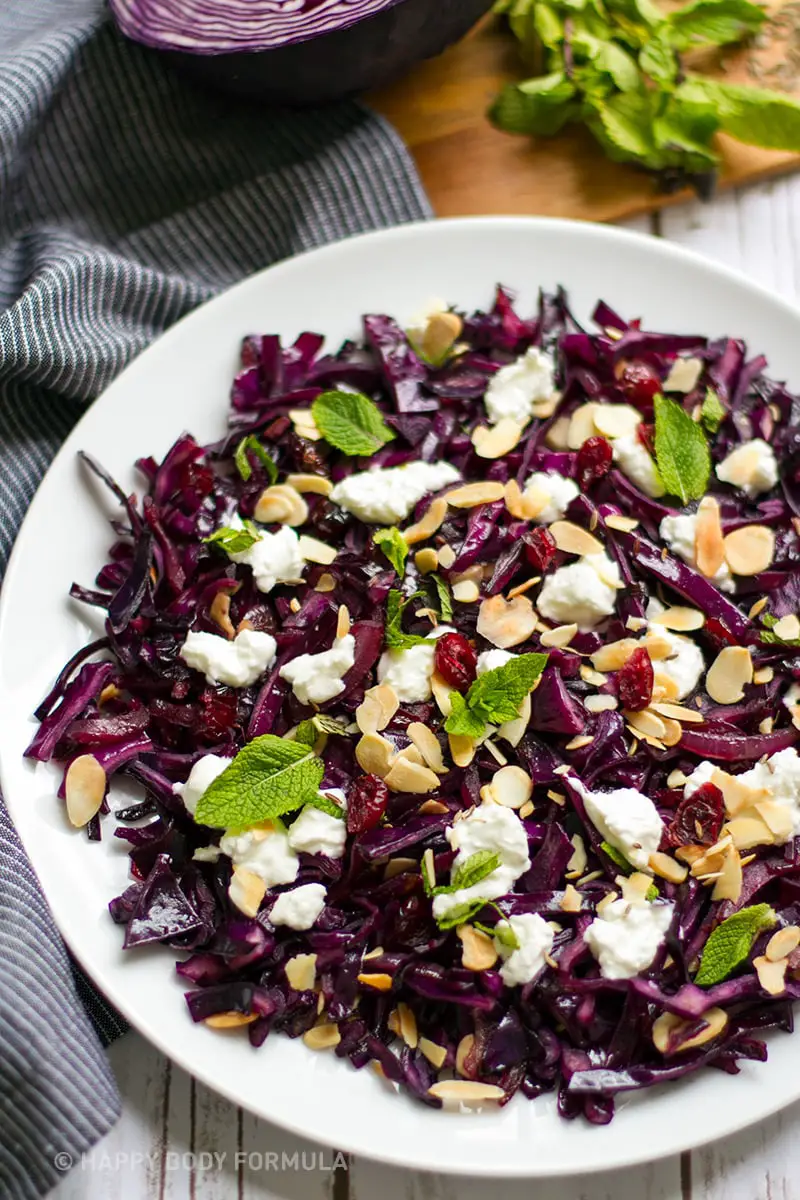 This quick red cabbage recipe is worthy of side dish fame on your dinner table. It's a great choice for entertaining with its vibrant colors and unique flavors, or it can easily be served on its own for a light dish.
It's versatile, and will pair well with protein if you so desire. If you're cooking for the holidays, this recipe is the perfect contender for a Thanksgiving or Christmas menu. Goat's cheese can be omitted if you don't tolerate dairy well.
Not only is this dish simple and delicious, but it's incredibly good for you. Red cabbage has anti-cancer benefits from antioxidants called flavonoids (responsible for its bright hue and bitterness) and 2 grams of dietary fibre per cup.
It also contains approximately 56% of the daily recommendation for vitamin C.
Cranberries are one of the most concentrated fruit sources of antioxidants, coming in a step above the other berries. They also contain plenty of manganese, vitamin C and vitamin E.
Finally, consumption can help prevent and treat UTIs. Almonds are a fantastic source of healthy fats. Stacked up against the other nuts, they contain the most protein, fibre, vitamin E and calcium.
Finally, if you opt to eat dairy, goat's cheese is lower in calories and sodium than most cheeses. If you're particularly sensitive to lactose, goat's cheese is a great choice as it contains far less than cow dairy, thus being a suitable choice for sensitive stomachs.
Looking for more healthy recipes like this one? Check out our 7 Day Make Ahead Meal Plan which will set you up with delicious meals throughout the week with just 3 hours of prep.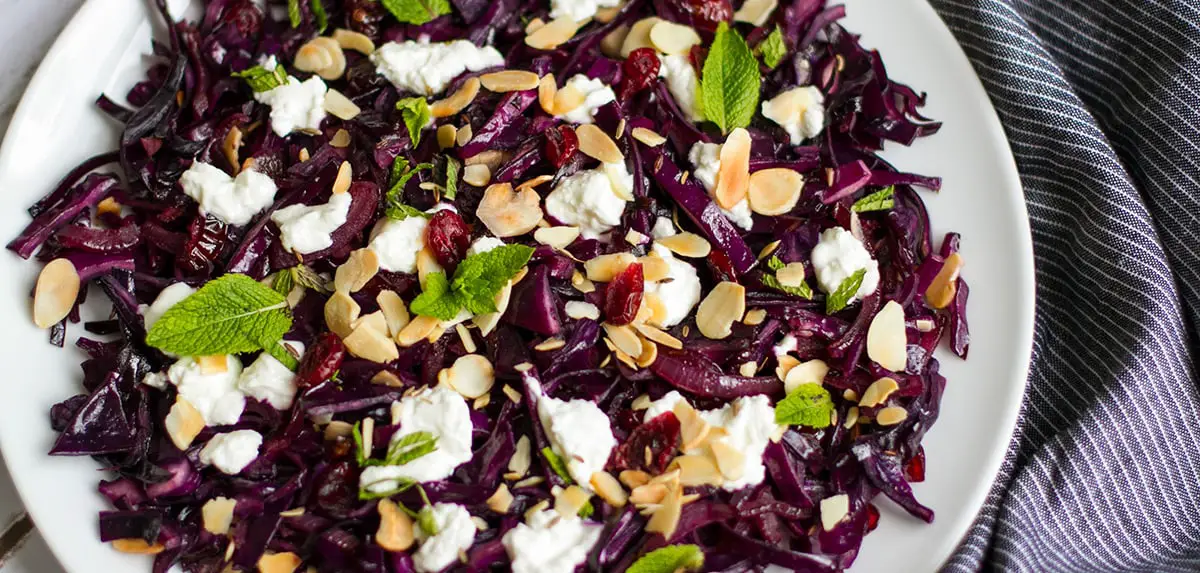 Quick Red Cabbage With Cranberries, Almonds & Goat's Cheese
Ingredients
2 tablespoons almond flakes or slivers
1½ tablespoons olive oil
½ red onion, thinly sliced
½ head of red cabbage, quartered and thinly shredded
1 large clove garlic, finely diced
2-3 tablespoons dried cranberries
½ teaspoon sea salt
1 teaspoon cumin seeds or powder
2 tablespoons apple cider vinegar
1 teaspoon honey
1 teaspoon sesame oil (optional)
25 g soft goat's cheese or goat's feta
4-5 mint leaves, sliced or torn
Instructions
Heat a large frying pan over high heat. Add the almond flakes and cook for 2 minutes, stirring frequently to prevent burning. Remove and transfer to a bowl.
Add olive oil and onions to the frying pan and bring the heat to medium-high. Cook for about 2 minutes, stirring a couple of times. Then add the cabbage, garlic and cranberries. Season with salt, cumin seed and drizzle with apple cider vinegar. Cook for 3 minutes, stirring a few times; then drizzle the honey and sesame oil and cook for a further 5 minutes. Stir a few times. Stir in half of the almonds right at the end.
Transfer to a plate and top with goat's cheese, the remaining almonds and mint. Serve with your favourite protein or as is.
Make it tonight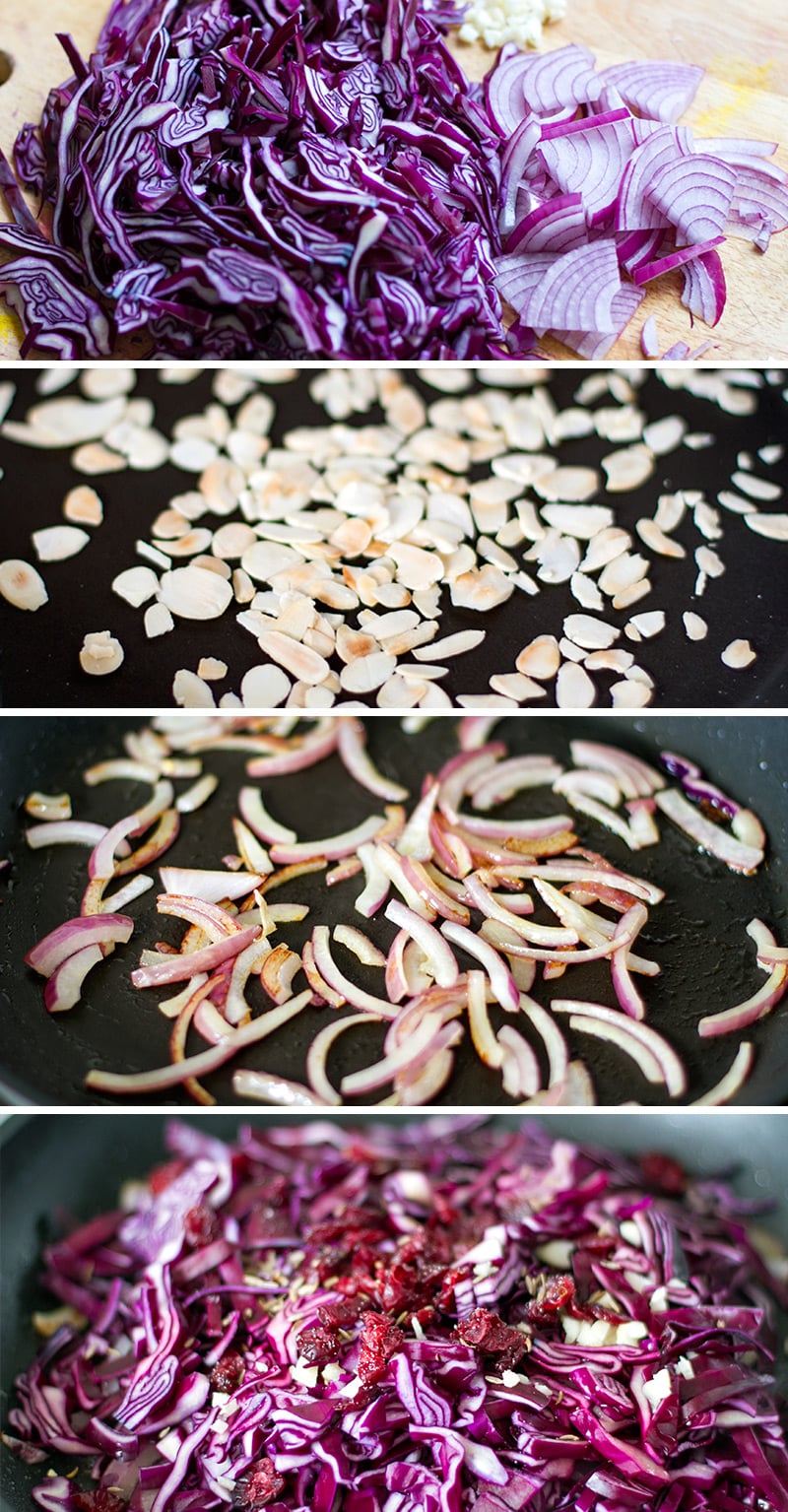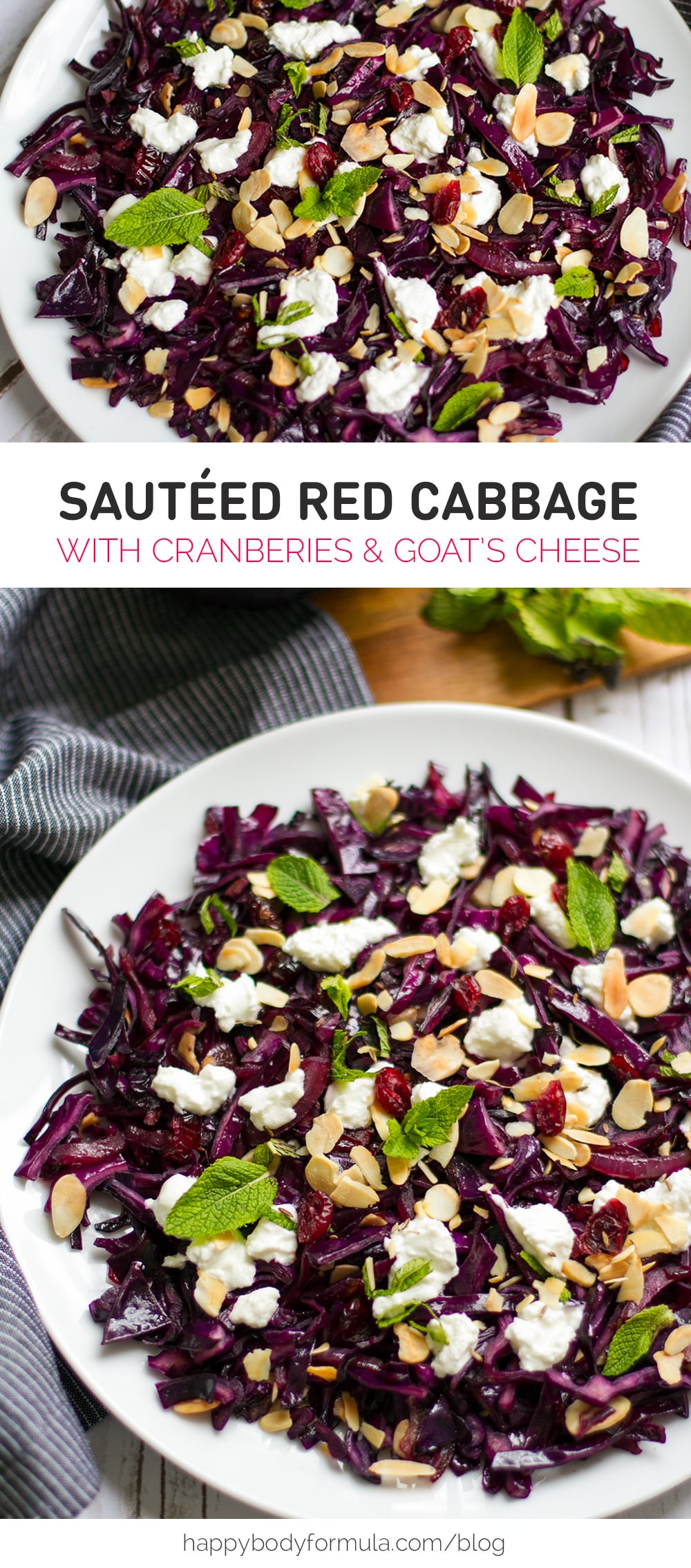 Music, mountains, dogs, travel, food and friends.