If you haven't heard of rosehip oil before, then you're in for a treat. This little-known beauty secret is the go-to product for women such as Miranda Kerr and Duchess Kate Middleton, and for plenty of good reasons too.
Rosehip oil is a pressed seed oil, extracted from the seeds of the wild rose bush in the southern Andes, as well as Rosa canina, which grows worldwide.
Despite its lengthy list of health and beauty benefits, you can often find rosehip oil in places such as your local supermarket, and at a very reasonable price too.
Keep reading to find out 15 little-known secrets about this wonder oil, as well as how it can benefit your appearance and health.
IT REDUCES THE SIGNS OF AGING
Many beauty products claim to reduce the signs of aging, but when they're packed full of so many chemicals, it can be hard to know just how legitimate they are.
Rosehip oil, on the other hand, is completely natural, and in many cases, you can purchase organic versions of the product. This ensures that you (and your skin) is in good hands, particularly when it comes to reversing the signs of aging. 
Rosehip oil contains a natural form of vitamin A, which is said to reduce the depth of wrinkles, fade fine lines, and lighten age spots.
IT BRIGHTENS YOUR SKIN
If your skin is looking a little dull and lifeless, then it's a good time to give this wonder oil a try. You see, the astringent properties in rosehip oil helps to tighten your pores and brighten your skin.
It's naturally-contained vitamin C also aids in cell regeneration, boosting overall radiance. Skincare professionals often recommend applying the oil to your face at night, right after you've cleansed.
IT BANISHES PIGMENTATION
Age spots, red blotches, and other forms of pigmentation can decrease your confidence, but you don't have to feel this way any longer. Rosehip oil is also very effective at reducing and combating pigmentation, particularly because of its high concentration of vitamin A, including retinoids.
Retinoids are known for their ability to reduce hyper-pigmentation and other visible signs of aging with regular use. Rosehip oil also contains lycopene and beta carotene, both which have excellent skin-lightening properties.
IT HYDRATES DRY SKIN
Dry skin can be a problem for many people, especially during the winter months. Rosehip oil is celebrated for its moisture properties, however, as it contains essential fatty acids.
These include linoleic and linolenic acid, both of which help to keep cell walls strong so they don't lose water. Furthermore, rosehip oil is so easily absorbed, allowing its antioxidants to travel deep into the skin's layers.
IT'S A NATURAL COLLAGEN BOOSTER
When it comes to keeping a youthful and healthy appearance, collagen always seems to be the rage. Rather than opting for painful injections or expensive face creams, however, it's worth giving natural (and inexpensive) rosehip oil a try.
Rosehip has also been shown to inhibit the creation of MMP-1, an enzyme that breaks down collagen in the body. Additionally, it's rich in vitamins A and C, both of which are necessary for the natural production of collagen.
IT REDUCES INFLAMMATION
If you've ever suffered from skin conditions such as rosacea, dermatitis, psoriasis, or eczema, then you'll know how upsetting it is to have constantly red, swollen, inflamed, or itchy skin – especially on your face.
Rosehip is rich in polyphenols and anthocyanin, both which can help in reducing inflammation. Furthermore, rosehip oil naturally contains vitamin E, which contains antioxidants and anti-inflammatory effects.
IT HELPS TO PROTECT AGAINST SUN DAMAGE
As you already know, the sun can be very damaging to our health – particularly our skin. UV rays can cause premature aging, dryness, and skin cancer, but there's an additional way to help protect your skin.
Other than regularly applying sunscreen when you're out and about, you can also treat your skin to rosehip oil at night for added benefits.
Rosehip oil contains antioxidants like vitamins A, C, and E, which have all been shown to combat the visible signs of sun damage (such as pigmentation, fine lines, and inflammation).
IT REDUCES SCAR TISSUE
Rosehip oil is perhaps most well-known for its effective treatment of scars. Its essential fatty acids and antioxidants are vital for tissue and cell regeneration in the skin.
Daily use of rosehip oil can quickly provide you with improvements in scar color and inflammation. Some say that the oil is even effective on scars which are up to 20 years old!
IT HYDRATES A DRY, FLAKY SCALP
Do you, or anyone you know, suffer from dandruff or psoriasis of the scalp? Rosehip oil attracts and seals moisture into hair without the greasy build-up that many anti-dandruff products contain.
Plus, its healing properties are great for soothing inflammation and itchiness of the scalp.
IT GIVES YOU STRONGER, SHINIER NAILS
The benefits of rosehip oil don't just stop at your skin and hair. This amazing oil can also work wonders for your nails, particularly when it comes to moisturizing and strengthening them.
This is all thanks to the essential fatty acids in rose hip oil, as well as their ability to prevent unwanted, nail-destroying infections (such as fungal nail disease).
IT SMOOTHS DRY, CRACKED HEELS
Dry and cracked heels aren't just unsightly (particularly during flip-flop season), but they can also be quite painful when left untreated.
Thankfully, achieving smooth and soft heels can be as easy as applying rosehip oil to the area after removing dead skin with a pumice stone in the bath or shower.
IT CAN COMBAT SPLIT ENDS
Forget spending a small fortune on serums for split ends. Rosehip oil is just as effective, if not more effective, when applied directly to split ends. Use a pea-size amount of the oil and gently rub it into the ends of your hair.
IT CAN GIVE YOU A DEWY APPEARANCE
If you want to achieve that dewy-skin look without having to purchase new foundation, then you'll love this secret. Rosehip oil can actually be applied to your existing foundation to create a dewy glow.
Simply place a small amount of your foundation on the back of your hand or in a mixing tray, followed by a drop of rosehip oil. Mix together, apply it to your skin, and voila!
IT CAN TREAT CRADLE CAP
Rosehip oil is a natural product, so it's safe enough to use in small doses on your baby's head if they're suffering from cradle cap. It's essential vitamins and minerals work wonders at clearing up the common condition.
IT CAN BE USED AS A LIP OIL TO COMBAT DRYNESS
We all suffer from dry lips, particularly during the colder, windier months. Thankfully, pure rosehip oil can be used as a luxurious lip oil to moisturize and calm the effects of dry, flaky, and irritated lips. Is there anything this oil can't do?
There you have it – 15 rosehip oil secrets you just had to know. Will you be running off to the shops to purchase your own? Or, if you already have rosehip oil, what new ways will you be using it from now on?
With its wonderful vitamin properties (such as vitamin E and vitamin A), as well as essential fatty acids including oleic acid, palmitic acid, and linoleic acid, it's no wonder that this natural oil has been dubbed as beauty's best-kept secret.
Looks like Miranda Kerr and Kate Middleton weren't wrong – there's a lot to love about rosehip oil.
Share on Pinterest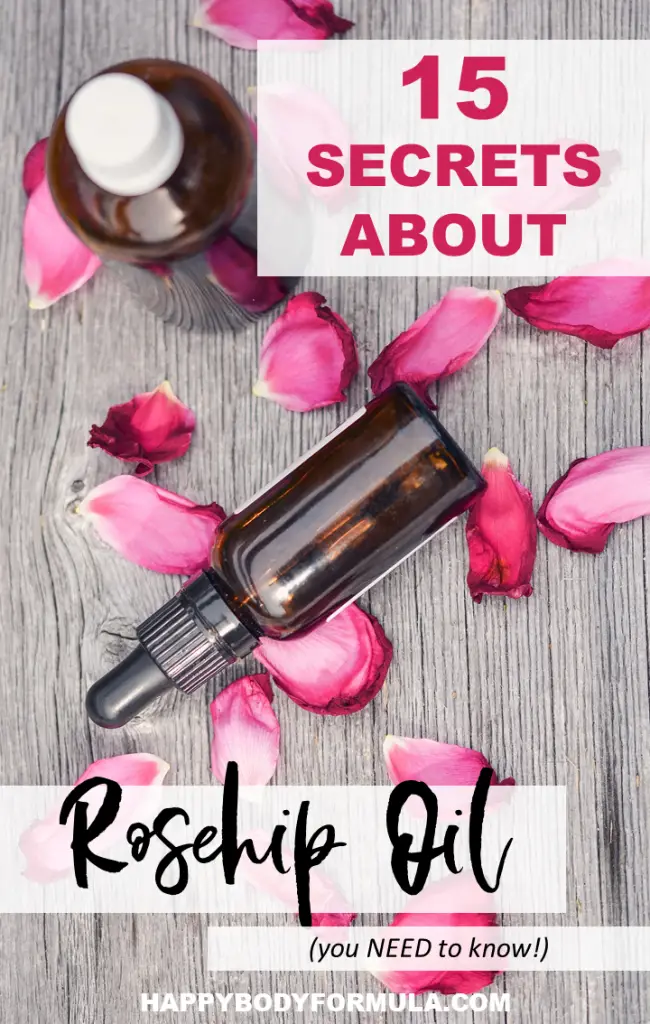 References
Uggla M., Gustavsson K.E., Olsson M.E., Nybom H. Changes in colour and sugar content in rose hips (Rosa dumalis L. and Rosa rubiginosa L.) during ripening. 

J. Hortic. Sci. Biotechnol.

Demir N., Yildiz O., Alpaslan M., Hayaloglu A. Evaluation of volatiles, phenolic compounds and antioxidant activities of rose hip (Rosa L.) fruits in turkey. 

LWT Food Sci.Technol. 

Adamczak A., Buchwald W., Zieli?ski J., Mielcarek S. Flavonoid and organic acid content in rose hips (RosaL., sect. Caninae dc. Em. Christ.) 

Acta Biol. Cracov. Ser. Bot. 

2012;

54

:105–112. 
Melanie Clarke is the founder of Whim Online Magazine, an online magazine based in Australia that has a strong focus on whimsical + dreamy photography, as well as art and fashion content.