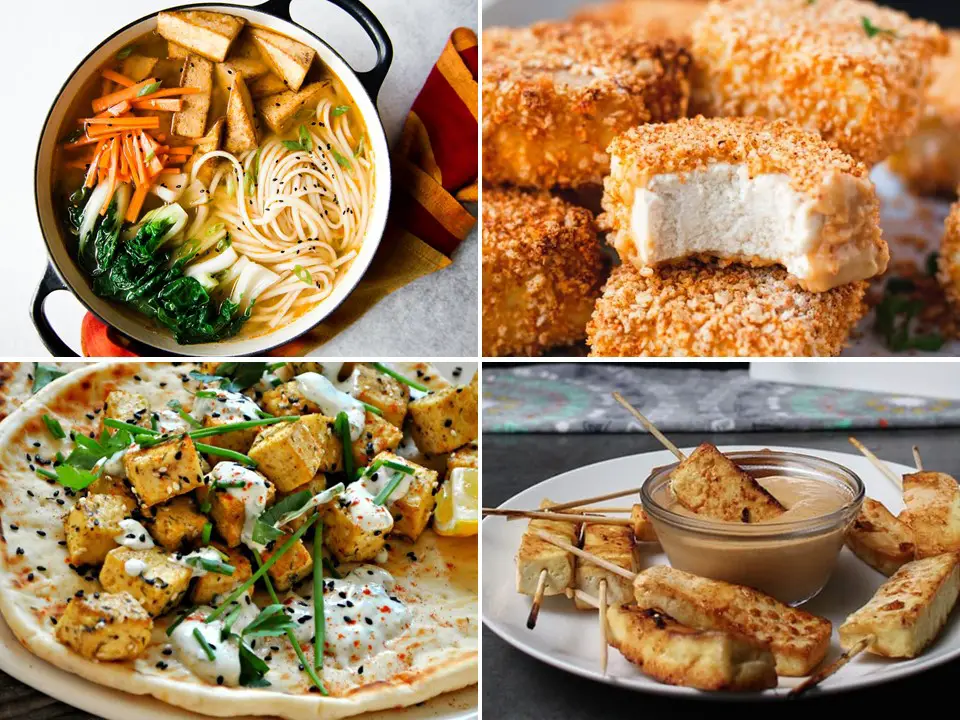 There's plenty of reasons why tofu is a favorite ingredient among both vegans and non-vegans alike. Derived from soya, tofu (also known as bean curd) is a staple among many cuisines, particularly Thai and Chinese.
It is known to be a great source of protein, but also contains all of the nine essential amino acids needed for optimal health.
Other vitamins and minerals in tofu include:
iron
calcium
manganese
selenium
phosphorous
magnesium
copper
zinc
vitamin B1
Whether you like your tofu smooth, soft, or crispy, we've rounded-up the 30 most delicious tofu recipes you'll find.
The best part? Swapping traditional proteins (such as chicken, beef, or pork) for tofu will give you all of the added health benefits we mentioned above.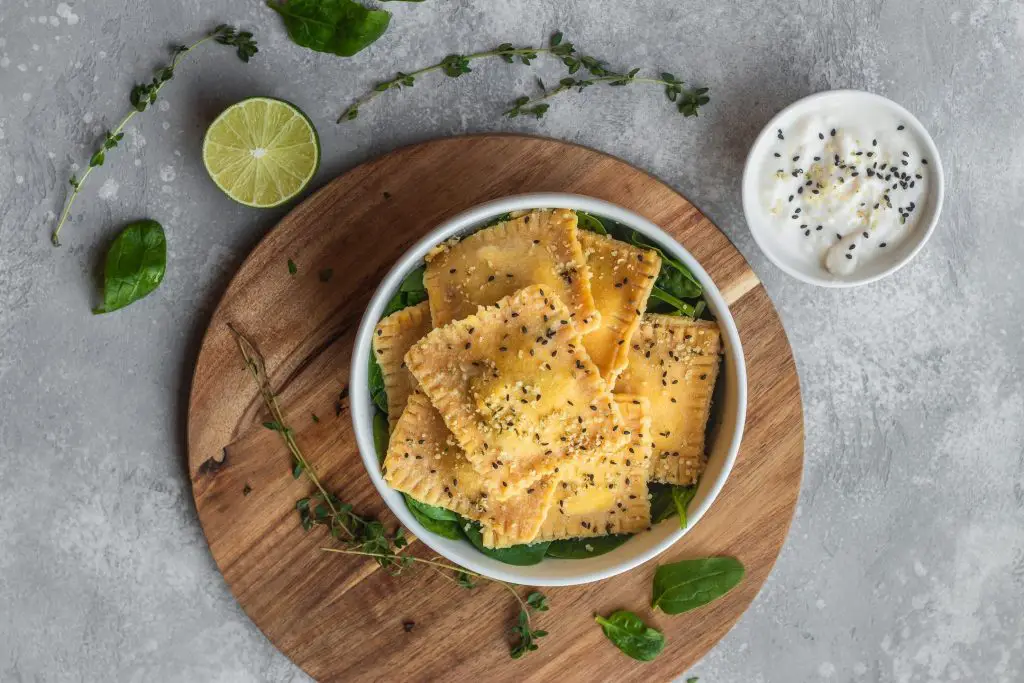 1. HOMEMADE RAVIOLI WITH TOFU AND SPINACH FROM EARTH OF MARIA
We all love pasta, but it can be a little too heavy on our stomachs when eaten in excess. Substituting bulkier, unhealthy fillings for something as simple (and healthy) as tofu and spinach can really work wonders, however.
Plus, it's super easy to make a batch of these ravioli to freeze for another night's dinner. This tastes great when drizzled in soy yoghurt!
2. VEGAN ZA'ATAR TOFU WITH HERB YOGHURT SAUCE FROM RABBIT AND WOLVES
Have you tried za'atar before? This Middle Eastern spice blend tastes amazing, particularly when combined with flat bread and yoghurt!
The tofu in this dish adds a vegan twist, infusing the decadent meal with added vitamins and minerals. A word of warning though: you won't want to stop at just one!
3. AFGHAN CAULIFLOWER AND TOFU TIKKA KEBAB SKEWERS FROM THE CURIOUS CHICKPEA
Imagine this: crispy tofu covered in Tikka marinade, a creamy yogurt-based sauce containing a sumptuous blend of spices. This recipe solves a common dilemma faced by may vegans and vegetarians around the globe: how to make a meat-free kebab that's still mouth-wateringly good.
You could even customize it to include your favorite vegetables, such as capsicum, broccoli, or sweet potato instead.
4. VEGAN CRISPY HAWAIIN GARLIC TOFU FROM RABBIT AND WOLVES
In this recipe, sweet, salty, and garlic flavors combine to give you a dish that just melts in your mouth. It even includes jalapeños for an extra kick!
The Hawaiian garlic sauce might sound complex, but it actually just contains soy sauce, pineapple juice, garlic, ginger, and water. So simple, yet delicious!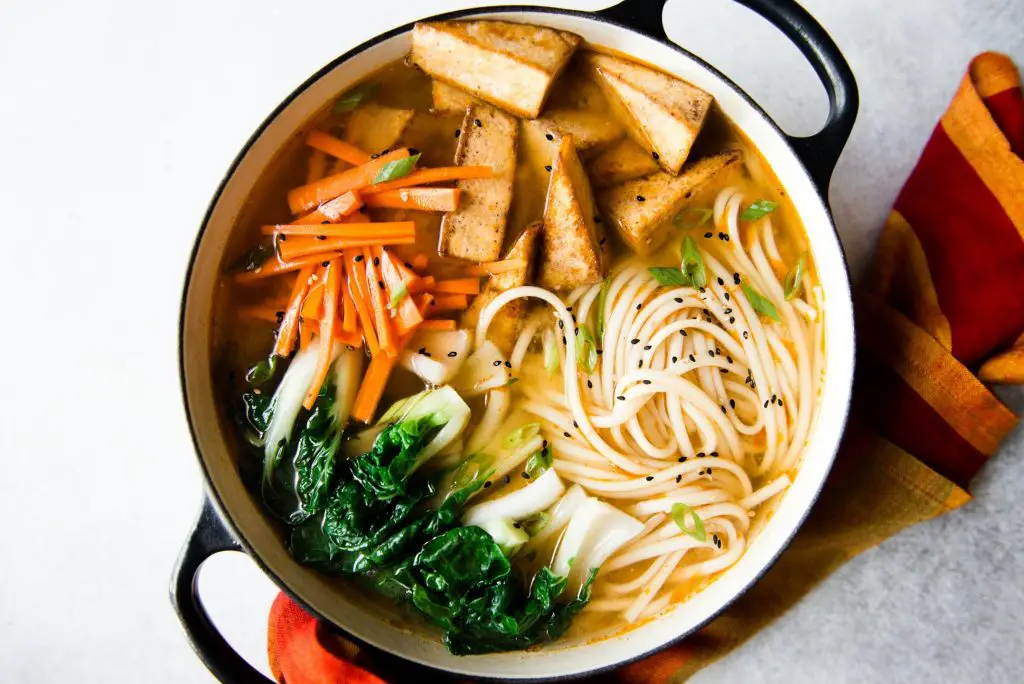 5. GINGER MISO UDON NOODLES WITH FIVE-SPICE TOFU FROM HEALTHY NIBBLES
If the fragrant bowl of ginger miso noodles weren't delicious enough, this recipe also adds five-spice tofu for a dish that will totally blow your mind.
You'll even get that gorgeous umami flavor from the miso! It takes just 15 minutes to prep, followed by 25 minutes to cook everything to perfection.
If "Chinese fakeaway" doesn't make you chuckle, then we don't know what will! This clever recipe is a vegan spin on popular prawn toast, a staple with Chinese takeaway.
Instead of using prawns, the recipe uses a genius tofu mixture on bread. You'll also find those classic Chinese flavors: ginger, soy sauce and sesame oil. Delicious!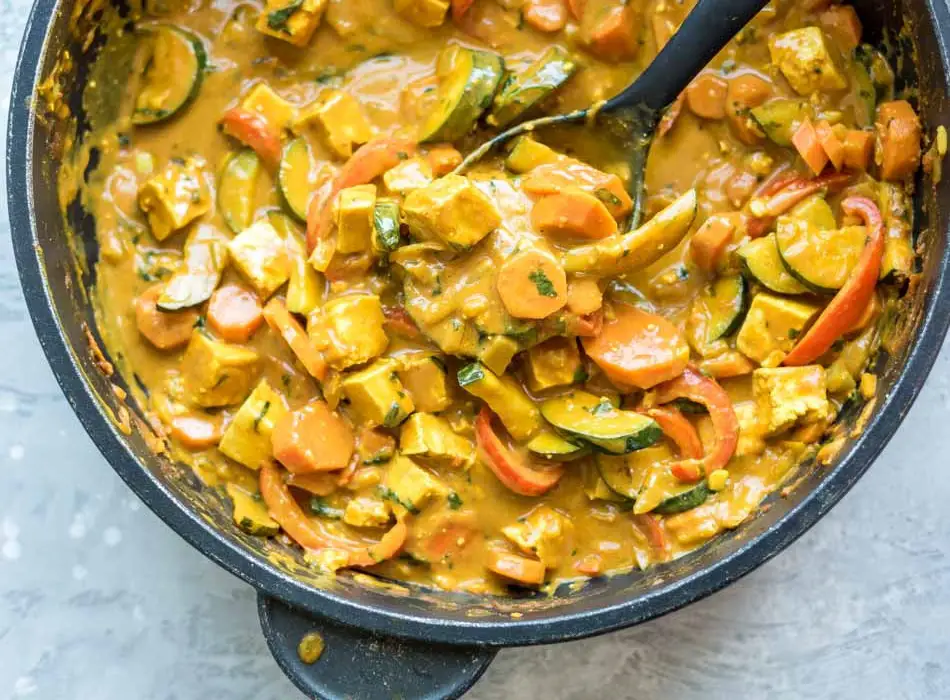 If you haven't had the delight of eating Panang curry before, it's a thick Thai curry with a sweet, salty and nutty peanut flavor.
It uses delicious ingredients such as coconut milk, tomato paste, peanut butter, curry powder, and more. Instead of the usual chicken accompaniment, this vegan recipe utilizes the goodness of tofu. Simply drizzle it over rice, quinoa, or noodles.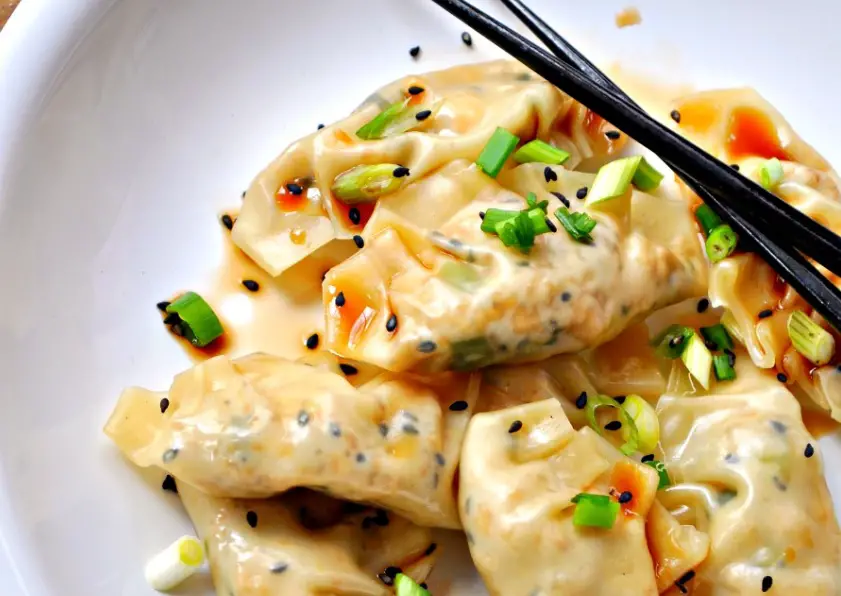 8. VEGAN SESAME TOFU DUMPLINGS FROM RABBIT AND WOLVES
Who knew tofu could be so versatile? This vegan dumpling recipe incorporates the health food with ingredients such as sesame seeds, garlic, and green onion.
You can then either steam and fry the dumplings, or just steam them alone. Either way, they're sure to be a delicious additive to your next game night!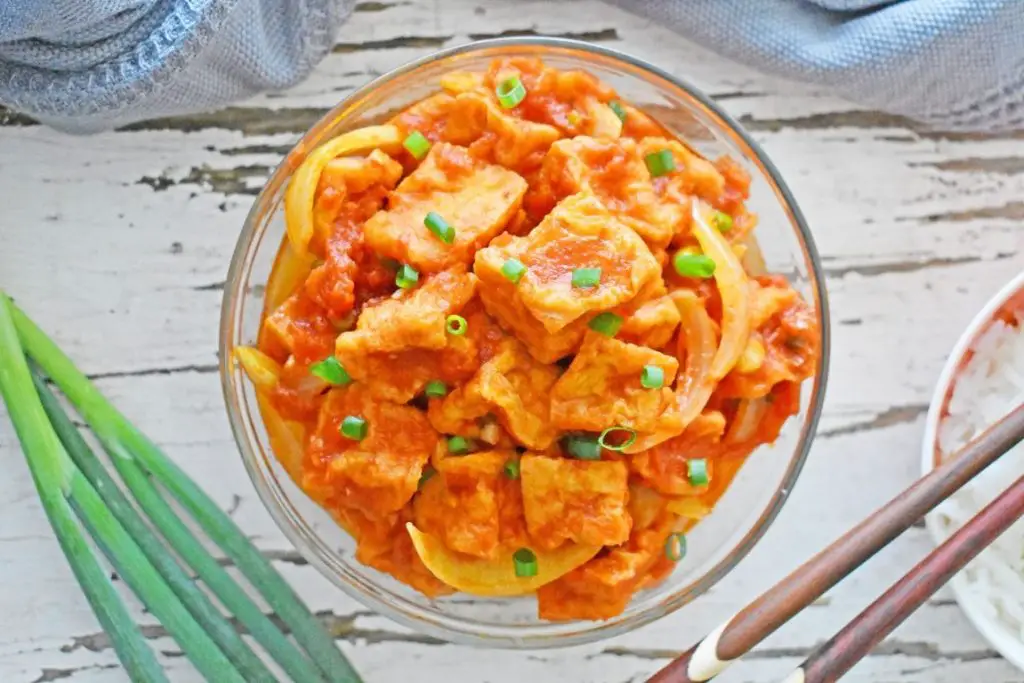 9. EASY VIETNAMESE FRIED TOFU IN A TOMATO SAUCE FROM SCRUFF AND STEPH
This simple Vietnamese recipe is perfect for mid-week dinners because it's super easy to make! Using many common ingredients that you probably already have at home (like garlic, onion, cherry tomatoes, fish sauce, etc.)
It's a great last-minute meal for those nights when you've simply been too busy to plan an extravagant dish. It's delicious, colorful, and not as unhealthy as other 'fast food'.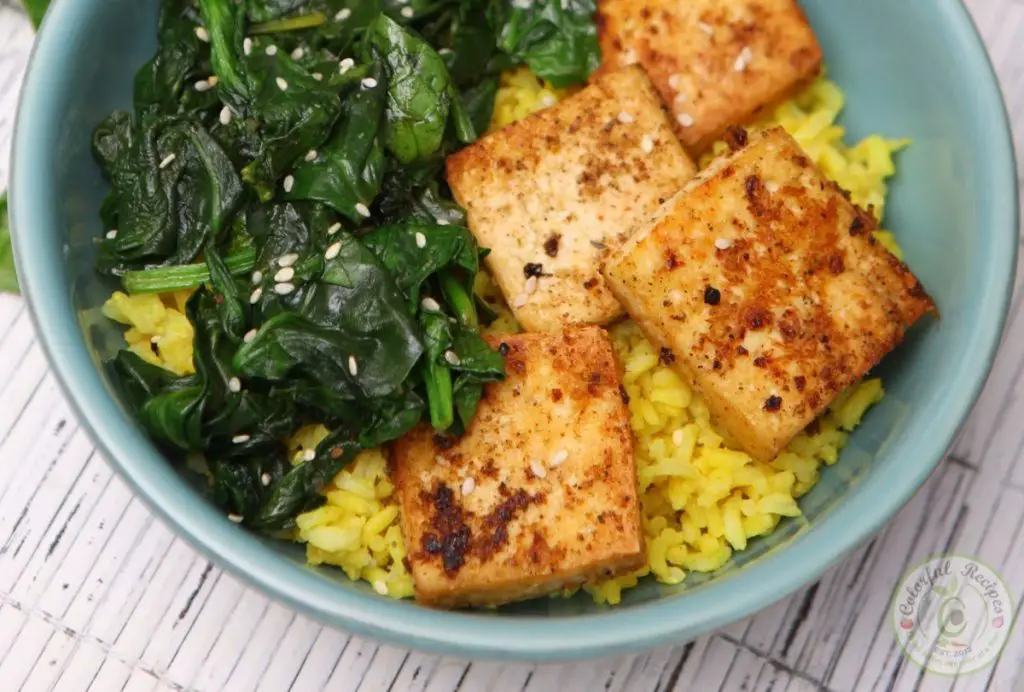 10. SIMPLE SPINACH TOFU WITH TURMERIC RICE FROM COLORFUL RECIPES
Turmeric is a wonderful spice, particularly for your health, so this recipe is a great way to combine it with the super food that is tofu.
Plus, it features spinach, another incredibly healthy recipe that's packed full of  vitamin K, vitamin A, manganese, folate, magnesium, iron, copper, vitamin B2, vitamin B6, vitamin E, calcium, potassium, vitamin C, and more. Simple, tasty, and healthy. Does it get any better than that?
If you've ever been searching for the ultimate braised tofu recipe, then here it is. This classic Chinese recipe may seem daunting to some, but thanks to this recipe, it's actually very easy to achieve at home.
Plus, it uses a lot of classic ingredients that you may already have in your cupboards, such as soy sauce, sesame oil, oyster sauce, and more. Delicious!
12. VEGAN TOFU AMRITSARI MASALA FROM VEGAN RICHA
This Amritsari Sauce uses toasted cayenne and spices to make a smoky, spicy, and creamy tomato sauce. Simply add tofu to turn it into a healthy, vegan-friendly recipe that you can enjoy with all of your friends.
It's the perfect dish for those colder months too, as the smoky and spicy sauce is just what you need to warm you from the inside-out.
13. CRISPY OVEN-BAKED LEMON TOFU FROM PLANT BAKED
If you're a vegan or vegetarian, you may miss those classic flavors of a good fish dish – specifically, lemon and dill.
This clever recipe from Plant Baked mirrors these delicious flavors, substituting fish for soft and springy tofu instead. It's a winner!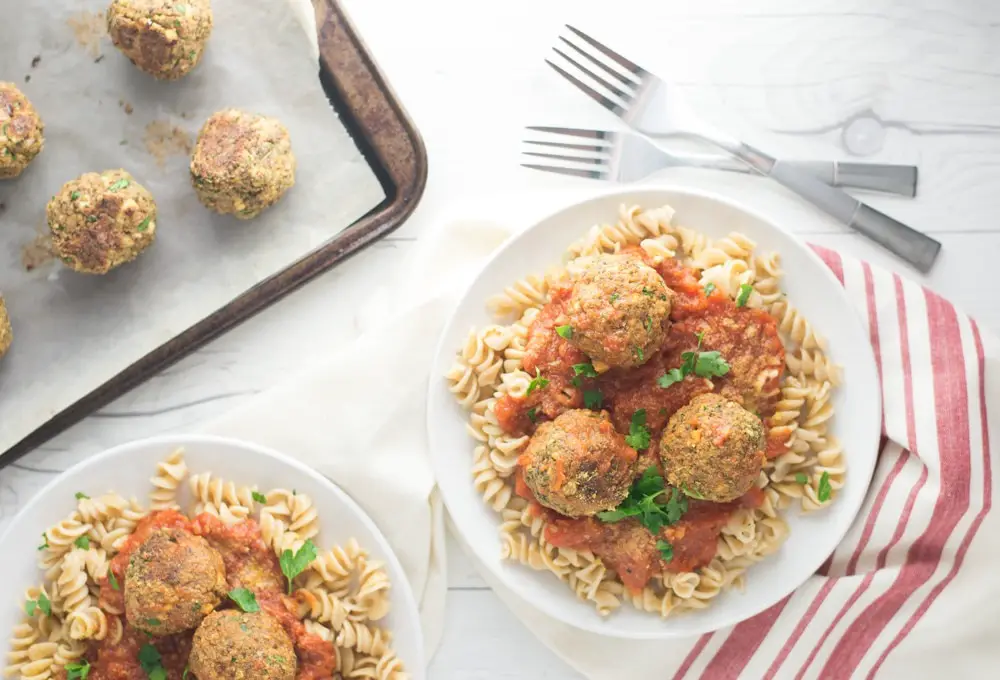 14. EASY VEGAN TOFU MEATBALLS FROM MINDFUL AVOCADO
Forget adding meat to your meatballs. Protein-filled tofu, hearty mushrooms, and Italian seasoning are just a few of the superstar ingredients in this plant-based vegan recipe.
Not only does it look delicious, but it's also very easy to assemble. You simply combine tofu, mushrooms, and flax seeds as the main ingredients to create a perfect sphere that doesn't crumble like other veggie alternatives.
Dubu jorim is a one-pot Korean braised tofu recipe that comes together in no more than 30 minutes. No only is it deliciously spicy and healthy, but it can easily be accompanied by rice, noodles, steamed vegetables, or anything else your heart (or stomach) desires!
Get ready though; your friends will certainly want the recipe.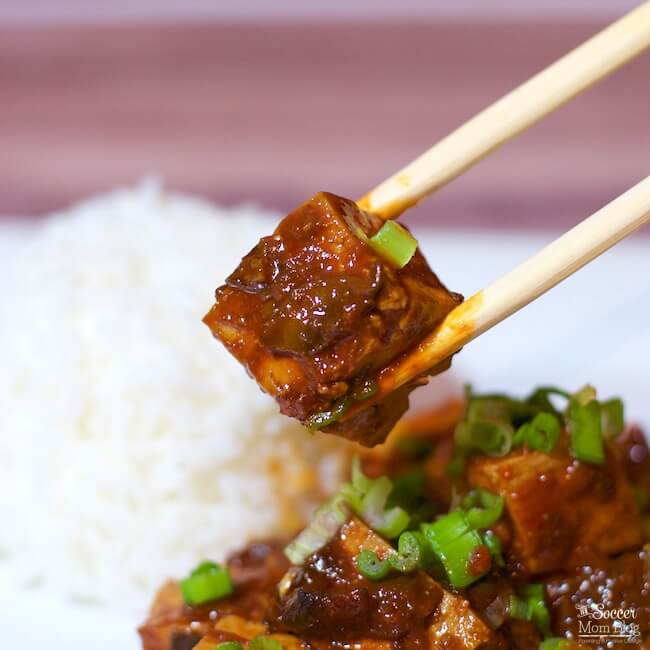 The secret to this delicious, vegan alternative to traditional Schezwan pork is tofu (of course!), followed by Doubanjiang – a spicy fermented bean paste.
Even if you're not a vegan, this recipe could be a great way to go meat-free at least one night per week, whilst still enjoying tastebud-tingling flavors. Trust us, your health will thank you for it!
17. VEGAN PARMESAN HERB CRUSTED TOFU FROM RABBIT AND WOLVES
Is it just us, or does this dish look a lot like crumbed chicken and pasta? The good news is that it actually utilises tofu to create a dish that's not just delicious, but good for you too.
Featuring Panko, nutritional yeast, garlic, and herbs for the crumb, this dish is very versatile. Simply serve it with pasta (as shown), or give rice, noodles, or a bed of vegetables a try.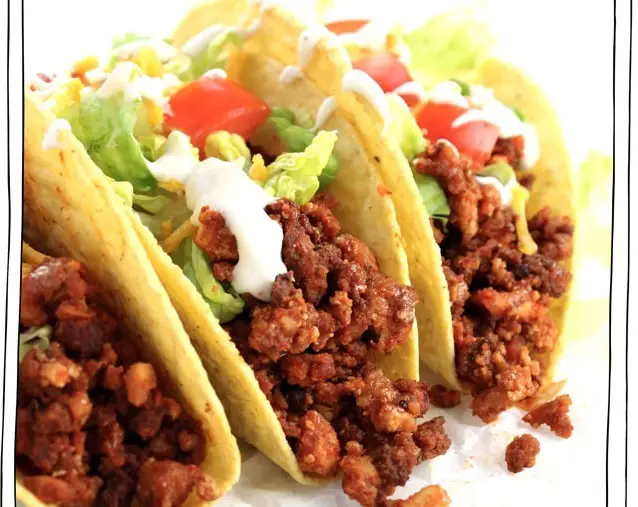 This addictive recipe asks you to crumble up a block of extra-firm tofu, coat it in spices, and then dry it out in the oven.
The crumbles darken and get dry and crunchy, taking on a deliciously moreish taste and texture. Just add salsa, salad, and taco shells and voila – you've got yourself a vegan taco dish that would fool any meat-lover!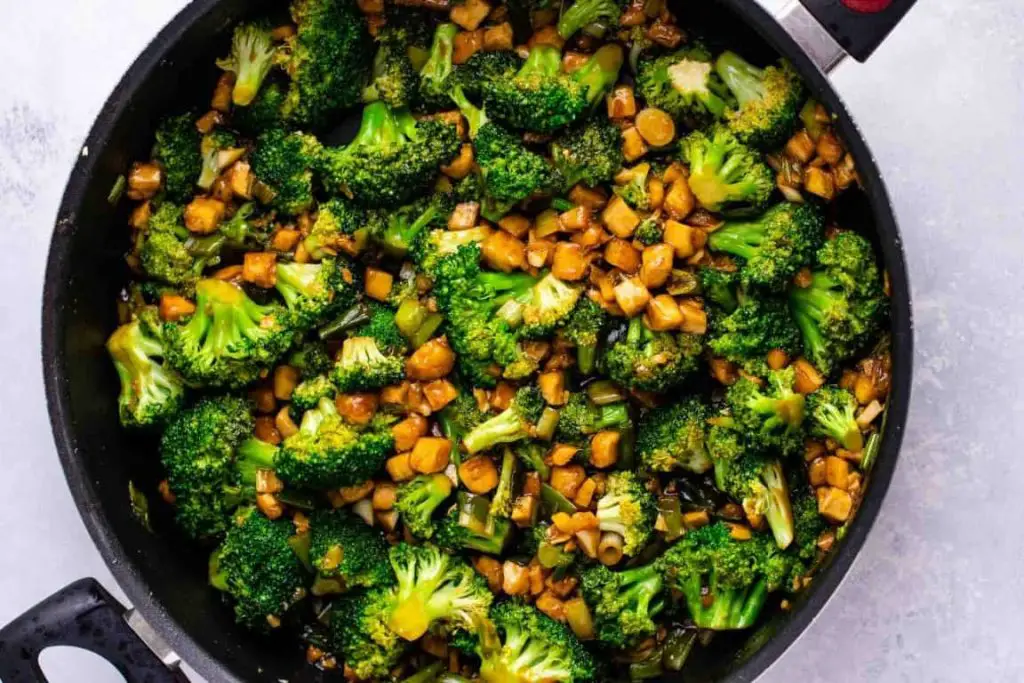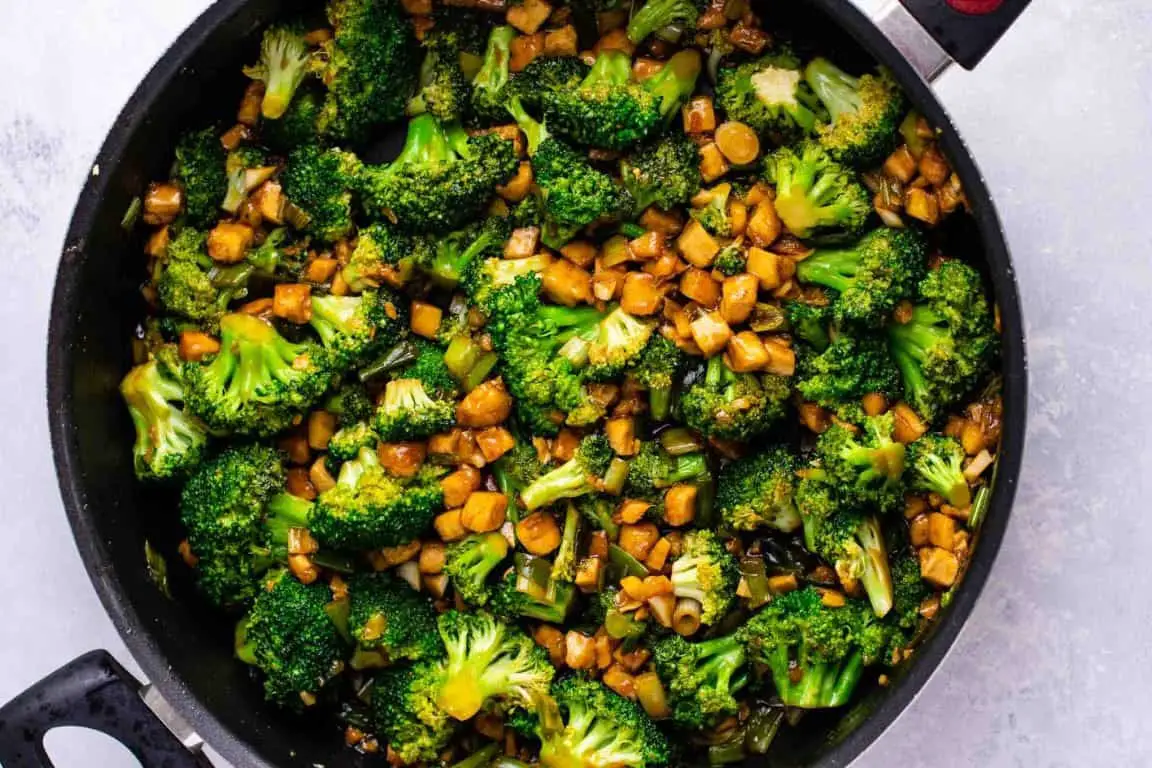 19. BROCCOLI TOFU STIR FRY FROM BUILD YOUR BITE
 This broccoli tofu stir fry recipe is made in just one pan and creates an easy and flavorful vegan dinner!
It's deliciously garlicky too, so will remind you of those wonderful stir-fries you may have ordered from your local Chinese restaurant in the past.
20. SPICY TAHINI TOFU STIR FRY FROM EATWELL101
If you're after a dinner that's quick, healthy, and utterly mouth-watering, then this is it. Tofu cubes are stir-fried in sesame oil to a golden crisp, and then drenched in a creamy tahini-sriracha sauce for a spicy kick.
Simply serve it on noodles, rice, or a bed of green vegetables for a wholesome and hearty meal you and your family will love.
You've no doubt heard of scrambled eggs, but this healthier and vegan alternative uses tofu to dish-up the scramble!
It's also packed-full of other ingredients you'll love to, such as garlic, tomato, bell pepper, turmeric, and so much more. Serve with avocado, fritters, or toast for the perfect weekend breakfast.
22. CRISPY BAKED ORANGE TOFU FROM NORA COOKS
Here's another Chinese cuisine inspired tofu dish, this time featuring a sticky, sweet orange sauce which is paired with the most amazing, crispy tofu.
This one ticks all of the boxes: colorful, moreish, and good for you. Sounds great to us!
Now vegans and vegetarians can have their nuggets and eat them too! These crispy baked tofu nuggets are so crispy and delicious, that they're even better than the chicken versions.
The spicy seasoned panko crumbs in this recipe are an ode to classic Southern fried chicken, but you can adjust the seasonings to better fit your taste preferences. Then, just add a dipping sauce and you're good to go! They're the perfect finger food.
This quick and simple recipe can be served as an entrée, appetizer, or finger food. The tofu cooks up incredibly quickly in the air fryer and then is dipped into this creamy satay sauce (which has just as easily been prepared in a blender – genius!). For something that takes so little time to prepare, it makes the perfect last-minute game night snack or is great for when unexpected visitors drop by.
25. SWEET AND SOUR TOFU FROM VEGGIE SOCIETY
Here's another Thai inspired dish, this time featuring crispy pan seared or 'air fried' tofu cubes that are finished in a luscious sweet and sour sauce and vegetables.
You can then pair this with some healthy brown rice, quinoa, or brown rice noodles for a dish that's as delicious as it is good for you.
How does this sound? "baked, crispy tofu cubes, tossed in a sticky, sweet and tangy Asian lemon sauce." If that doesn't get your tastebuds going, then we don't know what will!
This colorful dish is a great replacement to your standard Chinese takeaway, plus it's super easy to make.
In fact, it takes just 10 minutes to prep and 30 minutes to cook, meaning that you could put it together in less than the time it takes for the restaurant to deliver your order. Amazing!
This is an unbelievably delicious tofu stir-fry, made with an easy baked tofu recipe and tossed with the most heavenly garlic black pepper sauce.
Within just one hour, you can have the most delicious, garlicky, and sweet tofu you've ever eaten in your life! Don't just take our word for it though, give the recipe a go to see what all of the fuss is about.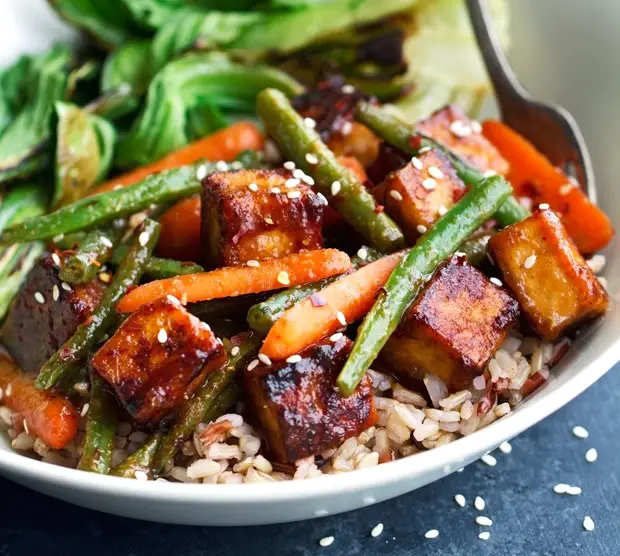 28. SESAME GINGER TOFU AND VEGGIE STIR FRY FROM LITTLE SPICE JAR
Here's another way to mix-up a healthy tofu recipe. This one uses regular stir-fry ingredients (ginger, garlic, sesame oil, a little soy sauce, and brown sugar) to create something that's delectable, sweet, and dances on your taste buds.
Simply serve it with rice, noodles, quinoa, or anything else your heart desires!
29. CRISPY BAKED BUFFALO TOFU WINGS FROM THE CURIOUS CHICKPEA
When it comes to vegan recipes, does it get any better than this? The Curious Chickpea has managed to recreate a game-day favorite (or all-round favorite really) using tofu instead of buffalo wings.
They're still crispy, crunchy, and a little bit spicy – the perfect assortment of flavors, but with fewer calories than their traditional counterpart.
Love the flavors of teriyaki but don't want to cook it with chicken? Never fear, as this recipe will show you how to recreate your favorite Asian dish using tofu instead.
It's still sticky, sweet, and very saucy, making it the perfect dinner to devour at the end of a long week!
Final Thoughts
There you have it – the 30 most delicious tofu recipes you'll find. From 'buffalo' wings and nuggets, to Asian stir-fries, pasta dishes, and more; these recipes are delicious, easy to make, and above all, good for you.
Choosing to go meat-free even a few nights per week can be extremely beneficial for your health, so even if you're not a full-time vegan or vegetarian, you can still enjoy what these recipes have to offer.
Trust us, once you try tofu in a way that's saucy, sweet, or even spicy, you will never look back. When the ingredient is infused with your favorite flavors, it's an absolute winner any morning, afternoon, or night of the week.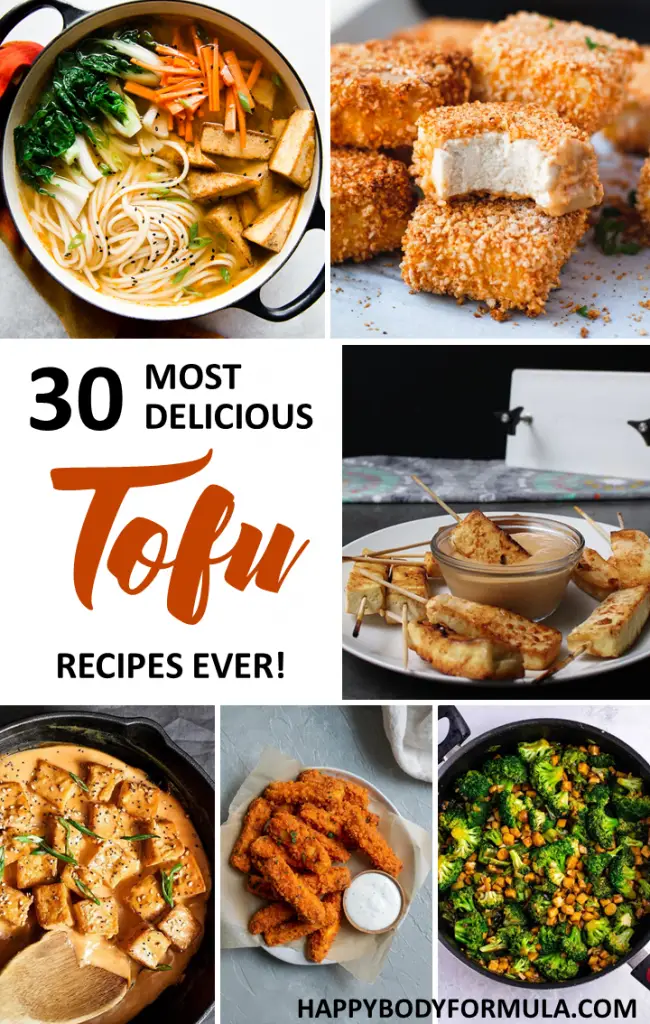 Melanie Clarke is the founder of Whim Online Magazine, an online magazine based in Australia that has a strong focus on whimsical + dreamy photography, as well as art and fashion content.