When it comes to medicine cabinet and skincare staples, there are few things I get as enthusiastic about as witch hazel. I just love this stuff!
It's refreshing, effective, and I look forward to using it everyday in the morning and the night. My skin loves to soak this stuff up for good reason, and I've found so many creative uses for it.
It's gentle enough to use 2-3 times per day, and it keeps my skin hydrated, toned, and acne-free.
Because I love it so much, I want to share a little more about witch hazel with you guys today. We'll talk about what exactly witch hazel is, some of its beneficial properties, and a few awesome ways to use it.
What is witch hazel?
Witch hazel or Hamamelis virginiana is a flowering plant with species that grow in North America, China, and Japan. As you can tell, this deciduous shrub is quite beautiful and vibrant!
Not only is this plant a lovely addition to your year-round garden – it's also a medicinal shrub, and its extract is often used topically as an astringent compound.
It's quite common to find it as an ingredient in skincare products. In fact, you may have seen it packaged and sold all on its own.
Let's break it down! The main constituents of witch hazel include calcium oxalate, gallotannins, safrole,  tannins, flavonoids, saponins, choline, gallic acid, and bitters which work together as a powerful skincare tool.
It's been used for medicinal purposes in Native American culture for many years. Traditionally, the astringent is created by boiling the shrub stems although distillation is necessary for optimal beneficial properties.
The benefits of witch hazel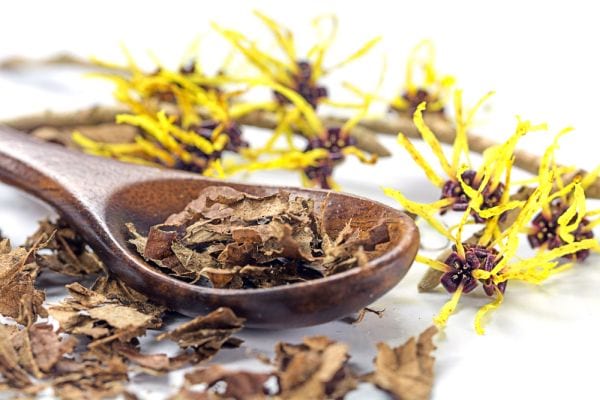 For skin health, witch hazel is key. It's no surprise that it's been used for centuries as a natural topical remedy.
Because it is anti-bacterial, astringent, antioxidant-rich, and anti-inflammatory, it provides a wide range of relieving treatments for all things skin-related which we'll talk more about below.
Considering the skin is technically the body's largest organ, it's vital to take care of that. Naturally, there are foods and certain nutrients that are great for skin health and some of that work is done from the inside out.
In addition to that, it's important to consider all that our skin is exposed to daily. In our modern world, there's a whole lot going on and our tough skin takes the brunt of it.
Instead of adding fuel to the fire with unnatural, additive-ridden skincare products, reducing that toxic load begins in your medicine cabinet.
Witch hazel is gentle, mild, and seldom elicits a reaction, making it safe for most people to use without undesired side effects. Not only does it work to give you that natural glow on the face – it's also a powerful healing agent for minor abrasions, burns, and even hemorrhoids.
How to use witch hazel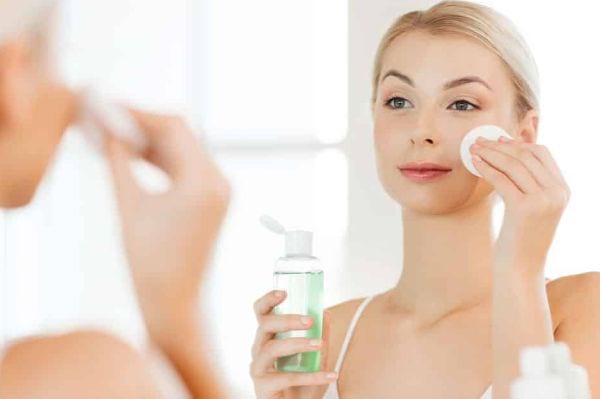 Everyday toner
Use witch hazel after washing the face and before applying moisturizer as a natural toner. Toner works to pick up any extra dirt on the face and in the pores while smoothing out the pigmentation of the skin.
It also helps keep acne at bay. Simply use a washcloth or cotton ball to gently dab witch hazel on the face, avoiding the eyes. Let dry and apply your favorite moisturizer and/or serum.
Gentle makeup removal
You can simply use witch hazel after a wash to make sure all the makeup is gone if you wear lightweight makeup like a tinted moisturizer or mineral powder.
If you have a heavier face of makeup to remove, DIY your own effective removal concoction. Mix 3-4 tablespoons of witch hazel with 2-3 tablespoons of olive oil or softened coconut oil.
Shake it up and use before the two separate. This will prevent an oily face and clogged pores while still effortlessly gliding off even the toughest makeup – just be careful around the eyes, and keep your eyes shut while removing eye makeup.
Acne treatment
Acne is often caused by a buildup of oil throughout the day. If you have particularly oily skin, you know it can be a pain to manage when it's acting up. Swab witch hazel throughout the day to keep your skin balanced and avoid acne-prone situations.
Witch hazel is particularly effective because it won't dry out your skin in the process like many other products designed specifically for oily skin.
Relieve itching from bug bites
Summertime is prime time to be outside and enjoy the sunshine! Unfortunately, that also means lots of irritable, itchy bug bites.
Instead of suffering through it, dab a bit of witch hazel on the inflamed areas to speed up the healing process. Witch hazel contains both anti-itch and anti-inflammatory properties which will provide immediate relief in addition to reducing swelling.
Reduce ingrown hairs & soothe razor burn
Witch hazel makes a great aftershave product. It will help to clear out any bacteria after a clean shave to prevent painful and unsightly ingrown hairs and other skin infections.
Moreover, it will help soothe any irritation you might have from razor burn, even in sensitive areas. Say goodbye to red, rash-y skin!
Treat hemorrhoids
Hemorrhoids are a huge pain in the butt – no pun intended. As an anti-inflammatory agent, witch hazel is a great way to reduce the uncomfortable pain.
Simply apply to the irritated area after each bowel movement. You can safely use it up to six times per day to prevent further inflammation, bleeding, itching, and burning.
Of course, it's best to check with your doctor first. Furthermore, make sure to use plain witch hazel as some contain other scents/ingredients that may not be safe for this purpose.
Get rid of dark under eye circles
You don't want to wear a bad night of sleep all over your face. Those puffy, dark, under-eye circles can be burdensome and take the pep out of your step.
The soothing, anti-inflammatory nature of witch hazel can help you look bright-eyed and bushy-tailed in a pinch. Use a cotton ball to swab some beneath the eyes to reduce discoloration and water retention.
Minor skin rashes
For minor instances of redness, irritation, or itchiness, witch hazel can help. It's safe to use even for diaper rash as it's a gentle formula suitable for even the most sensitive skin.
It is helpful – especially in this instance – to do a patch test on the skin to assure there is no reaction.
Speed up healing time from minor injuries & wounds
For minor cuts and burns, you can use witch hazel to speed up the healing process. It's "nature's Neosporin." You can use it in place of alcohol to clean out a cut or burn.
It also works well on blisters or bruises.
Use it to reduce appearance of scars
Scars and stretch marks can make us feel rather self-conscious. Over time, they'll hopefully fade into a lighter color.
Witch hazel application can lighten scars/stretch marks, reducing visibility and making the overall process a bit more efficient. On the same hand, they can also be used to reduce appearance of varicose veins.
Natural deodorant
Because witch hazel is astringent and works to remove excess oil, it can be used as a natural deodorant. Many conventional deodorants contain aluminum which you want to avoid.
You can dab it on with a cotton ball. For those with underarm hair, using witch hazel from a spray bottle will be more effective. If you want to add some fragrance to the mix, simple dilute a drop or two of your favorite essential oils into the mix.
Boom – you're fresh all day (even in the gym!).
Hair & scalp treatment
Many people have a dry scalp that causes dandruff. Many folks also have a rather oily scalp, burdened by the need to shampoo daily which depletes natural oils from the hair.
Witch hazel can help both conditions with its moisturizing and oil-reducing properties. Mitigate the excess oil and replenish moisture with witch hazel.
Like with oily skin, witch hazel won't cause dry scalp while doing its job to remove the oil. You can simply add some to your normal shampoo or conditioner, or make your own hair product with it using argan oil, coconut oil, and essential oils.
Additionally, you can use it in-between shampoos to normalize and balance texture.
Treat poison ivy and poison oak
If you got unlucky in the woods, witch hazel is here to the rescue! Poison oak and poison ivy can be excruciatingly painful and irritating.
Use witch hazel for pain relief and to reduce redness while the affected area clears up.
Reduce gum and tooth pain
Witch hazel isn't just good for topical application. Because it's anti-inflammatory, witch hazel can be used as a pain-relieving mouthwash.
Swish some around in your mouth if your gums and teeth are sore or irritated. It will help clean out any ulcers or bacteria. For the best results, use after brushing. Make sure not to swallow any witch hazel, and rinse with water after using.
Clear up ear infection
Finally, you can use witch hazel in the ears to reduce wax, treat swimmer's ear, or help to clear up an infection. Due to its antibacterial properties, it will slow or inhibit the growth of infection entirely, soothing sore ears and helping to lessen the frequency of ear infection.
Simply use an ear dropper or syringe to place a few drops in the ear, or use a cotton swab to clean the outer parts of the ear with it.
Let us know – do you use witch hazel? Are you as in love with this essential skincare product as much as we are? If you're not already convinced, we hope you learnt more today and that you'll give it a try.
Want More Natural Products You Can Use Around Your Home?
Then get yourself a copy of the Home Remedies Toolkit downloadable guide with 215+ DIY recipes for making your own natural health and beauty products and non-toxic cleaning supplies. Each recipe is beautifully presented with stunning photography and will save you a fortune as you discover how to stop buying toxic products for your home, health and beauty regime and instead replace with better, greener and cheaper alternatives. Get your copy here. 
Pin it for later from here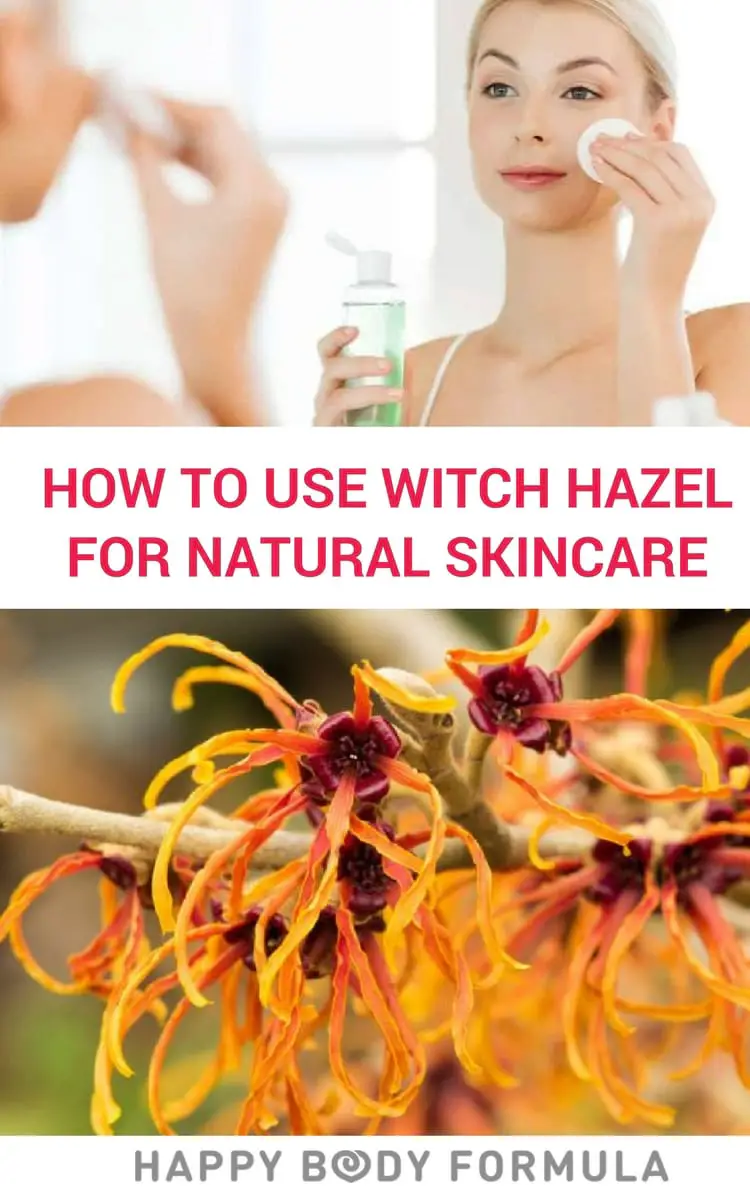 Music, mountains, dogs, travel, food and friends.