It's Friday night, the work week is over, and you're ready to kick back and relax. Let's say you're also on the keto diet, or you're just watching what you eat.
Ordering from your local pizza delivery joint isn't an option, but it's still there. It's tempting. Some of us have that number memorized along with the menu.
We have a regular order, and that shift into old habits is knocking at the door. The couch is calling, and you're ready to veg out a little. There's nothing wrong with that.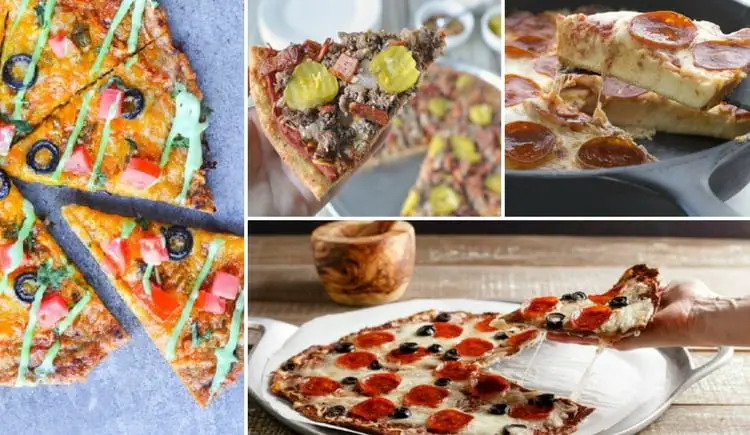 Previously, we rounded up some of our favorite paleo pizza crust options, showing you that without grains, you can still enjoy a slice here and there. Today, we're talking keto pizza recipes.
Meat, cheese, and tomato sauce fit the bill, so it's all about finding a good crust. We've got you covered, and hopefully, we even feature your signature pizza place order.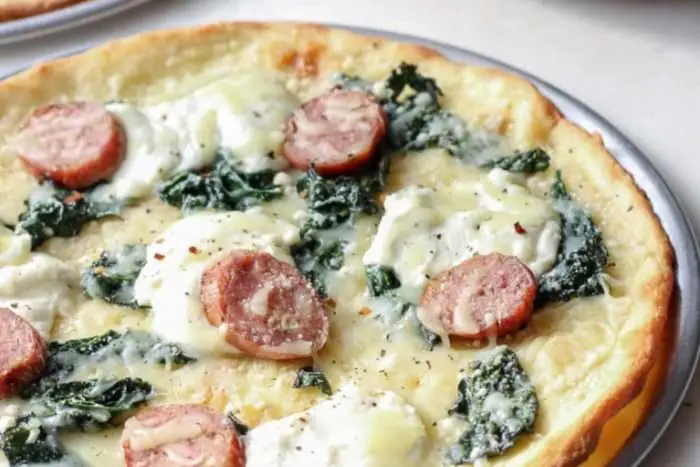 Let's kick things off with a white pizza. This 'fathead' crust is a staple recipe amongst low-carb'ers, and you can use it for any pizza creation. It's featured quite a few times on this list, actually.
This pie is topped off with sausage (which you can buy pre-made – just read the ingredients!), kale, and ricotta cheese with a mere 6 grams of net carbs per serving.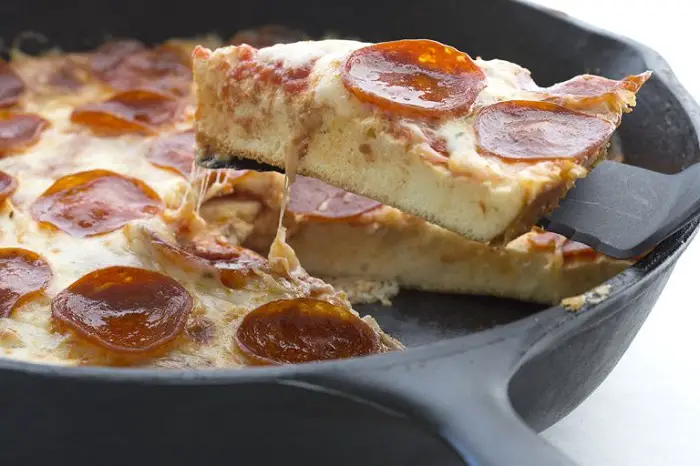 If you've ever visited Chicago, you know the magic of a really good deep dish pizza. It's unparalleled.
Some people truly prefer a thin, New York-style crust (and we'll get to that), but for those who like more of a 3:1 crust to toppings ratio… well, this is the keto version of just that!
Keep it simple with cheese and pepperoni on top, or add some sausage crumbles if you're feeling up to it. This slice weighs in at a little less than 4 net carbs per serving.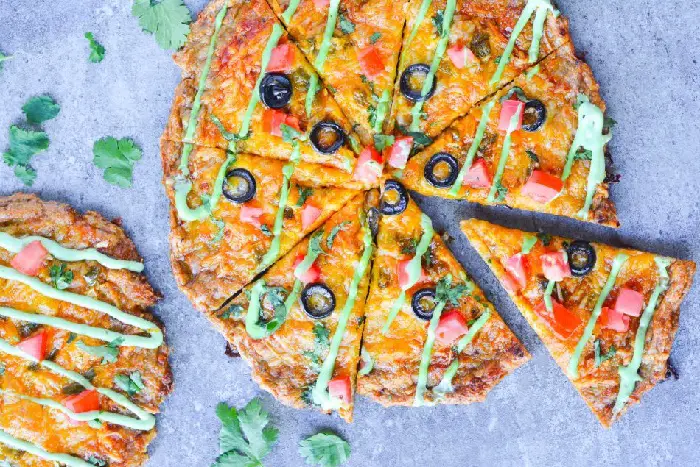 When I was a kid, taco pizza was my FAVORITE. Despite growing up in an Italian home, I had a thing for a loaded taco pizza. Who knew Mexican-Italian fusion could work so well?
This "meatza" features a crust made with ground chicken – which you can make using chicken thighs – and Parmesan cheese, so you don't even have to work with any grain-free flours to make the magic happen.
This slice comes in at 2 grams of net carbs per serving. The avocado-sour cream drizzle is a must.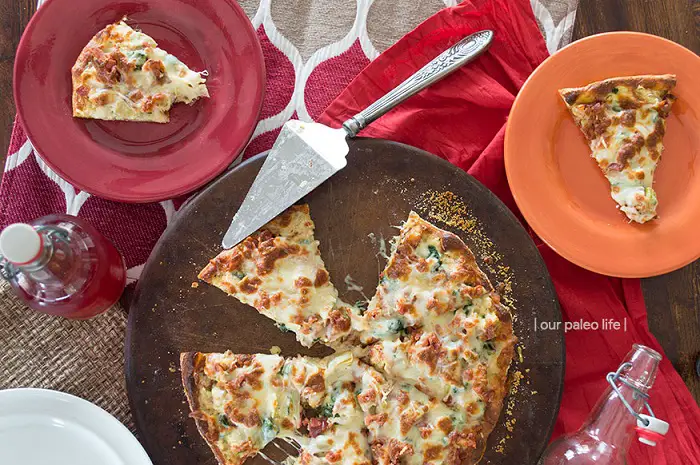 This trio is a topping obsession! Chicken and bacon pair up brilliantly for some smoky, flavorful, tender, tasty goodness. The crust is made from mozzarella, almond flour, and cream cheese.
You get a hefty dose of white sauce and a cheesy layer on top PLUS toppings. This is what the weekend indulgence dream is made of.
Each serving comes in at 5 grams of net carbs per slice. Make leftovers, because you're gonna want this for breakfast too.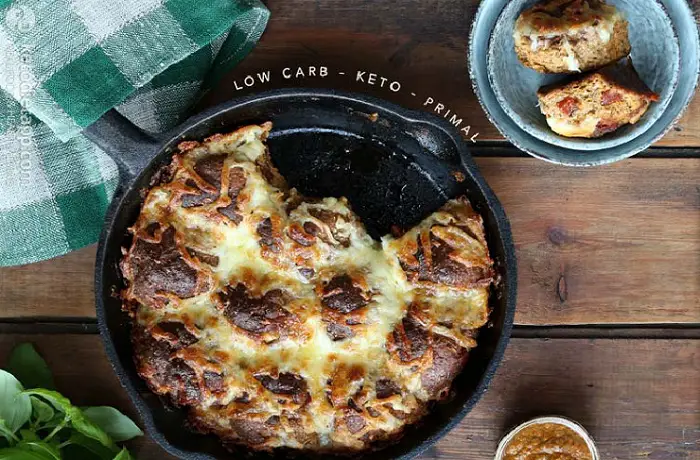 For those of you who can't choose between garlic bread sticks and pizza, this is the recipe for you. Who am I kidding? So many people order both, and you end up with an unnecessarily heavy meal.
This fat-fueled creation will leave you feeling much less lethargic with a serious carb hangover a few hours later with all that satisfaction of the bread-y goodness AND pizza toppings.
Break out the cast iron for this awesome dinner. It's jam-packed with chorizo, mozzarella, and marinara. This one tops out at a low 1.9 grams of net carbs per serving.
Plus, the crust is made from sesame seed flour and egg whites for a unique spin.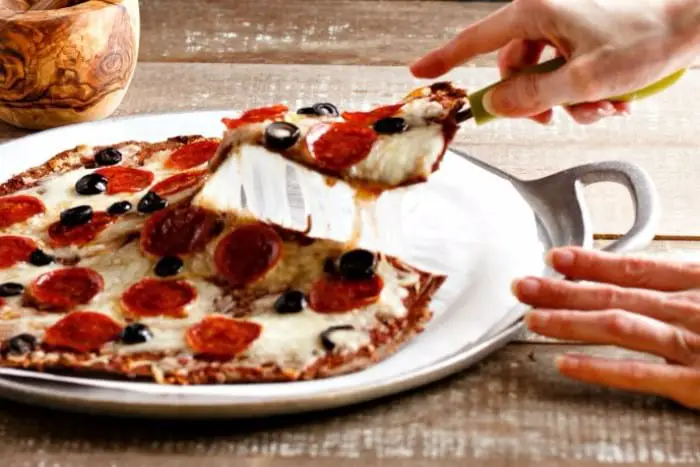 If deep dish isn't your jam, this thin crust pizza will speak straight to your heart. At 5 grams of net carbs per slice, this crispy crust with stretchy cheese will knock your pizza cravings out of the park.
The crust is packed with fibre from psyllium husk, too.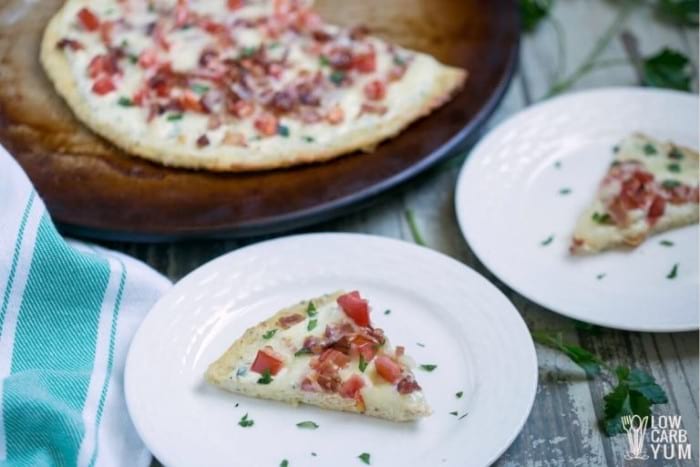 This crust also uses a blend of ground chicken and cheese for the crust, although you can swap that out for ground turkey, too. It's better to use a lean meat.
In any case, chicken makes a great pairing when it comes to bacon and ranch. It sounds like junk food, but it's totally keto-friendly boasting a mere 3 net carbs per slice.
The sauce stands out, comprised of avocado oil mayo and sour cream for a tangy, creamy bite. Eating more fat can be a ton of tasty fun.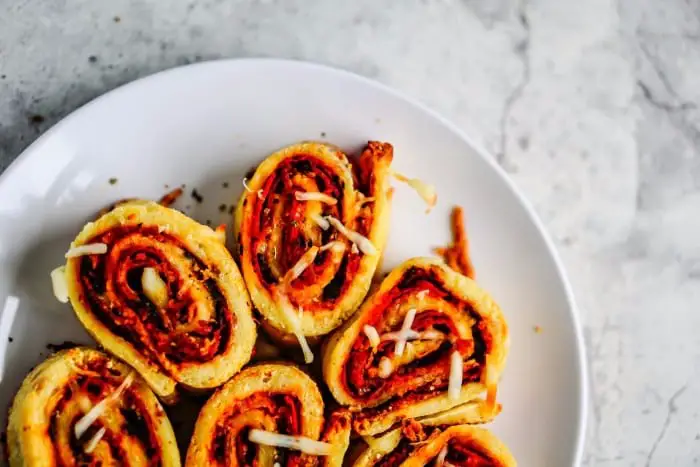 If you've ever popped open a pack of frozen pizza rolls, you know the magic in every bite… besides the whole burning your mouth bit.
Skip the carbs and processed ingredients for some wholesome, low-carb, real food-inspired pizza rolls instead. This crust is made from 'fathead dough,' featuring mozzarella, cream cheese, almond flour, and egg.
Roll it up with salami, olives, more cheese, or whatever your heart desires. Some people simply prefer a roll to a slice. These make a great appetizer at only 2.3 net carbs per roll.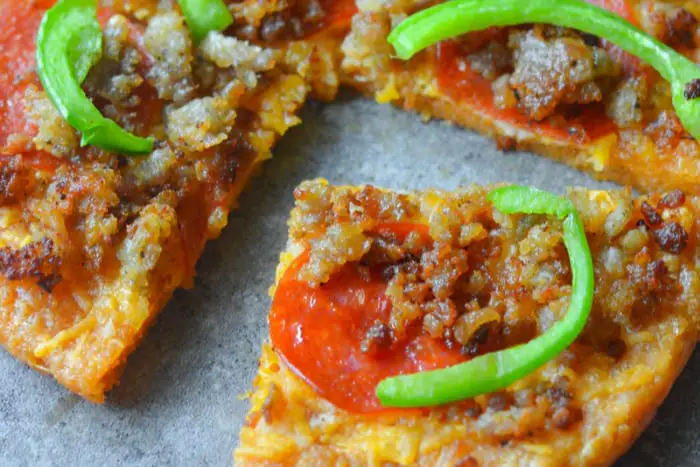 Naturally, the keto dieters would attempt to use pork rinds in all of the ways. This isn't a complaint by any means. If you've ever snacked on pork rinds, you know they're addictively delicious.
You can use pork rind dust as a good, fat-filled binder for a crust. With just 1 net carb per slice, you can top this hearty crust off with whatever meats and cheeses your heart desires.
Perhaps more pork? We're all about it!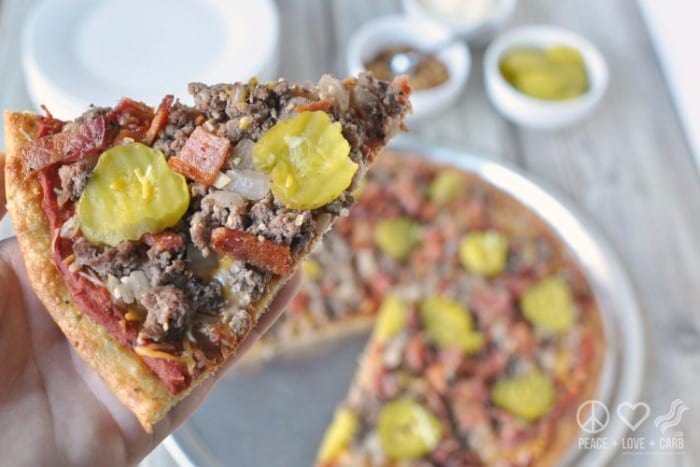 The best recipes are those that combine our favorite guilty pleasures. When you're torn between a big, fat, juicy burger and a piping hot slice of cheesy pizza, turn to this low-carb recipe.
Coming in at 6.5 grams of net carbs per slice, it's worth it because this pie is absolutely loaded with ground beef, crispy bacon, cheese, pickles, and onion.
We hope you found a keto pizza recipe for your favourite slice style! Let us know which one you're most looking forward to trying, and make sure to share this roundup so your low-carb friends can have their slice, too.
And don't forget dessert! Check out our keto brownie recipe roundup.
Music, mountains, dogs, travel, food and friends.