The ketogenic diet is pretty hot right now for good reason. People are seeing big benefits from keeping carbs low, and we're all about finding the most exciting recipes (like this list of awesome keto brownies) for you guys to keep your low-carb diet delicious, inspired, and straight up indulgent. From sweet keto snacks to keep you fuelled up all day long to our favourite low-carb cookies, we know that baking and getting creative with low-carb ingredients is possible and super satisfying.
Today, the spotlight is on another dessert love affair – the brownie. Whether you're the one pining after the corner piece or you love the soft, gooey, centre pieces that feel a bit more like cake, we have a keto brownie recipe for you. If you need a sneaky treat for the freezer or something to keep the kiddos eating nourishing food while still offering up the occasional treat, this is your one-stop chocolate shop. Put on your apron – let's bake!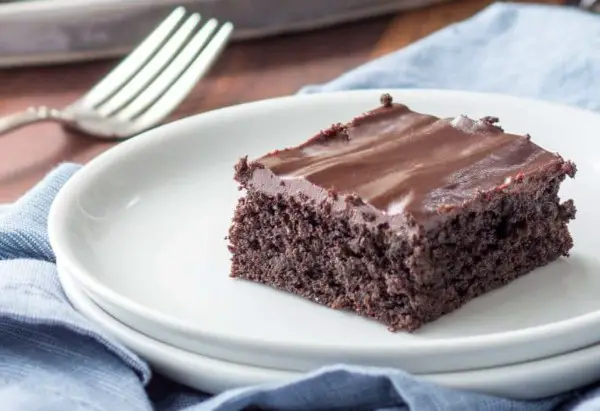 With just 4 grams of net carbs per slice, this fudgy brownie is rich with dark chocolate flavour. The secret ingredient? Chia seeds! This helps add fibre to the diet which is important on a keto diet. Y'know – think of it as a digestive supplement, and you can feel ultra good about indulging in one of these. The recipe suggests keeping these in the fridge for the best texture and taste.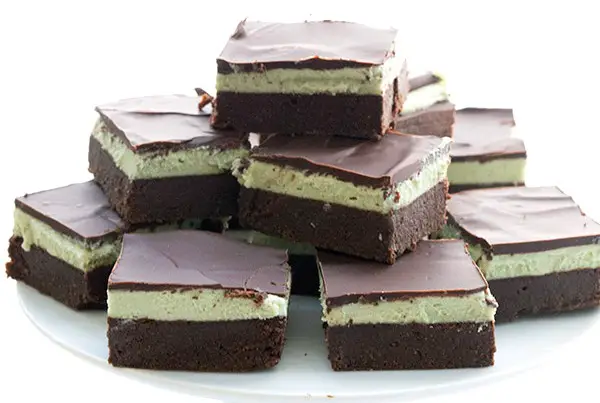 Perhaps you like a little bit of mint with your chocolate, or vice versa. If so, this is the recipe for you. Grasshopper brownies feature a minty, buttercream filling with superfood matcha powder, and a sugar-free topping. All around, they're bites of ooey-gooey goodness. This dynamic duo just can't be beat, and each of these will only set you back around 2.5 grams of net carbs!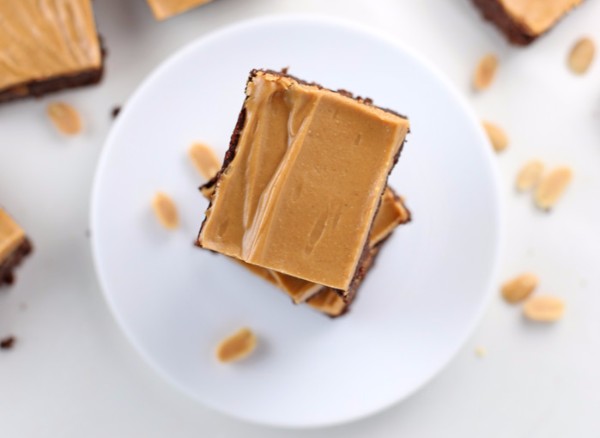 At 7.2 grams of net carbs, these will set you back further than some other brownies, but the nutty peanut butter layer on top might be worth it on the days when you just need a little something extra. The base is made with almond flour and walnuts, so you get a triple dose of nutty deliciousness in each bite. How can you argue with that? Hint: you can't!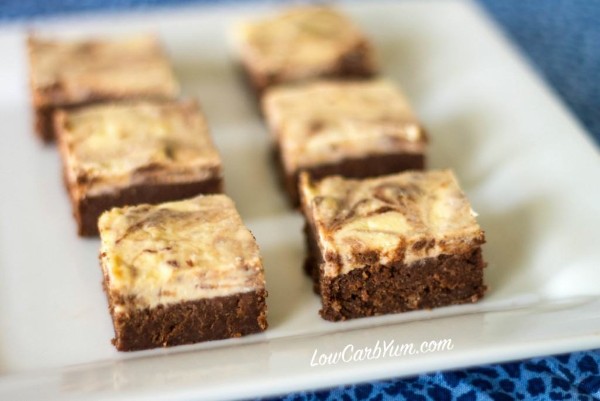 Cheesecake is good. Brownies are good. When the two get together, it's pretty great. These gluten-free chocolate bites feature a stunning layer of cheesecake swirl on top for the ultimate indulgence. Each square contains just 4.5 grams of net carbs with a healthy dose of good fats from quality cream cheese, almond flour, and egg yolks, plus some fibre from coconut flour in the mix.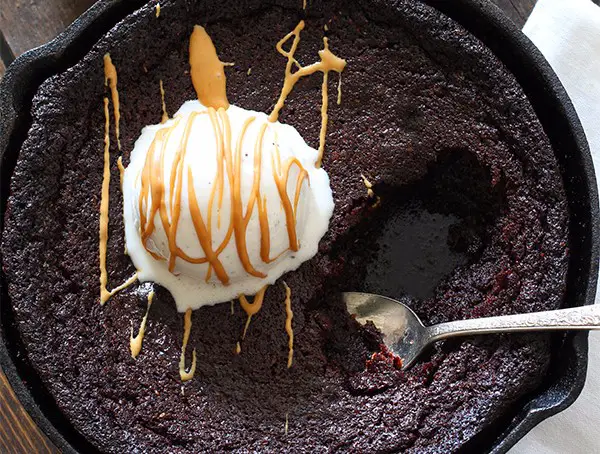 We love one-pan meals. While brownies are often a simple affair with a baking dish, there's just something about dessert cooked in a skillet. It's a bit rustic, and it's great to serve to guests as the impressive presentation is done for you. Break out your best cast iron pan and put this recipe to the test. Each serving contains just 3 grams of net carbs! Serve with low-carb ice cream, homemade whipped cream, or coconut cream on top.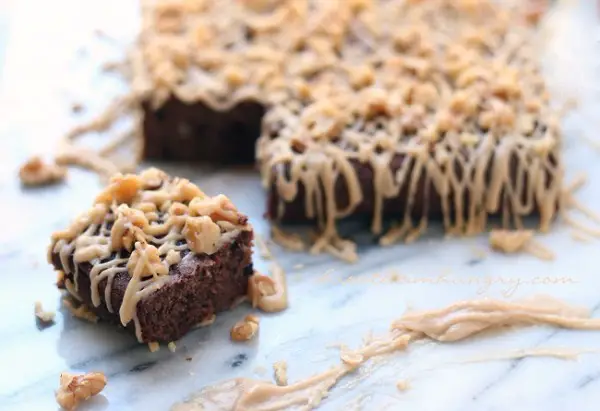 Some people love nuts in their brownies and others think it's pure blasphemy. If you're one of the latter, just skip out on the walnut sprinkle and stick to the caramel. I mean – who doesn't love caramel? Look at that dreamy drizzle! These weigh in at a mere 2.5 grams of net carbs even when they're all dressed up.
You know we love surprising and versatile ingredients. Of all the foods in the land – keto-friendly foods, in particular – avocado is the winner. It lends a dose of healthy fats, buttery texture, and neutral/mild taste to anything… even dessert. In fact, it pairs beautifully with chocolate in an effortless fashion we can't help but admire. We'll admire them in these fudgy, bite-sized brownies for now, for just 2.5 grams of net carbs per serving.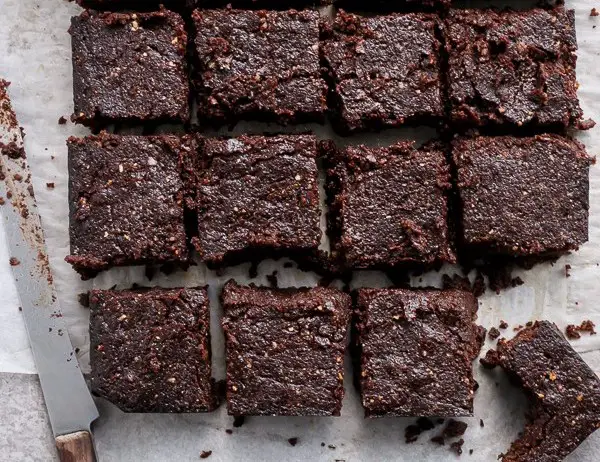 Chocolate and hazelnut are reminiscent of Nutella, so of course these brownies are a winner. This recipe uses hazelnut meal as the flour so the flavour is evenly distributed throughout for some truly decadent noshing. You'll likely be tempted to lick the spoon, which is admittedly half the fun of making brownies in the first place. Go ahead – these guys have just 3.5 grams of net carbs per piece.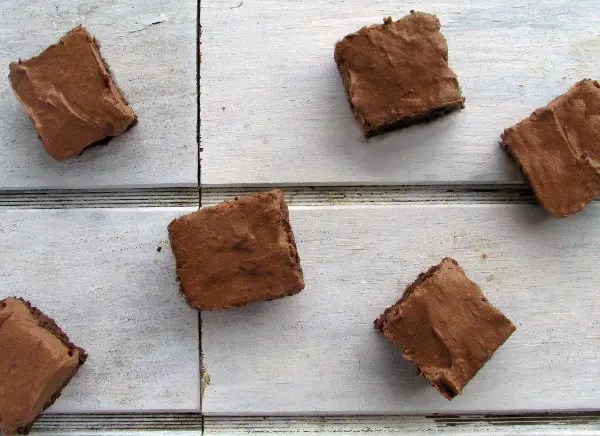 You won't actually taste the pumpkin in these guys, but the puree lends itself well to the texture. If you're more a fan of moist, cake-like brownies, this might be right up your alley. The slight sweetness of the pumpkin also comes in handy while not weighing down the carb count too much. There's also some shredded coconut hiding out in these for you texture freaks! Yum.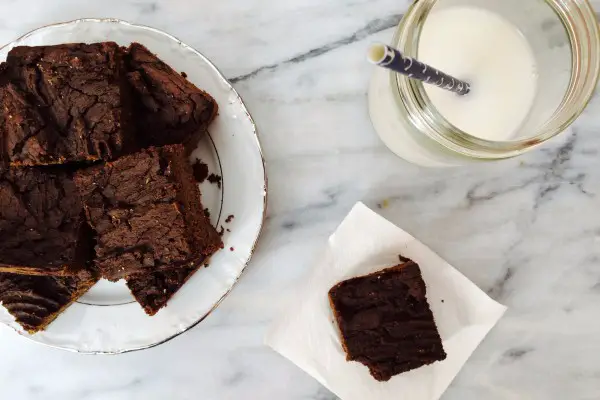 Keto tends to lean towards using lots of dairy – especially when baking. You won't find any heavy whipping cream, butter, or cream cheese in these brownies though. You will find a boost of protein – perfect for fuelling up after a workout – and a minimalist ingredient bundle that still yields a dreamy, fudgy, low-carb brownie with only 4.2 grams of net carbs in a slice.
Fill up that glass of almond milk to wash these down with. What's your favourite brownie recipe? Let us know, and make sure to share this if you're drooling over these recipes like we are! Share these on Pinterest from here.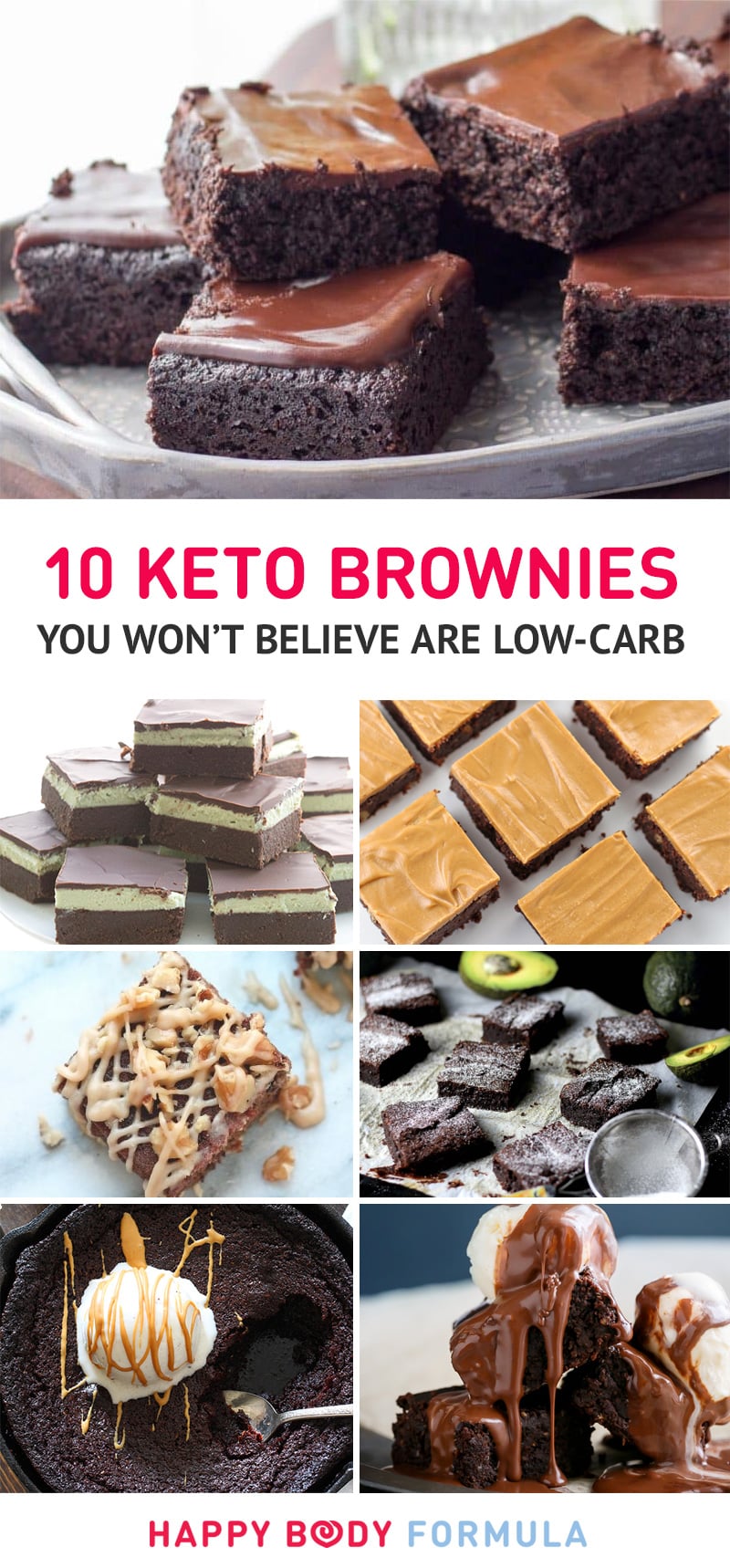 Music, mountains, dogs, travel, food and friends.