What makes a veggie or fruit versatile? There are a few factors we're taking into account today. First, the produce can be eaten raw and on its own. Second, it can take on both sweet and savory recipes with ease.
I mean, who could complain about some secret veggies hiding out in dessert anyways? We all need an excuse to indulge. Finally, these veggies have the ability to take on the texture, taste or cooking purpose of many unhealthy ingredients from wheat to sugar.
These are our favorite produce items to have handy for a huge variety of recipes, and perhaps the most ingenious veggies of them all (with one fruit – spoiler alert!). If you're creative in the kitchen, these staples are your best friend!
Cauliflower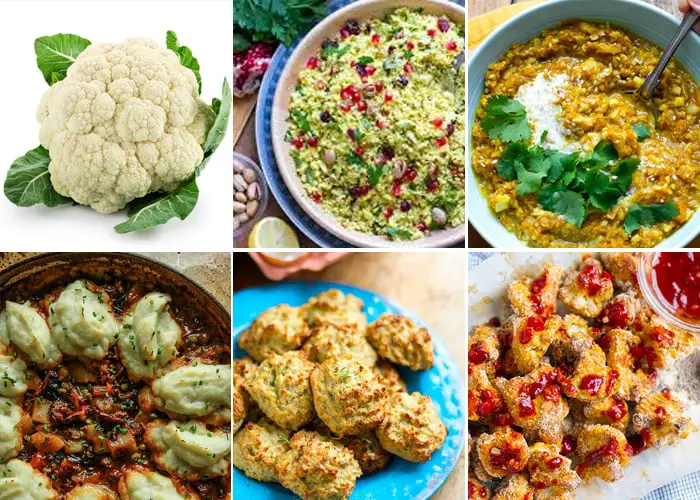 Oh cauliflower – we love you so. This crucifer has to be one of the most versatile veggies, if not the most. If you do enough cooking with the stuff, you can make bready foods and doughs, fried delicacies, rice, mash and more.
Plus, it's easy to hide out in baked goods too! It's neutral flavor and color give it an advantage, and it's super healthy for you. It packs a punch of fibre to keep digestion in good standings, gives you some solid vitamin C and even has a bit of vitamin K.
Casserole. Cheesy, ooey gooey, bready casseroles are a classic comfort food. They're easy to make, but they often contain wheat, dairy and processed ingredients. Cauliflower can stand in for pasta or noodles, to add gorgeous texture that soaks up the flavor; or, serve as the mash on top of a shepherd's pie like this recipe from Heather Christo. Try this sausage and cauliflower casserole from Paleo Grubs.
Cauliflower rice. It's as simple as chopping up some florets and tossing them in the food processor. If you don't have one, you can simply use a grater or your ninja knife skills to create a perfect rice-like texture. It's easy to use in stir-fries, Asian dishes or as a bed for a simple roast. It also makes a lovely addition to an Indian dal, like this pumpkin-infused recipe from Eat Drink Paleo. Oh, and you're a fan of couscous, cauliflower is perfect for that too. Check out this fragrant Moroccan 'couscous' recipe.
Tater tots. Minus the potatoes, of course. Cauliflower makes a great substitution if you're cutting back on carbohydrates. Try these cheesy broccoli cauliflower tots from Living Chirpy.
Cauliflower bread. No, it's not real bread, but it is low-carb and good if you're avoiding wheat. Plus, the act of making bread out of cauliflower is pretty empowering. We have a great recipe for low-carb cauliflower bites on our blog, or you can try this recipe for cauliflower flatbread, or cauli buns from MJ and Hungry Man.
Pizza crust. It's not delivery – it's cauliflower. You can stack up your favourite toppings on a good-for-you crust without feeling guilty. Everyone loves pizza. Indulge wisely. Check out our favourite paleo-friendly crust recipes, including ideas for cauliflower.
Hashbrowns. Basically, if you can make it with potatoes, you can also make it with cauliflower. Test out the theory at brekky with this hashbrown recipe from Wholesome Yum.
Buffalo cauliflower. Buffalo chicken wings are all the rage, but if you want to add some veggie action to your plate, you can junk up some cauliflower with buffalo sauce, roast it to get that crispy flavor and dip… the dilemma is bleu cheese or ranch! Try this recipe for crack cauliflower. Warning: it's highly addictive!
Soup. Cauliflower can do creamy – it's just in its nature. Blending it into a soup is another way to forgo potatoes and still get that same consistency. Irena over at Eat Drink paleo has a great dairy-free cauliflower soup to try.
Roasted. Snack or side dish, some oil, salt and pepper go a long way with cauliflower and a hot oven. Try roasting the entire head at once – especially for entertaining.
Mashed. Steam it and mash it. Simple as that! Don't forget a healthy glob of grass-fed butter. Just as good as mashed potatoes with far less carbs. Winner, winner cauliflower dinner!
Zucchini/Courgette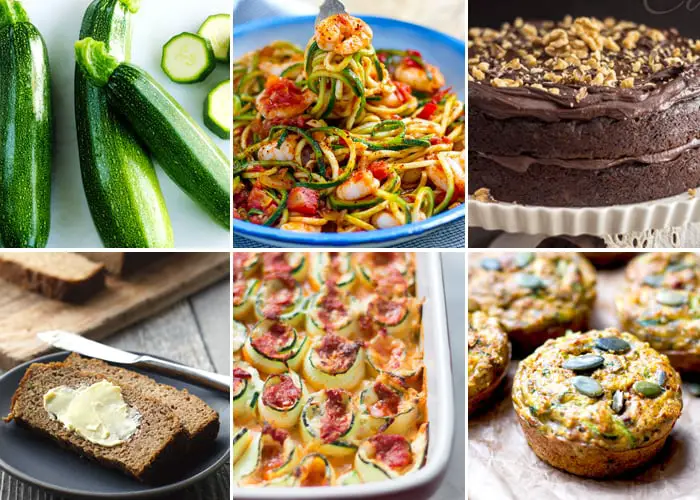 Zucchini or courgette is best known for its ability to noodle-fy (if that's a word, of course), but it goes far beyond that. Even if it were just limited to noodles, just knowing that we can dig into hearty pasta dishes without loads of carbs is good enough.
Summertime brings big garden bounties of the stuff, and it's easily added to veggie roasts, egg bakes and scrambles, and Italian cuisine. Oh, and bread. Zucchini bread is a classic!
If you want to get in more greenery, here are our favorite zucchini ideas.
Sweet potato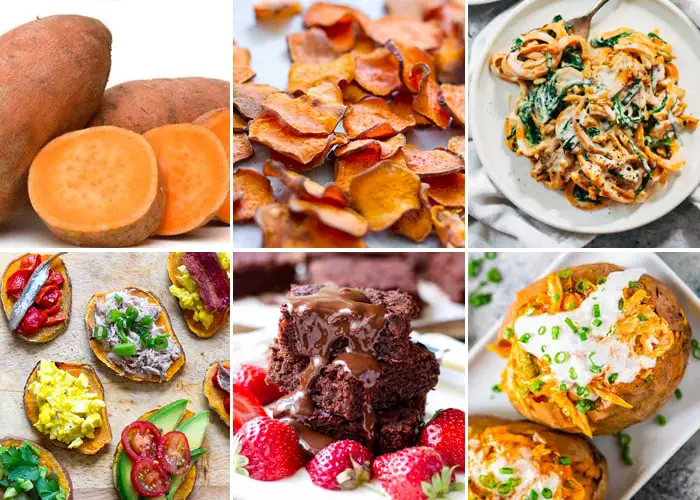 We're not knocking on plain spuds by any means, but their sweeter and more colorful cousin is a darling in the real food world. Not only is it packing in some extra nutritional benefits as one of our most beloved superfoods, but it works well in an array of recipes that are downright mouthwatering.
From breakfast to dessert, these are some of the most inventive ways we've found to use sweet potatoes.
Sweet potato toast. This is a tend we never want to die. We like loading up slices of sweets versus slices of bread with our favorite toppings. It's nice for a little ABJ action (almond butter and jelly) or smashed sardines with chives on top. Really, whatever your toast preference, it works. Check out more ideas here.
Stuffed sweets. Much like toast, a blank baked 'tater is a blank canvas for serious food art. The stuffed potato is super cosy, so if you're craving comfort food, check out some of HBF's chosen recipes including buffalo chicken and dessert-stuffed sweet potatoes.
Brownies. Sweet potatoes are sweet hence the name, and they're starchy. This makes them the perfect candidate for whipping up healthy desserts. If you didn't already know, they pair exceptionally well with fudgy chocolate for a gluten-free brownie you can get DOWN on. Get serious with these paleo sweet potato brownies that will blow you away.
Sweet potato noodles. If you want something more substantial than zucchini noodles, get your spiralizer out and make some sweet potato noodles instead. They can be lightly roasted or pan-fried and served with your favorite sauce from slow-cooked bolognese or a creamy spinach and cashew nut sauce, like this recipe from Pinch of Yum.
Sweet potato fries and nachos. Sweet potatoes are perfect for turning your average junk food into something more nourishing and healthy. We love oven-baked sweet potato fries, and you can even make nachos using sweet potato crisps. Try this recipe for paleo nachos from Eat Drink Paleo, and these Cajun baked sweet potato fries from Minimalist Baker.
Other ideas include sweet potato mash (great on a Shepherd's pie), sweet potato breakfast hash, or sweet potato pancakes.
Avocado
Oh, avocado. It holds a special place in our hearts, and that's why it ended up being the only fruit on our list. It's not that we don't like the rest, but with its boost of healthy fats and creamy texture, it brings a lot to the table including more chocolate – clearly a contributing factor to any given food's versatility.
We like it in the morning and we like it in the afternoon. We like it any time of day, and here are a few of our most adored ways to eat avocado.
Avocado toast. If we know one thing in the healthy food-o-sphere, it's that avocado is the new butter. Okay, we love butter too, but if you want your slice of sourdough to look cafe-worthy and Instagrammable, smashed avocado is the way to go. If you're feeling crazy, add some chili flakes and a poached egg, or perhaps tomato slices and sea salt.
Smoothies. Banana is often thought of as the end-all, be-all of creamy smoothie-making, but avocado makes a great substitution if you want to cut down on sugar in the AM. Its buttery yet neutral flavor pairs well with fruits, and you won't even notice it's there. Try this green smoothie bowl jam-packed with nutrient-dense goodies, or this tropical coconut and lime slushie.
Chocolate mousse. Chocolate pudding is delicious, but it's either a bit on the rich side from homemade with loads of sugar and dairy, or it's coming from a box. We like to take the middle ground. Avocado pairs well with chocolate – didn't we mention that? Blending it with some raw cacao and natural sweetener like honey or stevia makes a decadent and satisfying mousse. You can thin it out with some liquid if needed, and add other powders or flavors you like.
Pasta sauce. Creamy Alfredo or otherwise cheesy sauces for pasta can be out of the question depending on whether or not you avoid dairy. Avocado makes a really good substitute, while still offering up some serious creaminess and richness. Here's a zesty and simple recipe from Oh She Glows.
Stuffed avocados.
Salads. Adding avocado to any salad will make it more satiating and will help your body to absorb all those fat-soluble vitamins you'll find it your salad ingredients. Avocado goes well with a simple Caesar salad, Mexican cobb salad or an Italian Caprese.
Dips. The creaminess and texture of avocado makes it a perfect base for dips and spreads. Try this guacamole made with pickled jalapeños and leeks, or this avocado feta dip from Two Peas & Their Pod.
Stuffed avocado. Well, since stuffing vegetables is a bit of trend, we are not surprised that stuffed avocado is big in 2017. You can create many gorgeous variations using your favorite fillings from creamy tuna to spicy chicken, crab or prawns. Check out these 15 stuffed avocado recipes.
Plantains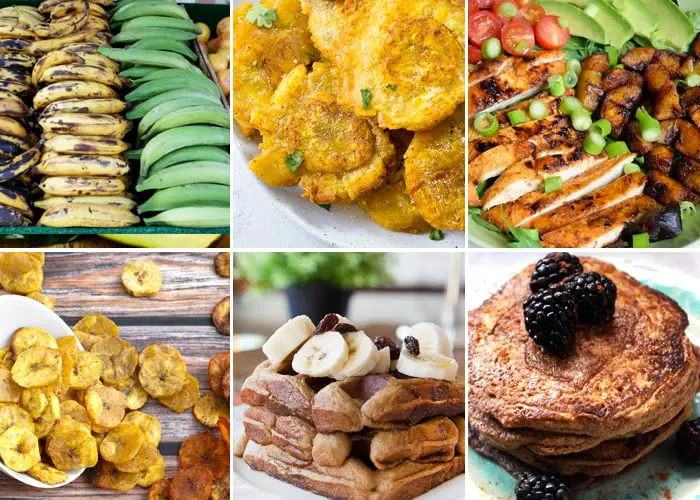 Oh, plantains. While the banana is a fruit and the plantain looks a lot like one, it's actually considered a starchy vegetable. It works wonders in the kitchen, whether you crave salty or sweet.
From chips to fluffy stacks of pancakes and waffles, to tostones and bread, plantain is plenty versatile. It's also inexpensive and easy to work with, so let's talk about the many ways you can use this tropical wonder.
Chips. These are an awesome snack to tote on a long day or bring to the couch for a cosy snack during a movie. Dip 'em in salsa or mashed avocado, or top off with slices of lunch meat or tuna. You can make them at home, or buy a clean brand here.
Waffles. Bust out the ol' waffle iron for some grain-free Belgian-style waffles. Top with some whipped coconut cream and berries, drizzle with syrup or spread 'em with nut butter. Here's a good go-to plantain waffle recipe.
Pancakes. Stacks on deck when you've got plantains handy. They give flapjacks perfect texture with plenty of fluff. Just bring some maple syrup to the table and tuck right in. Try these paleo cinnamon plantain pancakes from What Great Grandma Ate.
Tostones. This is a Puerto Rican dish, and it's basically smashed plantain slices that are twice-fried. Yeah – they're really freakin' good. You can use avocado oil to fry them for a healthy alternative to french fries. Dip in aioli or guac for a tasty side. Try these plantain tostones with avocado ranch  from Paleo Running Momma
What's your favourite versatile produce? Tell us what recipes you're most looking forward to making, and share this article if you liked these ideas! Share this post on Pinterest from here.
Music, mountains, dogs, travel, food and friends.