When it comes to cooking at home, there are two things we're pretty concerned about: time and money. Of course, ingredients are pretty high on the list, too, but the best ingredients are only as good as how much they cost and how much time they take to cook!
Eating whole foods – especially if you're shopping at Whole Foods a.k.a. Whole Paycheck – can cost big bucks, and there's just no denying it. However, when you cut the frills and focus on the simple stuff, the possibilities to eat well on a dime are endless.
There's simply a bit of a learning curve.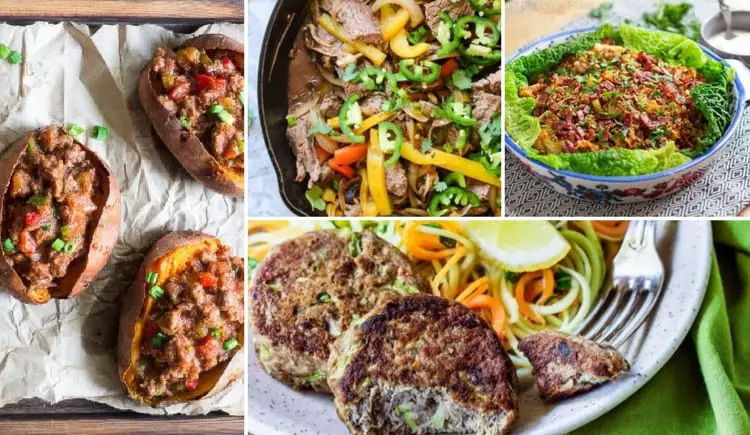 It can be even tougher because sales come and go, and most coupons we receive are for packaged foods – not meats and veggies.
Here, we'll be using versatile ingredients, lots of pantry staples, the cheaper cuts of meat that you can afford to buy ethically, all the while still packing in nutritious and delicious veggies.
Fortunately, with some smart strategic planning, dedication, and helpful budget-friendly recipe recommendations from us, you can still save some dough while cooking tasty, impressive, flavorful meals you'll be able to add to the weekly menu time and time again without breaking the bank or getting bored.
This round up is all about packaging a full meal into one recipe, getting in both protein and veggies at the same time. These comforting stuffed sweet potatoes do the trick.
Potatoes and ground beef are inexpensive and versatile, and we generally always have them handy. No surprise grocery store runs for additional ingredients here!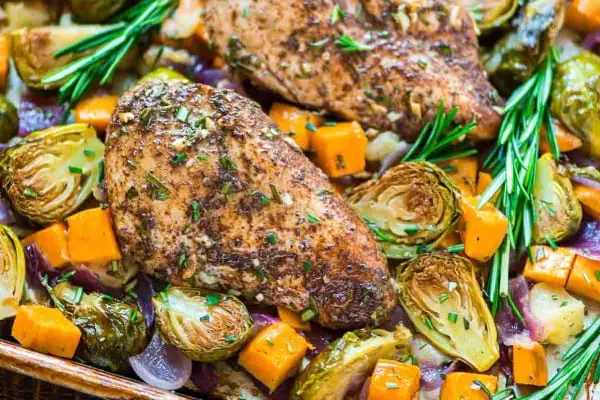 Sheet pan dinners are a great way to save money and time. They come together quickly with a simple pairing of meat and veggies – both of which you can use frozen or fresh.
This recipe boasts affordable and tasty sweet potatoes, and you can always sub out brussels sprouts for a budget-friendly green veggie or whatever is in season.
Plus, they make a great choice for batch cooking which will help you eliminate food waste, thus saving more money.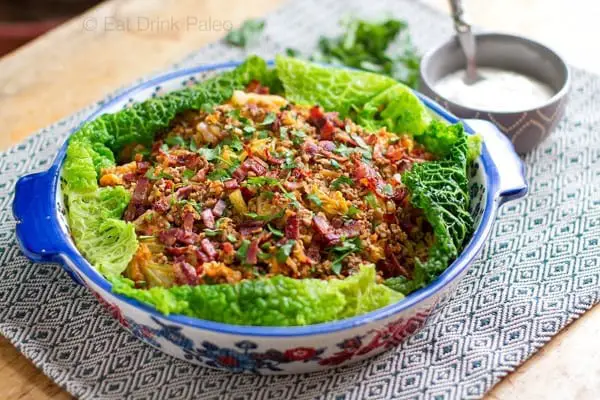 The beauty about something like this dish is that it's made flavourful and unique with pantry staples like spices, Tamari, and tomato paste. You won't have to pick much up at the store.
Ground pork and beef is used to make the meat hearty and flavorful. Both options are inexpensive to purchase, even grass-fed/pasture-raised making this both ethical and economical.
Oh, and there's crispy bacon, so you know it's a winner.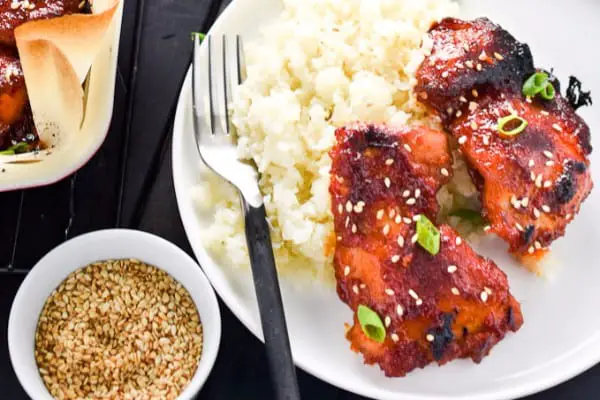 If you're still buying breasts, it's time to switch to thighs. You can do any recipe with the less expensive cut while adding more fat which is synonymous with flavor.
In this case, you can save money on the takeaway bill with these sticky sweet Korean chicken thighs. Serve them over cauliflower rice which is easily made from scratch, so avoid splurging on the pre-made packages.
If you eat white rice, save even more money by making a big batch at the beginning of the week for simple pairings throughout.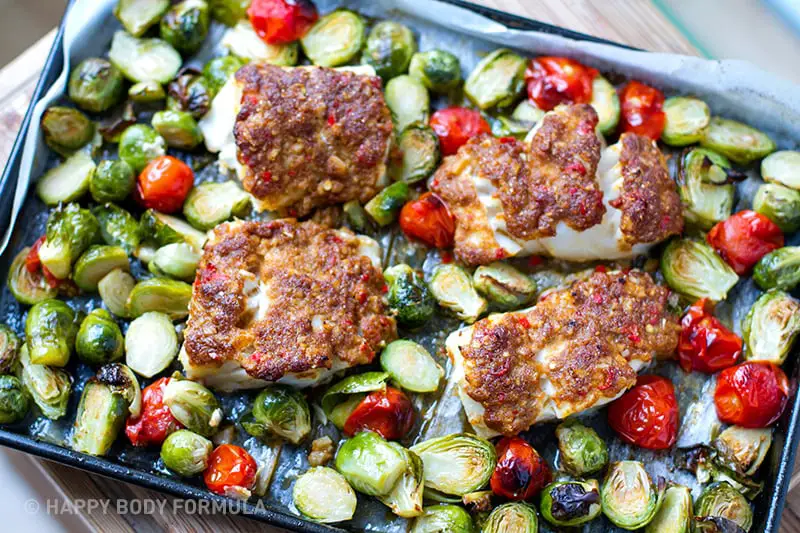 Cooking with salmon or ahi tuna can be pretty expensive. Choosing fish like cod and tilapia saves you money while still allowing you the option to always choose nutritionally and environmentally superior wild-caught fish without breaking the bank.
This sheet pan dinner is simple to make, and really helps infuse some flavor into this light and flaky fish.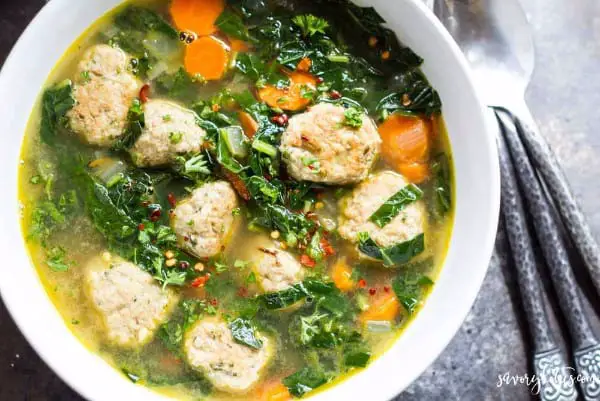 Soup is a great way to stretch your ingredients because it's filling and nourishing. This soup features easy-to-make and inexpensive meatballs for the protein, carrots, broth (which you can easily make yourself with veggie scraps and bones to get the most bang for your buck), and kale.
You can always use frozen greens, too – one of our favorite budget hacks!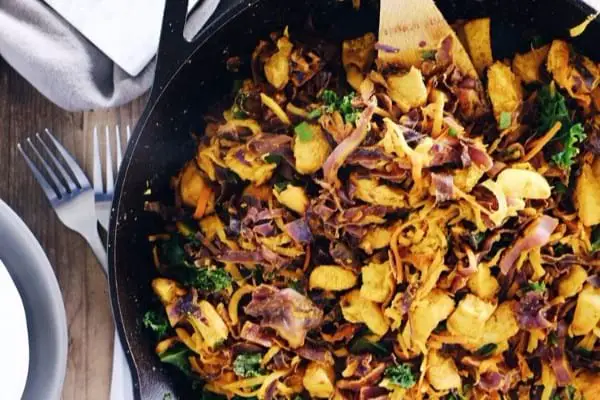 Skillet meals are just as simple as sheet pan meals, saving time and extra steps in the kitchen. This dish is packing in loads of veggies like inexpensive cabbage, carrots, and spinach.
Plus, it boasts all of turmeric's incredible health benefits which is a great perk if you ask us.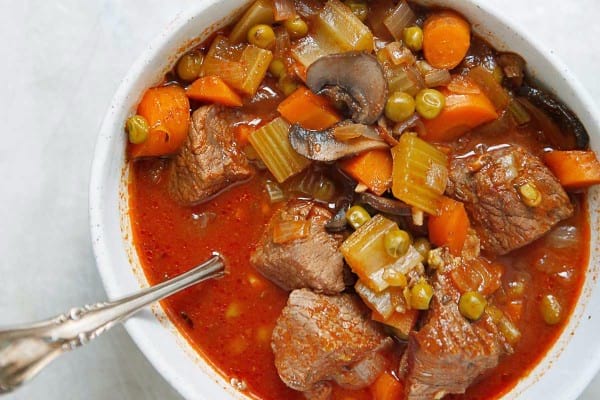 Frittatas are always on the menu no matter the budget. This one combines breakfast with pizza making it suitable for any meal. Frittatas make really good leftovers helping to reduce food waste and utilize ingredients.
You can use the base recipe to toss together any stray veggies for a "cleaning out the fridge" meal or stick with the guidelines. Either way, you will love every bite!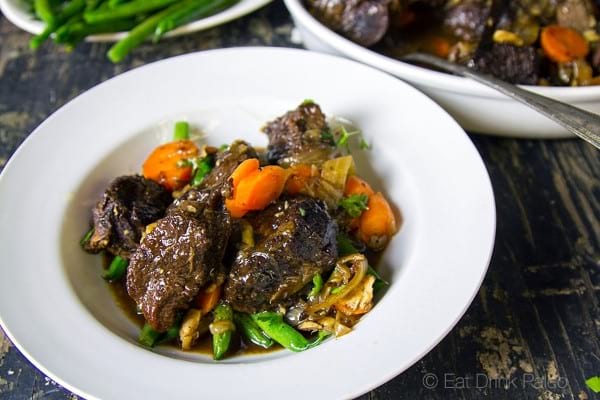 Beef cheeks are underrated. If you haven't cooked with them, you should give it a shot. You can get grass-fed beef cheeks for less money than ground beef most times, and they're absolutely delicious when you cook them low and slow, yielding tasty and tender, melt-in-your-mouth meat.
This meal is warming and perfect for sneaking veggies into, flavored with vanilla and port.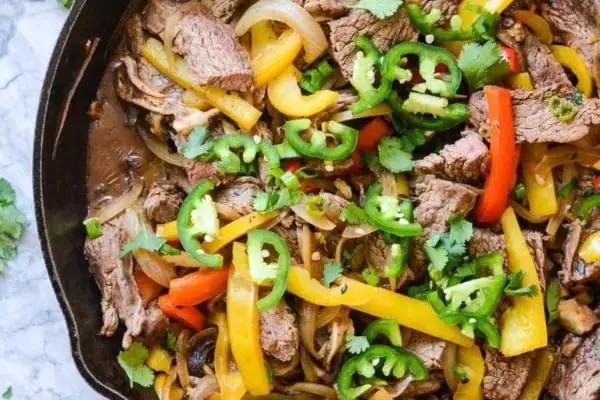 Fajitas are a great way to make cheap cuts of beef super yummy and juicy. A quick stir-fry makes this skillet meal the perfect candidate for an easy weeknight after-work dinner.
You can mix in any veggies and save money by using frozen bell peppers and onions. You can serve them in grain-free tortillas or on their own, pair them with cauliflower rice, or enjoy on their own.
Top with avocado for the best results (when they're on sale, of course).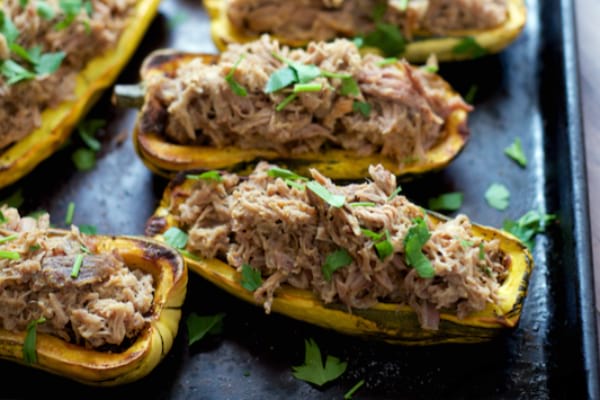 Pulled pork comes to life without dishing out big dough. Large cuts of pork shoulder or butt are inexpensive and you can often find them on sale. Better yet, you can bulk buy from a farmer and splurge on a whole pig to save money down the line with your freezer stash.
Either way, stuffing up some seasonal squash with the stuff is the perfect way to create a nourishing and impressive meal on a dime.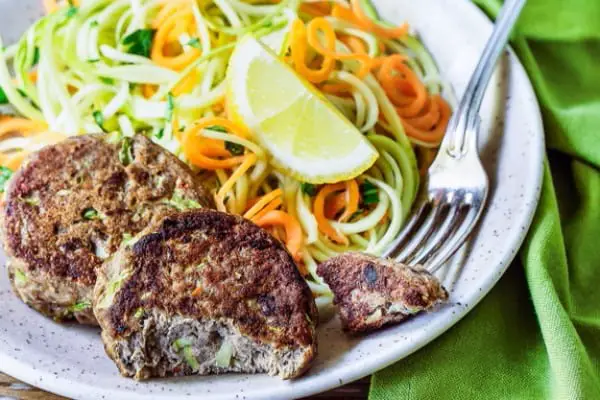 Tinned fish is a great way to keep your budget and nutrient-density in check. You can easily purchase sustainably caught canned tuna even on a budget and keep it in the pantry for handy recipes like these veggie-packed fish cakes. You can make them ahead of time to save money on eating out for lunch at the office.
14. Italian sausage, broccoli, & potato bake from Everyday Maven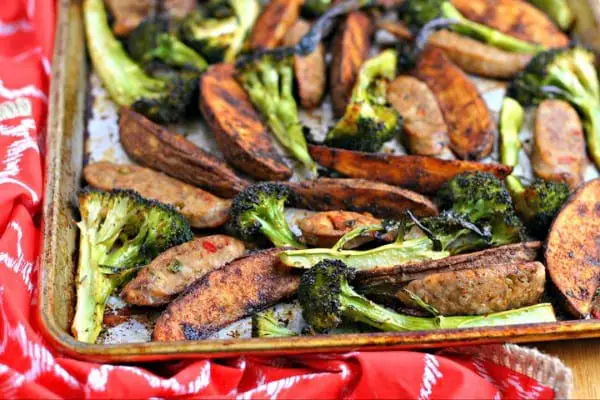 Are you surprised another sheet pan meal made the list? While splurging on pre-cooked sausages might feel a little frivolous, they do save tons of time when preparing meals like this.
Plus, with the addition of potatoes, you add bulk to the rest of the meal without any additional splurges, so it's good in our books! Check for sausage brands you like on sale.
Generally speaking, there's at least one option I can save a buck or two on when I go shopping with healthy options rapidly expanding.
15. Pork & veggie stir-fry from Real Food Whole Life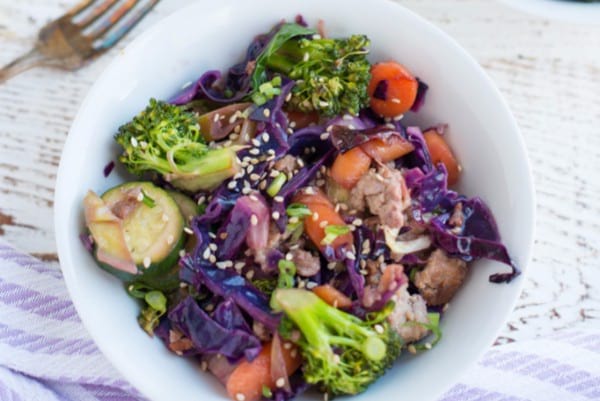 This recipe basically adapts to anything you've got in the fridge, utilizing budget-friendly ground pork for your protein fix. The higher fat content will also give all those veggies plenty of flavor.
Use your favorite Asian-inspired pantry staples to give it that stir-fry flavor and you've got yourself a meal with leftovers.
There you have it! Who says you have to break the bank to eat healthy and eat delicious foods? Not us – that's for sure.
Enjoy these recipes and the extra savings, and let us know what your favourite meals to make on a budget are while you're at it.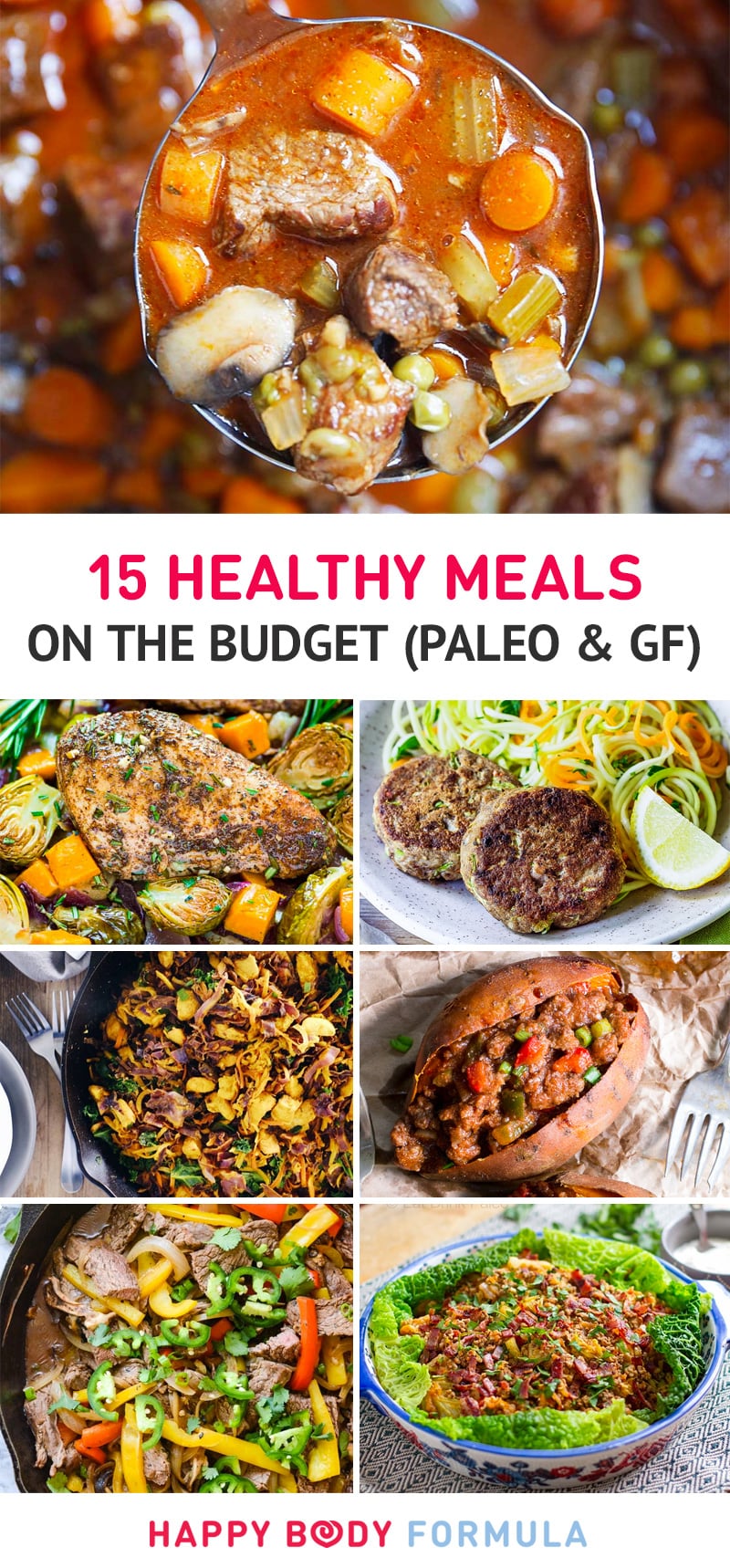 Music, mountains, dogs, travel, food and friends.