This is a healthy sheet pan meal featuring tender and budget-friendly cod, plus roasted Brussels sprouts and juicy, charred cherry tomatoes.
In fact, it's so easy and delicious that you can consider this the only low-carb/paleo cod recipe you need!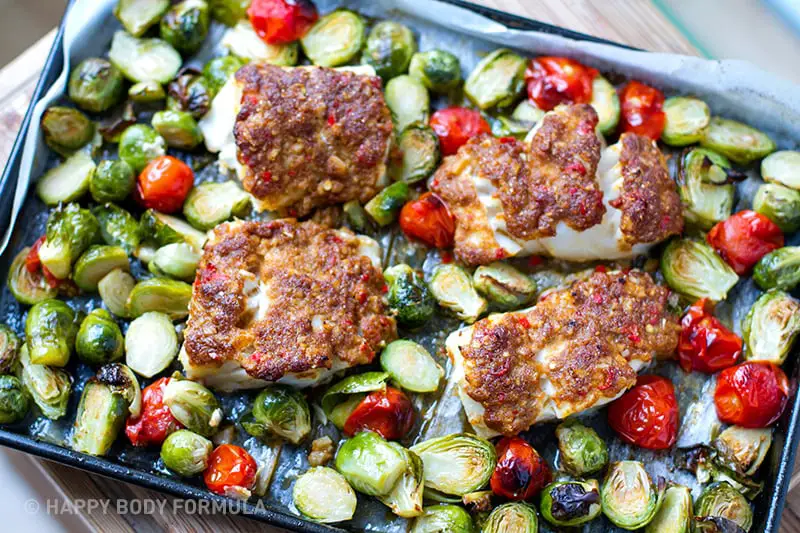 Sheet pan meals are also our undying obsession these days. They're wildly convenient for many reasons. First, you only dirty one dish and we all know washing dishes is the worst part of cooking.
Second, you only need to use one dish. That means everything in the recipe is designed to cook pretty much at the same rate. It's quick to prep and quick to cook, so it's quick into the belly – where it belongs!
This dish is low-carb, paleo and keto-friendly and we like to serve it with a side of extra salad or veggies. It's a great dish for anyone following our HBF program or the 7-day free challenge.
The recipe is designed for 2 to 4 servings, depending on how hungry you are!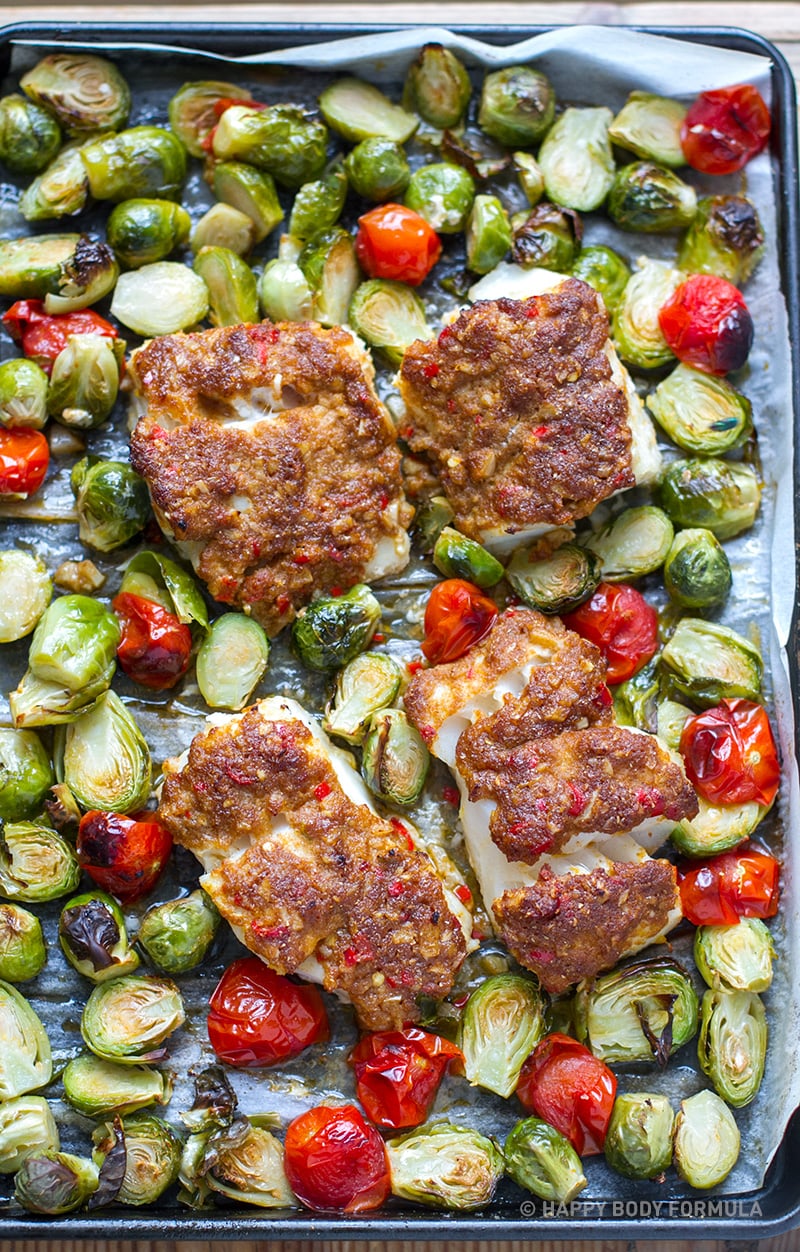 One-Pan Spiced Baked Cod With Brussels Sprouts
Ingredients
250 g / 0.5 lbs. Brussels sprouts
2 large cloves of garlic, finely diced or grated
½ long red chilli, finely diced
1 teaspoon ground cumin
1 teaspoon ground paprika
1 teaspoon ground coriander
1 teaspoon onion powder
½ teaspoon sea salt
3 tablespoons olive oil
Juice of ½ lemon (about 2-3 tablespoons)
4 fillets of cod (140 g / 5 oz. each)
10 cherry tomatoes
½ teaspoon salt
Zest of ½ lemon
2 tablespoons olive oil
Instructions
Preheat the oven to 200 C / 400 F.
Cut the larger Brussels sprouts in half and leave the small ones whole. Set aside.
In a small bowl, mix together the garlic, chilli, spices, sea salt, olive oil and lemon juice.
Place a piece of parchment/baking paper over a flat oven sheet pan and grease with a little olive oil. Place the cod fillets in the middle and top each fillet with equal amounts of the spice mix. Scatter the Brussels sprouts around the cod and place a few tomatoes on top. Sprinkle with some sea salt and lemon zest, and drizzle with extra olive oil.
Place the tray in the hot oven, middle shelf, for 20 minutes. Once ready, serve while hot with a side salad. Store leftover fish and veggies in the fridge for 2-3 days in an airtight container.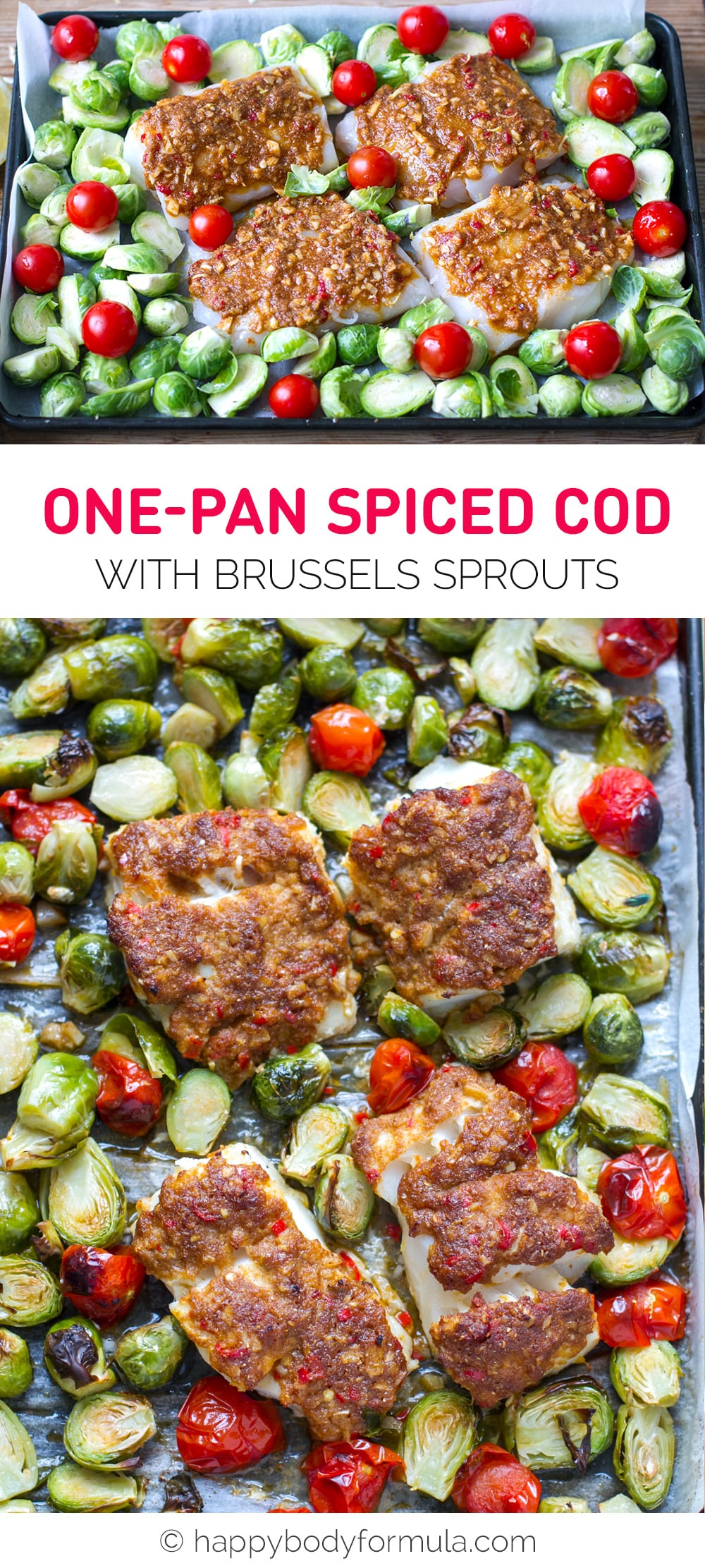 Music, mountains, dogs, travel, food and friends.