Sheet pan dinners are ALL THE RAGE right now, especially when it comes to cooking healthy meals in jiffy. Standing before a pre-heated oven with a plethora of ingredients and an empty oven tray, you ask,
"Will this work?" Hopefully, you've been granted with pleasantly surprising, filling and colorful meals over and over with this method.
It's not always foolproof, but it certainly makes creating gorgeous dishes more accessible even to the amateur chef!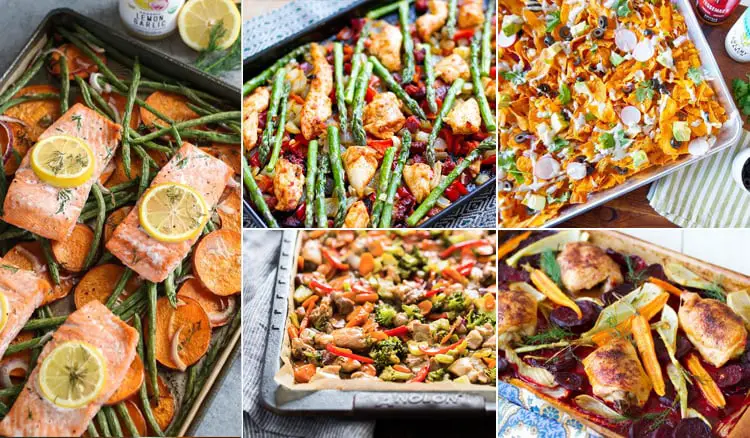 Today, we've rounded up 20 brilliant, healthy, and paleo and real food friendly one-dish sheet pan meals. Break out your oldest sheet pan, your Pyrex or the cast-iron and turn up the heat, because you've got easy recipes that are dressed to impress for days.
Oh, and no sinks full of dishes after dinner. Woo!
Here's what you need to get started:
A good sheet pan! That's literally IT. The bigger, the better (and the more meal prep potential). Check out Nordic Ware's aluminum baking sheets which will last you forever and never rust..
Oh, and one of my favorite personal cooking hacks is to use a silicone mat. Even easier clean-up, and your food will NEVER stick. Promise!
1. Sheet pan roasted asparagus & chicken with chorizo from Eat Drink Paleo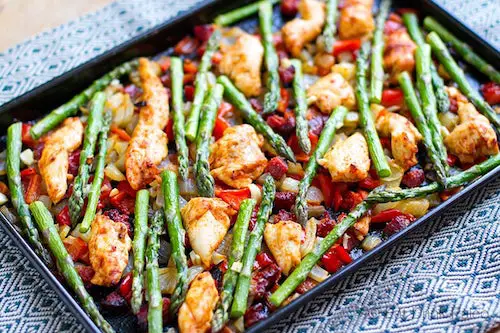 You get some tender, springtime flavor from fresh asparagus in here, a gorgeous boost of protein from the seasoned and tender chicken, big spice from rich chorizo and a bit of sweetness from the red pepper.
This one is humbly inspiring (and you're gonna want seconds). Get the recipe from Eat Drink Paleo.
2. Paleo fish 'n chips from Raising Generation Nourished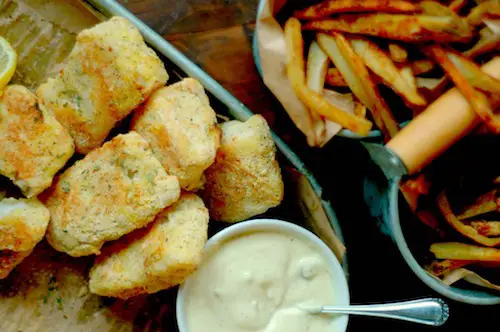 Who doesn't love a classic fish and chips lunch? The recipe isn't notoriously healthy, but this paleo-friendly version is! The fried fare gets a nice baking instead with a grain-free crumb that tastes like the real deal.
Get the recipe from Raising Generation Nourished.
3. Paleo Asian meatballs from I Heart Umami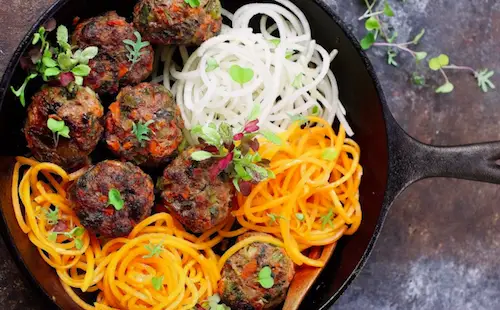 Spiralizer meets sheet pan in this gorgeous Asian-inspired dish with half-baked and half-roasted meatballs. They're loaded with parsley, ginger and scallions so they won't fall short on taste!
You could pair them with anything, but the "noodles" will cook up well in the same pan – this time, we're talking cast iron. Get the recipe from I Heart Umami.
4. Balsamic chicken with bacon & apples from Wholesomelicious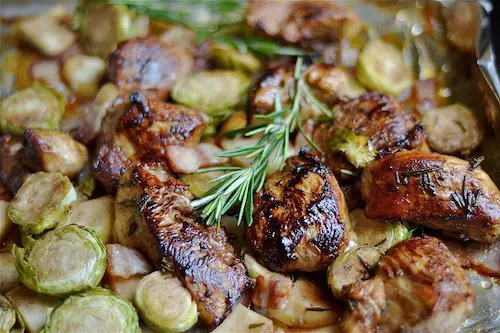 If you like a little sweet with your savory, the obvious course of action is to pair up fresh rosemary with balsamic vinegar and fresh apples.
This autumnal meal is bound to be a comfort food classic… and the house will probably smell pretty darn good while you're cooking things up which is a nice bonus. Get the recipe from Wholesomelicious.
5. Egg & crispy potato breakfast sheet pan from Layers of Happiness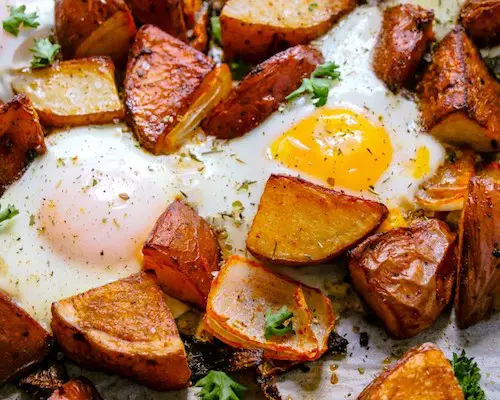 Layers of happiness are right in this sheet pan meal that hashes it out. If you're not quite peppy first thing in the morning, you could prep everything the night before and just toss this in the oven upon rising.
It also makes a nice brunch spread for the weekend, and you could add fun stuff to the mix, too. We're thinking BACON (of course). Get the recipe from Layers of Happiness.
6. One-pan roasted veggies & sausage from Paleo in PDX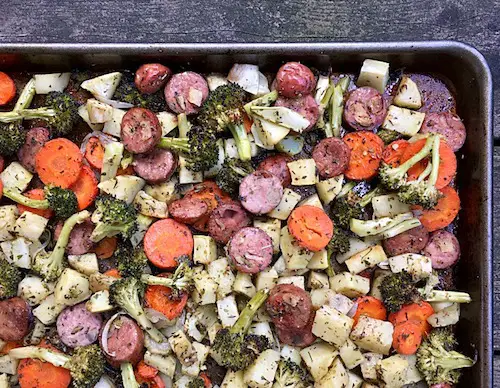 Take your favorite sausage and take your favorite veggies. Get a sheet pan. Drizzle with oil. Shake some spices. Add fire. Watch it transform.
This recipe uses pre-cooked sausage, so simply pick up your favorite brand or flavor (chicken-apple anyone?) and pair with whatever you've got handy in the fridge. This is the ultimate lazy dinner template! Get the recipe from Paleo in PDX.
7. Roasted meatballs & brussels sprouts with butternut squash noodles from Raising Generation Nourished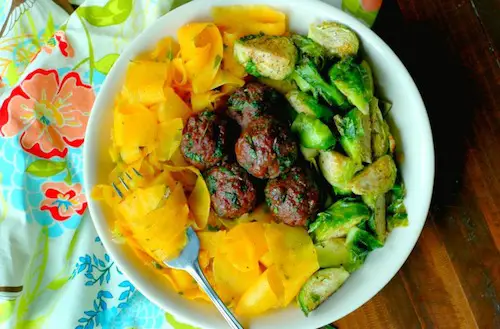 Who doesn't love a bowl of veggies sandwiched with some herb-roasted meat in the middle? This color and flavor combo is enough to make us drool.
Butternut squash noodles are a great base for this, and easy to make while taking on the perfect texture in the oven, tossed in some healthy fats, salt and pepper. The meatballs steal the show. Get the recipe from Raising Generation Nourished.
8. Paleo sweet potato sheet pan hash from Real Food Whole Life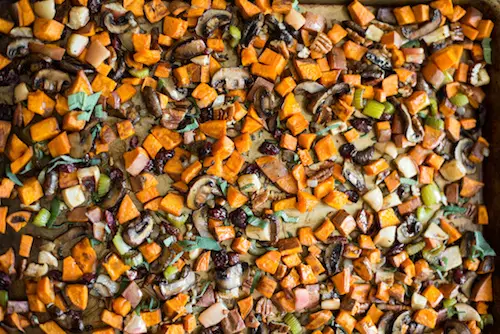 Sweet potato hash is love. Sweet potato hash is life. This sheet pan brekky is infused with crunchy pecans and chewy, sweet dried cranberries for that Thanksgiving feel all year-round without even a smidge of the work.
Pair up with some bacon for smoke, sausage for heartiness, or put an egg on it. This mix is perfect for savory breakfast bowls. Get the recipe from Real Food Whole Life.
9. Hassleback sausages, bacon & turmeric brussels sprouts from The Castaway Kitchen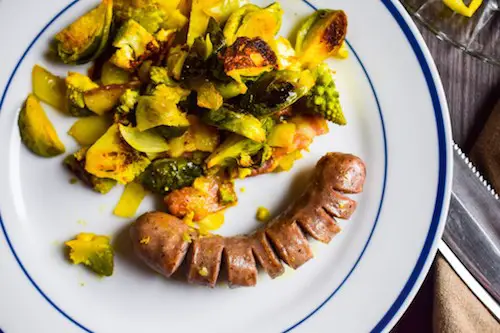 Hasselback potatoes are cool and all, but what about hasselback sausages? This is the perfect simple protein for the sheet pan, and you can rest assured because it's paired with our favorite combo of all time – bacon and brussels! Yum.
Plus, turmeric adds a splash of color and loads of healthiness. Get the recipe from The Castaway Kitchen.
10. Pork chops with sweet potatoes and apples from The Lean Green Bean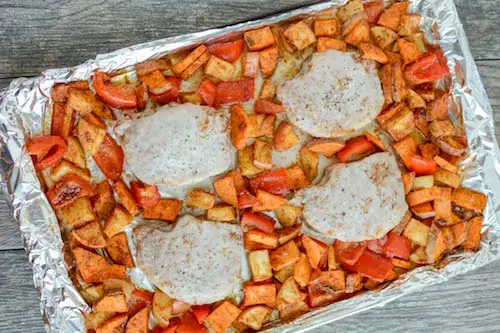 Roasted apples are clearly a winner in the sheet pan dinner community. They are exceptionally tasty with sweet potato, too!
This 3-ingredient meal is the perfect way to cook up something tasty and budget-friendly without having to put much brain power into it. Keep it for those nights when you just can't. Get the recipe from The Lean Green Bean.
11. Sheet pan beef fajitas from Fresh Planet Flavor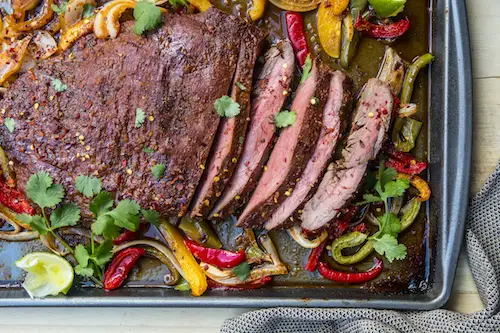 Fajitas are undeniably SO FREAKIN' GOOD. They're even better when it's a one pan affair. Budget-friendly flank steak comes to life when it's cooked like this with all the garnishes.
You could serve it over salad, grain-free tortillas or atop rice in your own fajita bowl. This recipe is one you'll want to revisit over and over. Get the details from Fresh Planet Flavor.
12. One pan roasted chicken with citrus beets from Recipes to Nourish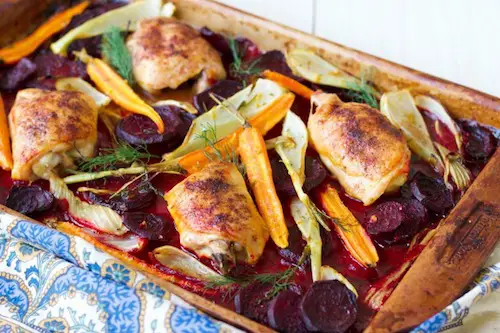 Citrus and beets are an underrated combination, but not in this dish. They're the spotlight, turning everything a bright pink hue!
Root veggies and chicken are always cosy, nourishing and filling so you know this dish will hit all the notes while still feeling zesty and light. Get the recipe from Recipes to Nourish.
13. Honey garlic chicken & veggie sheet pan dinner from Get Inspired Everyday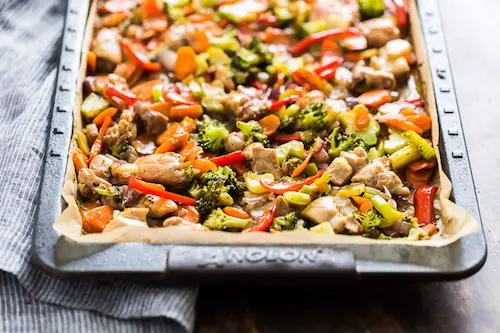 What if we told you that you could make takeaway-worthy "stir-fry" on a sheet pan? It's a one dish recipe miracle with this honey and garlic-infused mash-up of chicken, broccoli, peppers, onion and carrots?
Snag the recipe from Get Inspired Everyday.
14. Easy sheet pan chicken with roasted vegetables from The Savory Lotus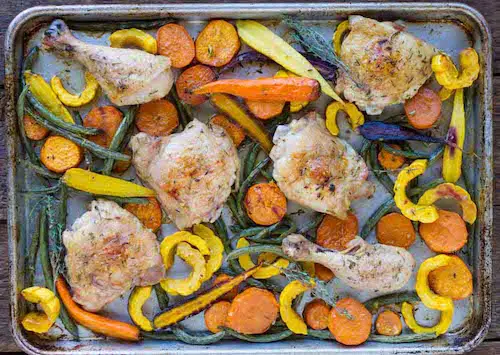 There's nothing quite like chicken on the bone, so tender from baking that it just falls off! Plus, you've got some colorful roots here and a burst of starch from buttery delicata squash and sweet potato.
The color and taste in this dish are bound to leave you crushing on it and pining after just a little more. Get the recipe from The Savory Lotus.
15. One pan salmon & veggie bake from The Real Food Dieticians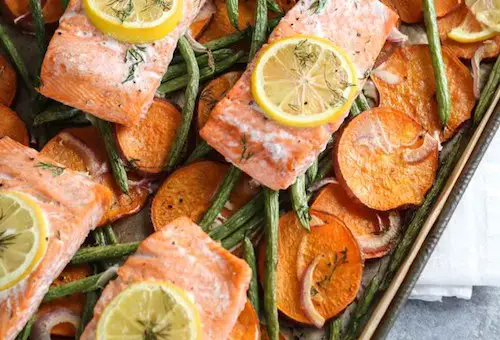 We couldn't leave out a solid recipe for baked salmon on our list! This lemony fish over sweet potatoes and green beans is an easy way to have a special, fancy-feeling dinner on the table in a zap.
Plus, salmon cooks up notoriously fast, making this easy dish… even easier. How even? Get the recipe from The Real Food Dieticians.
16. Shrimp fajita sheet pan dinner from Fed & Fit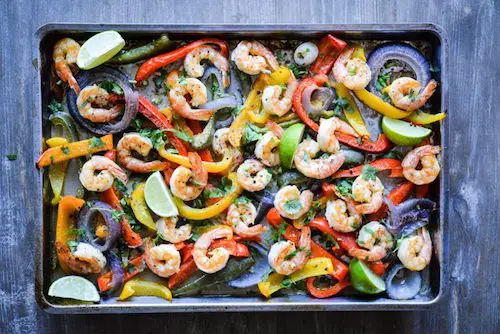 If beef fajitas aren't your thing, or perhaps you're just in the mood for seafood instead, check out THIS fajitas recipe. Pop out the sheet pan and fill it up with a rainbow of veggies.
Pre-cooked frozen shrimp will make this one even speedier. Garnish with fresh lime for the best results. Oh, and once again, these would make a fine burrito bowl! Get the recipe from Fed & Fit.
17. Baked parmesan pork chops, potatoes & asparagus from The Wholesome Dish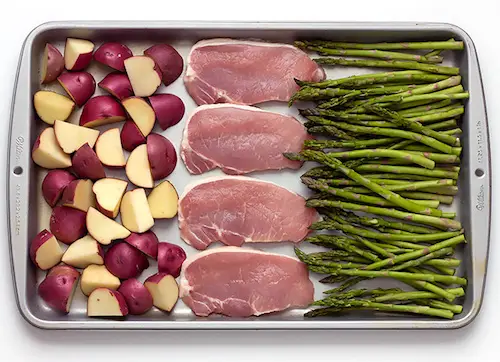 If you're a meat and potatoes kinda guy or gal, this one-dish miracle is going to be your JAM. Promise. Swap out potatoes for sweets or asparagus for green beans.
Whichever way you like your chops, this stunner is a winner, winner pork dinner. Get the recipe from The Wholesome Dish.
18. Blackened tilapia with zucchini from Naive Cook Cooks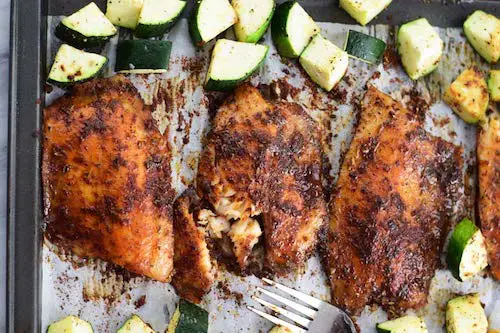 Wild-caught tilapia can be easier to find than most other fish, plus it tends to be on the cheaper side! Blackened fish is so tasty, and this recipe includes the perfect seasoning for getting that color and deep flavor!
Roasted zucchini is buttery and delicious on its own, making the perfect pairing for this summer BBQ staple. Get the recipe from Naive Cook Cooks.
19. Bacon-wrapped pork loin from 2 Cookin Mamas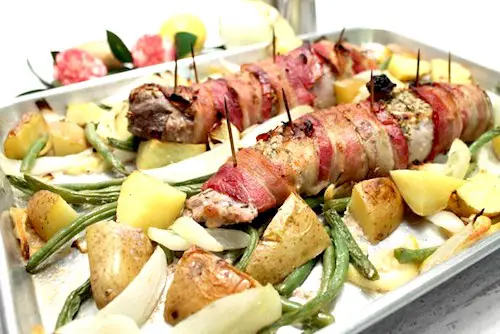 Did someone say bacon? We're already curious! Pork loin is good on its own, but you know what they say… double the pork, double the fun. So, why not wrap it in bacon?
Serve up with some greenery and tender wedged potatoes. This is sure to be a crowd pleaser, and it will serve plenty of people! Get the recipe from 2 Cookin' Mamas.
20. Sheet pan sweet potato nachos from Tessemae's
You get the ranch and the buffalo sauce, and you mix it all UP. Yeah, these nachos are some real deal stuff. You can top them with whatever you like.
Consider adding shredded chicken or ground beef to the mix. Top with cheese if you're really feeling crazy. Get the recipe from Tessemae's.
Sheet pan dinners – are they worth the hype? Let us know which recipe you're most excited to try! Love this round up? Share it with friends and family. Pin it from here!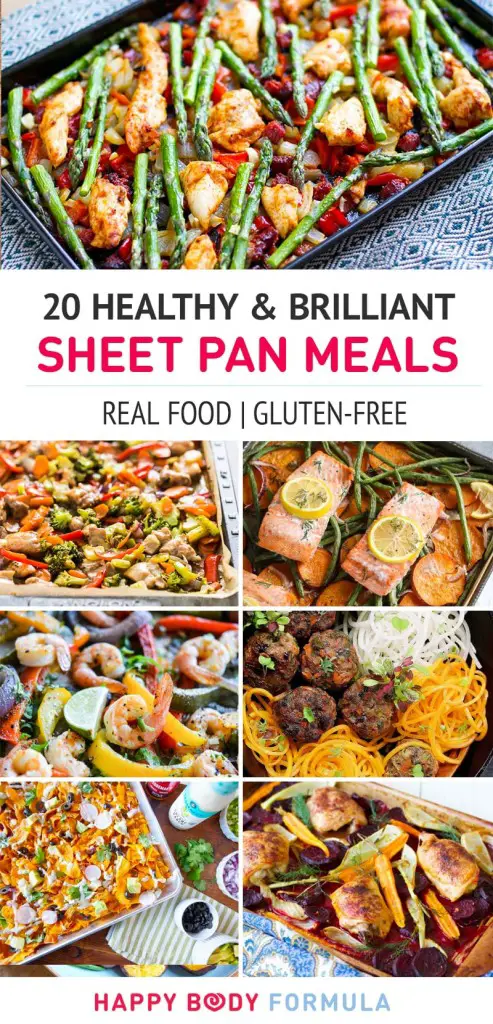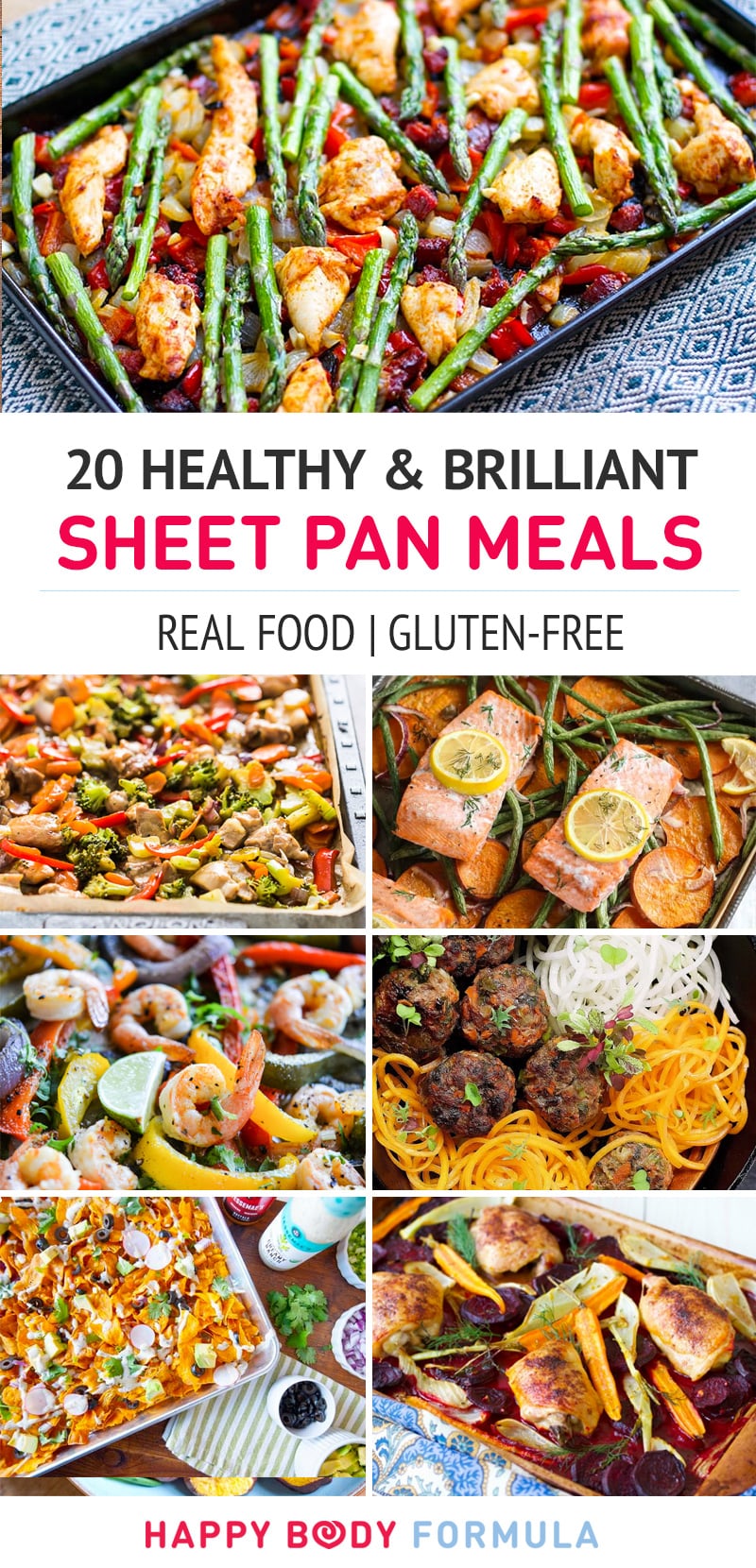 Music, mountains, dogs, travel, food and friends.