Mushrooms are the plant nation's "meat." Sulphur shelf – a commonly foraged mushroom that grows in a shelf-like structure – is even called "chicken of the woods." They're rich with flavour, come in a variety of fun textures, and take on tons of different flavour profiles. They're a great addition to any meal for bulking it up or creating a mouth-watering veggie side dish. They're the kings and queens of savoury meals, and we want to honour that!
The benefits of mushrooms
Mushrooms are some of the healthiest foods on the planet, too. Many varieties contain a fair amount of selenium (a hard to get mineral!), copper, niacin, potassium, and phosphorous. Standard grocery store crimini mushrooms are also a good source of vitamin D which is seldom found in food. More obscure mushrooms like reishi mushrooms actually act as an adaptogen in the body, reducing our stress response and making us more resilient over time.
Mushrooms are also a source of plant protein and both soluble and insoluble fibre, keeping digestion and gut health in tip-top shape. Shiitake mushrooms may also be an immune booster, while dried white button mushrooms have been linked to decreased risk of metabolic disease. As you can see, every mushroom has its benefits! Learning to use them all in tasty, satisfying recipes is a good idea for your taste buds and for your health. Here are some of the most fabulous recipes to get started with.
Mushrooms are flavourful on their own, but adding a perfectly curated blend of spices to the mix really helps step them up a notch. Plus, brown butter is good on everything with its caramelising properties, giving you the most delectable results. With fresh garlic and sage, this recipe is a keeper for those who like their food extra garlicky!
Savoury breakfast bowls are the way to go. No eggs required here, either. You get plenty of veggies from a mashed cauliflower base, spinach, and tender mushrooms on top. Oh, and don't forget the bacon. Of course, you can add some egg if you'd like. This bowl is a little bit cheesy from nutritional yeast, and plenty creamy blended with coconut milk for a rich and satisfying meal that strays from the norm a bit.
Portobello mushrooms are a lifesaver if you're avoiding grains. They just so happen to be the perfect size for stacking 'em up like buns and piling a burger and your favourite toppings inside. This one features a breakfast spin with a fried egg. You won't be missing bread!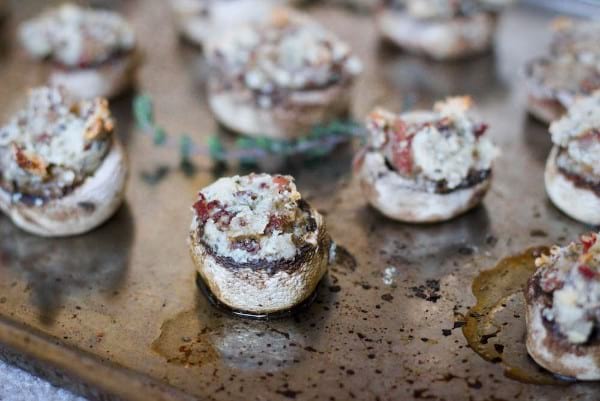 No cheese? No problem. Stuffing mushrooms is a versatile kitchen venture, and here's a great way to do it up dairy-free and paleo-style. These guys are loaded with crispy and smoky prosciutto and a cashew cheese that's creamy and delicious. These are a perfect appetiser, potluck dish, or healthy snack to make.
Fried mushrooms are a pretty common starter, and while they are absolutely delicious, they're not known for being healthy. Skip the refined oils and the deep-fryer with this oven frying method. These mushrooms are coated in a grain-free, low-carb "breading" with dairy-free options so everyone can enjoy.
This vegetarian dish is plenty meaty from the mushrooms. Often, you'll find bacon or sausage hiding out in a standard quiche or breakfast casserole, but this bake just boasts oyster mushrooms with exceptional flavour and texture so you won't be missing out.
Nothing quite beats the ease of a good sheet pan meal. Minimal prep, minimal fuss, and minimal clean-up? We're into it, especially when it's packed with juicy chicken and mushrooms in a balsamic glaze, caramelised to perfection. Good luck saving any for leftovers!
Pho is a classic Vietnamese soup with noodles and veggies. The real secret is in the broth. Dried shiitake mushrooms are the key ingredient here, lending some depth of flavour to the base of the soup and texture to each and every bite. It's great hot or cold, and you'll love the tender chunks of beef brisket hiding out in this tasty bowl.
9. Tom Kha Gai from The Whole Daily
This Thai soup is another comforting and warming bowl that really comes together when you add the mushrooms. It's dairy-free and made with coconut milk, blending zesty aromatics like lemongrass and ginger for something both slightly sweet and a little spicy. This soup serves as a main dish with the addition of chicken, but you could always add some starch to the side for a more substantial serving.
To end things on the soup front, we have one last delicious recipe that includes mushrooms. Creamy and rich, bursting with umami flavour, this soup is a fabulous starter, using dried porcini mushrooms for a woody flavour and plenty of fresh mushrooms strewn throughout. It gets its creaminess from a bit of nut butter, and it's packed with sweet potato, leeks, and thyme for a super nourishing end result.
Not only do portobello mushrooms lend themselves well to bun replacements; they also work well as a base for a tasty grain-free pizza without the hassle of making any dough. These caps are filled with delicious, nutritious pesto and topped off with tomatoes and pepperoni, although you can easily experiment with your favourite pie toppings.
Perhaps you like a little spice in your mushrooms. If so, these stuffed mushrooms are right up your alley with a chipotle-infused filling boasting breakfast sausage, mayo, and adobo sauce for some true Southern-style comfort.
No grains or cheese? It still works. This mushroom risotto takes on the flavours and texture of the classic dish with three different types of mushrooms to mix things up. In place of rice, you'll use grated parsnips although you could sub it out for cauliflower rice, too.
14. Chicken with creamy garlic & mushroom sauce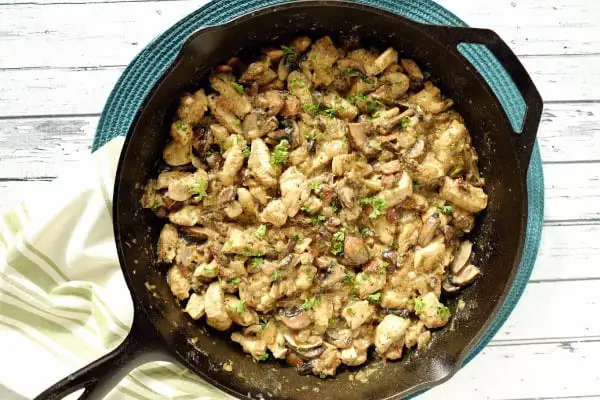 Who doesn't love the ease of a skillet meal? It's rustic, delicious, and simple yet impressive… especially when it includes a garlic and mushroom gravy sans dairy or grains! This is a one-pot affair and a full meal making weeknight dinners easy.
We've got burgers and pizza, so of course, we had to throw some tacos into the mix. Portobellos can be stuffed with whatever you heart desires. If you heart desires tacos, then so be it. This recipe is layered with ground beef, guac, and other toppings. You can customise them to your liking quite easily.
There's fungus among us! Bring some more into your kitchen and experiment with some of these delicious mushroom recipes. Let us know what your favourite way to use your favourite friendly fungi is, and happy foraging!
Pin it for later from here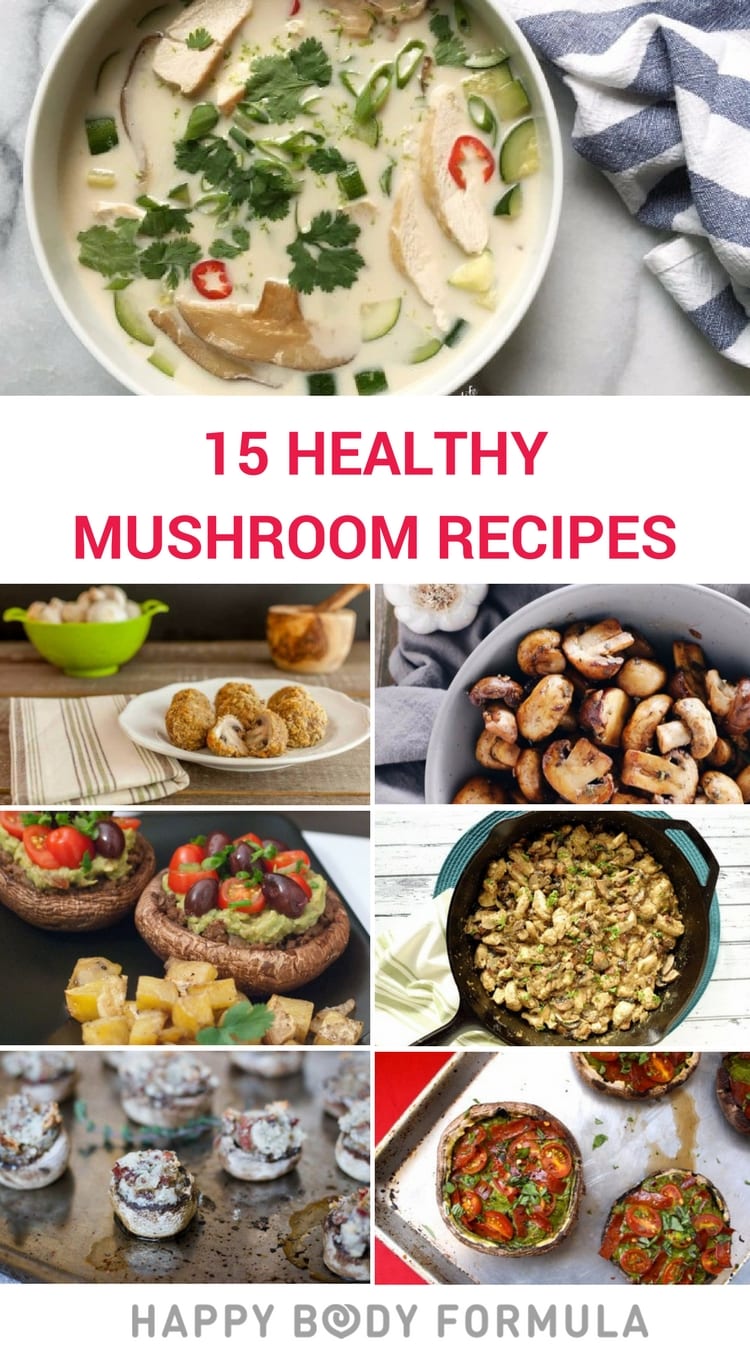 Music, mountains, dogs, travel, food and friends.