There's nothing more beautiful than a one-skillet meal. When you're hungry and you want something healthy fast, the last thing you want to do is bust out half the dishes in the kitchen just to make dinner.
Even if the cooking is quick, the clean-up isn't, and we know what happens when those dishes start to pile up… you get far less motivated to do them.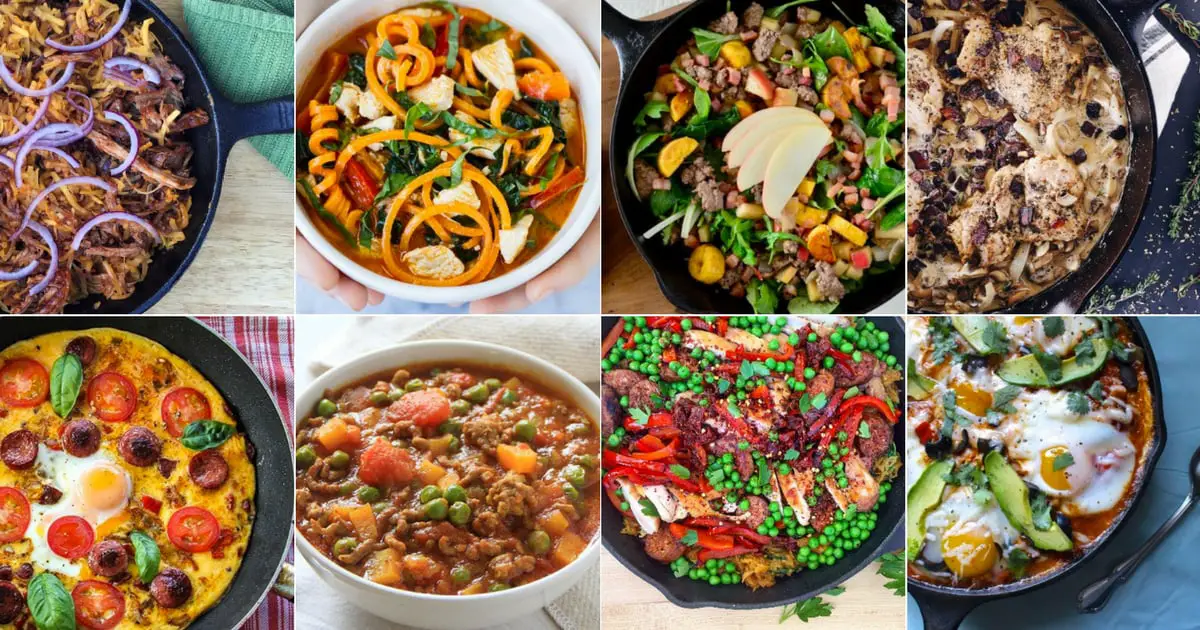 We already covered some of our favorite sheet-pan meals, but today, we're focusing on the skillet. Whether you're a cast-iron person or you opt for stainless steel or ceramic instead, we've got ideas for your biggest, most coveted skillet.
All you need is a healthy mix of veggies, protein, and fat to have a full-on meal, and we're pretty sure your best skillet can take that. If not, it's time to upgrade!
I personally prefer cast iron for one-skillet meals for a few reasons. For instance, the bottom heats up evenly, so everything in your skillet gets cooked pretty evenly.
Better yet, you can easily transfer it to the oven to finish cooking things up top, broil up a thicker piece of meat or the yolks of eggs that take longer to cook than the rest of the ingredients, or simply to keep warm.
Plus, these guys are durable and will last forever if you take good care of 'em.
Breakfast & brunch
If you have time to linger around for a bit in the mornings, breakfast can be one of the simplest, most hands-off meals of the day.
Save these ones for the weekends, or make it a point to prep the ingredients to whip one of these up straight out of bed. Nothing beats hot breakfast on a busy morning… besides slow weekend brunches with endless coffee, of course.
Scalloped potato frittata
This recipe uses scalloped potatoes for a delicious grain-free crust, more reminiscent of hash browns except they're part of the frittata. This is a gorgeous brunch to serve, a nice skillet meal to prep ahead of time and slice for later in the week, or even eating for dinner.
The mixture of caramelized onions, prosciutto, and coconut milk in the eggs bring that hearty texture home. Bonus: includes recipe for mango salsa to top. Get the details from I Heart Umami.
Mexican shakshuka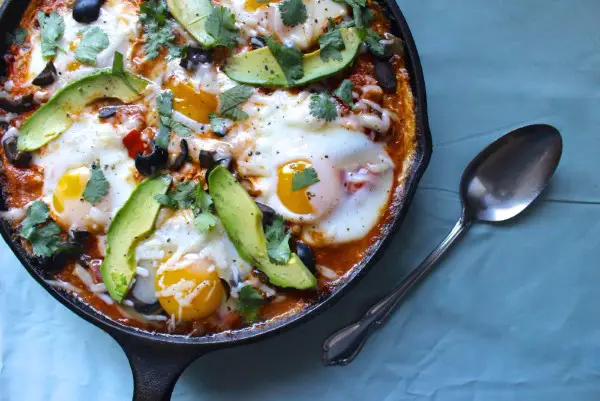 Shakshuka is homey and delicious. It's such a fun and unique way to dig into the first meal of the day with some gorgeous yolks on top. Mexican food just deserves to be had for breakfast more often!
This shakshuka still has a traditional tomato sauce surrounding it with spices like cumin and oregano to shake things up. Avocado, olives, raw cheddar, and tortillas really bring it altogether!
Plus, it's so simple to clean up. Get the recipe from What Great Grandma Ate.
Frittata with chorizo & tomatoes 
Frittatas are the ultimate one-skillet breakfast meal. This version is boasting fresh, juicy tomatoes, some red pepper, and chorizo with that fresh paprika flavour.
This is a fantastic and hearty meal you can easily break off a slice of in the morning on your way out the door, keeping you full for hours. Get the recipe from Eat Drink Paleo.
Paleo skillet breakfast
This skillet meal has it ALL going on. It's perfect for a lazy weekend morning, and it totally doesn't look lazy so you'll get brunch points regardless. You can make this in one big skillet, or toss it in personal skillets for extra charm.
It has everything you could possibly be craving for breakfast in one dish – ground pork, potatoes, onion, peppers, eggs, and avocado. Get the recipe from Anya's Eats.
Skillet hash browns
SWOON. How dreamy does this skillet hash brown look? The cast iron is the perfect way to get crispy, even edges all along the outside and perfectly cooked, tender potatoes on the inside.
The even heat distribution is PERFECT for these. Get the recipe from Epicurious.
Moroccan inspired breakfast skillet (AIP)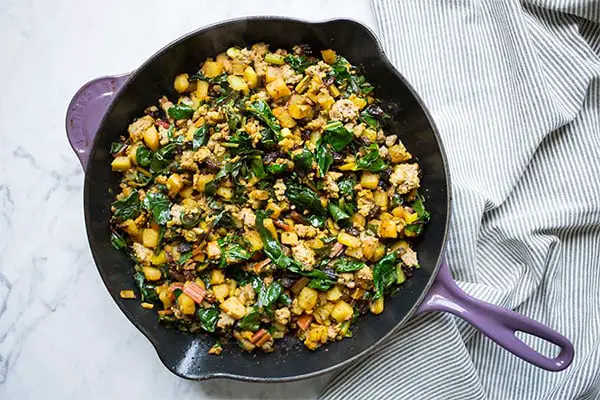 Egg-free skillet breakfast? You got it. This dish is packed with Moroccan flavour and healthy spices like cinnamon and turmeric. It has plenty of substance from the pork and greens mix, with a bit of hash inspiration going on from the sweet potato.
Toss some raisins in for a little layer of sweetness and you're waking up on the right side of the bed. Get the recipe from Autoimmune Wellness.
Lunch & dinner ideas
When it comes down to it, we're not very strict about these meal labels. We'll definitely dig into an omelette for dinner, and there's no question about having curry or salads for breakfast.
In any case, these one-skillet meals are aimed towards quick cooking whenever you need something on the table, and they are pretty family-friendly. Just make sure your skillet is big enough to serve your household!
Sausage, sweet potato, & veggie skillet
Roasted brussels sprouts change the game. If you've only had them steamed or boiled, they'll blow your mind. You can probably use this "trick" to get the kids pumped up about eating 'em, too!
This skillet features a hearty mix of greens, healthy starch from sweet potatoes, and sausage for a full meal. Top it with an egg for breakfast, or tote some on its own for a healthy office lunch. Get the recipe from Paleo Running Momma
Thai red curry with sweet potato noodles
Sweet potato noodles are so simple to cook. You can easily use them in a one-skillet dish, instead of boiling a pot for pasta or using spaghetti squash which can take awhile to cook!
This red curry comes to life with chicken in the mix, basil, greens and other veggies, and you can make it as spicy as you like! This is a great 30-minute meal that rivals the time it takes for takeaway Thai to arrive.
Get the recipe from The Savory Lotus.
One-skillet lemon Parmesan chicken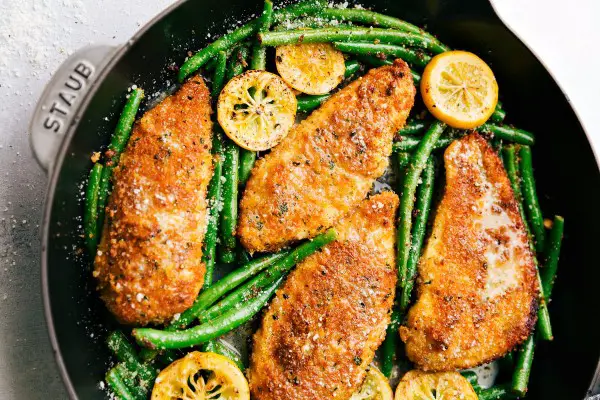 "Fried" chicken always hits the spot. If someone tells you they don't like it, they're lying. If you're avoiding grains, you can replace the flour and breadcrumbs with almond meal instead, bringing in some tasty, nutty flavor.
Don't skip out on the gorgeous lemon-butter sauce. Get the recipe from Chelsea's Messy Apron
Pakistani Kima beef curry
This budget-friendly Indian dish is deliciously humble. It's a ground beef curry – and you know you always have ground beef handy! Combining the deep flavors of India and Pakistan, this curry  is a total crowd-pleaser.
The kids will love it, even if they don't tend to get excited about international fare. This recipe just has something about it. Get the details from Whole New Mom.
Honey garlic chicken & cauliflower rice skillet
Takeaway classics are generally simple to recreate. This no-fuss honey-garlic chicken totally gets the job done while going above and beyond with stellar flavor.
This juicy chicken is a repeat meal for sure, served alongside cauliflower rice, or white rice if you prefer. Either way, it's good eats! Add some veggies to the mix if you're feeling inspired. Get the recipe from The Almond Eater
Cauliflower carbonara
In just 15 minutes, you've got creamy carbonara spotted with smoky, delicious bacon on the table. Seriously! This grain-free rendition is made with cauliflower instead – our favorite versatile veggie – and topped off with a fresh egg yolk to add to the creaminess.
Oh, and don't skimp on the garlic. This dish is MADE to take on a lot of it. Get the recipe from The Castaway Kitchen.
20-minute shrimp & sausage paleo skillet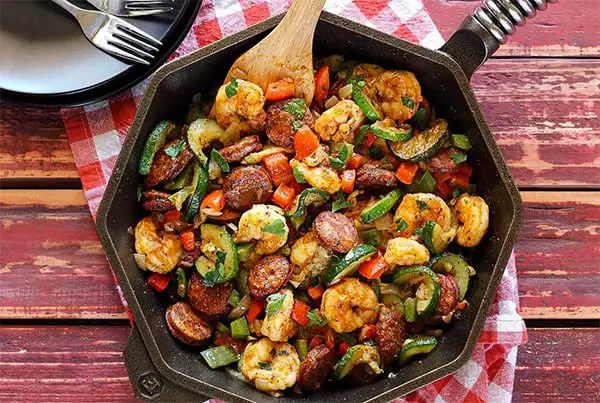 Shrimp and sausage is the ultimate combination. Double the protein, double the fun. This southern-inspired meal is a unique kind of surf 'n' turf.
It uses Old Bay seasoning – a necessary spice blend that you NEED if you don't already have.  This dish is versatile. Just grab your favorite veggies or what you have on-hand, and keep that pre-cooked protein stocked!
Get the recipe from The Paleo Newbie
Rustic chorizo pasta
Pasta is a great one-pot meal. It's even better if it's grain-free. This rustic chorizo topping is basically like a heartier, more flavorful, quick bolognese sauce – and you could easily sub out chorizo for ground beef if you'd like.
This is one of those recipes you need when you just can't. Despite how little time or effort you have to put in, it's going to taste AMAZING each time – perhaps, even better!
Plus, it will yield delicious leftovers. Get the recipe from Plaid & Paleo.
Creamy bacon mushroom chicken skillet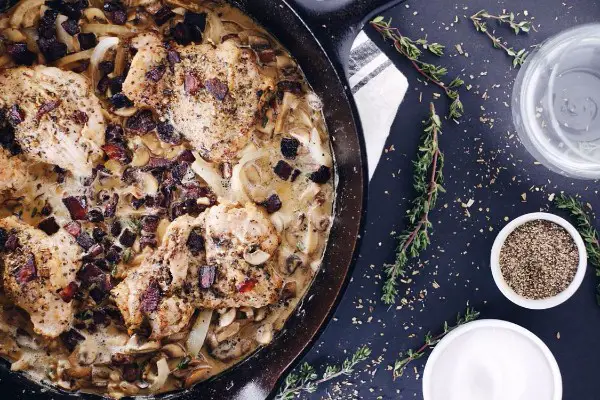 Creamy and dairy-free? You. Bet. This skillet meal is quick to become a favorite. It's loaded with savory and smoky flavors from bacon, garlic, thyme, Italian seasoning, and rich coconut milk, all layered with tender chicken thighs and mushrooms.
Drooling yet? Get the recipe from Real Simple Good.
Turkey & brussels sprouts skillet
Check out the fridge right now, and I bet you could make this dish. That's the beauty of a skillet meal – it really helps eliminate food waste, use what you have on-hand, get creative, and build up a repertoire of tasty yet easy meals you want to revisit.
This ground turkey and brussels sprouts mix cooks up SO quickly with some coconut oil and red bell peppers. Yum! Plenty of taste and texture in this dish. Get the recipe from My Heart Beets.
BBQ pork & butternut squash skillet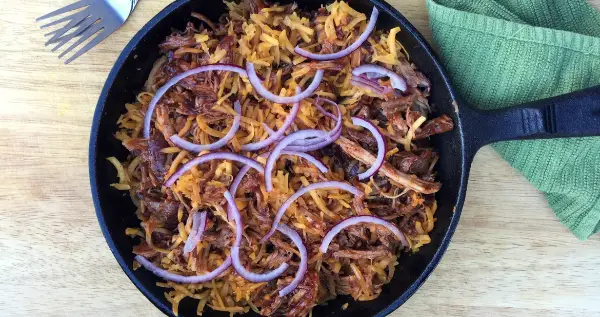 Like leftovers? Then you'll love this dish. Pulled pork yields quite a bit of meat sometimes, and you've just gotta find ways to rework it into something else!
This skillet will crisp up the deliciousness that is BBQ meat alongside some shredded, slightly sweet butternut squash – which you could replace with sweet potato if you'd like. Plus, you could always crack an egg on top!
Get the recipe from Popular Paleo.
Spaghetti squash chicken chorizo skillet
We can't get enough chorizo! This skillet isn't lacking in… well, anything. Flavor, color, meat, and more, we've got it all here.
Some pre-cooked spaghetti squash will give you a leg up on this gorgeous "pasta" dish, layered with grilled chicken, smoky chorizo, red peppers, and peas. It's a bit like a grain-free paella… with a spin!
Get the recipe from Fresh Planet Flavor.
Honey balsamic skillet with plantains, apples, and prosciutto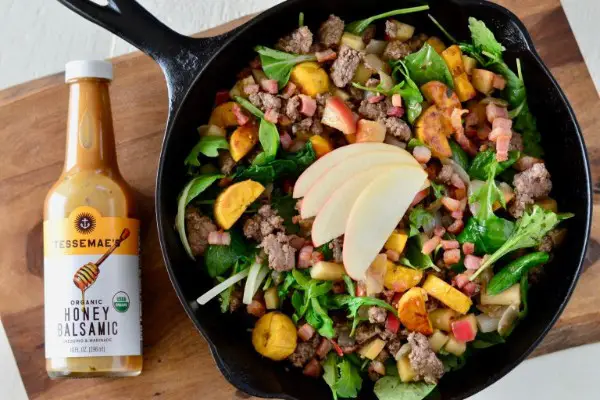 This dish can easily be made for any meal of the day. The sweet flavors in this are just off the charts while still keeping a savory balance.
You've got ripe plantains, crispy apple, honey and balsamic in the mix all mixed together with tasty beef, smoky prosciutto, and spicy arugula. This is what you get when you toss a bunch of delicious ingredients in a pan and it just works.
Get the recipe from Real Food With Dana.
Cranberry roasted chicken and potatoes
Sometimes, you just need comfort food. This autumnal meal steps in for just that. Slightly sweet and tart cranberries mixed with tangy and zesty lemon bring depth to this simple toss-up of chicken and potatoes, paired with fresh herbs.
It's like Thanksgiving without all the fuss. Everyone can go for that on a random weeknight – right? Get the recipe from Half Baked Harvest.
All right, let's hear it – what are your favorite ingredients to make magic with? One-skillet meals are staples in many busy households, and they make lazy look good AND taste good!
Let us know which foods you love to incorporate, or which recipe you're most excited to try.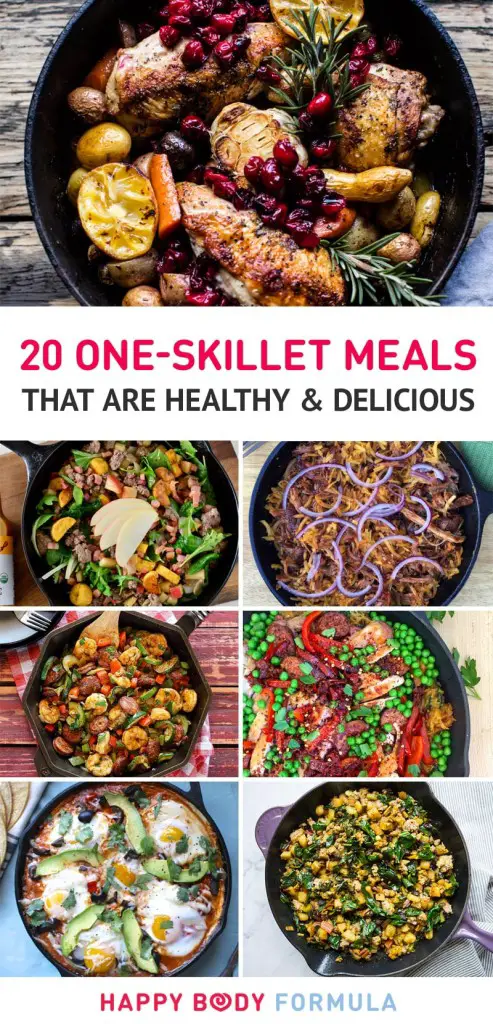 Music, mountains, dogs, travel, food and friends.