Ah – the mild and highly justifiable obsession with gelatine continues. It's a staple in the real food community for many reasons, and its laundry list of benefits extend far beyond its abilities in food or supplementation.
It's actually a full-body treatment when you consider its amazing properties for strengthening hair, skin and nails. We'll get more into the reasons soon.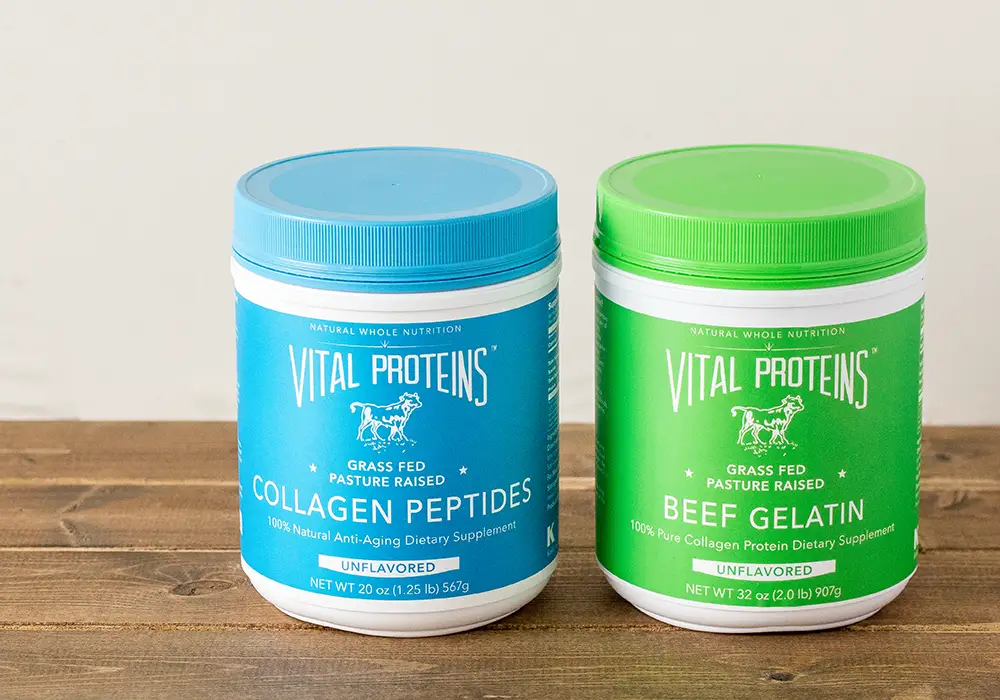 Today, we're covering a few ways you can incorporate gelatine into your DIY beauty routine for hair and skin.
Opting to make your own products to pamper with at home saves money and mystery when it comes to avoiding toxic ingredients and chemicals, because we know those things are no good whether we're using them on the inside or the outside!
The benefits of gelatine for hair and skin
Contains all amino acids. The building blocks of protein, you know. This is important as our skin and hair is built on a healthy, strong foundation.
Collagen. You'll hear this word associated with skin and nails often. Gelatine is a form of collagen (the kind that gels), and it goes without saying that feeding our skin what it is made out of has some serious benefits to it. It is the most abundant protein in the body, and it supports ALL of our connective tissues including bones, joints and everything in between
Helps tighten skin. Its compounds can help fight wrinkles, tighten loose skin and generally keep you looking fresh, young and vibrant. Collagen as a supplement or used directly on skin promotes elasticity, keeping our tissues strong.
Read more about the benefits of collagen and gelatine.
1. DIY Gelatine hair mask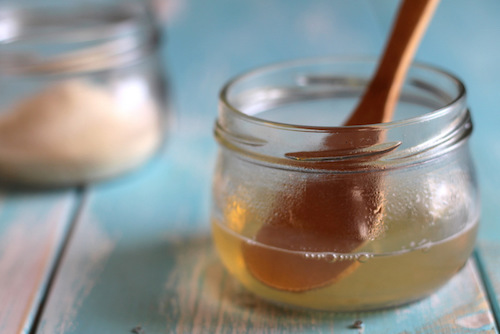 Gelatine makes a fabulous addition to a hair mask. Not only does it help to bind, but it provides the hair with a bit of incentive to grow.
It binds well to keep your hair strong, prevent breakage and scale back on split-ends. In conjunction with other healthy hair ingredients, it offers shine and sheen as well for a little well-deserved glow in your mane.
Ingredients:
1 tablespoon powdered gelatine
1/3 cup water
1 teaspoon apple cider vinegar (raw and unpasteurized)
1 teaspoon honey – choosing LOCAL is preferable, but I like this brand of raw honey
Instructions:
You'll simply want to combine these ingredients in a saucepan to get them warm and "activate" the gelatine. Then, you'll apply it to already clean hair and work it from the roots to the scalp.
During application, you want your mixture to be warm but not HOT. Then, let it sit for 10-30 minutes before you rinse out. Finish up with your favorite natural conditioner.
Get the full recipe from Mommypotamus
2. Peel-off gelatine face mask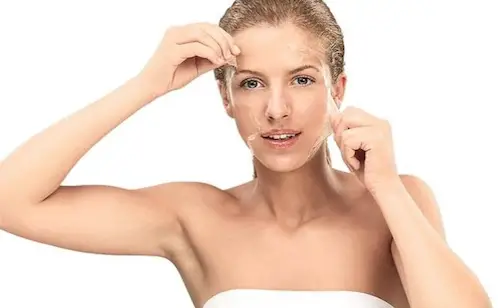 This mask is great to dig down deep into the pores and pull out dirt, toxins and even blackheads. If you've used Biore strips, here's a great way to get it done at home with just two ingredients.
Commercial pore strips actually inflame and enlarge pores, making them larger over time, so they're merely a quick blackhead fix. The all-natural version won't cause long-term damage.
They can also be really harsh and irritable on the skin in general, so you can't use them very often without redness and potential scarring if you have very sensitive skin.
Finally, they tend not to reach the real ROOT of the problem; conventional pore strips aren't good at removing the entire blackhead! The more you know…
Ingredients:
1 tbsp. gelatine
2 tbsp. milk OR full-fat coconut milk
Instructions:
Make sure you're beginning with a clean face. Mix the gelatine into the milk or non-dairy alternative and mix until it's chunky. Microwave the mixture for 10-15 seconds and mix again.
Then, test apply to skin to make sure you don't have a reaction! You want to start application immediately, though, so the mixture doesn't harden. A
void hair at ALL costs, as this will hurt to take off – especially if it's pulling at hair follicles. Let the mixture dry for 10-15 minutes, or until it is firm enough to peel off.
Wash off any parts you can't peel with warm water (it should come off easily).
Get more peel-off mask recipes here.
3. Stretch your shampoo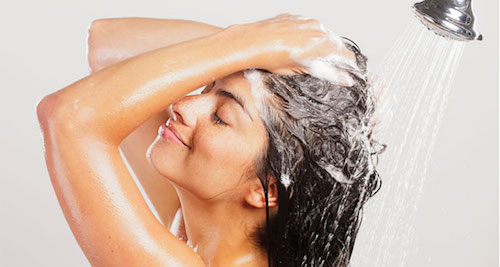 Here's an easy one that stretches your shampoo and helps to keep your hair strong. Plus, you can use it daily or however often you wash your hair, without much more effort than that.
Another bonus is that its thickening properties will make it easier for you to use less shampoo during each shower with as much lathering power. This is one for the budget-conscious beauty guru!
Ingredients:
1.5 tsp. gelatine
1/2 cup water
8 oz. shampoo
Instructions:
Simply mix in the gelatine to your water and remaining shampoo. Increase gelatine and water for additional shampoo, but the ratio will remain around 1.5 tsp. per 1/2 cup of water.
It will thicken up your shampoo which stretches your dollar a bit, and provide you with some beauty boosting benefits from the collagen!
4. Make gelatine gummies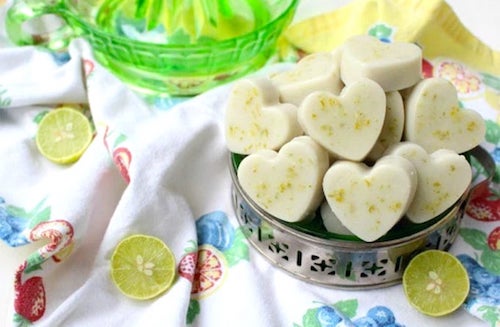 One of the most effective ways to use gelatine to supplement both hair and skin (and so much more) is internal use. Making gummies is also one of the tastiest ways to consume gelatine.
There are countless recipes that simply involve using fruit puree if you want something sweet, some liquid and gelatine, then popping them into some candy moulds for bite-sized treats.
Not only will they keep all of your tissues strong inside and out while kicking your sweet cravings, but you'll also be giving your gut an essential amino acid called glycine, which promotes the integrity of the gut.
In other words, gelatine keeps it strong enough to keep the bad stuff out. Try these gut-healing key lime bites.
Ingredients:
1 can (13.5oz) full-fat coconut milk
½ cup key lime juice (about 15 key limes)
1 Tbsp key lime zest
½ cup water
2 tsp maple syrup
½ tsp vanilla
4 Tbsp gelatine
Read the full recipe on our blog. You'll also need some moulds to let the gelatine set in. I like soft moulds that I can just pop the gummies out of, and naturally, I like fun shapes!
I personally have a heart-shaped set which you can buy here.
5. Gelatine & charcoal mask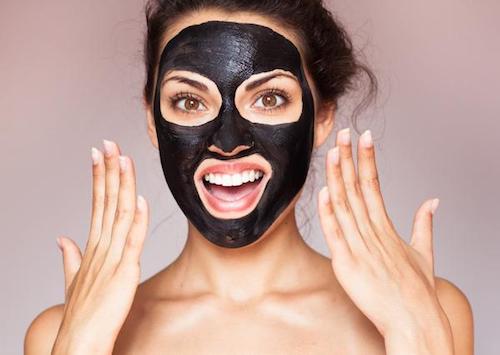 Activated charcoal is amazing for pulling out dirt from the pores, considering its known for being highly porous! You can learn more about the benefits of activated charcoal in our extensive feature (including more DIY beauty recipes!).
Combined with gelatine, it can form an amazing detox mask to work on blackheads, reducing the size of pores and pulling toxins and dirt from the skin. Our skin is exposed to SO much day-to-day; it's important to give it a little TLC!
Ingredients:
1 tbsp. gelatine
1 tsp. activated charcoal
1/2 teaspoon bentonite clay
2 tbsp. distilled water
Instructions:
Mix the gelatine with the water, then add both the charcoal and clay. Make sure the mixture is smooth before application – you should have no chunks or inconsistencies.
Heat up the mixture in a double boiler, or simply with a metal bowl over a pot of gently boiling water. You could also use the microwave for around 10 minutes. Stir again, then transfer to the freezer for 2-4 minutes until it thickens and hardens, and becomes cool enough for application.
Use a brush to apply, preferably and avoid hair! Let it sit for up to 45 minutes before you peel. If you want to use it as a spot treatment or blackhead treatment, you can simply use it on problem areas (i.e. nose and chin).
Product recommendations:
Vital Proteins gelatine. This is my favorite brand to use, as they source their gelatine and collagen from grass-fed cows. These cows are located in Brazil, and the source is chosen with sustainability in mind. I really trust this brand and their integrity.
Great Lakes gelatine. This is another certified GMO-free and grass-fed brand I enjoy using. They also have partners in South America who practice sustainable cattle farming in Argentina and Brazil.
NOW Foods beef gelatine powder. While this brand is not grass-fed, they are very well-priced, and I've happily used this brand on a budget before. Their price is around $13 USD for 1 lb. of powder, so you can really stretch your dollar with them! I trust that this product is pure and natural.
Have you ever used gelatine for DIY beauty? Tell us about your experience, or let us know which recipe you are excited to use! Happy pampering! Share on Pinterest from here.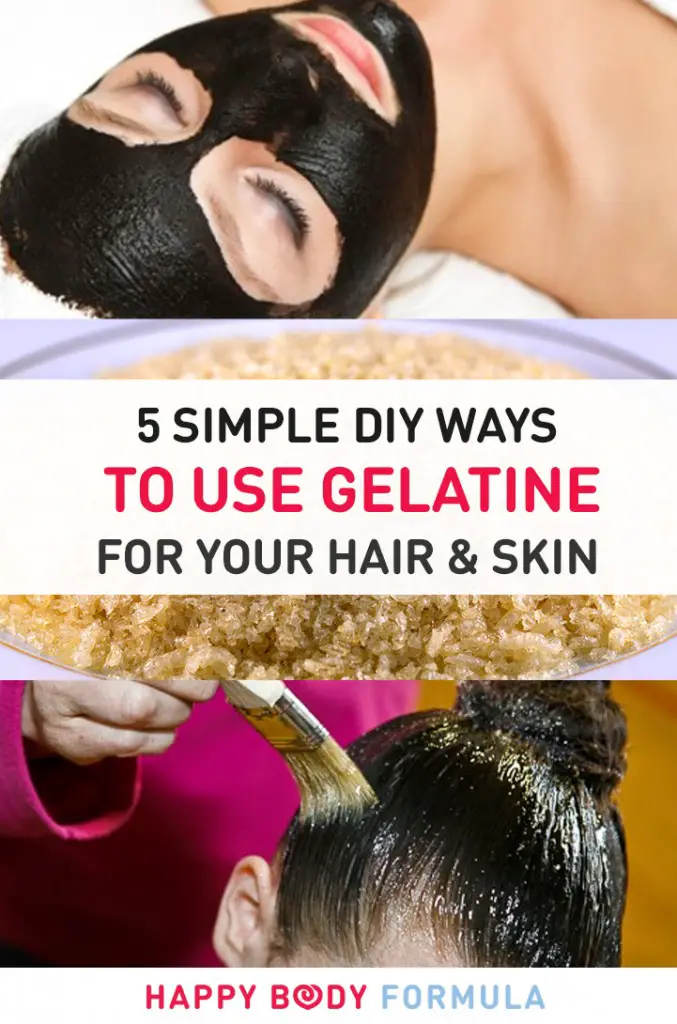 Music, mountains, dogs, travel, food and friends.