Cauliflower is arguably the most versatile veggie you can get. From the paleo eaters to the plant-based eaters, it has a place in everyone's kitchen for a huge variety of dishes.
It's mellow flavor and ability to take on various textures give it lots of potential in the kitchen from rice to mashed "potatoes."

One of our favorite ways to use it is to make bread, though. Despite the fact that cauliflower isn't starchy like sweet potatoes or plantains, it can still come in the clutch to whip up a nice grain-free dough for buns, flat breads, loaves, crusts and more bread-y goodness.
Let's run through a few basic methods, and you can have your bread and eat it too, whether you're craving a sandwich or a slice of pizza pie.
Your new go-to bread recipe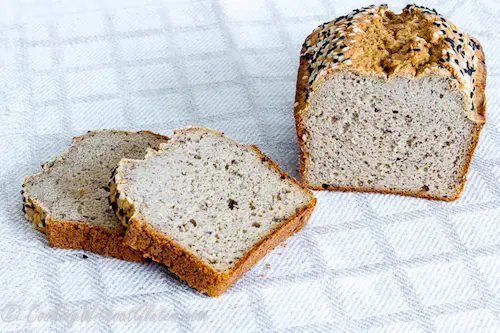 First, let's talk about the basics of a successful cauliflower bread. Like we mentioned before, it's not a starchy veggie. In fact, it's quite the opposite, mostly comprised of water!
Water doesn't necessarily lend itself well to a dough that will rise, fluff and crust like wheat does. Many recipes use cheese which brilliantly holds cauliflower bread together, but this recipe is dairy-free.
The secret? Here are a few tips:
Rice your cauliflower first. This is important, and it makes it simpler to work with. Use a food processor to do this, and just blitz cauliflower cut into florets until it's in small, rice-like pieces.
Remove excess moisture. Cauliflower is a watery veggie, so squeezing out the riced cauliflower with a paper towel is helpful. To ensure that the moisture is entirely out, you can also roast the "rice" flat on a baking sheet. If there's too much moisture in the dough, a good loaf of bread just isn't in the picture.
Use coconut flour. Coconut flour is low-carb, grain-free, full of fibre and healthy fats and it absorbs moisture really well. In fact, it relies heavily on it. This is why cauliflower bread is pretty easy to make!
Get creative. If you don't have a bread pan, you can flatten out the dough to bake on parchment into tortillas, pizza crust, flatbread rounds and more. You could stuff it into muffin tins to make a fluffy, crusty bun to dip in soup or stew. This dough is versatile and sturdy, so you can do what you want with it!
Ingredients:
One head of cauliflower, riced, moisture drained
3 tablespoons coconut flour
2 tablespoons almond flour
4 eggs
1 tablespoon psyllium husk OR ground flaxseed
1 tablespoon garlic powder
1 teaspoon sea salt
1/2 teaspoon black pepper
1/2 teaspoon baking powder
Instructions:
Preheat oven to 400 degrees.
Squeeze out water, and microwave or steam riced cauliflower.
Whisk the eggs and mix in all dry ingredients plus the cauliflower until a dough forms.
Bake in a bread tin for 45 minutes or until risen and dry in the middle (test with a toothpick).
Let it cool and cut a slice. Enjoy!
Gimme cheese, please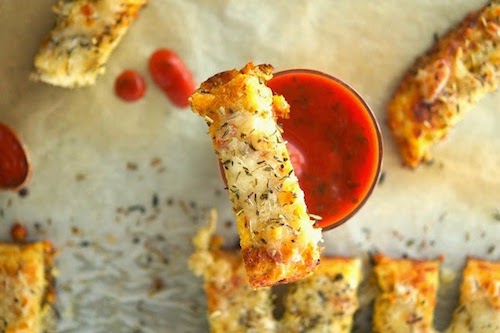 Cheesy bread lovers – rejoice. Let's talk about breadsticks for a moment here. You know, the ones you order for deliver on the side of your pizza?
Because cheese-covered bread pairs exceptionally well with more cheese-covered bread, of course. Cauliflower breadsticks are low-carb with minimal ingredients required.
Ingredients:
One head of cauliflower, chopped
1 egg
1/2 cup shredded cheese (Mozzarella would be good)
2 cloves minced garlic
1 tbsp. olive oil
1/2 tsp. sea salt
1/2 tsp. Italian seasoning
1/4 teaspoon black pepper
You can read full instructions from The Iron You.
Roll it up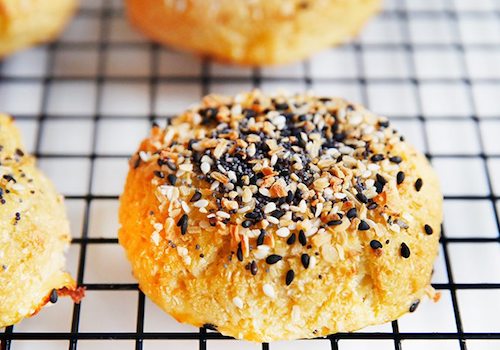 If you can make bread, you can make bagels. This is a fact, and it's just another great reason to love cauliflower. These 'everything' rolls are great for spreading with cream cheese or making lox for brekky.
Skip the bodega and go for homemade instead. This recipe is grain-free, and you can use the same ingredients you would to make the loaf of bread.
Ingredients:
1 head cauliflower, 3 cups riced
3 tablespoons almond flour
1 tablespoon coconut flour
2 eggs
1/2 teaspoon garlic powder
1 teaspoon fine sea salt
1/2 teaspoon poppy seeds
1 tablespoon sesame seeds (black and white)
1 teaspoon dried minced garlic
1 tablespoon dried minced onion
1/2 teaspoon coarse sea salt
Read the full recipe at Lexi's Clean Kitchen.
Golden bread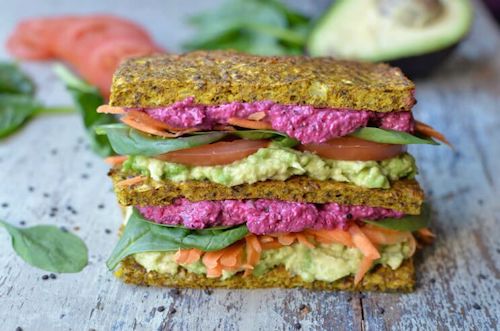 Why not add a little superfood action to your cauliflower bread? This flatbread recipe contains one of our favorite ingredients – turmeric – and it's perfect for sandwiches both sweet and savory.
Try it out stacked with lunch meat and roasted veggies, or spread a layer of nut butter and chia jam on top while the bread is still hot.
Ingredients:
2 cups raw riced cauliflower
4 eggs
1 cup almond meal
3 tablespoons turmeric powder
½ teaspoon sea salt
Get the full scoop on this simple recipe from Paleo Hacks.
Which cauliflower bread recipe speaks to you? Tell us below! Share this with your gluten-free and low-carb eating friends who might be missing out on bread. Share on Pinterest from here.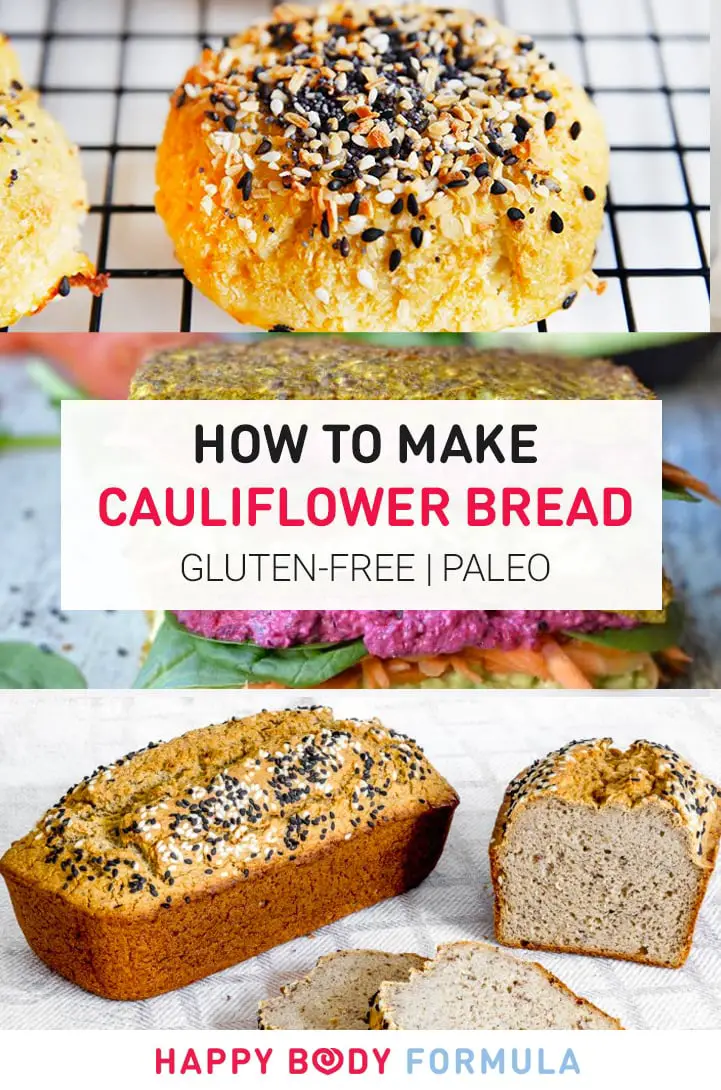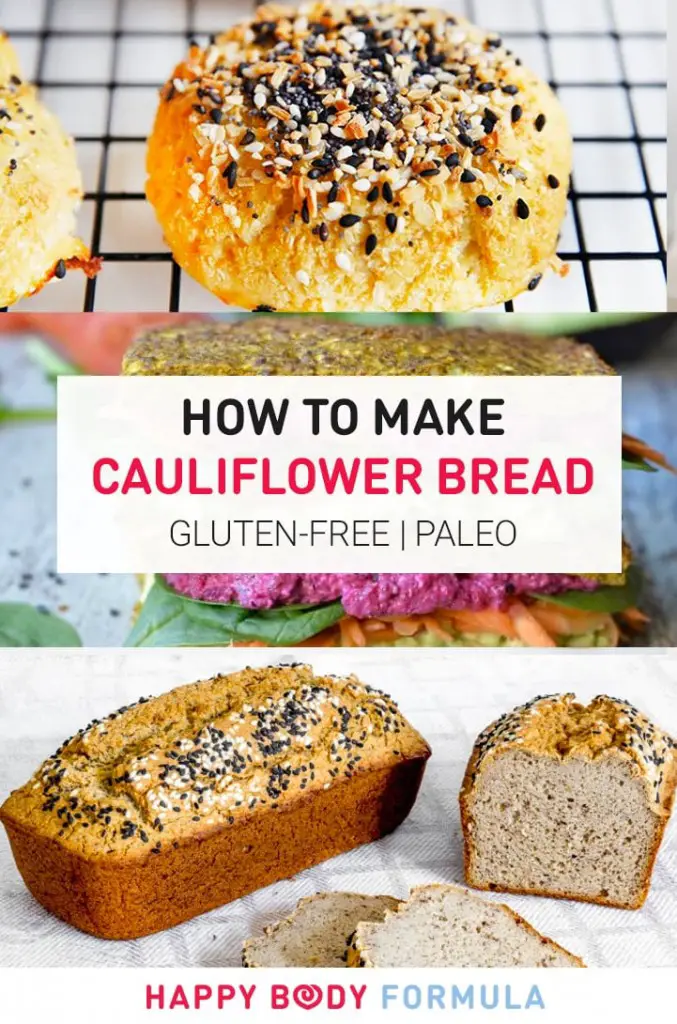 Music, mountains, dogs, travel, food and friends.